The augmented reality market is expected to reach $120B of annual revenue by 2020 according to Digi-Capital and investors should take notice now. The introduction of smartphones has changed consumer behaviors and interpersonal interactions for generations to come. Some researchers believe that augmented reality devices, including smartglasses, may displace smartphones within 10 years as our "go-to" device to receive information and send out personal communications.
Smartphones are incredible devices that connect billions of people daily through social media applications. Smartphones have changed the way consumers shop by enabling people to compare prices, read product reviews and apply retail coupon codes through their fingertips via their smartphones. Smartglasses will operate as standalone, always on devices that do not need to be paired with your smartphone.
If you could perform nearly all of the same functions through smartglasses would you ever need to buy another cell phone? Researchers expect smartglasses to eventually displace smartphones over the next 8 to 10 years. I believe the estimation is a bit overzealous in terms of the timeline, but I don't disagree with the premise that smartglasses can and will eventually replace smartphones as our "go-to" portable device.
Researchers at Augmentedreality.org published a "Smart Glasses Market 2015" report in January. The full report is only available to the public if you purchase the report. However, the organization does provide a high level summary and key takeaways that investors must consider.
In terms of volume of shipments, the Smart Glasses Market 2015 report estimates that smartglasses shipments will reach 1 million by the fall of 2015, 10m by 2016 and 50-100m by 2018 and cross 1 billion units by 2020 driven by mainstream consumer adoption. The report also expects early winners in the space to emerge followed by mergers, acquisitions and significant investments into the space by the end of 2016. Additionally, it expects consumer giants have no more than a 12 month window to position their companies in the space (build,buy,partner) or risk missing the opportunity.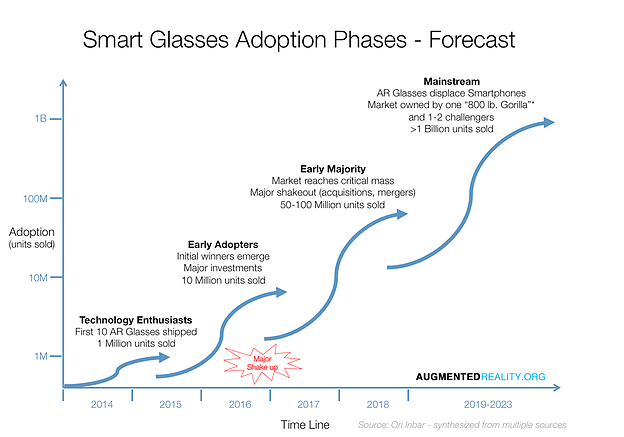 As far as key competitive players in the current smartglasses space there are over 25 products currently within various stages of the life cycle. As you can see from the graphic above most of the current products are in the early stages of development (announced, prototype, limited/pre-orders or developing kit shipments) with the exception of only a handful of products.
Google Glass was shipping products as of January 2015 but that has since been put on hold. The players that are leading the way in the smartglasses market and currently shipping products include Epson, Vuzix (NASDAQ:VUZI), Recon and Optinvent, which are more than likely not household names for most tech enthusiasts right now.
One of the busiest companies that is investing time and money into augmented reality is Intel (NASDAQ:INTC). As I noted above Vuzix is relatively unknown, but it should be noted that Intel now controls 24% of the outstanding shares of Vuzix after it made a $24.8m investment into the company in January. Intel also has ties with Italian Eyewear Maker Luxottica and could be looking at Luxottica to mass market smartglasses and maximize Intel Corporate's recent investment in Vuzix. Intel Capital (not Intel Corporate) recently invested an undisclosed sum in Worldwiz, a maker of virtual reality tools for enterprises.
The remaining list of 20 products that are not shipping are largely being developed by non Tier-1 electronic manufacturers. The manufacturer names that are most recognizable on the list include Google (NASDAQ:GOOG), Microsoft (NASDAQ:MSFT), Sony (NYSE:SNE), Toshiba (OTCPK:TOSYY), Magic Leap (received $542m of funding from Google) and Kopin (NASDAQ:KOPN).
Apple (NASDAQ:AAPL) is not on the list, but the tech giant was granted a smartglasses patent in January 2015 and acquired augmented reality developer Metaio last week. Samsung (OTC:SSNLF) was expected to release the Gear Blink in March 2015 to rival Google Glass but that date has come and gone without any updates on the product road map. Samsung may have changed direction entirely after it recently reached out to Microsoft to be involved in Microsoft's Hololens smartglasses offering. Facebook's (NASDAQ:FB) $2B purchase of virtual reality player Oculus should be noted as significant, but Oculus does not currently participate in augmented reality.
As you can see, augmented reality and smartglasses are expected by several researchers to be the next big thing in technology and possibly displace the smartphone. The first wave of market adoption will come from industrial adoption followed by mass consumer adoption. For the investment community it means we need to take notice now and plant our own financial seeds into the companies that we believe will lead the next wave of the technological revolution before it rapidly scales in 2016 and beyond.
Disclosure: The author is long VUZI.
The author wrote this article themselves, and it expresses their own opinions. The author is not receiving compensation for it (other than from Seeking Alpha). The author has no business relationship with any company whose stock is mentioned in this article.
Editor's Note: This article covers one or more stocks trading at less than $1 per share and/or with less than a $100 million market cap. Please be aware of the risks associated with these stocks.