We've discussed the negative seasonality the stock market tends to exhibit during the Late Spring - Early Fall time period on numerous occasions in the past.
It's been about 3 years since we've had a 10%+ selloff in the stock market. We came close late last year, as the market fell by 9%+ from September 18th through October 16th, 2014. The last official 10%+ drop occurred during the April 2nd through June 2nd, 2012 period. The year before, the S&P 500 fell by 19%+ from April 29th through October 3rd, 2011.
It is now fairly common knowledge that 5% corrections "typically" happen a few times a year, 10-15% corrections will occur every 1-2 years and 20%+ declines happen every 3-5 years, on average. So we are long overdue for a larger correction. These bigger declines can be scary for individual investors. Adding low beta ETFs, which almost always consist of highly profitable, large-capitalization stocks, may offer downside protection and help mitigate the damage that big corrections often cause.
As you may recall, beta is a measure of the risk of a security in comparison to the market as a whole. A beta of 1 indicates that the security's price will move lock-step with the market. A beta less than 1 indicates that the security tends to be less volatile than the market, while a beta greater than 1 indicates the security is more volatile than the market; for example, if a fund portfolio's beta is 1.2, it's theoretically 20% more volatile than the market.
Here are a few strategies to make your portfolio more resilient during the summer doldrums period:
Sector Rotation
Sector rotation is a viable defensive strategy investors may wish to consider during the "weakest six months" of the year for the stock market, historically speaking. Defensive sectors like consumer staples, health care and utilities generally perform better than other sectors during periods of higher volatility. Their products and services are relatively inelastic, meaning that people use them in good times and bad. This translates into a stable stream of recurring revenues for these companies.
Three of the most popular ETFs in the Consumer Staples space are the Consumer Staples Select Sector SPDR ETF (NYSEARCA:XLP), the iShares U.S. Consumer Goods ETF (NYSEARCA:IYK) and the Vanguard Consumer Staples ETF (NYSEARCA:VDC). Here's how these ETFs performed during the big correction of April 29th through October 3rd, 2011: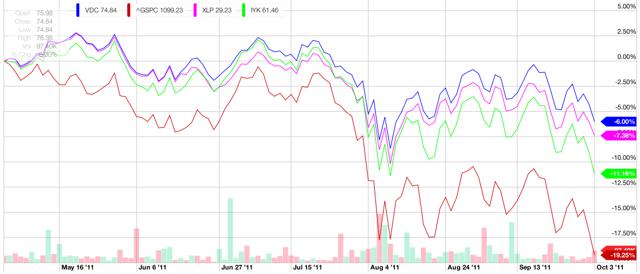 You can see how all of these Consumer Staples ETFs offered downside protection. VDC was down only -6.00%, while the S&P 500 lost over -19%.
Utilities are "interest-rate sensitive" securities. If you believe that interest rates are not headed much higher from here, then you may want to own funds such as the Utilities Select Sector SPDR ETF (NYSEARCA:XLU) and the Vanguard Utilities ETF (NYSEARCA:VPU). Here's how these two ETFs fared during the 2011 correction: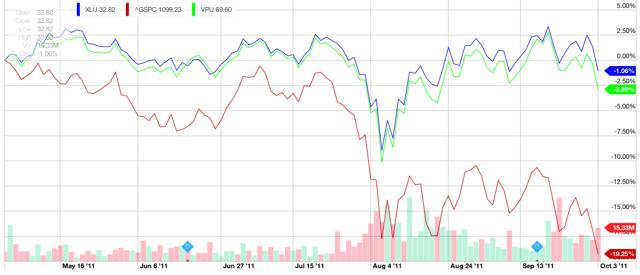 XLU declined -1.06% and VPU -2.89% vs. -19.25% for the S&P 500.
Health Care too, has defensive characteristics, however, you should be aware that some ETFs have added stocks from the white-hot biotech sector to their holdings, which could contribute to additional volatility going forward. When "Biotech" corrects, it tends to do so "hard and fast". Some names that may work in the health care space are the Health Care Select Sector SPDR ETF (NYSEARCA:XLV), the Vanguard Health Care ETF (NYSEARCA:VHT) and the SPDR S&P Pharmaceuticals ETF (NYSEARCA:XPH). These ETFs outperformed the S&P 500 in the 2011 correction, however, not by a wide margin.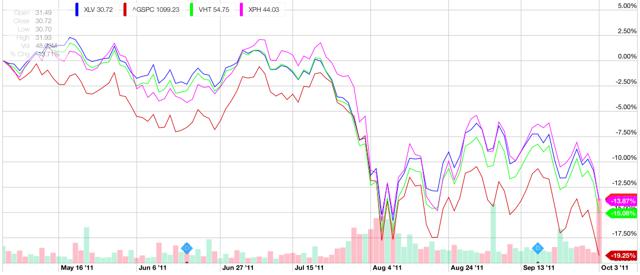 As you can see, XLV declined by -13.71%, XPH by -13.87% and VHT by -15.08% vs. -19.25% for the S&P 500.
Low-Volatility Funds
Adding "low-volatility" ETFs to your portfolio may also reduce the severity of the swings in your portfolio. These funds offer downside protection in declining or uncertain market conditions. They hold larger, more stable stocks with significant revenue and earnings that help support stock prices in times of market turbulence. Low-volatility ETFs have the potential to reduce losses during bearish market conditions while participating on the upside in bull markets.
If you are looking for exposure to U.S. stocks, then the iShares MSCI USA Minimum Volatility ETF (BATS:USMV) and the PowerShares S&P 500 Low Volatility Portfolio ETF (NYSE:SPLV) are solid choices. Minimum volatility funds are fairly recent additions to the ETF universe (USMV began trading on October 18, 2011), so we don't have data back to the 2011 correction period for many of them. Here is how these two ETFs performed during the last 10% correction we had (April 2nd through June 2nd, 2012):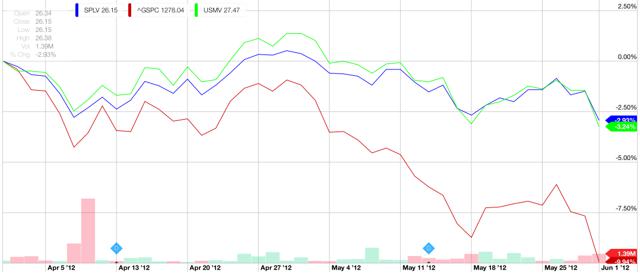 Notice how both SPLV and USMV limited the downside. SPLV declined by -2.93% and USMV by -3.24% vs. a -10% decline by the S&P 500.
Investors looking for overseas exposure have a number of options. The iShares MSCI All Country World Minimum Volatility ETF (NYSEARCA:ACWV) targets developed and emerging markets companies while the iShares MSCI EAFE Minimum Volatility ETF (BATS:EFAV) provides investors with exposure to stocks in Europe, Australia, Asia, and the Far East. And finally, the iShares MSCI Emerging Markets Minimum Volatility ETF (BATS:EEMV) provides investors with exposure to emerging markets. All should work similarly as well as their U.S. counterparts.
Minimum volatility ETFs seek to minimize their target market's peaks and valleys. An advantage of these funds is that by limiting the downside during the deepest troughs, they are well poised to capitalize on the eventual market rebound as they have less ground to make up.
Using a low-volatility strategy makes sense in the current market. At my firm, we utilize many of these ETFs as core holdings in client portfolios.
Defensive Equity Funds
Defensive Equity ETFs are another option for the soft summer months.
The Guggenheim Defensive Equity ETF (NYSE:DEF) uses low-cost "passive" or "indexing" in its investment approach. It seeks to replicate the performance of an equity index called the Sabrient Defensive Equity Index. DEF can hold stocks from a potential universe of approximately 1,000 listed companies, generally with market capitalizations in excess of $1 billion.
The FlexShares Quality Dividend Defensive Index ETF (NYSEARCA:QDEF) invests in a high quality, income oriented portfolio of securities and applies a proprietary scoring model approach that determines a "quality factor". QDEF began trading on December 14, 2012 so we don't have data for the 2011 and 2012 corrections.
However, here's how DEF performed during those two corrections. In 2011, DEF declined by -9.07% vs. -19.25% for the S&P 500: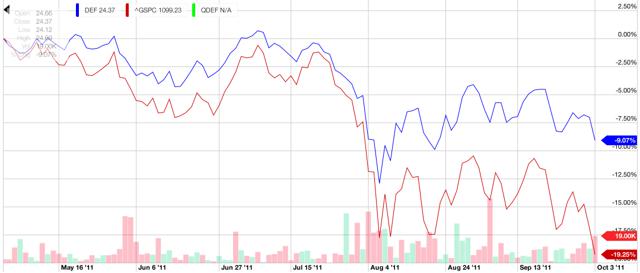 And during the 2012 correction, DEF was down by -3.86% vs. -10% for the S&P 500.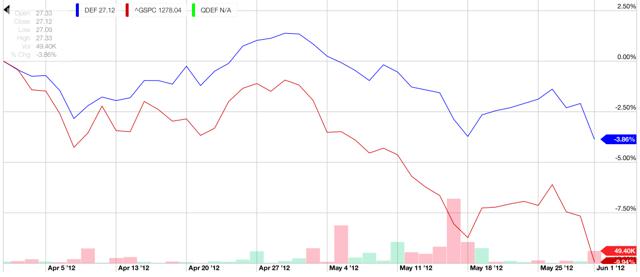 Hedged Equity Funds
Investors worried about a potentially deep correction could "hedge" their portfolios with inverse ETFs. The ProShares Short S&P 500 ETF (NYSEARCA:SH) provides inverse exposure that corresponds to the movement of the S&P 500. This represents a broad market hedge. If the S&P 500 declines by -15%, SH will rise by +15%.
If your portfolio is technology heavy, you can hedge it with the ProShares Short QQQ ETF (NYSEARCA:PSQ), which seeks to deliver the inverse return of the NASDAQ 100 index.
There are also inverse ETFs that can hedge different market sectors, including commodities. Most of these are leveraged inverse ETFs, which require extreme caution and are only appropriate for use over a very short-term time frame.
Conclusion
The Late Spring through Early Fall time frame has proven historically to be the weakest months of the year for the stock market and should be respected and treated with a more cautious investment approach.
The aforementioned strategies can be used to protect investment gains and limit the damage that market weakness may cause during this potentially soft period.
Low beta ETFs are ideal for investors who need stable and consistent income with few negative surprises.
Disclosure: The author is long USMV, ACWV, EFAV, SPLV, DEF, QDEF, VDC.
The author wrote this article themselves, and it expresses their own opinions. The author is not receiving compensation for it. The author has no business relationship with any company whose stock is mentioned in this article.
Additional disclosure: George Kiraly Jr., CFP®, MBA is the president of LodeStar Advisory Group, LLC, an independent Registered Investment Adviser located in Short Hills, New Jersey. George Kiraly, LodeStar Advisory Group, and/or its clients may hold positions in the ETFs, mutual funds and/or any investment asset mentioned above. The opinions offered herein are not personalized recommendations to buy, sell or hold securities.