Recently, I wrote an article for Seeking Alpha entitled How We Decide Which DGI Stocks are Core, Supporting and Auxiliary Holdings that describes how I categorize stocks into the various tiers of the Dividend House portfolio. In my opinion, a stock portfolio for dedicated dividend growth investors (of any age!) can be comprised of core positions making up the foundation, supporting players holding up the walls and auxiliary positions on the roof. This insight came out of an exchange that I had with the eminent Chowder in a SA comment stream (available here).
As a result of that discourse, I re-analyzed the Dividend House portfolio, shifting some stocks into new categories. I then built a picture of our resulting Dividend House portfolio, shown below.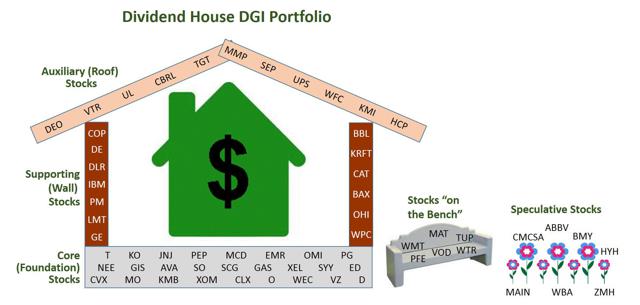 Based on the amount of dividend income generated, we assign a full position to a core stock, a 75% position to a supporting player, and a 50% position to an auxiliary holding. In other words, in our portfolio, a fully funded supporting player should generate about three-fourths of the income of a core holding. Similarly, an auxiliary stock should generate about half of the income of a core holding.
Our latest portfolio adjustments generated some income shortfalls, mostly due to stocks moving into the core/foundation tier. Of course, this analysis also generated some outsized income producers as well. I'm not worried about those as I am growing the overall portfolio through mutual fund liquidations. My plan, therefore, is to catch up the underfunded holdings.
Looking at the now underfunded positions, I can't help but wonder -- which stocks are buying opportunities right now?
Which DGI Stocks are Buying Opportunities Today?
Taking the stocks that make up the Dividend House portfolio (and others that I have my eye on!) and using the portfolio feature of FastGraphs, we can get an initial sense of current valuations. The table below ranks each Dividend House stock from highest EPS yield to lowest EPS yield (or, when appropriate, from highest FFO yield to lowest FFO yield).
Stocks with the highest yields may be the most undervalued. This is not to say that they are necessarily undervalued. Just that they may be the most undervalued relative to the other stocks on the list. Furthermore, if a stock's current EPS (or FFO) yield is less than its 1-year, 3-year, 5-year, and 10-year normal yields, then it may be deemed as trading at a reasonable value compared to the last 10 years (since before the Great Recession).
Using this approach, in the tables below, I've highlighted (in yellow) the stocks that are potentially fair- to under-valued in the context of the last 10 years.
Stocks in Decreasing Order of EPS Yield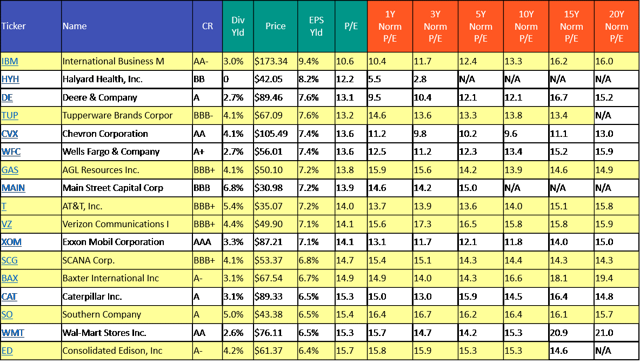 Stocks in Decreasing Order of EPS Yield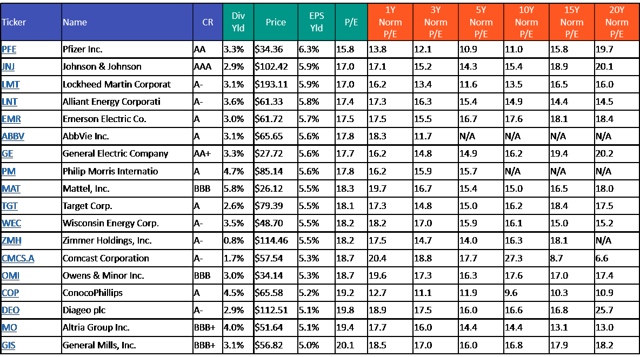 Stocks in Decreasing Order of EPS Yield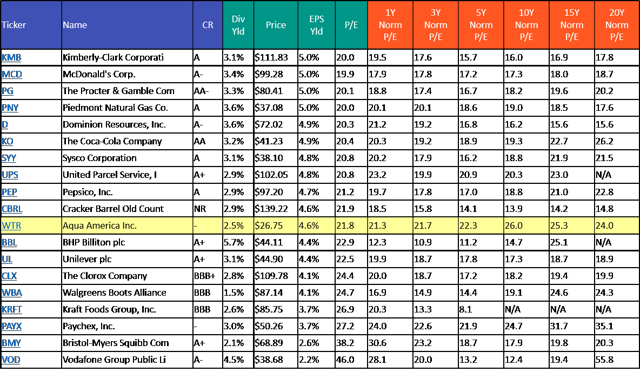 Stocks in Decreasing Order of FFO Yield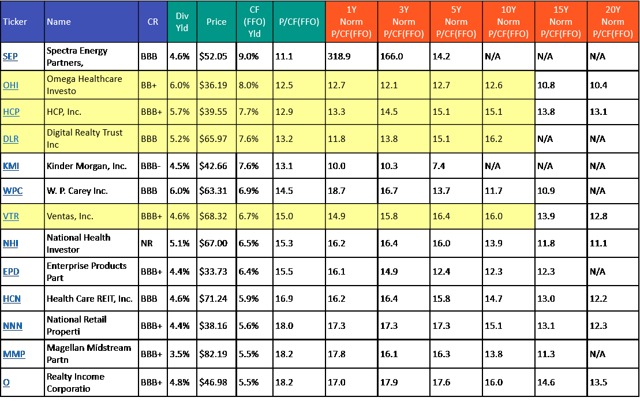 This analysis reveals 14 stocks that are potentially fairly valued or even undervalued today. They are International Business Machines (NYSE:IBM), Tupperware (NYSE:TUP), AGL Resources (NYSE:GAS), AT&T (NYSE:T), Verizon (NYSE:VZ), SCANA (NYSE:SCG), Baxter (NYSE:BAX), Southern Company (NYSE:SO), Consolidated Edison (NYSE:ED), Aqua America (NYSE:WTR), Omega Healthcare Investors (NYSE:OHI), HCP (NYSE:HCP), Digital Realty (NYSE:DLR), and Ventas (NYSE:VTR). All are trading at current EPS yields (or FFO yields) within a half point of their highest multiples or significantly less than their multiples for the last 1, 3, 5, and 10 years.
I've shown a FastGraphs view of Verizon to illustrate an undervalued stock. Within the red circle, you can see that Verizon's current price (the black line) is trading below its normal 10-year P/E of 16.1 (the blue line) and the market's P/E of 15 (the orange line).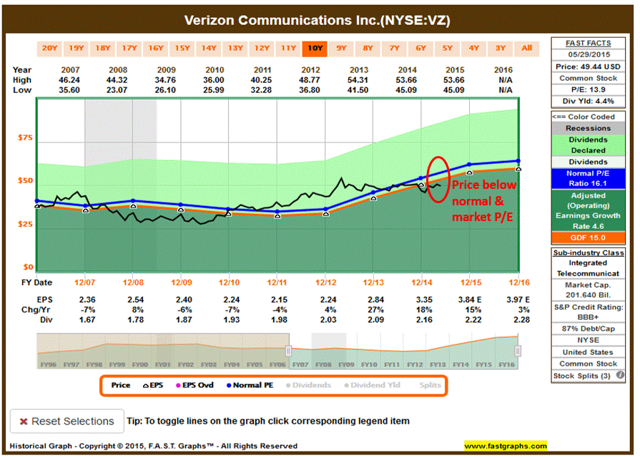 To help determine which of these stocks is the most attractively valued, I looked at Morningstar star ratings, Morningstar fair value estimates, S&P Capital IQ fair values, S&P 12 month price targets, and an analyst consensus of 12 month targets. Source note: I do not have a subscription to Morningstar that allows me the ability to look up fair values for every stock. However, I do subscribe to a Morningstar newsletter that reports fair value estimates for a lot of dividend growth stocks. Therefore, I have noted Morningstar fair values where I have them. Regarding the analysts' consensus 12 month target, I look that up on Analyst Ratings Network.
As shown in the table below, seven of the 14 stocks identified by FastGraphs are currently trading below their fair value estimates and analysts' 12 month target estimates. Their prices are highlighted in green. They are: BAX, DLR, HCP, IBM, OHI, SCG, and TUP. Yellow boxes (on the right hand side of the table) are a warning where fair values and/or analyst estimates are lower than a stock's current price. Orange boxes (to the left of current prices) are a reminder that a stock's credit rating or yield falls below the minimum Dividend House portfolio criteria.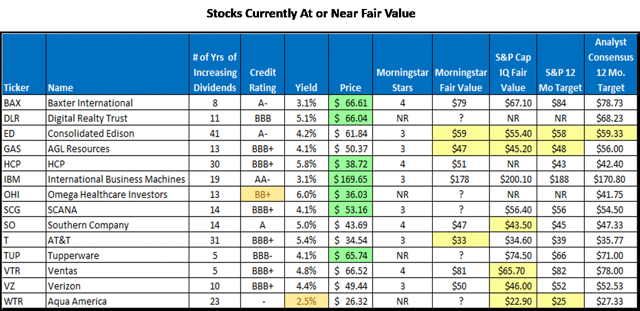 Which Stocks Will I Purchase?
Given the currently funded levels for each of these stocks in the Dividend House portfolio, are any of these stocks of interest to me? I explore my thoughts on the seven most attractively priced stocks below.
BAX - In my recent analysis, I moved Baxter from a core holding "down" to a supporting player. I had a fully-funded core position in Baxter. So, it is now overweight as a supporting player. Given its upcoming spin-off of Baxalta and its very uncertain future dividend policy (which some believe promises a dividend reduction), I'm certainly not looking to add more BAX now. In fact, I'm wondering if I should sell some in favor of AbbVie (NYSE:ABBV), a stock I consider to be speculative. Or, perhaps I should even look at Gilead (NASDAQ:GILD) or Amgen (NASDAQ:AMGN)? Then again, I'll probably just leave well enough alone.
DLR - My recent analysis reaffirmed DLR as a supporting player. At that level, my position in DLR is fully funded. Given the dip, I think REITs will likely take when the Fed raises interest rates, I'm not chomping at the bit to add right now.
HCP - My recent analysis reaffirmed HCP as an auxiliary holding. At that level, this position is already a little overweight. Given HCP's current tenant issues with Manor Care, I'll pass on adding more at this time.
IBM - Due to an historical employee stock purchase plan, IBM is my largest position (which is ironic, given my allergy to technology stocks!). Given that it was reaffirmed as a supporting player in our portfolio, I am definitely overweight in IBM. So, I won't be purchasing IBM either.
OHI - Surprising myself during this recent analysis, I "promoted" OHI from an auxiliary holding to a supporting role. As I explained in my previous article (linked to above), OHI is my only junk bond rated stock (at BB+). Prior to this, I thought I would never include a "junk" stock in our portfolio as anything but speculative or auxiliary at best. But OHI has earned a more trusted role in the Dividend House portfolio. While OHI was fully funded at the auxiliary level, it is not fully funded at the supporting player level. This is one I could purchase! That said, maybe I should wait for the Fed to raise rates?
SCG - My recent analysis "upgraded" SCANA from a supporting player to a core position. While SCG was fully funded at the supporting level, it is not fully funded as a core holding. This is another one I could purchase! Here again, mp-aybe I should wait for the Fed to raise rates, as I think utilities (along with REITs) may experience a temporary price pullback when they do.
TUP - I have Tupperware on my bench, where I am still dripping the stock. While I am bullish on Tupperware's emerging market prospects, I haven't taken it off my bench just yet. It still needs to prove itself. So, I won't be adding here.
Conclusion
A FastGraphs analysis reveals 14 Dividend House DGI stocks that are attractively valued right now. They are: BAX, DLR, ED, GAS, HCP, IBM, OHI, SCG, SO, T, TUP, VTR, VZ, and WTR. Of these 14 stocks, only seven are cheaper than their fair value estimates and/or 12-month price targets: BAX, DLR, HCP, IBM, OHI, SCG, and TUP. One more stock -- Southern Company -- is very, very close (literally, 19 cents away as I write this!) to dropping below its lowest fair value estimate as well.
Comparing these attractively priced stocks with funding gaps in my portfolio left me with very slim pickings! Commensurate with the toppy market, this analysis resulted in finding very few stocks that are attractively valued for which I wasn't already fully funded. The two most attractive candidates for my own portfolio are OHI and SCG. Both are attractively priced now, but may go on sale in the second half of the year if the Fed raises interest rates.
While I didn't find any screaming bargains that I hadn't already taken advantage of recently, I may purchase a little OHI and SCG this week, depending on the market's action. In addition, I may purchase SO or SCG for my daughter's budding DGI portfolio. She doesn't yet have a utility in her foundation and needs one!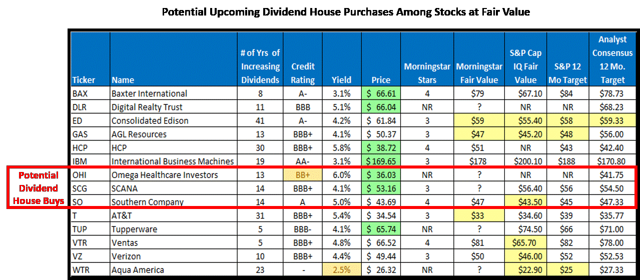 In any case, I hope this discussion of my thought process regarding stock valuation helps you think about how you value good entry prices for your own portfolio! (And, if you find any screaming buys that I missed, please let me know!)
Disclaimer: We are not financial advisors. Our articles are meant to explain our own thought processes as we evolve as dividend growth investors. They are not meant to recommend this path to anyone else. Please come to your own conclusions about what investment philosophy to pursue and in which stocks to invest.
Disclosure: The author is long ABBV, AVA, BAX, BBL, BMY, CAT, CBRL, CLX, CMCSA, COP, CVX, D, DE, DEO, DLR, ED, EMR, GAS, GE, GIS, HCP, HYH, IBM, JNJ, KMB, KMI, KO, KRFT, LMT, MAIN, MAT, MCD, MMP, MO, NEE, O, OHI, OMI, PEP, PFE, PG, PM, SCG, SEP, SO, SYY, T, TGT, TUP, UL, UPS, VOD, VTR, VZ, WBA, WEC, WFC, WMT, WPC, WTR, XEL, XOM, ZMH. The author wrote this article themselves, and it expresses their own opinions. The author is not receiving compensation for it (other than from Seeking Alpha). The author has no business relationship with any company whose stock is mentioned in this article.