On Friday, January 27, 2012, CYS Investments (NYSE:CYS), a mortgage real estate investment trust or mREIT, announced it priced a public offering of 25 million shares of common stock. The offering price was set at $13.28 per share. The mREIT's closing price the day prior was $13.75, and it opened on January 27 at about $13.35, still slightly above the secondary's price point. See a recent chart of CYS below: (Click to enlarge)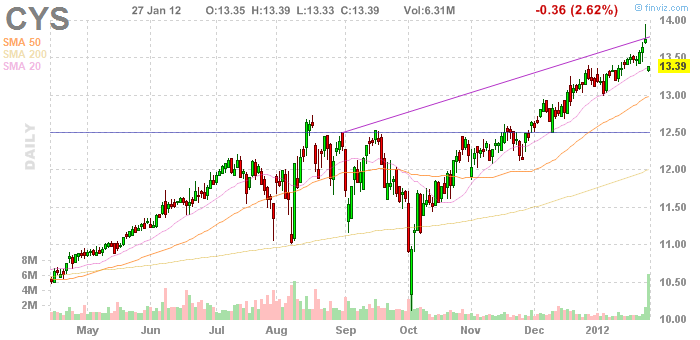 CYS also announced that it provided the underwriters with a 30-day option to purchase up to an additional 3.75 million shares to cover over-allotments, if any. The offering is expected to close on or about Wednesday, February 1, 2012 (next Wednesday).
CYS stated that it intends to utilize the proceeds generated from the transaction to make additional acquisitions of agency-backed residential mortgage-backed securities or RMBSs. CYS is an agency mREIT that is similar in structure to industry powerhouses Annaly Capital Management (NYSE:NLY) and American Capital Agency Group (NASDAQ:AGNC). CYS presently has a market valuation of around $1.1 billion, but should be expected to grow to somewhere between $1.4 and $1.5 billion from this offering.
On Wednesday, January 25, 2012, Ben Bernanke added some greater certainty to U.S. interest rate policy. Previously, the Federal Reserve comment as to the interest rate was that it would keep the Federal Funds Rate near zero through mid-2013. Bernanke now extended this policy through 2014.
This is arguably a good or bad policy for the nation, but it is most certainly a short-term benefit for most Mortgage REITs, by ensuring that the borrowing rates will stay low for the next two years. Lower rates would also mean longer term and higher yielding paper should increase in value in the short term. This secondary offering was likely in the works prior to the Fed's announcement.
CYS last announced a secondary offering about a year ago, on February 9, 2011, when it sold 20 million shares, with a 3 million over-allotment option. Such secondary offerings are common for mREITs, which are required to pay out at least 90% of their income to shareholders in order to avoid taxation at the corporate level. Another mREIT, Two Harbors (NYSE:TWO), announced a secondary offering earier this month, at what now appears to be good timing, given the Fed's subsequent comments, coupled with potential government-sponsored refinancing support that President Obama discussed in the State of the Union.
Both Annaly and Americn Capital Agency issued multiple secondary offerings during 2011. Annaly refrained from the habit during the second half of 2011 and appears to be lowering its leverage at a time where most other mREITs might be raising leverage rates due to decreasing spreads. These agency mREITs should report their Q4 leverage rates within the next 2-3 weeks.
Mortgage REITs are generally the sub-type of REIT that most frequently offers shares through a secondary. Mortgage REITs have become of interest to an expanding group of investors over the last few years for multiple reasons, but primarily due to the lofty yields that many mREITS offer and also due to the perceived limited risk within agency REITs.
Secondary offerings can be either dilutive or accretive to actual share value, depending on how productive the REIT is at using the acquired funds. Nonetheless, secondary offerings also often help mREITs maintain their lofty dividends. This often occurs through leveraging up balance sheets, which has been the go-to move for most agency mREITs since the financial crisis began.
Though this secondary will reduce CYS' book value per share, the additional capital should help CYS acquire RMBS paper and hopefully maintain its dividend. CYS presently provides a 14.9% yield, having last paid a quarterly dividend of 50 cents per share. The company also noted that it expects its Q4 2011 earnings to be somewhere between 51 and 55 cents per share.
Disclosure: I am long NLY.
Disclaimer: This article is intended to be informative and should not be construed as personalized advice as it does not take into account your specific situation or objectives.