The Organization of the Petroleum Exporting Countries (OPEC) was founded in Baghdad, Iraq, with the signing of an agreement in September 1960 by five countries namely Islamic Republic of Iran, Iraq, Kuwait, Saudi Arabia and Venezuela. They were to become the founder members of the organization.
These countries were later joined by Qatar (1961), Indonesia (1962), Libya (1962), the United Arab Emirates (1967), Algeria (1969), Nigeria (1971), Ecuador (1973), Gabon (1975) and Angola (2007). From December 1992 until October 2007, Ecuador suspended its membership. Gabon terminated its membership in 1995. Indonesia suspended its membership effective January 2009. Currently, the Organization has a total of 12 Member Countries: Algeria, Angola, Ecuador, Iran, Iraq, Kuwait, Libya, Nigeria, Qatar, Saudi Arabia, United Arab Emirates and Venezuela.
In accordance with its Statute, the mission of the Organization of the Petroleum Exporting Countries (OPEC) is to coordinate and unify the petroleum policies of its Member Countries and ensure the stabilization of oil markets in order to secure an efficient, economic and regular supply of petroleum to consumers, a steady income to producers and a fair return on capital for those investing in the petroleum industry.
So after a brief background let's jump into OPEC and the immediate impact they can have on WTI prices at the meeting tomorrow. The Organization of the Petroleum Exporting Countries is holding its semi-annual meeting tomorrow (June 5) in Vienna. According to a piece posted on WSJ June 1 authored by Michael Amon see below 5 things to watch for out of OPEC. I thought this was very informative from a macro perspective.
Five things to watch for at OPEC Meeting
1) OPEC members have signaled the cartel will stay the course with its current strategy of ramping up production and fighting for market share, a decision taken at its last meeting in November. That announcement will officially come on Friday (though it could leak out before), likely in the form of a statement that OPEC will stick to its production ceiling of 30 million barrels a day. The group has been producing at levels above its ceiling for months, so the number is a bureaucratic fiction, but any change would signal an unexpected new course for the organization.
2) For the past several months, OPEC has said it would be unwise to pull back on production without help from other big producers like Russia. Moscow is sending a delegation to Vienna on Tuesday and wants to meet with OPEC members, though it has been reluctant to cut output in the past. Persian Gulf OPEC members have said they won't meet with Russia unless it is serious about holding back some of its oil.
3) The prospect of Iran returning to the world's oil market in full force almost certainly will be a topic of discussion. The Persian Gulf country is in talks with the US, Russia, China, France, the U.K. and Germany that could lift nuclear-related sanctions as soon as this summer. The ensuing flood of new crude could weigh oil prices down and present a new challenge for OPEC.
4) The CEOs of the world's biggest oil companies -- from Exxon Mobil Corp. (NYSE:XOM) to Royal Dutch Shell PLC (NYSE:RDS.A) (NYSE:RDS.B) -- will be in Vienna for OPEC's seminar, an annual event that for the first time in several years is coinciding with the cartel's meeting. Watch for awkward encounters between American oil executives and Iranian government officials -- who want to work together again but can't until sanctions are lifted.
5) It may be the last OPEC meeting for Ali al-Naimi, Saudi Arabia's irascible oil minister for the past 20 years. He has led OPEC through some of its most tumultuous times, from the Asian economic crisis to $147 a barrel oil to the group's most recent decision to fight for market share instead of cutting production in the face of collapsing prices. That last decision may be his defining legacy.
Expect fireworks as the energy market like most commodity markets tends to overreact on OPEC meetings, USDA reports, FOMC meetings and the like. Recent action has seen a tug of war in prices, with futures gaining $4/barrel only to retreat $3 in the last 2 sessions. Futures have been range bound, trading in the $6 range for the last five weeks. Support is seen just below the $58/barrel level in July futures; under that level, I am using Fibonacci levels as price targets on bearish trade:
38.2% @$54.14
50% @$51.93
61.8% @$49.72
100% @$42.57
Crude oil Daily: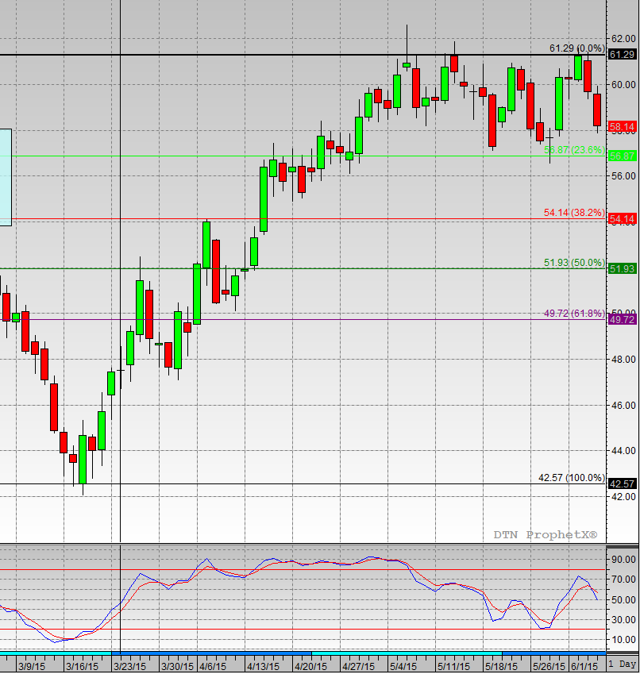 I am operating under the assumption that an interim high has been established between $61/62 barrel, and would suggest positioning in bearish trades under the presumption that WTI prices find their way back near $50/barrel in the next 60-90 days.
So the price charts can be seen and may be interpreted differently, but the fundamentals -- the raw data about production and consumption, supply and demand -- they cannot be debated… they tell a bearish tale. As production continues to increase in the US and globally, it should act as a noose on oil's neck.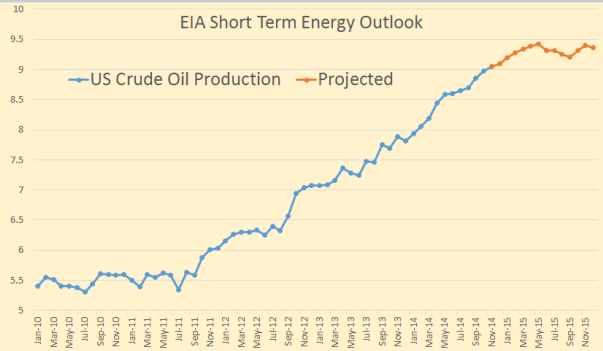 US crude oil production is projected to increase from an average of 8.7 million barrels/day in 2014 to 9.2 million barrels/day in 2015 and remain flat in 2016.
The only bullish factor I can find out there is the insurmountable drop we've experienced in rig counts, declining to the lowest level in almost five years as of early May. My question is at what level that will have an impact and how long is the lag effect? In late 2010 when rigs were near current levels, WTI was at $100/barrel, a hefty premium from current trade. The talking heads on CNBC today said $65 is the new $90… is it possible they are correct with this assumption?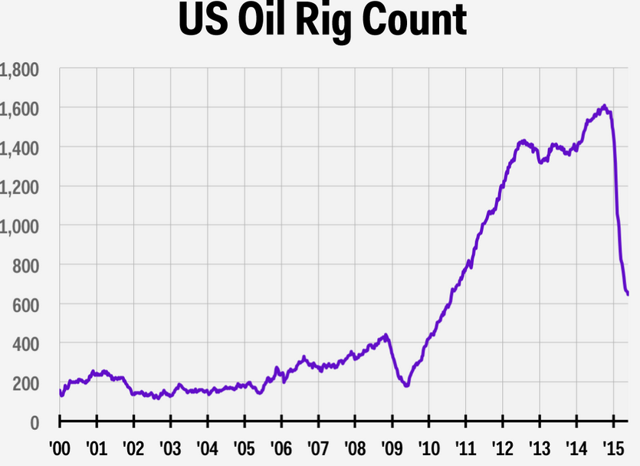 Crude oil Weekly: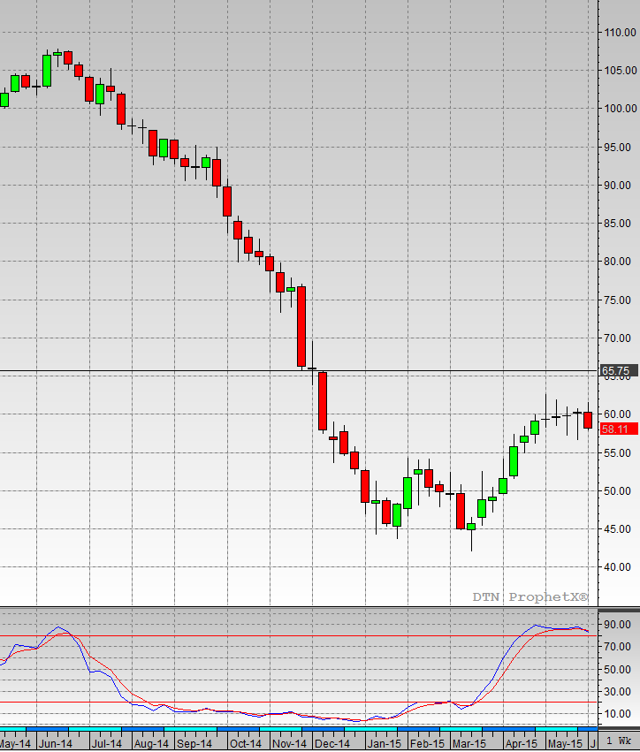 Looking at a longer timeframe, maybe a different story can be told as prices of WTI crude oil are lower by 45%. However, the last 5 weeks of consolidation as seen on the weekly chart above to me is oil catching its breath before a dive lower once again. Assuming a 50% Fibonacci retracement on the most recent counter trend bounce puts futures back at $51/barrel.
Possible bearish trade ideas:
BEAR PUT SPREAD:
Buy September $59 put @ 378 points/ $3,780
Sell September $55 put @ 216 points/ $2,160
Total cost $1,620 per spread
73 days to expiration
16 Delta (48 -32)
SHORT AUGUST FUTURES/BUY OUT OF THE MONEY CALL:
Sell August futures currently @ $58.30
Buy August $60 call @ 195 points/ $1,950
41 days to expiration
43 Delta
Another idea as opposed to playing outright bearish directional trade is a term structure play. Seen below is Short August futures against long December futures.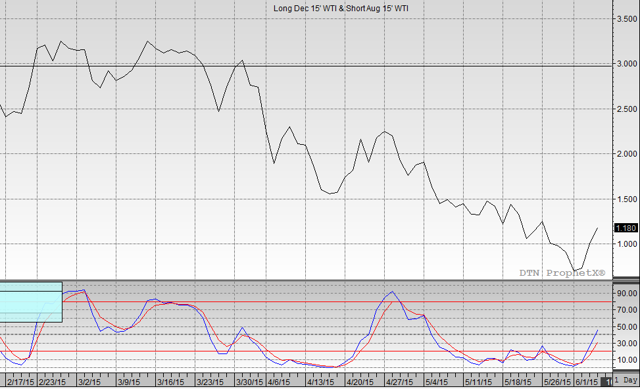 Disclosure: The author has no positions in any stocks mentioned, and no plans to initiate any positions within the next 72 hours.
The author wrote this article themselves, and it expresses their own opinions. The author is not receiving compensation for it. The author has no business relationship with any company whose stock is mentioned in this article.