The Russian ruble is strengthening as inflation pressures abate and interest rate premiums subside. The U.S. dollar has fallen over 12% against the ruble in 2015.
In May, the inflation figure came in at an annual pace of 15.8%, down from the previous month's reading of 16.4%, while also bettering estimates for 15.9%. Since bottoming at under 4% in 2012, the inflation measure has risen nearly 1200 basis points, seen below. Policymakers see further slowing of inflation, barring no new external shocks.
"If there are no new considerable external shocks, inflation should continue to slow down in accordance with our forecasts. Price growth has started to ease 'quickly' in recent months after a jump early in the year caused by the ruble's weakening," according to Bloomberg.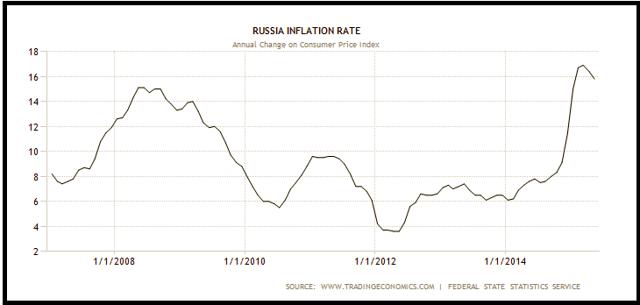 Moreover, government bond yields have declined in Russia as the risk premium was removed by investors. After peaking at over 16% at the start of 2015, Russia's 10-year government bond yield has fallen to 10.78% currently, seen below. This decline in risk premium due to both falling geopolitical risks and less volatile financial assets has pushed funds into its currency.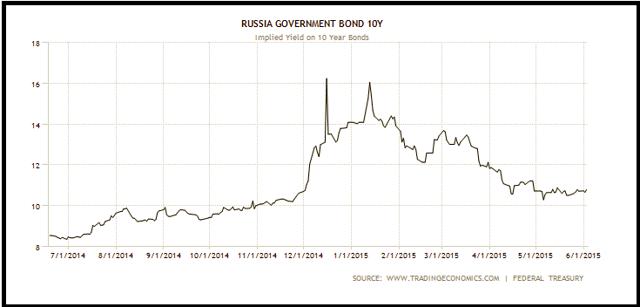 Additionally, policymakers have eased lending rates in order to cushion the economic decline. In April, Russia's central bank cut its lending rate to 12.5%, below the previous meeting's reading of 14%, while also bettering estimates for 13%. After peaking at 17% earlier in the year, the lending rate has been cut to current levels, seen below. Falling inflation measures are allowing policymakers to cushion the economic decline, and hopefully spur growth in coming quarters.
Russia's economy continues to improve as inflation pressures decline. After peaking earlier in the year, inflation pressures have steadily fallen. Moreover, the risk premium priced into government bonds has similarly declined.
Falling inflation and less fear of currency outflows have allowed policymakers to cut its lending rate in order to spur economic growth. With further improvement in Russia's economy, its currency could strengthen in coming months.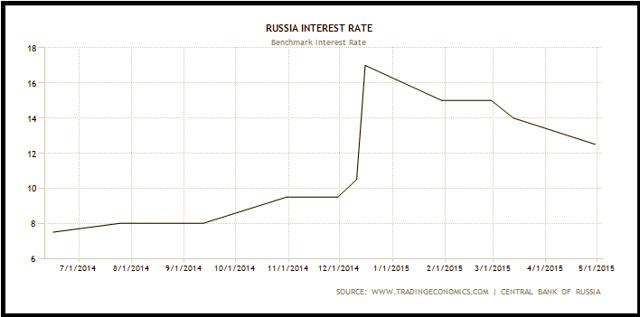 Disclosure: The author has no positions in any stocks mentioned, and no plans to initiate any positions within the next 72 hours. The author wrote this article themselves, and it expresses their own opinions. The author is not receiving compensation for it (other than from Seeking Alpha). The author has no business relationship with any company whose stock is mentioned in this article.