The nose dive in crude oil prices has been a major story across global economies and financial markets during recent quarters. Signs of weaker economic growth, coupled with unexpected incremental supply increases from countries such as Iran and Libya, dealt a crushing blow to the commodity last summer. Very quickly, the profitability dynamics of operating within the oil industry value chain changed dramatically. Producing oil is an inherently cyclical affair. As in any industry characterized by rational competition, during good times when returns on investment (ROI) are strong, incumbent businesses seek to expand their presence and new players enter the market. The natural result is more production capacity and growing supply. On the other side, when oil prices descend such that ROIs are no longer sufficient to justify the cost of finding and developing new sources of supply, businesses pull back and begin to operate more conservatively.
Today, given the severity of the slide in oil, business leaders are swapping the scalpel for a machete and making deep cuts to expenses and capital spending budgets. For many, the focus has shifted 180 degrees, from profit maximization to simply working to remain a going concern. Indeed, some will not survive the weeding-out of weaker players that occurs as the cycle bottoms. Investors listening to members of the C-suite discuss the oil industry landscape in first quarter earnings conference calls received an earful of common refrains that centered on cost cuts.
"Budgeted capital spending is planned at... a 13% reduction from 2014."
Patricia E. Yarrington, Chief Financial Officer & Vice President, Chevron Corporation
"Our CapEx plan for the year has been revised down... 41% lower than 2014 levels."
Krishna Shivram, Chief Financial Officer & Executive Vice President, Weatherford International
"The pace and magnitude of the activity reductions, particularly in North America, have been almost unprecedented. This made managing the quarter challenging, including the decision to further reduce our workforce... bringing the total personnel reduction to... around 15% compared to the peak of Q3 2014."
Paal Kibsgaard, Chief Executive Officer & Director, Schlumberger NV
These large cuts to personnel, spending, and investment plans are reflected by the massive drop in oil rigs operating in North America. Data displayed in the nearby chart comes from oilfield service provider Baker Hughes (BHI) (which is in the process of being acquired by Halliburton (NYSE:HAL)).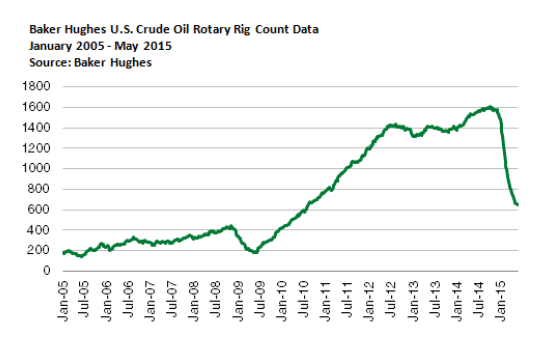 Cost cuts, industry consolidation, bankruptcy - although painful, these events are part and parcel of a cyclical trough. They represent the natural and necessary steps businesses must take at an individual company level to weather the storm. Collectively, they should manifest as a reduction in industry-wide capacity, and over time, slower supply growth or declining supply.
Investors must focus on this supply response, as it is the mechanism that restores a closer balance with demand and ultimately stems declines in the commodity price. Businesses that successfully manage through the most difficult times are often much stronger when the growth portion of the cycle begins anew. We identify investment opportunities in cyclical industries through the lens of our Hurdle Rate strategy.
As the nearby quotations suggest, the industry is clearly adjusting to oil prices at depressed levels. However, it remains unclear if we have seen the ultimate lows. Concern surrounding persistently weak global economic growth, which influences perceptions of demand, together with the potential for unexpected supply shocks, has contributed to oil price volatility in recent months.
Amid these gyrations, the U.S. energy sector within the S&P 500 Index was the standout performer during April. The sector advanced almost 7%, beating the index's roughly 1% monthly return by a sizeable margin.
To earn compelling returns in cyclical industries, investors are not required to perfectly time the absolute bottom. In fact, doing so with accuracy borders on impossible. Instead, we believe investors can be well-served by closely following the global supply situation for indications that its balance with demand is improving. To the extent that tangible evidence of global supply rationalization continues to emerge, investors should consider exploring oil-oriented investment opportunities in the energy sector.
Given that industry conditions are likely to remain weak for the foreseeable future, we believe investors should focus on companies with strong balance sheets and healthy overall financial positioning. They are the most likely to be around to reap the benefits when conditions improve. Once again, in cyclical industries like oil, the importance of supply cannot be overstated.