Some traders are holding out hope that OPEC decides to focus on stronger pricing for crude rather than maintaining arbitrary market share positions. While market share is important in a stable price environment, it is a non-factor during extreme price declines and that is exactly what has occurred during this latest push by the Saudis to maintain their market position. It seems silly to boost production by one million barrels per day, or between 10-14%, in order to sell your 10-11 million barrels per day of total production for prices which are 35-40% below prices you received when production was lower. Factor in that we are talking about a nonrenewable resource and the logic becomes harder to understand, unless of course we are talking about the Saudis using their oil as a political weapon against ISIS, Iran, Russia and its other enemies.
Chart of the Day:
We think that Iraq is crazy if they think that OPEC is going to talk up prices. The oil markets do not think this is the case and those who follow the market closely do not believe it either. We would look for crude to test support in the coming days by pushing below $58/barrel.

Source: CNBC
Commodity prices are as follows (at time of submission):
Gold: $1,174.00/ounce, down by $1.20/ounce
Silver: $16.115/ounce, up by $0.012/ounce
Oil: $58.48/barrel, up by $0.48/barrel
RBOB Gas: $1.9993/gallon, up by $0.0187/gallon
Natural Gas: $2.616/MMbtu, down by $0.01/MMbtu
Copper: $2.689/pound, up by $0.002/pound
Platinum: $1,100.80/ounce, up by $1.60/ounce
Oil Equities Taking A Beating
We have been highlighting certain oil and gas E&Ps lately that have been acting out of the norm due to news or technicals with their charts, but today we thought it might be important to highlight just exactly what is going on in the sector as a whole because the sector usually determines investors' sentiment towards not only the industry but individual names as well.
Chesapeake Energy (NYSE:CHK) has been getting crushed lately, with the stock hitting a fresh 52-week low yesterday of $12.98/share before closing at $13.04/share. The stock was down another 3.83% yesterday, which matches losses experienced in previous sessions. This continues a losing trend that has taken place ever since the stock broke above $16/share and appeared on its way to breaking out further before collapsing and eventually selling off over the past few weeks.
The chart says it all. It is never good to see a stock which moves from the upper left to the lower right, especially over a prolonged period of time.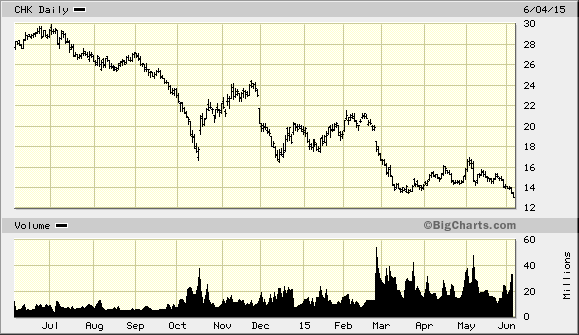 Source: BigCharts
Of course, it is not just investors selling dogs these days but also winners. Look at PDC Energy (NASDAQ:PDCE) which has sold off after failing to effectively take out the $60/share level on numerous occasions. While investors were previously concerned about upward resistance, they should not be focusing their attention on support levels for this latest move lower. The company's shares closed yesterday at $56.74/share, which is getting close to where support should kick in at around the $55/share area. If shares cannot find support there, we may see a sharper decline.
PDC Energy has lost the confidence of the market and with WTI Crude prices weakening, so too have shares.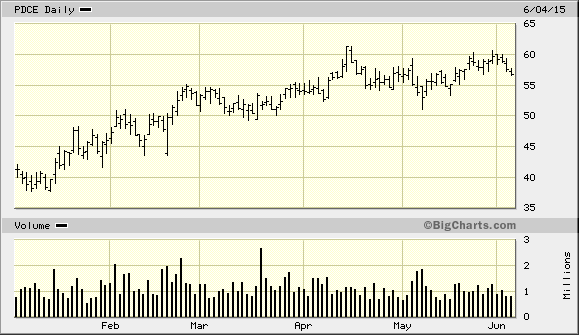 Source: BigCharts
Copper Continues Lower
While shares of Southern Copper (NYSE:SCCO) have held up strongly during this latest move lower in copper prices, shares of Freeport-McMoRan (NYSE:FCX) have done the opposite. The reason for this divergence is because Freeport is getting hit from all sides as copper, gold and oil all head lower at the same time and investors are beginning to question the oil acquisitions the company made. We should say investors are beginning to get worried about the oil acquisitions the company made, because they have questioned them since Freeport made the announcement. For readers wanting to play the copper market without the volatility, Southern Copper is the way to go, but for those looking for copper exposure and then some, while also getting volatility, then Freeport-McMoRan is the play. With the recent downturn in commodity prices, we would hold off on any purchases of Freeport until it gets below $19/share with a target of $18/share.
Disclosure: The author is long PDCE. The author wrote this article themselves, and it expresses their own opinions. The author is not receiving compensation for it (other than from Seeking Alpha). The author has no business relationship with any company whose stock is mentioned in this article.
Additional disclosure: PDCE & FCX have previously been recommended.