Is it time to flee to safety? With the economic and political climates only becoming more tumultuous, I have been concentrating on high yield equities recently. We all know about the blue chip dividend companies but there are attractive companies with high yields that are going ex-dividend every week. This strategy can work in one of two ways: either you buy before the ex-date to receive the dividend or buy after if the stock declines far below the after-tax amount of the dividend.
Buying the stock to receive the dividend is intuitive but many have contacted me requesting further details on the second strategy. Investopedia has a great example of how this works. To explain this, I will use AT&T (NYSE:T) as an example. AT&T declared a $.44 dividend to shareholders of record on January 10th, 2012. On the ex-dividend date the stock price should decline by the after-tax dividend amount, with an assumed tax rate of approximately 15% because many dividends qualify for a preferential tax rate.
As a result, an investor would expect the stock price to decline by $.37 = [$.44 * (1-.15)]. If AT&T declined by more than $.37 in the absence of negative news you might have an attractive opportunity. Executing this strategy can generate outsized returns over short periods of times but should only be performed on companies that you would be comfortable owning.
To focus on these opportunities I ran a screen with a focus on relative safety for the investments. Since this is a high yield quest I began with a specification of a dividend yield greater than four percent and an ex-dividend date within the next week. To provide some layer of safety I narrowed down the environment by looking at companies with market capitalizations greater than $1B, P/Es between zero and twenty, and institutional holding percentage of at least ten percent. While not a precise requirement, I prefer companies that have underperformed the S&P 500 in the last 52 weeks as it indicates limited downside relative to peers. This is summarized below:
Dividend Yield ≥ 4.0%
Ex-Dividend Date = This Week
Market Capitalization ≥ $1B
P/E Ratio: 0-20
Institutional Ownership ≥ 10%
After applying this screen I arrived at five potential trades. Although I envision these as short-term trading ideas, you still need to be careful. The information presented below should simply be a starting point for further research and should not be taken as a recommendation.
Avoid: Natural Gas Companies
Atlas Pipeline Partners, LP (NYSE:APL): 5.78% Yield - Ex-Dividend 2/3
Chesapeake Midstream Partners, LP (CHKM): 5.07% Yield - Ex-Dividend 2/3
Atlas Pipeline Partners and Chesapeake Midstream Partners provide natural gas services and operates natural gas processing plants throughout the United States. Natural gas inventories are quite elevated and natural gas prices recently hit a ten year low. I am generally bullish on natural gas but the near-term prospects are not favorable. While these could be interesting long-term investments, I would avoid for dividend capture purposes. Chesapeake Midstream has a P/E that is three times greater than Atlas but has a lower yield. As a result, Atlas is the preferred choice if you do decide to dabble in this area.
Consider: Regional Banks
New York Community Bancorp (NYB): 7.86% Yield - Ex-Dividend 2/3
Bank of Montreal (NYSE:BMO): 4.68% Yield - Ex-Dividend 1/30
NYB primarily engages in generating deposits and originating loans yet it is currently lagging the S&P by nearly thirty percent. I suspect that it is being punished just like other financials despite having a very sleepy business model compared to underwriting, trading, and the like. Essentially this is a bank in the traditional sense of the word and offers a robust dividend to compensate patient investors. Since I last wrote about NYB the yield has improved forty basis points as the company has declined six percent in the last three months. The company recently missed earnings estimates by $.01 but the report contained some optimistic news regarding non-performing loans.
The Bank of Montreal is a diversified Canadian money center bank. BMO is very similar to the Royal Bank of Canada (NYSE:RY) which I have written about previously. In summary, BMO is similar to the large American banks in its service offerings and presents a different approach to gain financial exposure.
Consider: Electrical Utilities
Pinnacle West Capital Corporation (NYSE:PNW): 4.33% Yield - Ex-Dividend 1/30
FirstEnergy Corp (NYSE:FE): 5.15% Yield - Ex-Dividend 2/3
Southern Company (NYSE:SO): 4.17% Yield - Ex-Dividend 2/2
Pinnacle West Capital, FirstEnergy, and Southern Company are utility companies that produce energy in the United States. These three companies services over one million, six million, and four million, respectively. While slight geographical differences exist for regional utilities, the underlying business is essentially the same: a stable, cash-cow business that returns most profits to investors via dividends. I have successfully owned utility companies in the northeast US.
The Southern Company is the largest of the three and one of the most popular picks recently; however, FirstEnergy offers a significantly higher yield and even has a slightly lower PE. While SO has appreciated nearly twenty percent in the last year, FE has lagged its peers and "only" rose by nine percent. All three of these companies are attractive choices but FirstEnergy is one of the better dividend choices available to investors.
The information presented above has been summarized below.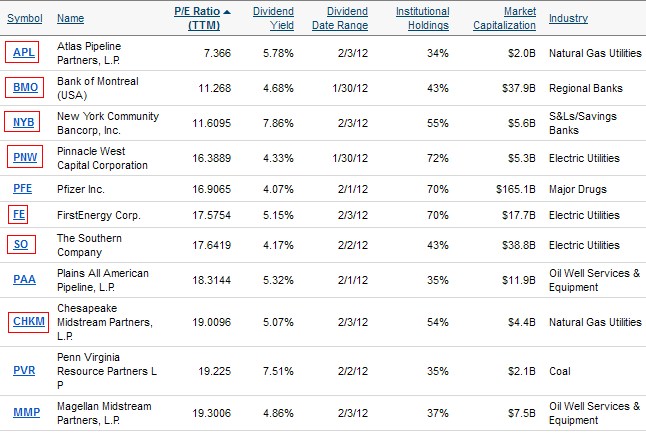 Disclosure: I am long T.