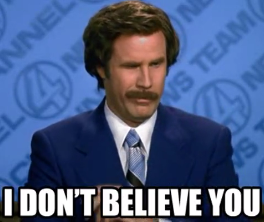 Employment Report gave bulls and bears plenty to chew on.
On the one hand headline data looked great. After all 280K job growth ain't hay and hourly earnings were higher to 0.3%.
What's the rub? Most of the job gains were in part time, retail and teachers, and the Unemployment Rate rose a notch. And, beyond the "good news is bad" fears the Fed will raise rates, some sleuths see the data as not adding up. (The financial media probably won't look too deeply into Alhambra Investment Partners complex research, but there it is for you to ponder.)
Two Fed nightmares via Citigroup's FX strategists opined previously that should the economy continue to stumble (and the Fed didn't increase interest rates) "…the US dollar would probably would probably fall more than it rose from July-March."
Another nightmare was outlined Friday by Citigroup's Steven Englander who suggested another Fed nightmare scenario is "…a rebound which is so fast, the Fed's entire carefully planned renormalization schedule collapses. Unfortunately, it leads to a rather ominous conclusion. The bouts of illiquidity will continue until central banks stop distorting markets. If anything, they seem likely to intensify: unless fundamentals move so as to justify current valuations, when central banks move towards the exit, investors will too. Central bank distortions have forced investors into positions they would not have held otherwise, and forced them to be the 'same way round' to a much greater extent than previously.
The way out may not prove so easy; indeed, we are not sure there is any way out at all."
Also, a more sobering view of Friday's data is from Fed researchers and reposted by Zero Hedge:
1. The labor market simply hasn't healed from the 2007-09 recession, according to Chicago Fed economists Daniel Aaronson and Andrew Jordan.
2. Sluggish productivity growth and other long-term changes in the economy, such as workers' declining labor share of overall national income, are restraining pay raises, according to Cleveland Fed economists Filppo Occhino and Timothy Stehulak.
3. Companies were unable to cut pay during the recession and later compensated by withholding raises during the expansion, according to San Francisco Fed economists Mary C. Daly and Bart Hobijn.
4. The large number of part-time workers, including people who want full-time work but are stuck in part-time jobs, is weighing on wages, the Atlanta Fed said in its most recent annual report.
5. Not enough people have been quitting their jobs, according to Chicago Fed economists R. Jason Faberman and Alejandro Justiniano.
6. People who have left the formal workforce but still want a job are holding down pay because they might rejoin the pool of job seekers, according to Fed Board of Governors economist Christopher L. Smith.
7. A shift in the makeup of the U.S. labor market to include more low-wage jobs is a factor, but not a big one, according to Atlanta Fed economist Whitney Mancuso.
8. The unemployment rate may not have fallen far enough yet to generate strong wage growth, Dallas Fed economists Anil Kumar and Pia Orrenius suggested.
9. Wage data may not tell a clear story about the state of the labor market at all, according to Richmond Fed economists Marianna Kudlyak, Thomas A. Lubik and Karl Rhodes.
Late Friday Consumer Credit rose again by $20.5B soundly beating expectations of $16.5B and prior $20.3B. Gains in revolving debt (buy Visa, MasterCard and etc.?) were substantial but even so, vehicle loans and Student Loans continued to dominate at nearly $12B. Previously credit card holders were paying down debt and not spending. And, perhaps with spring and summer ahead consumers are spending even as data doesn't support this idea.
Friday markets responded with a mixed view as tech was able to eke out a small gain while other indexes weakened. Financials, Banks and Energy kept US markets from imploding. Naturally, Europe was down as the Greek situation continued to mete out bad news as parties involved increased their mutual hostility. Emerging Markets fell along with the Euro.
Bond markets were clobbered once again as investors worried about rising interest rates.
Leading market sectors higher included: Energy (NYSEARCA:XLE), Financials (NYSEARCA:XLF), Banks (NYSEARCA:KBE), Regional Banks (NYSEARCA:KRE), Biotech (NASDAQ:IBB), Small Caps (NYSEARCA:IWM), Transports (BATS:IYT), Russia (NYSEARCA:RSX), Dollar (NYSEARCA:UUP) and Crude Oil (NYSEARCA:USO).
Leading market sectors lower included: REITs (NYSEARCA:IYR), Retail (NYSEARCA:XRT), Utilities (NYSEARCA:XLU), Consumer Staples (NYSEARCA:XLP), Materials (NYSEARCA:XLB), Europe (BATS:EZU), Europe 350 (NYSEARCA:IEV), Germany (NYSEARCA:EWG), UK (NYSEARCA:EWU), Italy (NYSEARCA:EWI), France (NYSEARCA:EWQ), Greece (NYSEARCA:GREK), Japan (NYSEARCA:EWJ), EAFE (NYSEARCA:EFA), South Korea (NYSEARCA:EWY), India (NYSEARCA:EPI), China (NYSEARCA:FXI), Mexico (NYSEARCA:EWW), Corp Bonds (NYSEARCA:LQD), Junk Bonds (NYSEARCA:JNK), Government Bonds (NYSEARCA:TLT), Silver (NYSEARCA:SLV), Gold (NYSEARCA:GLD), Gold Stocks (NYSEARCA:GDX), Natural Gas UNG) and many others
The top 20 market movers by percentage change in volume whether rising or falling is available daily.
Volume was higher than over recent periods and breadth per the WSJ was mixed while Money Flow was negative Friday and on the week.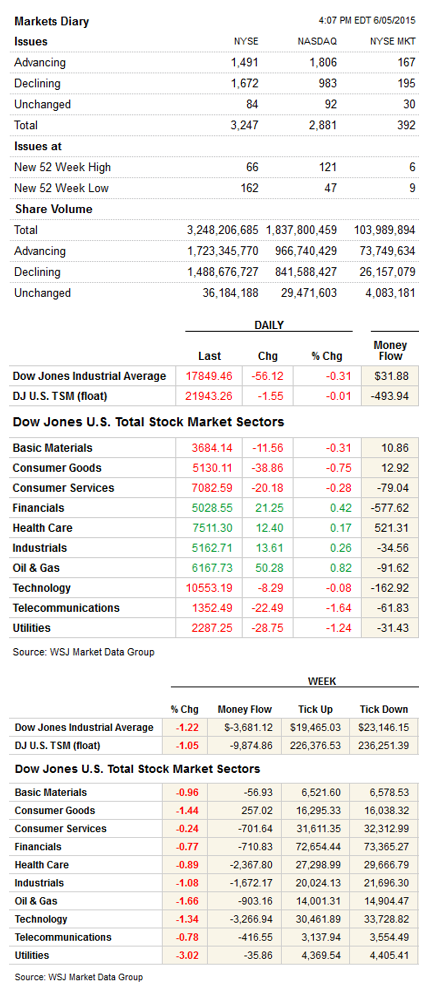 SPY 5 MINUTE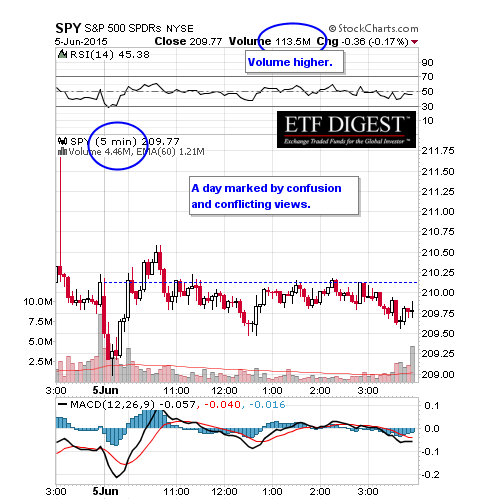 SPY DAILY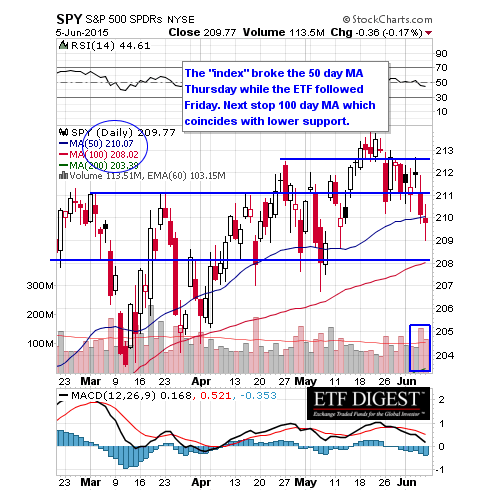 SPX DAILY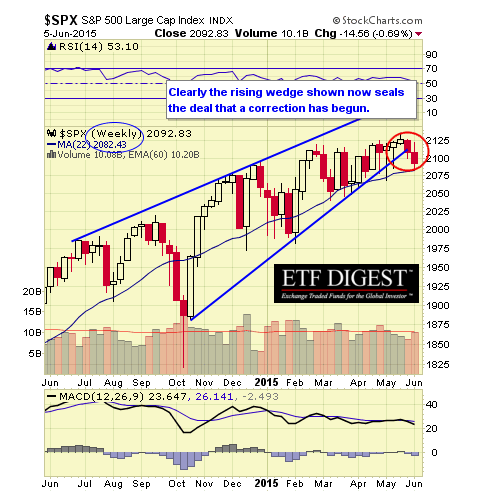 INDU WEEKLY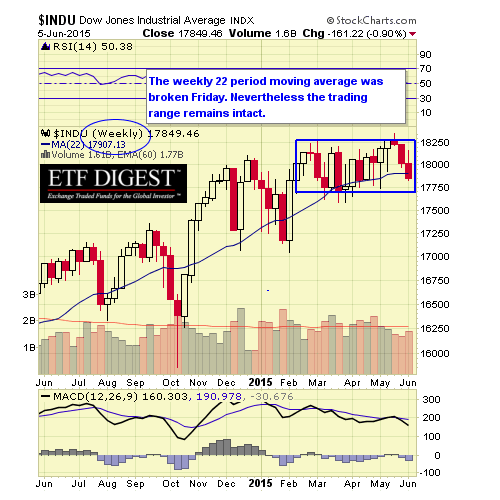 RUT WEEKLY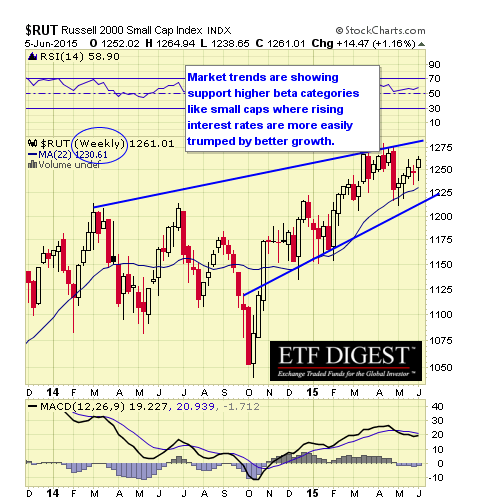 NDX WEEKLY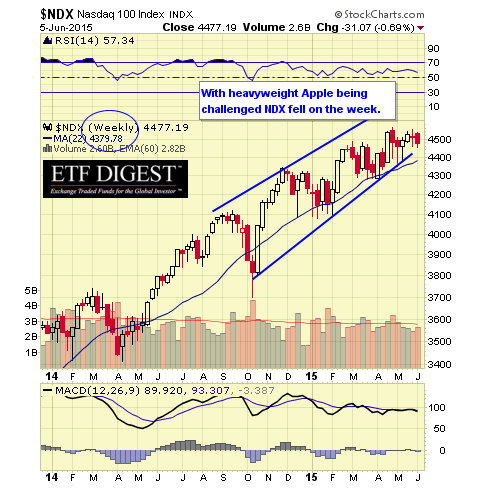 XLB WEEKLY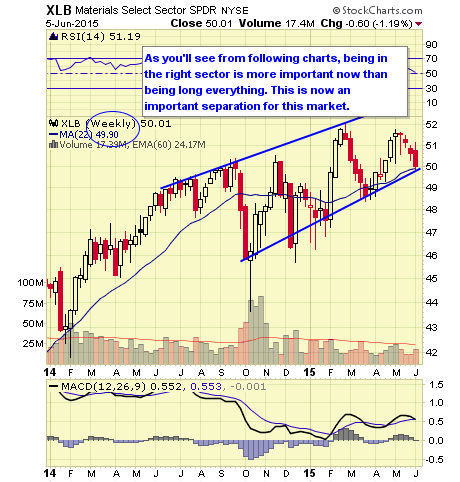 XLE WEEKLY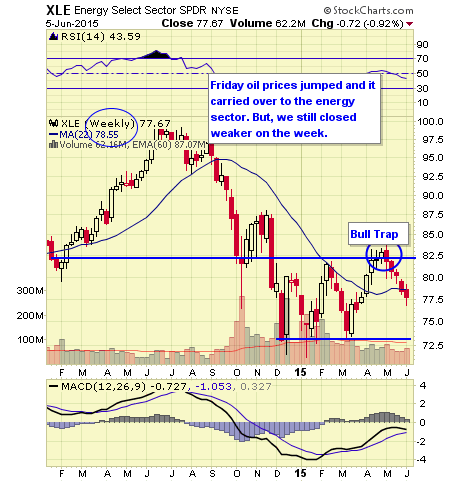 XLF WEEKLY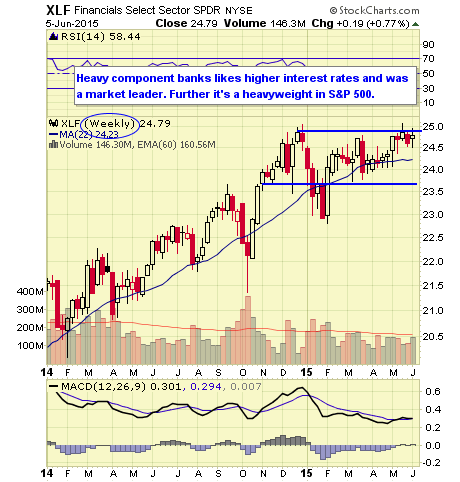 KBE WEEKLY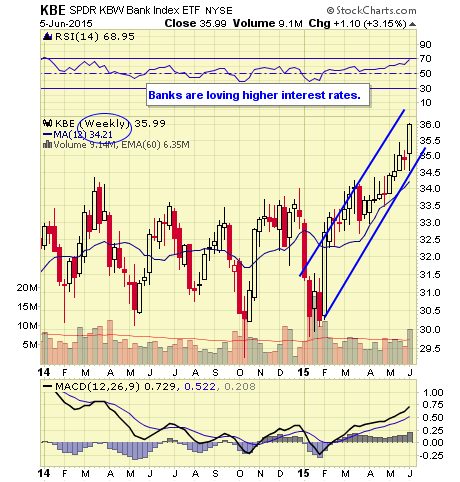 XLI WEEKLY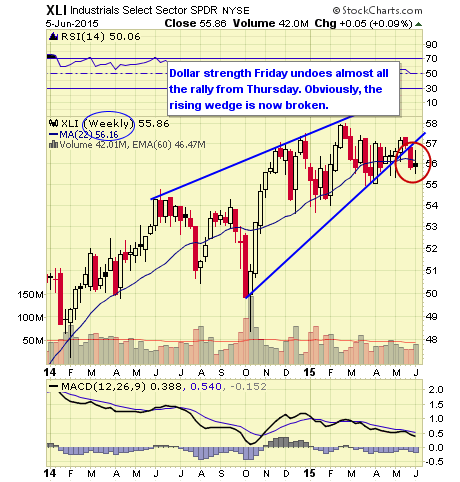 XLP WEEKLY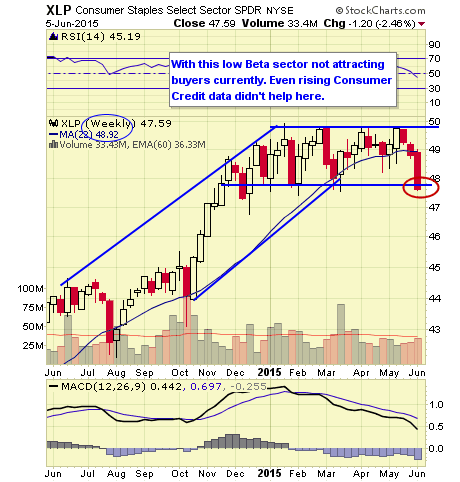 XRT WEEKLY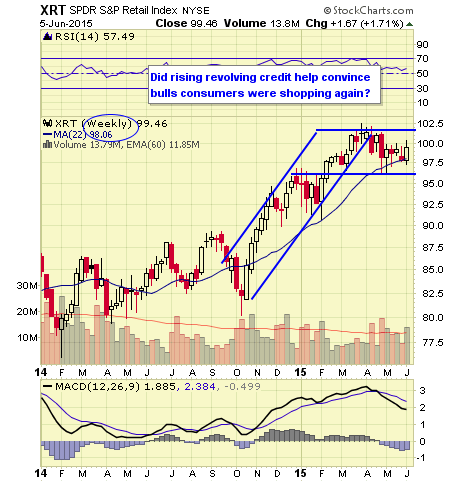 XLY WEEKLY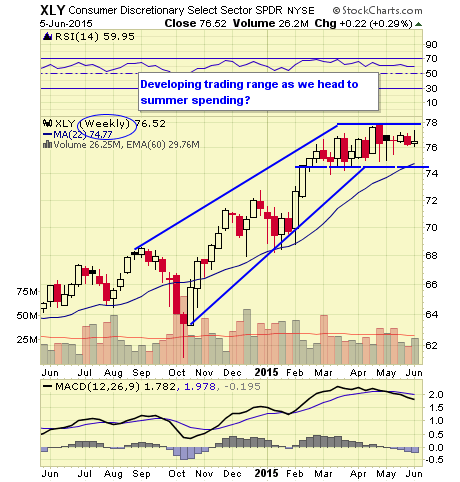 XLV WEEKLY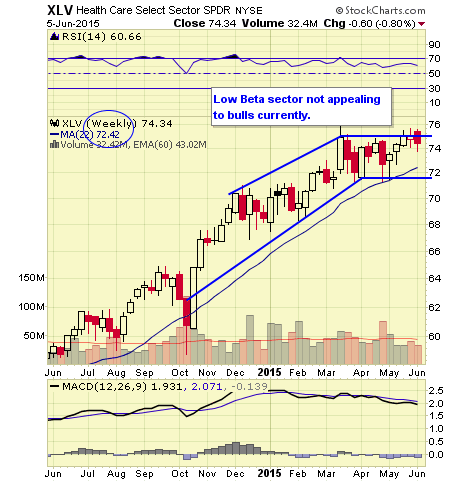 IBB WEEKLY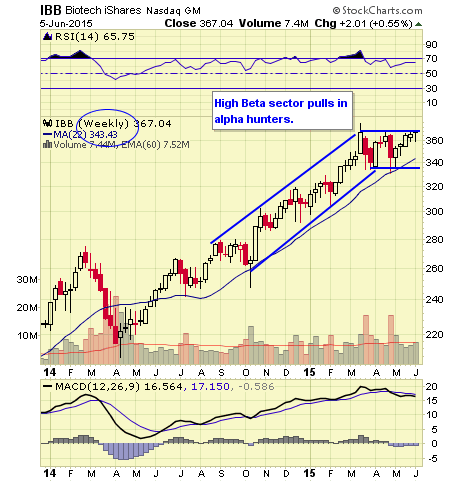 ITB WEEKLY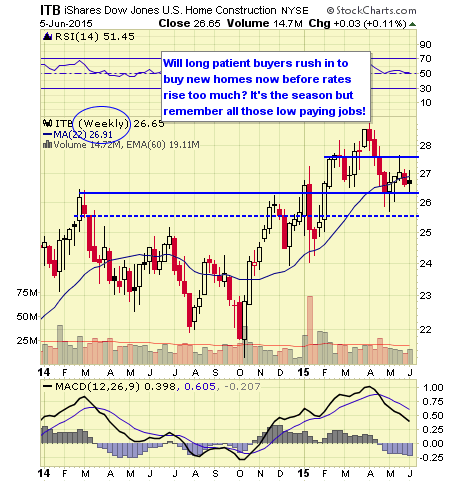 IYR WEEKLY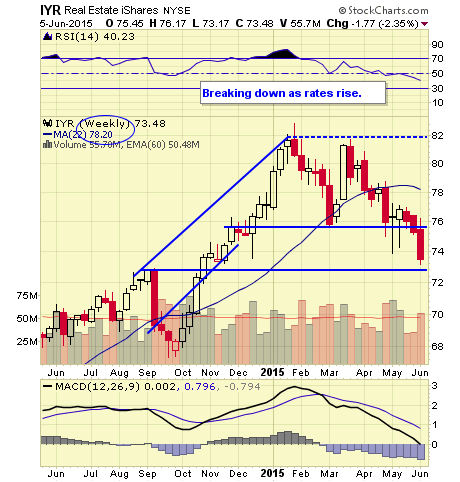 IYT WEEKLY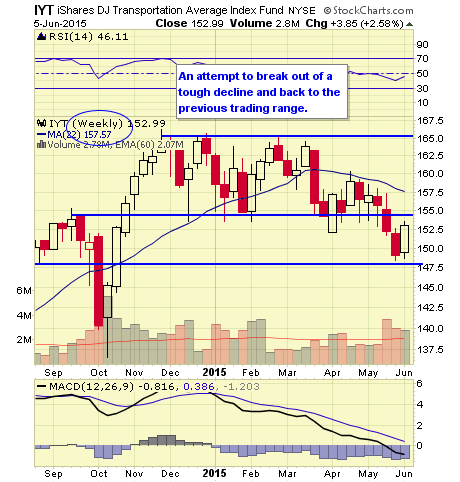 XLU WEEKLY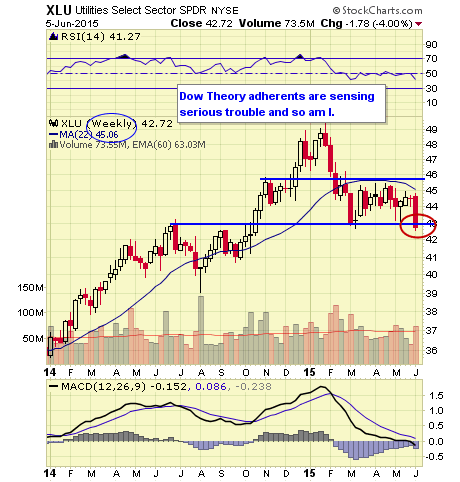 DVY WEEKLY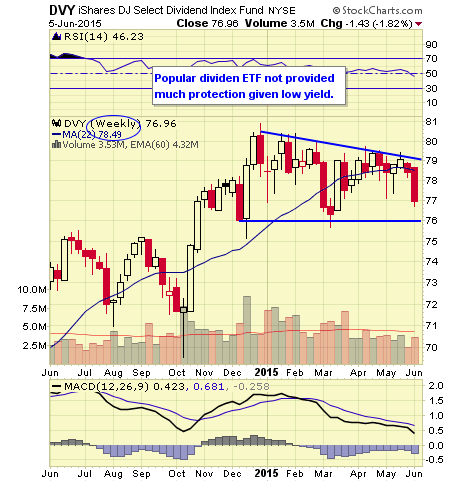 LQD WEEKLY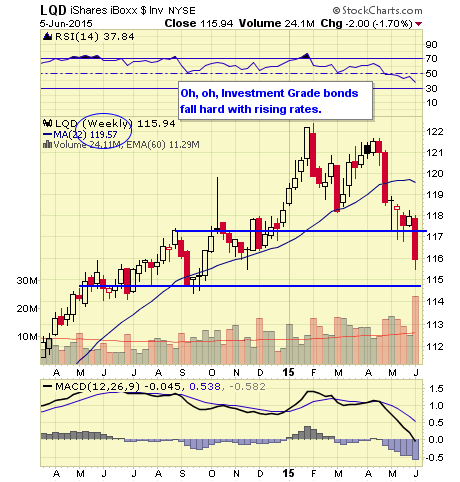 HYG WEEKLY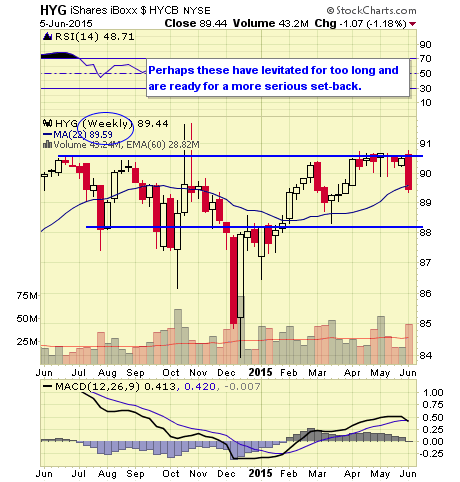 TLT WEEKLY
UUP WEEKLY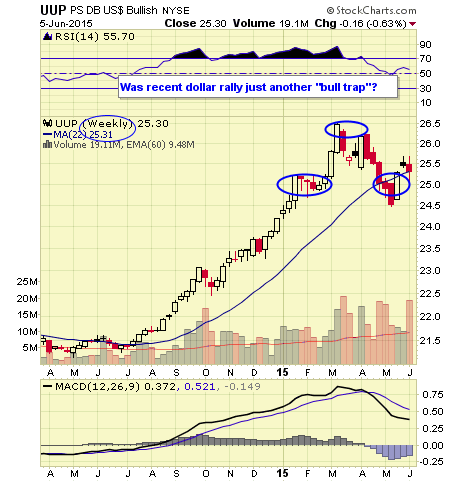 FXE WEEKLY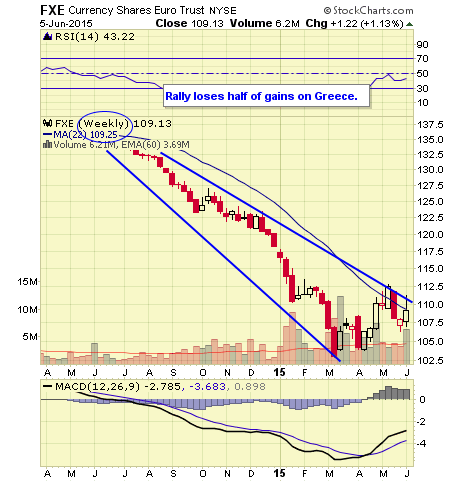 FXB WEEKLY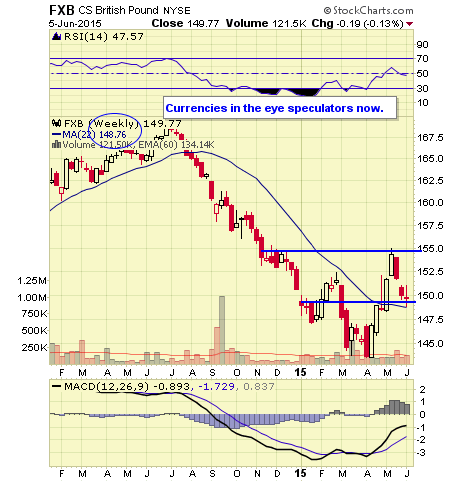 FXY WEEKLY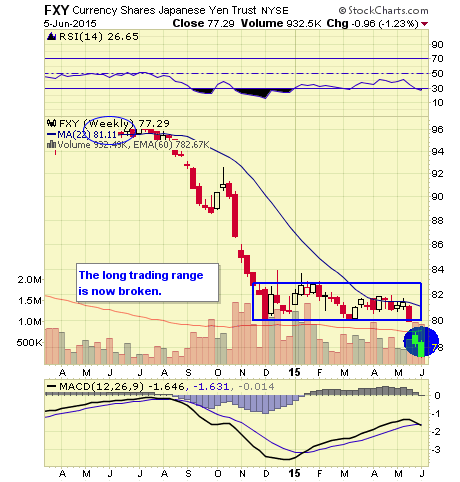 GLD WEEKLY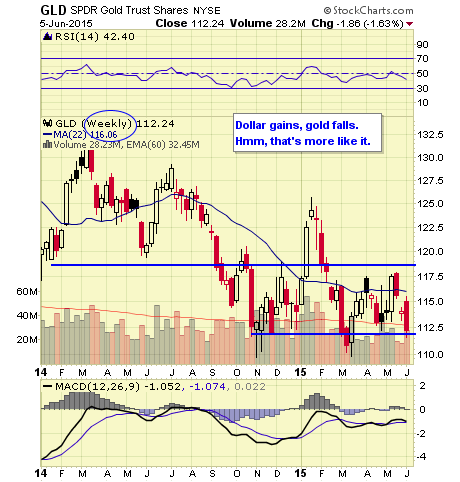 GDX WEEKLY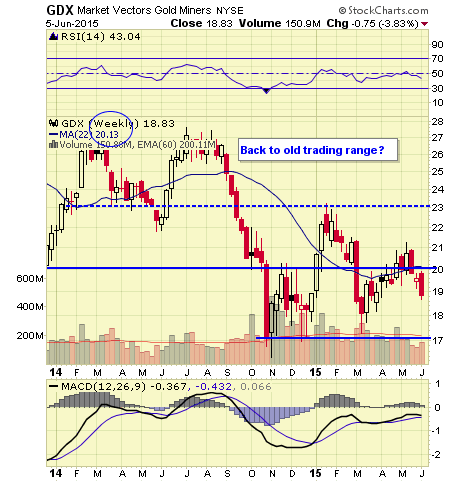 SLV WEEKLY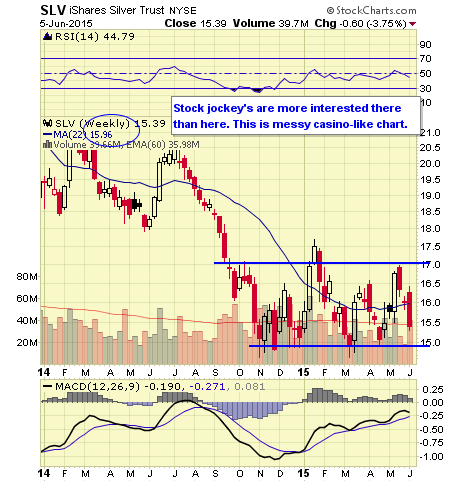 JJC WEEKLY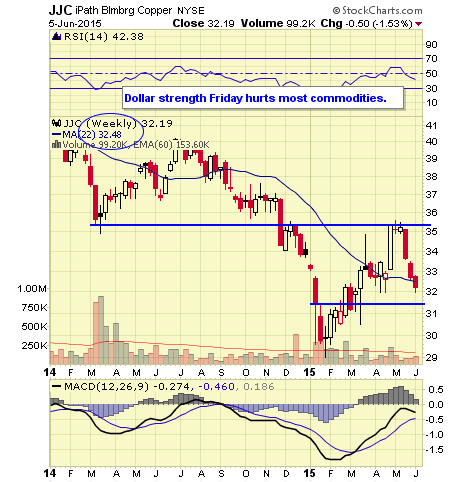 USO WEEKLY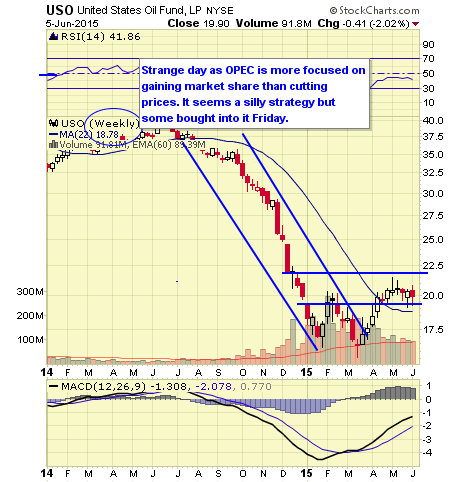 DBC WEEKLY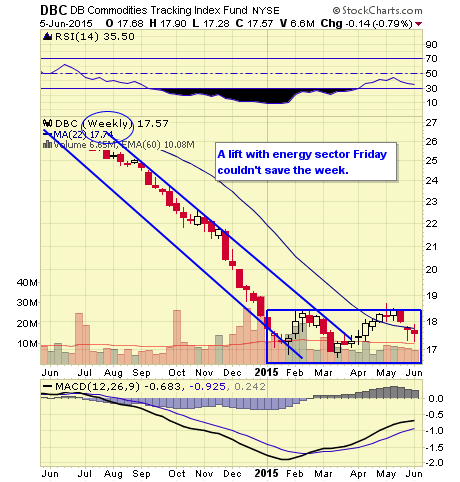 EFA WEEKLY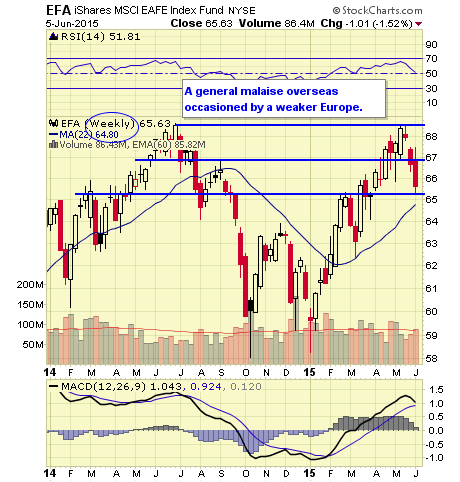 IEV WEEKLY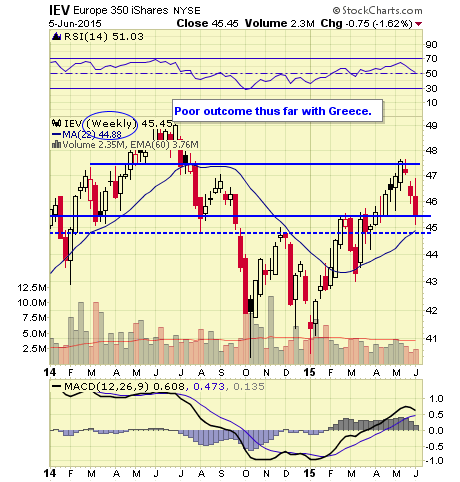 EEM WEEKLY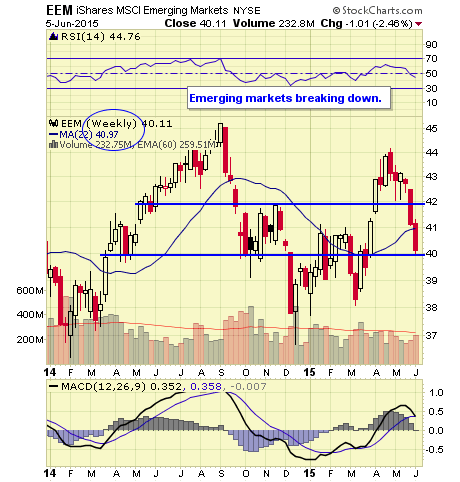 EWA WEEKLY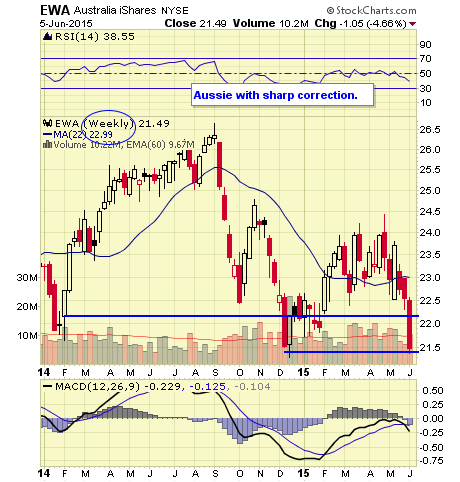 EWG WEEKLY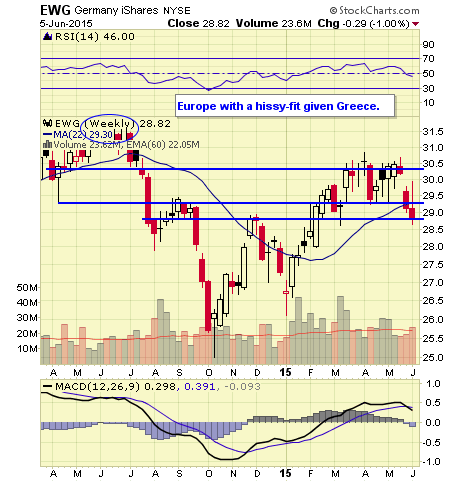 EWU WEEKLY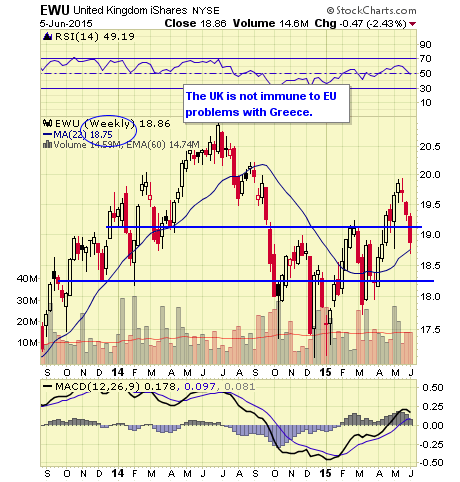 GREK WEEKLY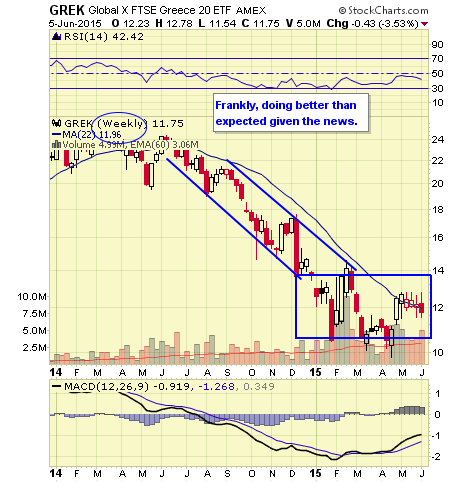 EWI WEEKLY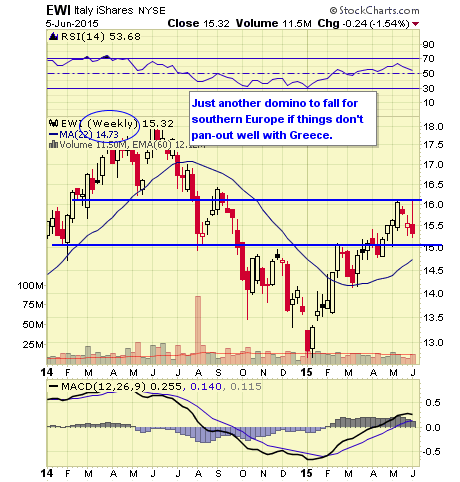 EWY WEEKLY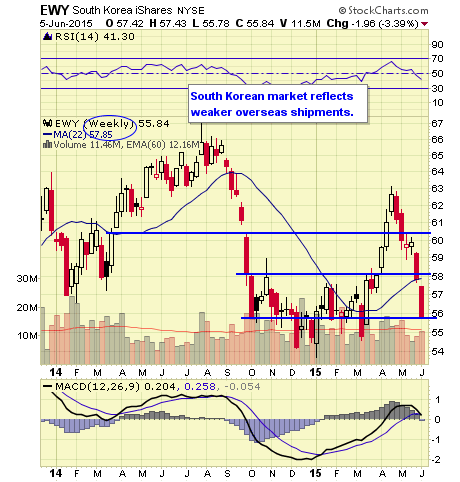 EWZ WEEKLY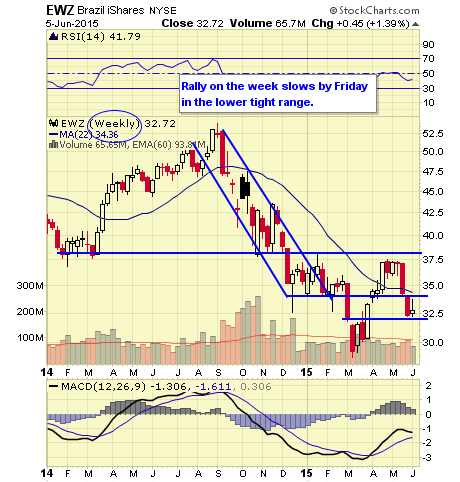 RSX WEEKLY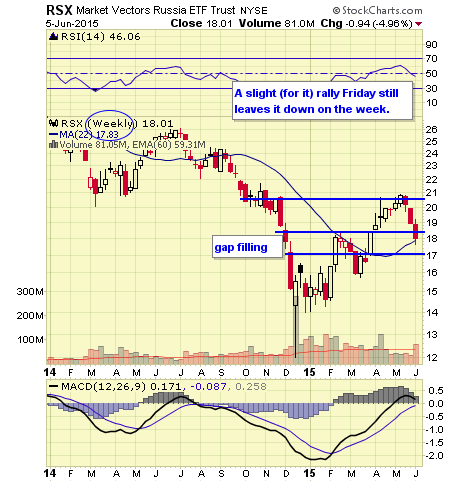 EPI WEEKLY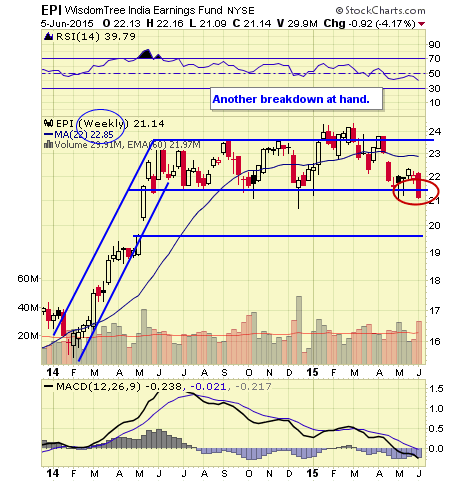 FXI WEEKLY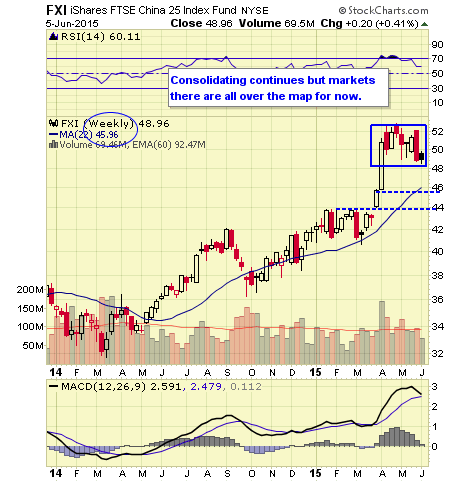 NYMO DAILY
The NYMO is a market breadth indicator that is based on the difference between the number of advancing and declining issues on the NYSE. When readings are +60/-60 markets are extended short-term.
NYSI DAILY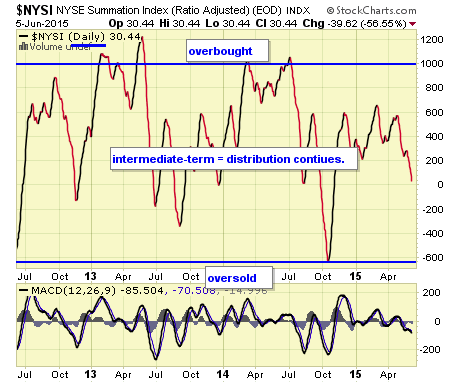 The McClellan Summation Index is a long-term version of the McClellan Oscillator. It is a market breadth indicator, and interpretation is similar to that of the McClellan Oscillator, except that it is more suited to major trends. I believe readings of +1000/-1000 reveal markets as much extended.
VIX WEEKLY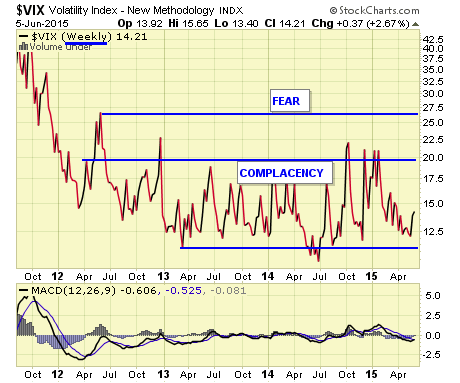 The VIX is a widely used measure of market risk and is often referred to as the "investor fear gauge". Our own interpretation is highlighted in the chart above. The VIX measures the level of put option activity over a 30-day period. Greater buying of put options (protection) causes the index to rise.

Closing Comments
"That was the week that was" to quote an old TV show.
Markets "feel" toppy but we're still in a trading range for now. There are curve balls being thrown at bulls whether from Greece or rising interest rates. In case we've forgotten, earnings for the last quarter weren't that good overall. We have these to deal with once again beginning in July.
There's still a Fed meeting coming up with an interest rate decision on the 17th. That should make for good television for the financial media overall.
One thing we need to remember is current interest rates, and even a slight increase, won't stop company stock buybacks which have become a staple of this bull market. I wonder what would happen if stock prices collapsed for those companies engaged in the activity. Would they mark down these securities held to market?
The curious growing chorus of distrust in all things government, the Fed and mega-corporations continues to grow. It could lead to unrest at some point once the public understands how screwed regular folks now are. The data surrounding Employment Data, self-serving moves to alter GDP calculations and CPI methodologies are disturbing. Thankfully there are thoughtful people and firms like Alhambra Investment Partners to shine a light on bullshit.
Let's see what happens.
Disclosure: The author is long XLV, XLY.
The author wrote this article themselves, and it expresses their own opinions. The author is not receiving compensation for it. The author has no business relationship with any company whose stock is mentioned in this article.