Dear readers,
This week's Outstanding Performance Awards highlight two firms which stood to benefit from an improving construction outlook. At one end, Mr. Brochstein identifies a major architectural glass manufacturer whose superior position is bound to capture increasing business as commercial construction improves. True North Investor looks at a firm whose flexible hose products are employed in residential real estate, who is likely to benefit from a gradual rebound in housing. Both articles highlight examples of picking good firms bound to improve with the general outlook in a cyclical industry.
This week's Outstanding Performance Award winners are:
Both authors have updated their articles with a comment on the original article (here and here). Both articles are part of the SA PRO equity research archive, available exclusively to SA PRO subscribers, but will be made available to all readers for 48 hours in honor of their winning the award.
About Alan Brochstein
Alan Brochstein, CFA, has worked in the securities industry for 29 years in a number of capacities, from managing investments in an institutional environment to providing independent research and consulting to registered investment advisors. He has served on investment management committees and has been a senior analyst for an independent research firm. Most recently, Alan Brochstein has been focusing on the fledgling legal cannabis industry as founder of 420 Funders and 420investors.com. Brochstein has been a prolific and well recognized author Seeking Alpha with 653 articles, 7,781 comments, and many good calls: long the now private Costa Inc. (old ticker: ATX) for a double, long Cardinal Health (NYSE:CAH) which was to hit its price target, and a long call on United Natural Foods (NASDAQ:UNFI), also hitting its price target.
Performance Award Case Study - Apogee Enterprises, Long
Alan Brochstein's long thesis on Apogee Enterprises is a call for an architectural glass company with significant market share - 70% of domestic commercial buildings greater than 10 stories - to benefit from a rebound in commercial construction off the lulls of activity from the financial crisis.
The backwards-looking stats for Apogee Enterprises at the time of the article were (Jun. 27, 2013):
| | |
| --- | --- |
| Market Capitalization | $690 million |
| Enterprise Value | $641 million |
| TTM Revenue | $725 million |
| TTM Cash From Operations | $46 million |
| TTM Net Income | $21 million |
There were a number of clues to a brighter future ahead for Apogee. In the period before Brochstein's report, backlog increased and the operating margin of the backlog increased by 200 bps (Q1 2014 conference call). The CEO shared a goal of $1 billion in sales and double digit profit margins for FY 2016. Only three years away, this implied 37% revenue growth and at least a tripling of net income.
Underlying this goal was an improvement in the operating environment. Brochstein and the company reference the Architectural Billings Index - "a leading economic indicator that leads nonresidential construction activity by approximately 11 months" - as a gauged for their industry's activity. The chart below shows some volatility but an underlying improving trend for the firm and its industry, above 50 is expansion: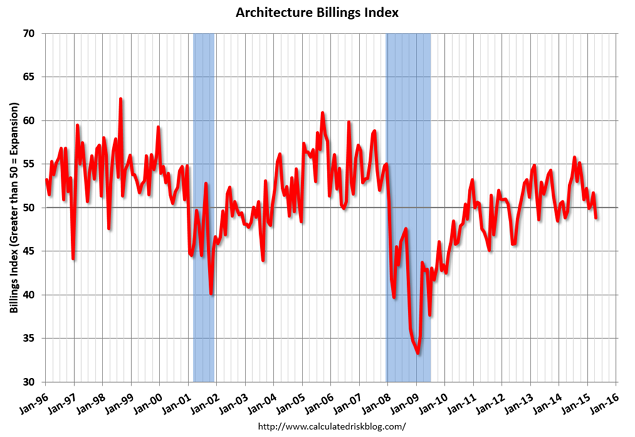 Subsequent to Brochstein's article, the operating environment continued to improve and Apogee Enterprises posted excellent operating statistics as a result:

| | | | | | | |
| --- | --- | --- | --- | --- | --- | --- |
| (millions) | Revenue | Revenue growth y/o/y | Net income | Net income growth y/o/y | Profit Margin | Back log |
| Q1 2014 | $179.3 | 16% | $4.1 | 150% | 2.3% | $301.8 |
| Q2 2014 | $178.3 | 1% | $6.1 | 21% | 3.4% | $304.2 |
| Q3 2014 | $199.4 | 5% | $9.6 | 20% | 4.8% | $299.9 |
| Q4 2014 | $214.4 | 19% | $8.0 | 83% | 3.7% | $330.0 |
| Q1 2015 | $210.8 | 18% | $6.1 | 47% | 2.9% | $385.0 |
| Q2 2015 | $231.9 | 30% | $16.8 | 174% | 7.2% | $480.0 |
| Q3 2015 | $244.4 | 23% | $13.7 | 42% | 5.6% | $494.0 |
| Q4 2015 | $246.7 | 15% | $13.8 | 73% | 5.6% | $491.0 |
These results lend credence to managements previous guidance for FY2016 and, to be sure, the results are excellent. With the stock trading at a similar PE as it did two years ago, the bulk of the gain was due to the market price tracking net income growth, itself tracking operating leverage and revenue growth. See Brochstein's update here and the most recent Architectural Billings Index here. Calling for an improvement in a cyclical business, apparently on the uptrend, proved profitable. This was good for a return of 131%: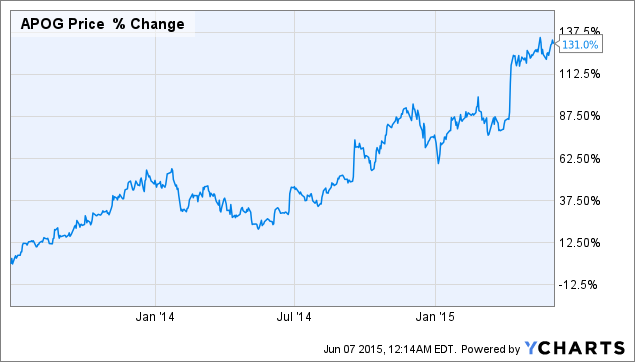 About True North Investor
True North Investor is a private investor whose focus is on businesses with a track record of value creation, trading at significant discounts to their cash-flow based intrinsic value. While having written on Seeking Alpha for only a short period, his calls appear to be moving his direction. He suggests 60% downside in GATX Corp. (GMT), currently down some 14.5%; calling for a liquidation value of "$3.40" on Stanley Furniture (NASDAQ:STLY) when it traded at $2.78 - now trading at $3.17; and calling for a conservative 20% downside at SunOpta (NASDAQ:STKL) when it was trading at $14.03 - that one closed last Friday at $10.23.
Performance Award Case Study - Omega Flex, Long

True North Investor's long thesis on Omega Flex (OFLX) involved a little known manufacturing firm with a high ROIC, bound to increase profits and margins in a housing recovery. The manufacturer's backwards looking stats were as follows (Oct. 2, 2014):
| | |
| --- | --- |
| Market Capitalization | $192 million |
| Enterprise Value | $176 million |
| TTM Revenue | $82 million |
| TTM Net Income | $12.3 million |
| TTM Free Cash Flow | $13.4 million |
| 3-Year Average Revenue Growth | 14.80% |
The company produced flexible metal hosing through a patented process, sold mostly through distributors to the residential real estate construction market. True North takes clues from export data to argue that flexible metal hosing is taking market from more traditional cast iron pipes, presumably due to its superiority in installation. For a seemingly commoditized product such as flexible metal hosing, the firm's return on equity had been excellent: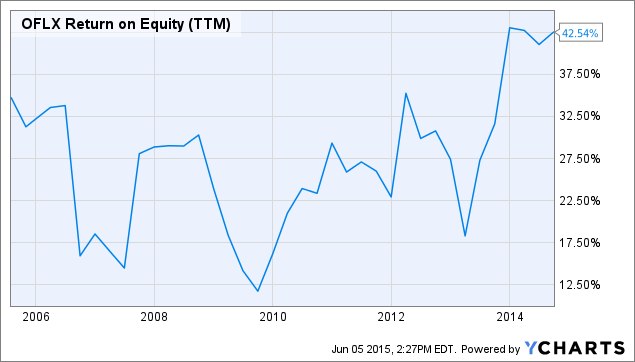 As True North tells the story, these high returns on capital are due to a:

...proprietary trade secret that allows [OFLX] to produce product without a significant investment in inventory and very modest capex. More specifically, the company is able to turn out product within a two-day window, implying that it does not have to hold inventory and can command modest pricing power as a reliable supplier with very short lead times...the company has been able to defend this production process in court…

Having established the firm's track record is a good one, True North argues that the future is bright due to an continuation of the housing recovery. Not only will this drive revenue demand, but also an increase in margins, arguing that this relationship will continue: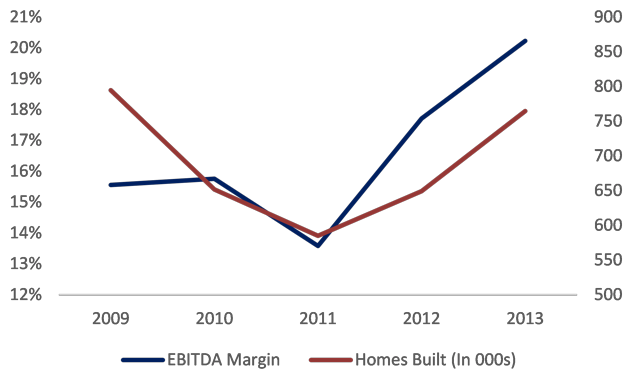 True North also notes in a later article that the company is likely to pay a special dividend in the range of "$0.47-$0.65/share" judging from its past - only for the company to issue one at about $0.49/share.

Since that time, housing starts are up 10%, revenues are up 9%, and the company has continued to perform well with operating margins up 240 bps. See the authors update here. These items lead to a rapid rerating of the stock by the market - from a PE of 15 to 23 - leading to a gain of some 73% over some eight months: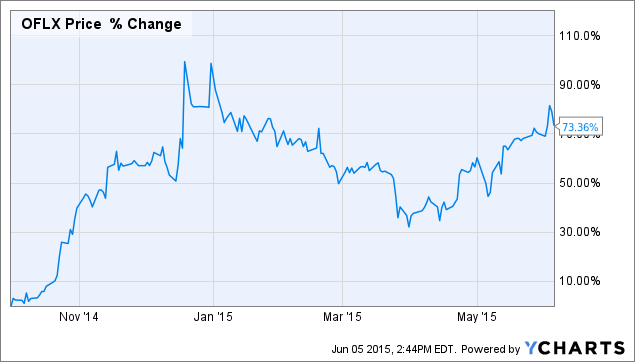 Congratulations to this week's winners! Look out for a new pair of Outstanding Performance award winners each Monday. Here's a page with all previous winners.
More about Outstanding Performance awards
Seeking Alpha aims to help investors outperform the markets. In awarding authors of outstanding stock ideas that played out, we hope contributors will be motivated to share more outstanding long and short ideas with our readers - which benefits everyone.
Every week, we'll be searching through our long and short ideas archives looking for outstanding stock ideas that played out, and awarding two $2,500 "Outstanding Performance" prizes.
Here's what we'll be looking for:
Performance: Above all, we're looking for ideas that made SA readers money. Risk matters, so we'll be looking at the stock's market cap, sector, etc. as well.

Confluence: Every idea has a thesis. Did the idea play out for the reasons proposed or not?

Compelling: For an idea to be outstanding, it needs to be sufficiently convincing that a reader would have been compelled to take a deeper look at the stock and potentially take a stake. In assessing compellingness, we'll be looking at a number of factors including article comments (how did readers react?), historical performance (does the author have a track record of well-thought-out stock ideas?), voice of expertise (does he/she come across as someone who has unusual insight into the stock?), and how thoroughly the article covered key issues (reasons for market mispricing, catalyst(s), competitive landscape, company management, key risks, etc.). In other words, we'll be looking for the same things readers look for when assessing an idea.
To qualify for an award, the idea needs to have been submitted exclusively to Seeking Alpha. We will also be asking award winners to publish an update to their thesis, either as a comment to the article or as a standalone article.
Generally, we'll be looking for longer-term ideas that offered meaningful upside to readers. We'll be going back as far as two years or even further. We may also reward ideas that played out outstandingly over a shorter timeframe. But we will not be using Outstanding Performance awards to reinforce extreme short-term price volatility.
To get exclusive access to these articles after they are selected, as well as early and archival access to many of our top performing ideas, subscribe to SA PRO.
We'll be announcing Outstanding Performance award winners in Wall Street Breakfast, in the Today in SA PRO newsletter, and in a standalone article like this one.
If you have great stock ideas, why not become a Seeking Alpha contributor yourself? Our contributor success team will make it easy to share your ideas with tens of thousands of readers.