Today's chart of the day focuses on stocks and commodities, and is basically more or less a chart I created from the inspiration of last week's Financial Times article on commodities. If you haven't read the article, please view the video thanks to the Financial Times website.
Chart Of The Day: Commodities have dramatically under-performed...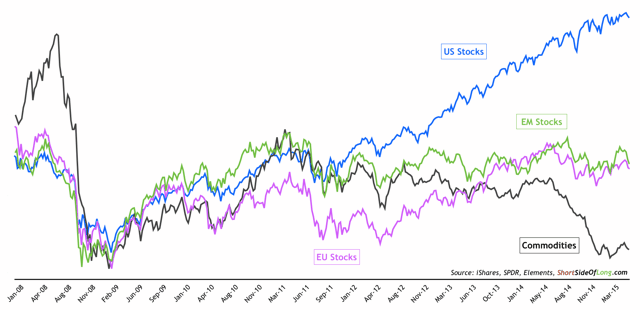 Source: Short Side Of Long
US stocks continue to gift investors strongest returns, while EU stocks have played a bit of a catch up in recent quarters. European region doesn't seem to be as undervalued as it was during the European debt crisis of 2011/12. Emerging markets have broadly moved sideways, reflecting a global slowdown. Finally, it is quite clear by looking at the total return chart above, that commodities are now the most undervalued asset in the current investment cycle. All assets are priced in USD.