Whether or not the market was a winner or loser last week is largely a matter of perspective. The S&P 500 (SPX) (NYSEARCA:SPY) lost some ground, while the NASDAQ Composite (COMP) (NASDAQ:QQQ) basically broke even. Meanwhile, the Russell 2000 (RUT) (NYSEARCA:IWM) actually doled out a decent gain, suggesting there's a "risk on" mentality for at least some investors.
Given the shape of all the charts - even if their trends don't seemingly align - we can still get a decent grip on where things are headed and what it will take to alter that course. First though, let's run down last week's and this week's major economic news.
Economic Data
While last week's economic dance card was quite full, there's no doubt about the highlight... Friday's employment report. It was mostly encouraging, though that "good news" was bearish in the sense that it may have given the Federal Reserve another reason to accelerate its plans to raise interest rates.
First and foremost, the nation created 280,000 new jobs last months, according to the Department of Labor. The figure doesn't quite line up with ADP's figure of 200,000, though both figures did show us meaningful turnarounds from weak showings in March and April. It's still too soon to say this trend is where it needs to be to truly foster long-term economic growth.
Payroll Growth Chart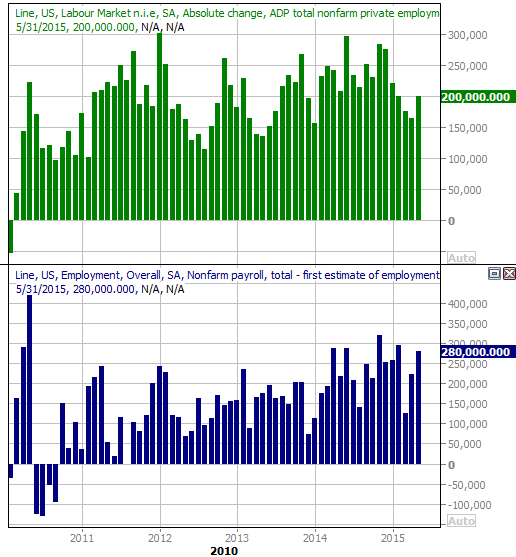 Source: Thomas Reuters
The surge in new jobs actually led to an increase in the unemployment rate, from 5.4% to 5.5%. How? Because, while 280,000 people may have gotten new jobs last month, there were 397,000 new entrants into the labor pool.... the majority of which did NOT have a job as of the end of last month. Since the unemployment rate is calculated using the number of people who don't have jobs and the number of people who are in the labor force (employed or not), the unemployment rate figure was bound to go higher as a flood of recent high school and college graduates were injected into the labor pool.
Unemployment Rate Chart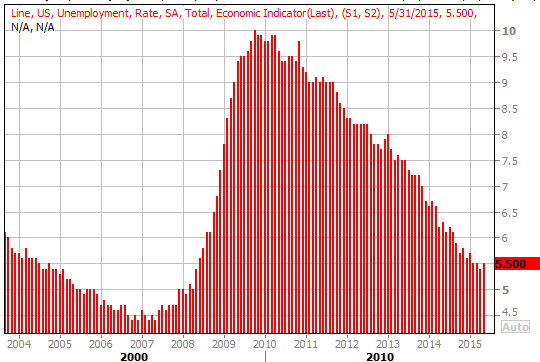 Source: Thomas Reuters
Everything else is on the following grid:
Economic Calendar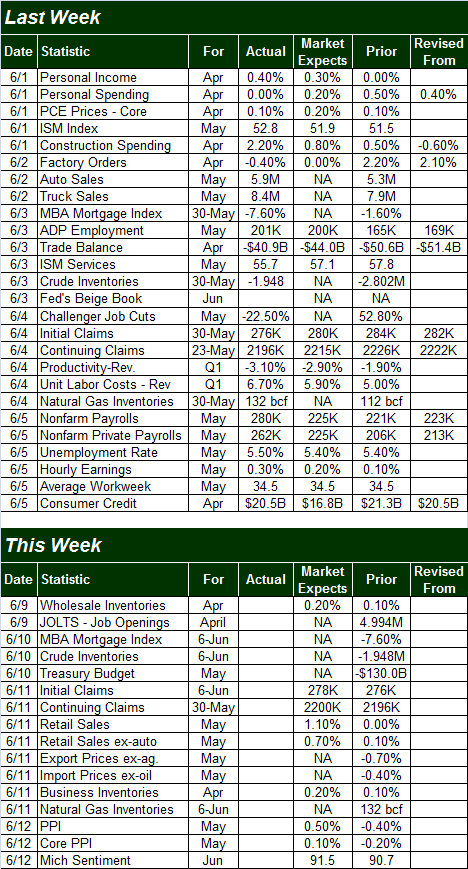 Source: Briefing.com
This week isn't going to be quite as busy, though it's still going to be an important one as far as economic data is concerned. The biggies will be May's retail sales figures, due on Thursday, and a glimpse of the current inflation picture - via the producer price inflation data - due on Friday.
It's no real secret that low oil prices have crimped overall inflation for consumers as well as for producers. But, as one can see on the chart below, inflation outside of food and energy is also starting to wane on a year-over-year basis. The strong U.S. dollar is the key culprit.
Producer Price Inflation Chart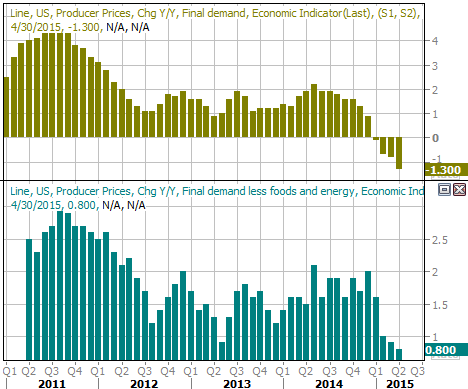 Source: Thomas Reuters
Stock Market Index Analysis
As was noted above, whether or not the market's momentum is bullish or bearish depends on which index you're looking at. Just to make sure you have all the relevant facts (and floors and ceilings), we'll take a technical look at all three of them - the S&P 500, the NASDAQ, and the Russell 2000 - starting with the S&P 500's daily chart.
The momentum for the S&P 500 is pointed lower, as evidenced by the widened bearish MACD divergence and the falling Percent R line. That technically works against the market. Yet, we've seen bearish momentum try to develop before, to no avail. This time may well be just another fakeout. Indeed, while the S&P 500 fell sharply last week, it's quite telling that its lower Bollinger band halted the selling almost immediately, and is acting as if it's trying to spur a bullish reversal. If you look closely at our chart here, it's been the lower Bollinger band behind a couple of the more recent bounces (marked by blue arrows).
S&P 500 & VIX Daily Chart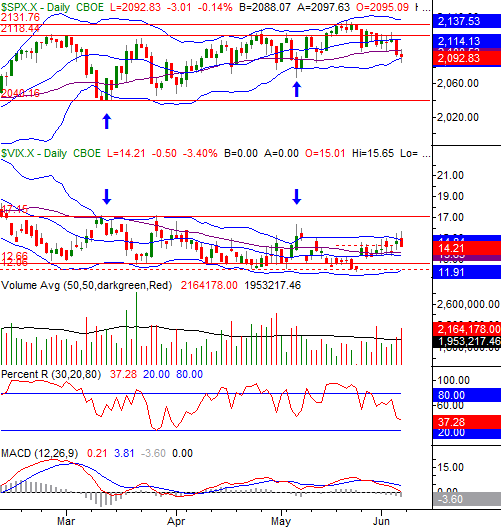 Chart created with TradeStation
In the same vein, the CBOE Volatility Index's (VIX) (BATS:VXX) upper Bollinger band seems to be capping the VIX's rise and working to start a pullback. This is also a bullish clue for stocks, as it has been in recent weeks (also marked by blue arrows).
Still, the VIX and the S&P 500 are just one stumble away from moving past the point of no return.
As for the NASDAQ Composite, it fared a little better than the S&P 500 did last week. In fact, it looks as if the bulls made a point of making sure the NASDAQ closed above its 20-day moving average line even if the MACD indicator for this chart is bearish. You can also see the Nasdaq Volatility Index (VXN) remains in a downtrend; Friday's intraday reversal from the VXN (from the peak back to a close near the low for the day) only underscores its bigger trend.
NASDAQ Composite & VXN Daily Chart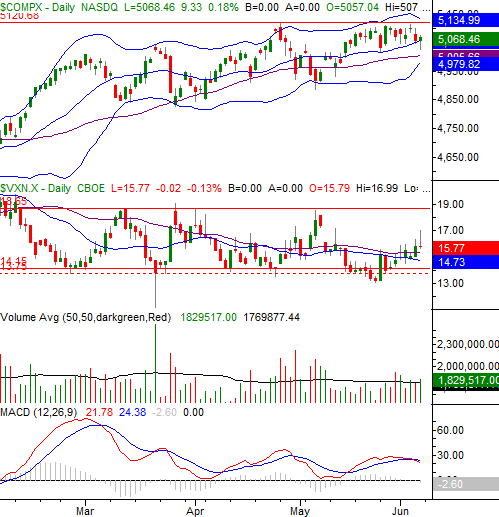 Chart created with TradeStation
Finally, at the extreme other end of the spectrum is the Russell 2000 small cap index. While the S&P 500 fell 0.7% last week, the Russell 2000 advanced 1.1%, and easily closed above all of its key moving average lines.
Russell 2000 Daily Chart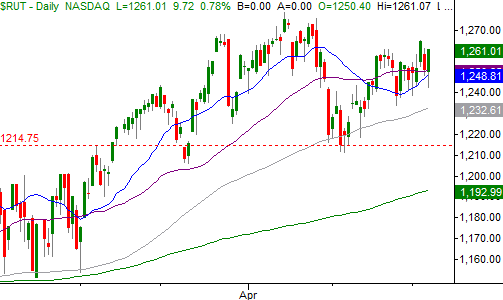 Chart created with TradeStation
So what's the true status of the overall market (including the Dow Industrials (NASDAQ:INDU) (NYSEARCA:DIA)? As difficult as it is to believe for some (with valuations still at high levels), the trend is still bullish and/or most likely going to rebound.
The leadership from the Russell 2000 is a significant tell. Even if we were purely considering the S&P 500 to make the call though, we know there's a pattern of bounces off of the lower Bollinger band line, and strong evidence of another such bounce in the making right now.
All the same, this is a "keep a close, pessimistic eye on it" situation.
Sector Performance
While last week wasn't particularly bullish for any sector - though especially bearish for Utility stocks (NYSEARCA:XLU) - when we take a step back and look at the bigger, monthly picture, the Healthcare sector (NYSEARCA:XLV) continues its year-long leadership. The performance table below tells the tale.
S&P Sector Performance Chart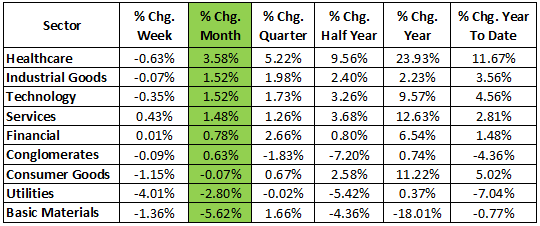 Source: FinViz
While that leadership suggests healthcare is at least one of the must-have areas for most investors right now, it's not the only sector worthy of consideration at this point in time.
Performance-wise, it doesn't look like much. When you look at the chart of the S&P 500 Financial Sector Index (NYSEARCA:XLF) though, we can see financial stocks have been holding up rather well, shrugging off the recent marketwide headwind while many other indices broke under key support levels.
S&P 500 Financial Sector Index (Weekly) Chart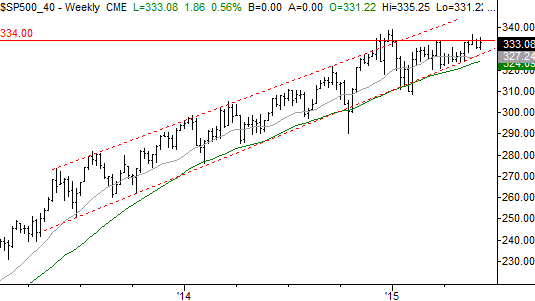 Chart created with TradeStation
It's not racing forward, but there may be a lot to be said for slow and steady (and predictable) if things get choppy - or even bearish - from here.
Disclosure: The author has no positions in any stocks mentioned, and no plans to initiate any positions within the next 72 hours. The author wrote this article themselves, and it expresses their own opinions. The author is not receiving compensation for it. The author has no business relationship with any company whose stock is mentioned in this article.