The strong NFP numbers released on Friday form a solid USD bullish background. There is a good probability that the dollar (NYSEARCA:UUP) will continue strengthening next week. However, the situation has become more complicated because several currencies are starting to show positive economic data (EUR, CAD), which makes the dollar not a one way play and counter-rallies and side way action much more likely.
EUR/USD (FXE): The yearly inflation numbers for the eurozone came at 0.9% instead of 0.7% expected. This was a very positive news for the euro given that the ECB money printing program is geared towards bringing the inflation level back to 2%. In its comments, the ECB was also positive about the evolution of the economic situation in Europe. This creates a situation where both the dollar and the euro have a bullish background, except that the euro has still the Greek debt talks to solve.

From a trading point of view, taking short positions at current levels is possible: we expect the pair to retest its up trending channel trend line support that comes around 1.095 and 1.100. The price action on Friday suggests that a possible rebound towards 1.1180 could occur at the beginning of the week, which would offer us a good shorting opportunity with stops between 1.12 and 1.1250. It is unclear if the up trending channel support will hold. The first scenario that is more likely in our view is that we see a rebound and a move back up towards 1.1250-1.1300 where it will meet solid resistance (see picture). A symmetrical triangle seems as the logical pattern that would characterize the current situation of EURUSD, with the key event being the outcome of the Greek debt negotiations. A positive result will spark a big rally in the pair towards 1.20 while a negative result might brings us to levels below parity.


An alternative scenario is that support will break next week under the strength of the dollar and we go visit levels around 1.07. If this happens, a buy entry at 1.07 could make sense for short term profits.

GBPUSD (FXB): It looks like this currency pair is forming a head and shoulder pattern on daily time frame. The pattern is not ideal since the resistance line is tilted. The pattern if triggered might give a move towards 1.46-1.46. We would look for short entry points in between current levels 1.5270 and up to 1.5330 with stops in between 1.5350 and 1.5400 and target take profit starting from 1.51 and down to 1.46.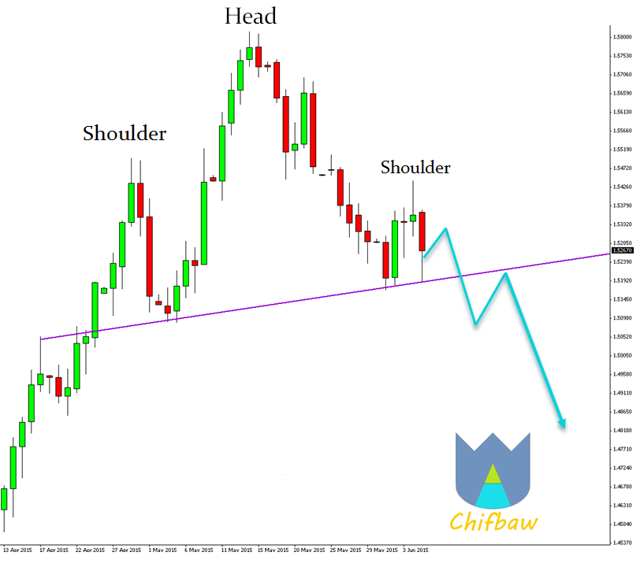 USDJPY(FXY): Probably the best play to profit from USD strength. The pair remains in a solid up trending channel on daily time frame and it seems we will have the opportunity to visit the upper bounds of this channel in between 128 and 130 in the near future. We can buy the pair if it corrects towards its trading range 124.80 and 125.20, with stops in the middle of the trading range at 124.25 and take profit at 128-130. We have also an hourly up trending channel, which can offer us some scalping opportunities. We would short the pair if it reaches the upper boundaries (in between 126.50 and 127.30) of this up trending channel next week.

Disclaimer: This article is in no way a recommendation to buy or sell any of the financial instruments mentioned. Chifbaw LLC and Dzhafer Medzhakhed are not responsible for any trading decisions or investments you make based on this article. Trade at your own risk.
Disclosure: The author is short EURUSD.
The author wrote this article themselves, and it expresses their own opinions. The author is not receiving compensation for it (other than from Seeking Alpha). The author has no business relationship with any company whose stock is mentioned in this article.