The 2015 Biotech Stock Picking Charity Contest provides contestants with a fun way to compete against over 50 participants investing $100,000 of virtual cash for the year in the biotech sector. Most importantly, contestants who participate pledge any amount of money at the beginning of the year to the charity of the winner's choice, exemplifying the spirit of giving I have seen among the biotech investing community and helping to further a worthy cause. Contestants have exhibited a very sharp knowledge of the biotech industry with the median portfolio +35.55% YTD as of Friday's close, outpacing the +30.74% of the small-cap based SPDR S&P Biotech ETF (NYSEARCA:XBI), the +20.93% return of the large-cap based iShares NASDAQ Biotechnology Index (NASDAQ:IBB), and the +7.02% of the technology-based NASDAQ composite. With these gaudy performance numbers put up by biotech portfolios of contest participants, there has naturally been a number of picks that have turned out exceptionally well so far YTD: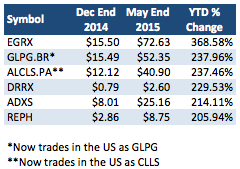 Source: BulbaMan on Silicon Investor
My main goal of this piece will be to provide discussion on what has led to these huge moves in these names during the first five months of 2015 and discuss what is left for investors in terms of upside.
1. Eagle Pharmaceuticals (NASDAQ:EGRX) comes in as the top performing stock out of 206 names selected by contestants with a return of 368.58% YTD through May end. The name was selected by one participant, @DewDiligence on Twitter, and was tied for the highest starting weight in his portfolio at 15% (the maximum allowable for a contestant to apply is a 20% starting weight).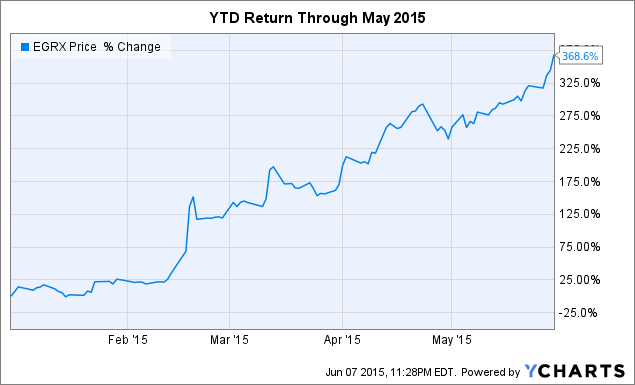 EGRX data by YCharts
Seeking Alpha writer AvetCap succinctly explains Eagle's business model by noting that the company creates value-added reformulations of industry-leading products and uses the 505b approval pathway to get to market quickly. The first main event catalyzing the stock was the February 17 announcement that Teva Pharmaceuticals (NYSE:TEVA) and Eagle had entered into an exclusive license agreement to commercialize EP-3102, Eagle's bendamustine hydrochloride rapid infusion product for the treatment of chronic lymphocytic leukemia and indolent B-cell non-Hodgkin lymphoma, which sent the stock to a gain of over 85% in 3 trading days. In a public offering that priced on March 17, the company was able to sell stock (in addition to a few shares being sold by selling stockholders) at $42 per share, only 6 cents below the closing price on the previous day when the offering was announced. Shares continued to see buyer interest after The Medicines Company (NASDAQ:MDCO) announced on April 1 that it had settled Angiomax (bivalirudin) patent litigation with Sun Pharmaceuticals. Many Wall Street analysts that had largely ignored Eagle previous to the TEVA announcement jumped on the MDCO announcement, highlighting it as evidence that MDCO would likely settle with Eagle as Eagle's EP-6101 is an easier-to-use bivalirudin product. Investors continued to illustrate excitement about the company and this opportunity with the May 20 announcement that Eagle had submitted an NDA with the FDA for its ready-to-use bivalirudin product.
Outlook: With the stock now up over 393% after another good week, is there still significant opportunity left for investors? The stock has almost doubled since the MDCO settlement announcement early April. How much has been priced in already for this bivalirudin opportunity even though a settlement with MDCO has not been announced at this time? Is the market getting ahead of itself as analysts are jumping over each other to support the stock as they are afraid of missing another move similar to what the stock saw after the TEVA news? AvetCap was recently out with a piece highlighting why investors may be getting ahead of themselves. Even while I personally would not advise buying the stock as there seems to be a lot baked in at this price, you have to have a death wish to short a name like this rocketing higher to all-time highs in a strong bio market. I would advise investors closely follow the research of investors such as AvetCap and DewDiligence that have been on top of this story from the start.
2. Galapagos NV (GLPG.BR) (Now (NASDAQ:GLPG) here in the US) checks in with the second highest YTD return through May end at +237.96%. Contest participants Olivier and Ghmm both selected Galapagos at a 10% weighting. @portefeuillefun on Twitter has been a huge proponent of this name (his Tweets are how I originally learned of the name) and deserves a follow for his knowledge of European biotechs.
Chart of GLPG.BR YTD Through Friday Close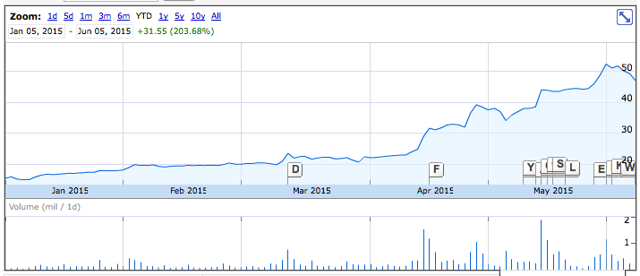 Galapagos is a clinical-stage biotech company focused on developing a novel mode of action medicines. With patents for AbbVie's (NYSE:ABBV) Humira beginning to expire in 2016, many market participants view Galapagos's GLPG0634 as the next-generation product that will hit the market. GLPG0634 is much easier to administer, as it is a pill while Humira is an injectable. Investor interest in Galapagos and GLPG0634 increased on April 14 when the company announced that GLPG0634 met primary and other key efficacy endpoints in a Phase 2b trial called DARWIN 1 in patients with moderate-to-severe rheumatoid arthritis. After this news, the stock rallied 32% in Europe in the next three trading days. Positive news flow continued as the company announced on April 27 the company announced positive results in the Phase 2b trial DARWIN 2 in the same patient type testing GLPG0634 as a monotherapy. With these trial data released, the stock continued higher in Europe by 23% in the next two days. Recent investor interest has also been fueled by the company's May 6 announcement that it would be listing American Depository Shares, interest in the offering from partners AbbVie and Johnson & Johnson (NYSE:JNJ), and the completion of the stateside IPO on May 13.
Outlook: While the stock is up over 180% YTD as of Friday's close, I believe this name has significant upside potential at a market cap of only $2B given the blockbuster potential. I would feel comfortable buying and owning Galapagos at these levels. Investors considering Galapagos or already owning stock should pay close attention to the Eli Lilly (NYSE:LLY) and Incyte (NASDAQ:INCY) webcast on June 11 that will be discussing data from two pivotal Phase 3 studies of baricitinib, which is likely competition for GLPG0634.
3. Cellectis SA (ALCLS.PA) (now (NASDAQ:CLLS) here in the US) is the third best-performing biotech in the contest, returning 237.46% YTD through May end. An amazing 7 contestants included Cellectis in their portfolios with participants Gene, Mcbio (@mcbio316 on Twitter), and Olivier all selecting it at the max 20%.
Chart of ALCLS.PA YTD Through Friday Close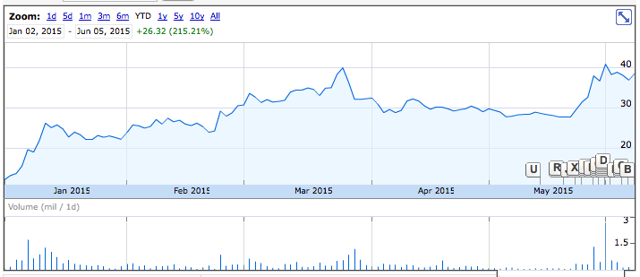 Cellectis had more than doubled after only 12 days in January, rising approximately 115% in a move fueled by undervaluation compared to other immunotherapy peers and a January 8 announcement that it planned to IPO in the US. The stock had continued to ride the wave of investor interest in CAR-T and immunotherapy in general, with the interest in immunotherapy being made evident by the 52.53% YTD gain in the Loncar Immunotherapy Index (LCINDX) (an index I spotlighted in Biotech Weekly here). Recent investor interest has been fueled by speculation initially broke by the Financial Times that Cellectis was involved in a buyout discussion with Pfizer (NYSE:PFE), which already owns almost 10% of the company.
Outlook: With the Pfizer offer being valued up to $1.67 billion, how much upside remains with the stock currently sitting at a market cap of $1.51 billion? Cellectis CEO André Choulika could never be accused of lacking confidence as exhibited in his recent interview with John Carroll (@JohnCFierce on Twitter) and FierceBiotech. The company will have two oral presentations and one poster presentation taking place this coming Saturday at the European Hematology Association Annual Meeting. While I view this name as one that continues to have significant long-term potential, I am unsure how much short-term upside it has after a 215.21% YTD move through Friday unless it receives more M&A interest from Pfizer or another major biotech player.
4. Durect Corporation (NASDAQ:DRRX) checks in as the fourth best-performing biotech held by a contestant as it is up 229.53% YTD through May end and is held by one contestant at a 10% weighting (Jackh).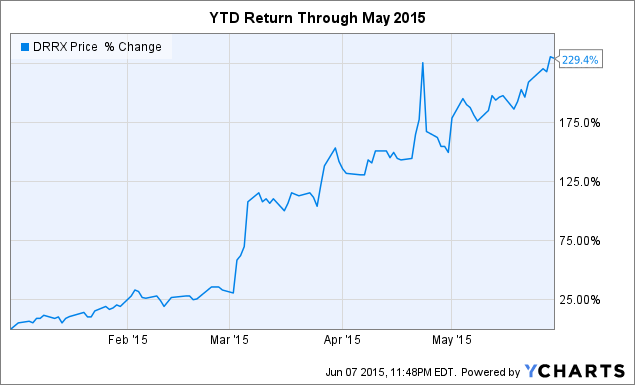 DRRX data by YCharts
The rally started in earnest on March 2 when the company announced that it was becoming a NASH play with its Epigenomic Regulator Program and the successful single-dose safety study for DUR-928. This news was shortly followed by a sizable insider purchase of almost 400k shares between $1.41 and $1.60 by the Chairman and CSO on March 6 with the stock rising almost 60% between March 2 and 6. Interest continued to remain high in this new NASH play as the stock rose toward $2 per share with the company announcing on March 30 the initiation of multi-dose Phase 1 study for DUR-928. The stock continued on its path upward even with ATM sales and reported positive data from its multi-dose Phase 1 study for DUR-928 on May 18.
Outlook: Shares have continued to rise with a 22%+ return in the first week of June, now sporting over a 309% return YTD. One of the most recent pieces of news was a Form 4 filed on May 27, illustrating that director Neukermans Armand had indirectly acquired 20k shares at approximately $2.40 on May 22. The company will be conducting Phase 1 trials during the second half of 2015 with an injectable route of administration and Phase 2 is on tap for DUR-928 in 2016. As long as results continue to be promising and changing the route of administration does not affect results in a negative way, I see no reason why the stock will not continue to outperform.
5. Advaxis, Inc. (NASDAQ:ADXS) is the fifth best-performing biotech of the year held by a contest participant with the stock returning 214.11% YTD through May end and held at a 10% weighting by DewDiligence.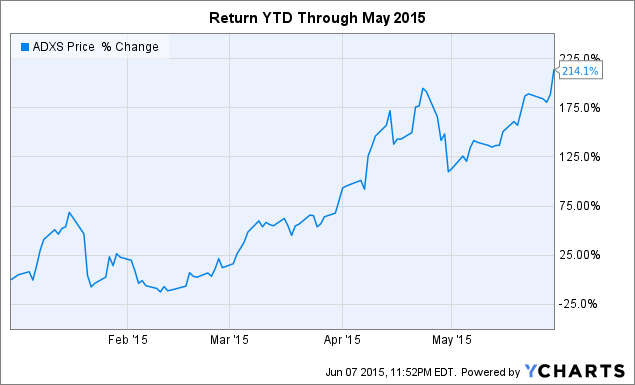 ADXS data by YCharts
Advaxis is another name that has ridden the investor demand for immunotherapy plays. Even after a 157% move in December 2014, the stock has continued its strong performance in 2014. The company got off to a strong start in 2015 with a slew of news early in the year including submitting an IND to the FDA on January 5 for ADXS-HER2, announcing a collaboration with the GOG foundation for a Phase 3 ADXS-HPV trial in cervical cancer on January 7, and providing its corporate update on January 12. While the stock dipped in mid January thanks to an exposé on the name by Richard Pearson and profit taking in immunotherapy plays in general. The name bottomed in late January just before a surprising positive assessment by TheStreet's Adam Feuerstein. The company has progressed with developments that have piqued investor interest including a positive data released on its lead immunotherapy candidate, ADXS-HPV, on March 16, its position as the most heavily-weighted stock in the previously mentioned Loncar Immunotherapy Index (LCINDX) given its exceptional YTD performance, and an immunotherapy collaboration agreement with Sorrento Therapeutics (NASDAQ:SRNE) announced on May 19. The stock saw an increase in valuation based upon the Aduro Biotech (NASDAQ:ADRO) IPO in mid April, and Advaxis was able to raise well over $50 million in late April at $19 per share.
Outlook: With Advaxis now up 255% YTD through Friday's close, what remains for holders in terms of upside going forward? Advaxis is what I would describe as a battleground stock as there are those that think it is fraud and should be worth 1/10 of what it is now and those that think it is led by a smart management team with plenty of upside remaining for shareholders. The company has seen a steep rise in stock price thanks to being a clear immunotherapy play and inking smart strategic collaborations. As long as immunotherapy continues to remain a top area of investor interest, I would expect Advaxis to continue to run, as it still has a market cap under $1 billion.
6. Recro Pharma (NASDAQ:REPH) is the sixth best performing stock held by a contest participant with a 205.94% return YTD through May end and is held solely by me. I hold Recro at the max 20% weighting and the name (along with NASH play Tobira Therapeutics (NASDAQ:TBRA)) has led my portfolio to a 65.24% return YTD through Friday (Recro is now up 224% YTD through last Friday):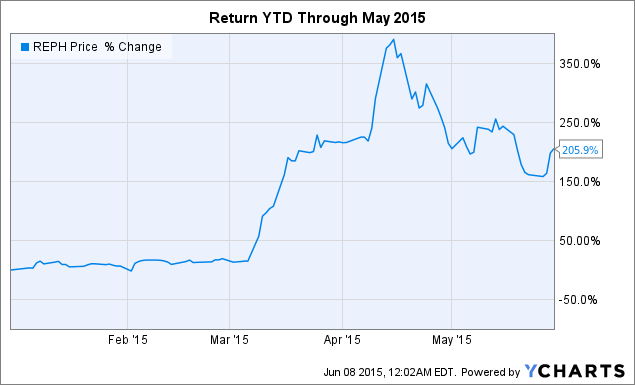 REPH data by YCharts
I initially ran into Recro Pharma because it had popped up on my biotech value screen as it was trading under shareholder equity. I highlighted the name as a buy in my November 24 Biotech Weekly piece highlighting The Value In Beaten Down Biotech IPOs, and I reiterated my positive sentiments in my piece discussing my Top Value Biotech Picks For 2015. My conviction was related to Recro's severely low valuation, and my belief that the fall 2014 failure of its lead candidate, pain medication Dex-IN, was purely due to poor trial design. I believed that Dex-IN was likely to succeed in its redesigned P2 trial initiated at the end of October 2014. While the stock melted up 19% in the first two months of 2015, its strong move started on March 9 when it announced the acquisition of pain product IV/IM meloxicam and a cash flow positive manufacturing, royalty, and formulation business from Alkermes (NASDAQ:ALKS). This news triggered the stock to soar over 150% during the next 6 trading sessions. The company announced encouraging interim results for the Phase 2 Dex-IN trial on April 9 and announced in its Q1 2015 corporate update that top line results from the Phase 2 Dex-IN trial remained on track for mid-year 2015.
Outlook: While I continue to be of the belief that the alteration in trial design (discussed in detail by AvetCap here) makes this Dex-IN trial likely to succeed, it is important to acknowledge that this is indeed a binary event for stockholders, and there are unfortunately no Recro options. As such, it is certainly advisable for holders to go into the data release with small position sizes, though I do want to note that the Alkermes deal has provided some downside protection as the company is a bit more diversified than it was previously. CEO Gerri Henwood has an impressive track record that includes the founding of Auxilium Pharmaceuticals (NASDAQ:AUXL) (recently bought out by Endo International (NASDAQ:ENDP)) and the founding of a CRO bought out by Omnicare (NYSE:OCR). I find the deal she negotiated with Alkermes as very impressive, and I would feel very comfortable investing in the company for the long term with the belief that Henwood will continue to guide the company in the right direction and provide shareholders with substantial returns from the current market cap of less than $75 million.
Conclusion
The Biotech Stock Picking Charity Contest has continued to grow and sports a group of impressive biotech investors, as displayed by the selection of 6 names up more than 200% in the first five months of the year and the solid outperformance of portfolios based on median return compared to the major biotech indices. Of the six names up over 200% in the first five months of the year, I believe Galapagos NV and Recro Pharma have the best potential for significant further upside. I recommend that my readers make a point to join this biotech charity contest next year as a way to give back to charity and learn about biotech names with significant upside potential from a group of smart biotech investors.
Disclosure: I am/we are long BOTA. I wrote this article myself, and it expresses my own opinions. I am not receiving compensation for it (other than from Seeking Alpha). I have no business relationship with any company whose stock is mentioned in this article.
Editor's Note: This article covers one or more microcap stocks. Please be aware of the risks associated with these stocks.