By John Nyaradi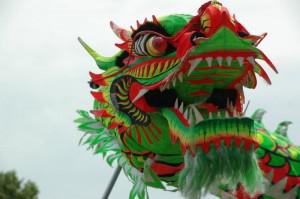 Chinese New Year is upon us, and this New Year is the year of the Dragon! The Dragon sits in the 5th position in the Chinese Zodiac and is one of the most revered signs in China. The Dragon represents lively, intellectual problem solvers who are dignified and persistent. In fact, ancient Chinese Emperors called themselves "the Dragon," and used the dragon's power to reign over their empires and personify their divine power. Dragons are also well known for their arrogance and impatience, and so when you put it all together, we must wonder what the Year of the Dragon holds for financial markets?
According to CLSA, Asia-Pacific Markets, the word for "Dragon," in Chinese is spelled "Lóng." Automatically that is a good sign for markets, as we are always hopeful for long markets and lots of profit. The Chinese Zodiac takes into consideration all five elements of metal, fire, water, earth, and wood, and in the Year of the Dragon, the zodiac predicts that markets will steadily drop until about mid-August when a huge surge will take place and a "Lóng" market takes us well into the next Chinese New Year. Predominant elements this year are water, which could douse any fire in the markets, and is expected to be a powerful force in February and March, and so the Dragon says to liquidate (yes, liquidate) any funds you have during that period (CSLA).
How about specific Sector performance? Dragon Years say that metal will perform well this year-good news for the gold (NYSEARCA:GLD) and silver (NYSEARCA:SLV) bugs. Since water is prevalent this year (despite the Dragon's fire?), be careful with the Financials Market (NYSEARCA:XLF), as any paper of any kind does not stand a chance. If it was the year 2000, or the year of the Metal Dragon, then Financials would likely be a good choice since metal symbolizes wealth and is the foundational material of most currencies. I understand that metal sometimes bodes well for gold investors, but a metal Dragon is like two for one. However, we are in 2012, and I failed to mention earlier that this is not only the year of the Dragon, but it is also the year of the Black Water Dragon, so beware of any paper related currencies (all of them) (CSLA).
All in all, the Year of the Dragon's "Lóng" year shapes up to be on a "long" trajectory, particularly after the first dip in February and March. Dragons are also a symbol of luck, but use it wisely and don't depend on luck to guide your investments.
All in all, the outlook is fair to awesome for this Chinese New Year of the Black Water Dragon. Since Dragon is spelled "Lóng," it appears that the markets have a very good chance of being "long" indeed. So welcome to the Year of the Dragon. Good luck, and as they say in China, "Gung Hay Fat Choy." (Best wishes and congratulations. I wish you a good and prosperous New Year!)
Source: CSLA, Asia Pacific Markets,CLSA Feng Shui Index 2012 (Year of the Dragon) Report.
Disclosure
: Wall Street Sector Selector actively trades a wide range of exchange traded funds and positions can change at any time.