YPF Sociedad Anonima (NYSE:YPF) is best known as a great dividend payer with an annual dividend of $3.35 (8.40%). YPF is an energy company based in Argentina. It engages in exploration, development, and production of crude oil, natural gas, and liquefied petroleum gas (LPG) in Argentina. The company is involved in refining, marketing, transportation, and distribution of oil and a range of petroleum products, petroleum derivatives, petrochemicals, LPG, bio-fuels, and gas separation and natural gas distribution operations.
As of Dec. 31, 2010, it had proved reserves of approximately 531 million barrels of oil and 2,533 bcf of natural gas. It had a retail distribution network of 1,622 YPF-branded service stations for automotive petroleum products. It had approximately 2,700 km of crude oil pipelines with approximately 640,00 barrels of aggregate daily transportation capacity of refined products. It had crude oil tankage of approximately 7 million barrels, and it had terminal facilities at 5 Argentine ports. It also participates in 3 power stations with an aggregate installed capacity of 1,622 megawatts. It is a subsidiary of Repsol YPF, SA.
All of this seems great. The company has great assets. However, it has one big liability. It and its assets are virtually all in Argentina. Argentina has laws that give absolute priority to domestic supply at low, stable prices in order to sustain an economic recovery. YPF also has to pay substantial export taxes on the petroleum products it does export. In fact these taxes may reach 100% for any amount over the reference price in the case of natural gas. Still, "oil" exports are usually more profitable than domestic sales, and this new discovery should mean that YPF will have significant extra oil to export in the near future.
The new field in the Vaca Muerta Basin of Nequen Province of Argentina, announced in Nov. 2011, is thought to contain 927 million Boe of which 741 million barrels is oil. Given the recent data from US shale drillers such as Continental Resources Inc. (NYSE:CLR), this is more likely to be an underestimate than an overestimate. CLR has been getting higher productivity out of its Bakken fields than first estimated. It has recently identified several extra benches in the Three Forks play (underneath the Bakken) that it now considers commercially viable. The technology and knowledge for oil recovery from shale continues to improve.
It only seems logical that YPF will be able to recover more oil than its first estimate. Plus, there are likely to be many more oil shale fields in Argentina, which is lagging the US in oil shale exploration. In fact there are likely to be many more oil fields in the Nequen Province's Vaca Muerta Basin in which YPF controls a whopping 4,600 square miles. If so, YPF is almost certain to be one of the huge beneficiaries of such future exploration. The fact that such companies as Apache Corp. (NYSE:APA), Exxon Mobil Corp. (NYSE:XOM), Americas Petrogas Inc. (OTCPK:APEOF), Total SA (NYSE:TOT), and Madalena Ventures Inc. (OTCQX:MDLNF) are also exploring the Vaca Muerta Basin should lend credence to its likely riches.
Future finds aside, going by just the original estimate of 927 million Boe and 741 barrels of actual oil, it does not take complex math to see that YPF has, by this one discovery, significantly boosted its "real" oil reserves. It claimed only 531 million barrels in proved reserves at year end 2010. This new discovery should ensure that YPF will be able to grow significantly over the next few years. The new discovery should greatly alleviate worries about the dividend and about stock price growth. The discovery has turned YPF into a strong buy, even with the significant government strictures.
With Argentina trying to emulate Brazil as an emerging economy, it does not have a strong desire to start nationalizing assets. This should not be an issue. Plus, Goldman Sachs has estimated an average price of $112.50/barrel for WTI oil in 2012. World estimates for oil are for between $110 and $130 per barrel. This is significantly above the average price achieved in 2011. By itself this price gain, if realized, should allow YPF to grow significantly. The internal price of oil is "dictated" by the government, but even this "dictated" price tends to move upward with the market much more so than the natural gas prices. The new oil should be a huge boon to YPF, even if it is not exported.
The two year chart of YPF gives technical support for this trade.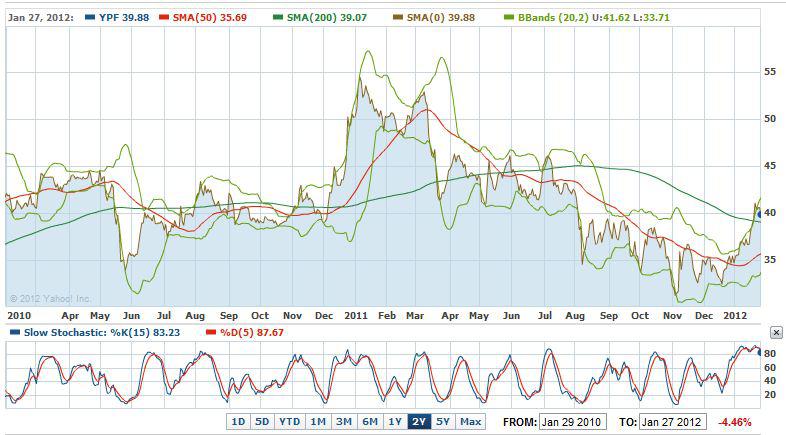 The slow stochastic sub chart indicates that YPF is near over bought levels for the near term. This might bring some hesitancy toward buying YPF in the near term. However, the magnitude of the new find and likely follow on finds on the fundamental picture for YPF makes YPF a still excellent risk, especially considering its dividend yield of 8.40%. The stock price has recently pushed upward through its 200-day SMA. YPF's 50-day SMA is currently moving upward, and it seems likely to cross through its 200-day SMA in a matter of days or weeks. Such a cross would be a very technically bullish signal for the stock.
Given that the overall market is highly overbought currently, it might be best to average into YPF. Yes, it does seem likely YPF will continue to move higher, but it will also likely move to a large degree with the market. Still, with a high dividend it has a beta of only 1.16, even though YPF is in politically less stable Argentina. This tells you just how strong this stock is thought to be. YPF is very comparable to Hess' (NYSE:HES) beta of 1.05, which is a company with large oil shale assets in the US (and service stations, etc.). The first near term target will be about $46. YPF seems highly likely to reach this in 1H 2012. From that support point YPF is likely to challenge its recent high of $52.40.
Logic says the new discovery (and eventual good development progress reports and/or subsequent discoveries) will mean YPF's stock price will likely exceed this high within the next 1-2 years. You should get good stock price growth and a great dividend during that time. Naturally, this outlook is dependent on the price of oil to a large extent. In this regard, it is comforting to know that we are in a worldwide secular bull market for oil. It may have temporary falls, but the increasing demand from emerging economies will continues to pressure oil prices to the upside longer term. The worst case scenario seems to be that you will just collect your 8.40% dividend (presuming you ignore any "flash crash" like scenarios). That's a good return just by itself.
Good Luck Trading.
Disclosure: I have no positions in any stocks mentioned, but may initiate a long position in YPF over the next 72 hours.