It has been awhile since I have followed up on one of the technology companies in my portfolio, Applied Materials (NASDAQ:AMAT). I originally added this equity to my picks in early December for a variety of reasons. It has run up around 10% since then, but given its recent momentum I think it has much higher to go before it hits fair value.
Positive recent events for Applied Materials
RBC Capital raised the stock to an "Outperform" on Jan 17th.
The stock has shown good technical strength in the last few weeks. It crossed its 100 day moving average around the time of the RBC upgrade and also just slid above its 200 day moving average (see chart).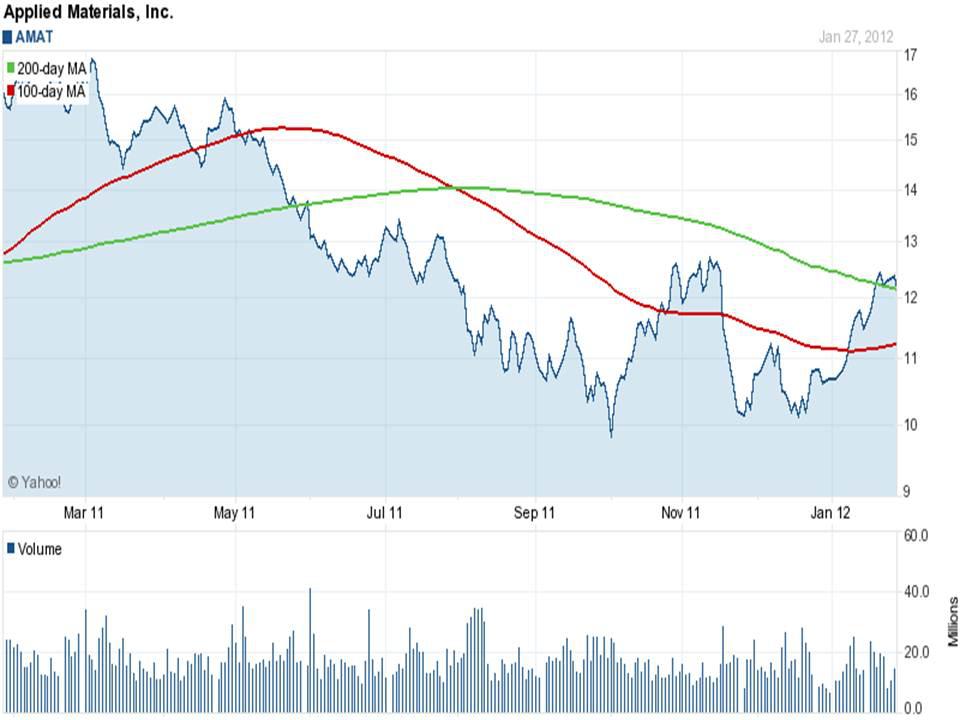 Earnings estimates for FY2011 and FY2012 have stabilized in the last thirty days after falling for the previous two months.
A primary competitor, KLA Tencor (NASDAQ:KLAC) reported earnings late last week that beat both earnings and revenue expectations. The stock popped higher as a result.

4 reasons Applied Materials is still a good buy at $12 a share:
AMAT has a fortress balance sheet with approximately $3.50 a share (over 25% of market capitalization) in net cash.
The stock is still selling at the bottom of its five year valuation range based on P/B, P/E, P/S and P/CF.
In addition to the RBC Capital "outperform" rating, S&P has its strongest rating (Strong Buy) and a $16 price target on AMAT.
The stock sells for less than 7 times operating cash flow and provides a solid yield of 2.6%.
Disclosure: I am long AMAT.