Solarcity(OTC:SCTY) has experienced something of a comeback within recent months, retracing about half the gains it lost in its second correction, although still about 33% off its all time high. Investors seem to think that Solarcity is a cleantech market leader with recurring revenues, while in reality, Solarcity is just a leasing and financing company, but for solar panels. Solarcity still represents a compelling short as accounting treatment of retained value seems to be almost completely bogus, huge amounts of capital are needed to keep expanding, management projections are extremely aggressive, a hugely beneficial tax benefit seems set to expire, and competition seems to be intensifying further.
The Business
Solarcity's main business model is this: Solarcity purchases solar panels from third parties, installs them, and then leases them to clients, or finances their purchase(Mypower). No new technology, no game changer, just a boring mundane finance company/general contractor. There is no moat. Everything Solarcity can do is easily replicable by any other company. A quick search of solar panel installation will bring up scores of results, and even more about how to install your own(will be talked about later).
Competition in the industry is brutal. Solarcity doesn't even make money on panel sales, not taking into account the labor required to install it and etc. Without the finance part of the business, Solarcity would have evaporated or never even existed. The finance part of the company also brought something that wouldn't have existed without it; uncertainty on how to value the company based on the payments that Solarcity is expected to receive from leases and loans. But thanks to the uncertainty, investors seem to think that Solarcity can print money from the leasing side, even though they have negative gross margins on the installment side.
A basic agreement with the customer looks like this: Solarcity spends around $5373 on customer acquisition costs, and then from$15,000-29,000 on actually installing the panel(Solarcity likely spends more, as they make -17% gross margins on sales of systems). As all these upfront costs are borne by Solarcity and its partners, this is obviously extremely capital intensive. Part of the burden is currently taken by tax equity investment partners, thanks to a 30% rebate on the cost of installation of solar panels. Those partners get the 30% as senior cash flows, and Solarcity gets the rest of the lease as subordinated cash flows. By the end of 2016, the tax equity rebate will expire, and increase capex costs on Solarcity even more.
Bull Case
Solarcity is the market leader in the hot new solar panel space, as installations are set to soar as solar prices become competitive with the grid. As Solarcity grows, it will lower its customer acquisition costs, lower its cost of capital, and use economies of scale to its benefit, giving it a wide moat. Solarcity funds its installations through investors who take part in tax equity financing, and leaves the company with steady lease payments after it pays back those investors. Management's KPI that values this stream of payments is "retained value". Retained value is essentially the present value of the lease payments assuming customers stay for 30 years and is discounted at a rate of 6%, not including income taxes, and has grown to $2.7B as of 1Q15. Management estimates that retained value has the potential to grow at over $1B a year at the end of 2015.
Reality
Retained value assumes literally everything goes right for Solarcity
Solarcity is essentially borrowing money now against its future sales which haven't happened yet. One could make the argument that the solar panels are also securing the loans but unlike homes or other asset backed loans, solar panels are a swiftly moving technology and they will depreciate very quickly.

Management models no churn. 0%. Explain to me how this is possible. There already has been churn shown even in management's presentation but they continue to ignore it. Add in the fact that most homes where solar has been installed will start to be sold soon, and the barrier that solar brings, and defaults and delinquencies will shoot up.

Contracts are only for 20 years, and the extra 10 years are projections that the customer will renew at a 90% rate of their current c/kwh. Some confusion exists as to what exactly this means as I have seen management say that it means either 100% of customers renew at 90% of their current rate or 90% renew at their current rate. You can see Solarcity's language itself in the footnotes of its 1Q press release. Why would a customer renew at the end of 20 years, when solar panels have advanced and rates have likely dropped, and Solarcity's rates will actually be way higher? Remember for leases, there is an annual rate escalator of around 2.9% each year. At the end of 20 years, 15c/kwh turns into 26.5c/kwh. Power rates would also have likely dropped by then as well, making renewal absolutely insane. Renewal's value in the retained value calculation is $800M, more than a fourth of the entire calculation.

The discount rate of 6% is way too aggressive. The tax equity investors who are essentially putting up the senior financing for each installation are demanding 8-10%. Why should the company, which is in effect receiving subordinated, long dated cash flows discounting at a lower rate? Low double digits would be a much better discount rate for Solarcity's flows, but would also slash its retained value by 1/3rd as well.

Retained Value includes no income taxes. If you are long and think that Solarcity's earnings will amount to something, then there will be income taxes. I guarantee you.

Management seems to include the absolute bare minimum for spending on breakdowns and maintenance. Countless Yelp reviews seem to validate this, as their average rating is a fantastic 2.5. Note that this is still early in the cycle, and if real accidents started happening now, Solarcity wouldn't exist. Come back in 4-5 years and we'll see how many more panels are broken.

Solarcity assumes that the entirety of their convertible issuance will be settled in equity, $800M worth(I am actually confused about this, as Solarcity issued $1B worth of notes but just carries it on their balance sheet as $800M. I am sure they didn't call it, and it's way too early to be repaying it. Can someone explain this?). The conversion price for half is $62, and the other half is $83, which assuming this analysis is correct, will never happen. Even if Solarcity somehow knocks it out of the park, equity investors will still be paying for the debt, just in the form of dilution.

On the subject of dilution, oh boy does Solarcity love to dilute investors. From its first 10Q in May 2013, 75M shares were outstanding. At the latest filing, it's risen to almost 96M, a 28% increase in only 2 short years.

Solarcity also adds in booked but not deployed revenue. This is certainly aggressive, and isn't quite accurate, as customers can literally get out of the contract at any time prior to construction.
So starting with gross retained value of $3.1B, taking off $750M for no to 5% renewal, another 35% due to a higher discount rate(9%), another third due to income taxes, and another 1/10th assuming management spends more on maintenance and repairs, and subtracting net debt including convertibles, you actually end up with a NEGATIVE RETAINED VALUE. YES. NEGATIVE.
According to this sample contract, Solarcity also offers to restore the customer's roof, and remove the system at the end of 20 years at no cost to the customer. This seems to be unaccounted for, and could also represent a large liability that is represented nowhere. I've estimated nothing for this as I have no way of calculating how expensive this will be, and also to balance out some more aggressive assumptions I have made.
I also did not add in churn, which technically should take off another large fraction, but because I also have no way of estimating that, I will also leave it at 0 to compensate for some other more aggressive assumptions I have made. I should also note that in cases of default, Solarcity has no recourse beyond the panel itself.
I also did not add in losses from booked revenue not turning into actual revenue, as I don't know how to accurately estimate this, and once again, this may compensate for some more aggressive assumptions I've made.
I say that I've made aggressive assumptions, but I really haven't. Adding in the fact that Solarcity has generated $800M in operating losses since its inception, Solarcity has destroyed shareholder value on a gigantic scale.
Execution
Assuming none of what I just said about retained value matters, Solarcity will also have massive execution issues. Cost per watt according to Solarcity's calculations is around $2.95/watt and is set to drop to $2.5/watt also according to Solarcity's calculations. Solarcity wants to install 1GW in 2015, which means that it needs to come up with $3B (half of the market cap!)in financing just for this year to make its goal.
In total, by mid 2018, Solarcity wants to install 6 terawatts of capacity. Subtracting current capacity, and multiplying by an average of $2.7/watt, means a total of $13.5B in capital total to meet its goals. Its cash flows from its leases are nowhere near large enough to fund this, so the vast majority(85-90%+) of this will have to come through outside financing. Solarcity has historically raised debt at under 5%, and issued equity to finance their installations, but this is a huge leap of faith assuming that credit markets don't contract at all, and equity markets will stay inflated.
Solarcity is also investing a massive amount into a solar panel factory in New York, after paying $200M(+150M in earnouts) for a startup with efficiency technology. Solarcity is expected to spend around $5B in total over the next decade, as if it didn't have enough capital to spend. This will also increase its fixed cost base, which will make Solarcity even more sensitive to any changes in its markets or in the capital markets for funding.
Once again, the tax equity investments that have been funding around 30-40% of Solarcity's capex is set to expire at the end of 2016, which removes a large source of funding for Solarcity.Solarcity has also been a massive abuser of these tax credits. Barron's notes that Solarcity has continually estimated fair value at around 20% higher than its costs, which has inflated the tax credit that Solarcity receives. As it guarantees returns for tax equity vehicles, this presents a large unaccounted for liability, if the government decides to claw back any funding.
Alternatives to solar leasing
Solarcity has started to offer a loan product, which in contrast to the lease product, just lends money to a customer to let it own the panel. Solarcity is likely to lose even more money on this deal for reasons explained below.
Solarcity only charges 4.5-5% APR for loans made through MyPower, significantly lower than its unlevered IRR that it touts of 11%(like 11% is some ridiculously high rate anyways).

Solarcity gives a full warrantee for the entire 20 years of the loan, and this represents a huge liability.

Solarcity also makes negative gross margins on system sales, as reported before, and likely makes the same negative margins here as well.

It also does not receive the ITC tax benefit, as the customer owns the panel, not Solarcity.

While Solarcity does have a low cost of capital, there is no way that in the long run, Solarcity will beat out banks and other normal lenders, as they simply have even lower costs of capital.

Once again, no recourse beyond the lien on the panel itself.
So in the long run, it seems that MyPower is an even worse deal for Solarcity, as they don't even get to own the solar panel at the end of the agreement, don't get the slightly better economics associated with leasing the panel, all while paying all the costs associated with owning the panel.
Bad Business Practices
Solar leasing is also widely documented to be a horrible deal for consumers, which should also pressure economics as people learn that it's a much better deal to go with services like MyPower or buying the panel outright.
A handy dandy chart is available about why buying solar is way better than leasing, courtesy of the site linked above. By the way, obviously none of this is neatly spelled out for normal customers when they sign their leasing agreement.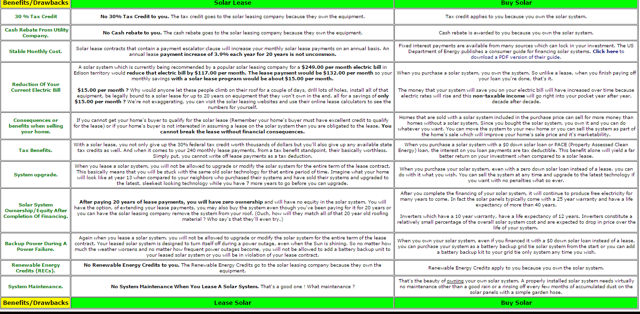 Also actually with the rate escalators, midway through the lease, customers are actually likely to begin losing money on their contracts, completely opposite of what Solarcity promised in the beginning. Once word of this gets out, Solarcity is likely to face huge trouble from this.
Valuation
So investors are essentially paying $6B for negative present value, in a brutally competitive industry, with shady business practices, entirely dependent on the capital markets staying right where they are. As Solarcity is essentially just a leaser of solar panels, book value should be an ok measure of value. Subtracting out goodwill and intangibles leaves around $200M for equity holders, certainly better than the negative NPV. It's not hard to assume a $0 stock price, but if we're really generous, maybe we can assume $10? I still feel like I'm being very generous, as that's still around $600M in net present value of earnings that don't exist(and once again NPV is negative, not including all of the operating losses that have been generated so far). Solarcity is a flaming short, and you should at the very least get out before it burns up your money too.