It's only when market conditions become unsettled that dubious practices surface for all to see.
It's been common knowledge for many, myself included, that "adjusted" vs "GAAP" (Generally Accepted Accounting Principles) earnings have become more accepted now than previously. Decision Point's Carl Swenlin has been posting the two results side by side for many years.
Unfortunately the financial media and Wall Street analysts have become more willing to accept "adjusted" earning's results which can mislead analysts and investors alike. Finally the AP has featured the manipulated illusion of these results. For corporate CFO's this type of stuff, along with overwhelming cheaply financed stock buybacks have successfully manipulated stock prices.
These kind of activities eventually get exposed for what they are.
In the meantime investors have benefited as stock prices have performed well the past 7 years have generated outsized returns for investors.
As trend-followers, our job is to go with trends as we find them while keeping corporate manipulations in reserve.
Stocks continued to struggle for direction Monday. Overseas markets, particularly related to Greek issues, remain more unsettled temporarily until more congeniality returned to the negotiators. Obama tried hard to rollback his comments the dollar was too strong---he was unsuccessful as the dollar fell sharply against the euro.
There was little in the way of economic data to view. Wednesday markets will get more economic data from China. In the meantime, according to Chang Liu, China economist at Capital Economics, China's economic growth is being overstated by 1 to 2 percentage points due to a glitch in the way it is calculated. If correct, this would mean the world's second-largest economy only grew by 5-6 per cent in the 12 months to the first quarter of 2015, rather than the 7 per cent figure announced by Beijing. That said, investors didn't seem to care whether Mr. Liu is correct as they bid the country's ETFs higher.
Meanwhile in Greece, the WSJ reported the country's creditors mellowed and are considering a long field goal by kicking the can all the way to March 2016.
Maybe the political leaders involved won't be around then but they're doing all they can now to not deal with the situation forthrightly.
Leading market sectors higher included: Euro (NYSEARCA:FXE), China (NYSEARCA:FXI), Shanghai (NYSEARCA:PEK) Gold Stocks (NYSEARCA:GDX), Brazil (NYSEARCA:EWZ) and little else
Leading market sectors lower included: Well, everything else just about.
The top 20 market movers by percentage change in volume whether rising or falling is available daily.
Volume was lighter than recently and breadth per the WSJ was negative overall as distribution continues.
You can follow our pithy comments on twitter and like us on facebook.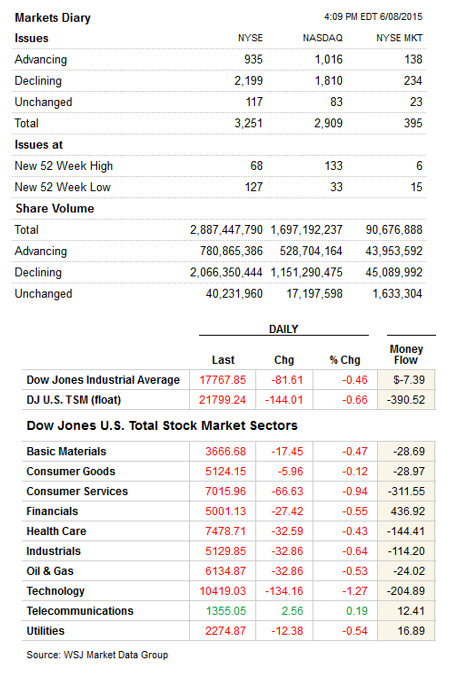 SPY 5 MINUTE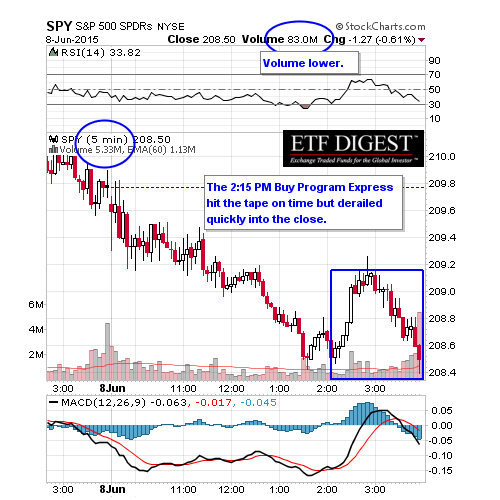 SPY DAILY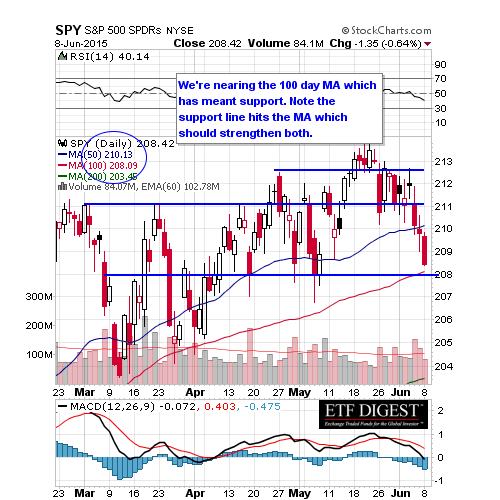 SPX WEEKLY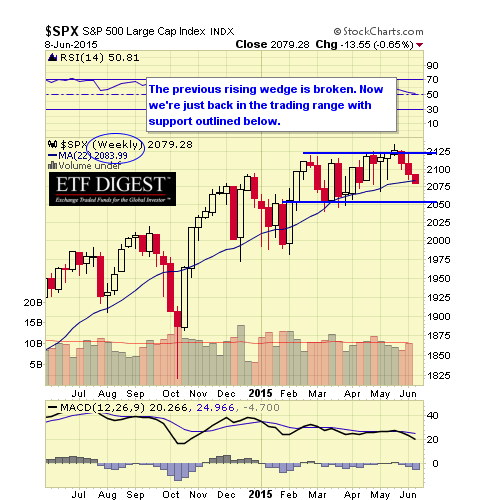 INDU WEEKLY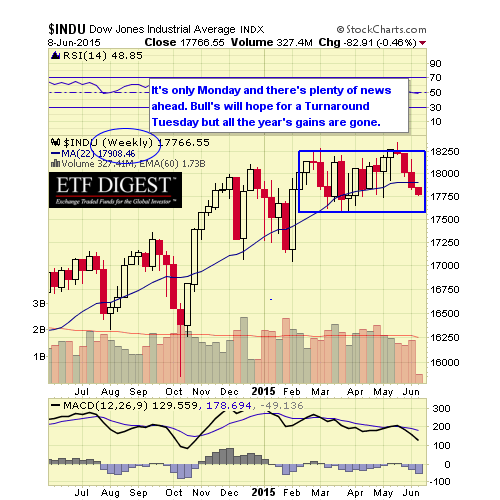 RUT WEEKLY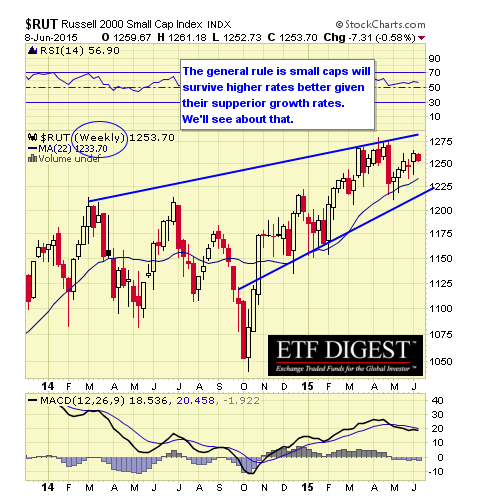 NDX WEEKLY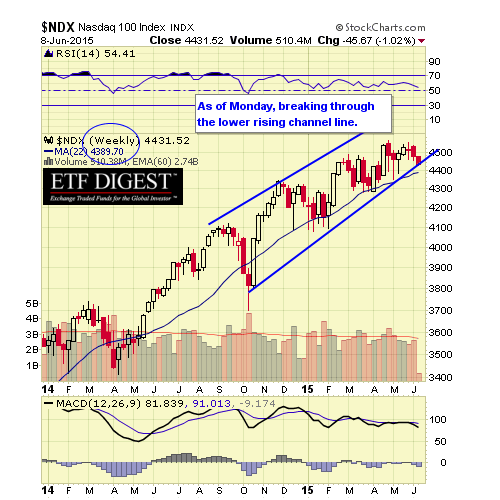 NYMO DAILY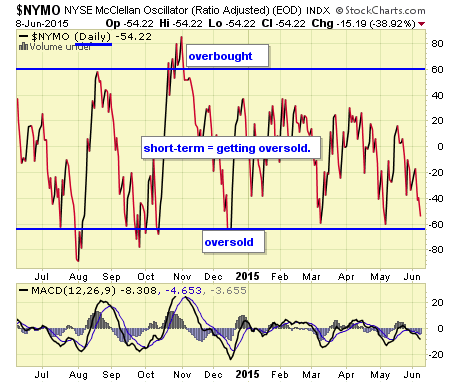 The NYMO is a market breadth indicator that is based on the difference between the number of advancing and declining issues on the NYSE. When readings are +60/-60 markets are extended short-term.
NYSI DAILY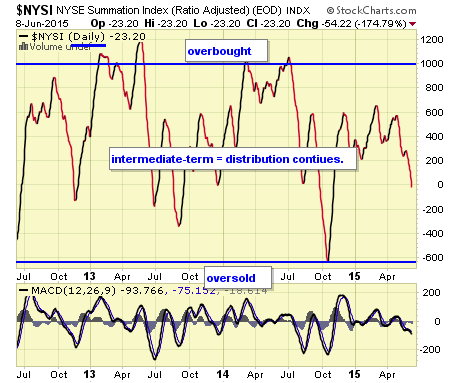 The McClellan Summation Index is a long-term version of the McClellan Oscillator. It is a market breadth indicator, and interpretation is similar to that of the McClellan Oscillator, except that it is more suited to major trends. I believe readings of +1000/-1000 reveal markets as much extended.
VIX WEEKLY
The VIX is a widely used measure of market risk and is often referred to as the "investor fear gauge". Our own interpretation is highlighted in the chart above. The VIX measures the level of put option activity over a 30-day period. Greater buying of put options (protection) causes the index to rise.

Closing Comments
There's a lot of frustration and impatience in the bull/bear camps.
They're not used to this protracted level of unproductive action.
Such is the nature of trading ranges which often aggravate most investors. Bulls' are a spoiled lot after nearly 7 years of positive growth market returns and much dip buying no matter market losses. They're not used to such a lack of performance.
Dip buying has only become obvious at support within the trading range. Clearly the Fed is signaling a transition from QE/ZIRP policies.
They don't seem to possess a solid plan going forward. This translates to uncertainty for their flock; hence, a trading range.
The commentary Monday is short and may remain that way until more economic data arrives beginning on Wednesday with China and later with Retail Sales Wednesday and Consumer Sentiment Thursday.
Again, let's see if bulls can muster a Turnaround Tuesday.
Let's see what happens.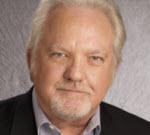 Dave Fry is founder and publisher of ETF Digest and has been covering U.S. and global ETFs since 2001. ETF Digest was named one of the most informative ETF websites in the 10th Annual Global ETF Awards.
He is the author of "Create Your own ETF Hedge Fund: A Do-It-Yourself Strategy for Private Wealth Management" published by Wiley Finance and "The Best ETFs: U.S. Equities, A Companion Guide to Building Your ETF Portfolio".
Disclosure: The author has no positions in any stocks mentioned, and no plans to initiate any positions within the next 72 hours. The author wrote this article themselves, and it expresses their own opinions. The author is not receiving compensation for it. The author has no business relationship with any company whose stock is mentioned in this article.