China is facing considerable economic problems as they try to transform the economy, deflate a credit bubble, are faced with rapidly deteriorating demographics and competitiveness, and maintain high economic growth all at the same time.
Economic transformation
Here is what produced the economic transformation, according to the OECD:
the change of state-owned enterprises (SOEs) from enterprises run as government departments into corporations and sale of minority holdings to the public;
the establishment of a viable banking system;
the creation of a new legal environment for companies;
the entry into the World Trade Organisation;
the marked reduction of barriers to the movement of individuals;
and the development of a housing market.
This set a framework for unprecedented growth that has been driven by investments, construction and exports. All of these are driven by a national savings rate that is rather unprecedented, half of the country's GDP. However, this model isn't really sustainable.
The first to falter were exports. China has rapidly become more expensive, as the supply of cheap labor from the countryside dried up and wages were increasing at double-digit pace. The country managed to soften the blow by keeping a lid on the currency, amassing $4 trillion in foreign currency reserves in the process, but this is now also reverting, now that the dollar has gone up (to which the yuan is linked).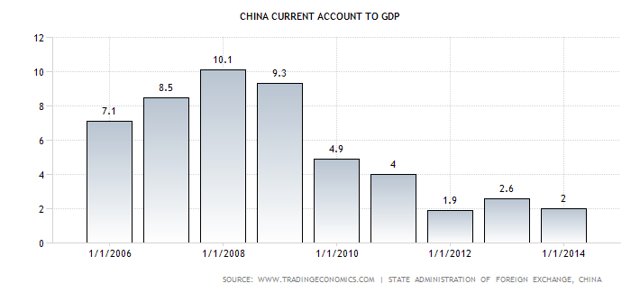 According to the IMF, the Chinese yuan is no longer undervalued, and wages are rising fast:
For example, the 2013 wages of Chinese migrant workers increased 13.9 percent from the previous year, nearly twice the growth rate of China's GDP. Surprisingly, Chinese wages increased most dramatically around the time of the global financial crisis. Between 2009 and 2013, Chinese wages surged 5.7 per cent, 19.3 per cent, 21.2 per cent, 11.8 per cent and 13.9 per cent, according to data from China's National Bureau of Statistics. [Business spectator]
Investments were another main pillar under the Chinese economic miracle, still reaching almost half of the country's GDP last year, a truly staggering proportion of GDP and much higher than any of the Asian tigers achieved during their respective heydays.
To understand why Chinese investment could reach such heights, one has to understand the financial repression in the Chinese financial sector. Basically, savers were offered sub-zero real returns on deposits, as interest rates were below the rate of inflation.
Chinese household save a lot because of the lack of basic social security, so much of the savings is precautionary (for old age, health problems, and education). Buying real estate usually requires a significant down-payment, another reason to save up.
But besides bank deposits and real estate, there weren't really a whole lot of alternatives for Chinese households to keep savings.
Banks used the cheap funding to finance an unprecedented investment boom that is now slowing down because exports are not growing as fast, many industries suffer from overcapacity, and the labor force growth has come to a grinding halt.

After the 2008 crisis, the government stepped up with cheap credit and even more infrastructure. Dozens of metropolitan subway networks and airports, a national high-speed rail network, even whole cities were built in record time.
Much of the investment boom has been built with a disregard to economic returns, as cheap credit flows to state-owned companies or is directed for reasons of political expediency or connections, especially on the local level.
The result of this is that investment has reached a point of diminishing returns and both the levels of debt/GDP, as the amount of bad debts have increased steadily; on some measures, the former already stand at 250% of GDP.
Real estate has been another growth opportunity as China was basically one big building site for years. Not only did construction constitute an unprecedented part of GDP, housing was also a main way to put savings to work for households, so something of a housing bubble ensued.
That housing bubble is now well and truly over, as house prices are deflating almost everywhere in China for quite some time already after they simply got too expensive, and real interest rates increased as a result of falling inflation.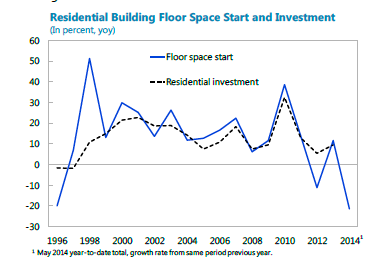 A corollary of this is the rise in bad debt, as some big and highly leveraged project developers get into trouble. For instance, Evergrande got a whopping $16 billion credit line by four major state banks last February. Kaisa, another big property developer defaulted on its dollar bonds, and this could start a bit of a trend.
Of course, dealing swiftly with bad debt is much better than shoveling it under the carpet and letting it fester, as we know from the Japanese experience in the 1990s.
Debt
Total debt (public + private) now stands at 200%-250% of GDP (estimates vary a bit) and interest payments of non-financial companies has risen from 7.5% to 15% of GDP between 2011 and today. Since the rise in debt levels has been steep, the quality of some of the debt is low, and the levels of both are rising rather rapidly.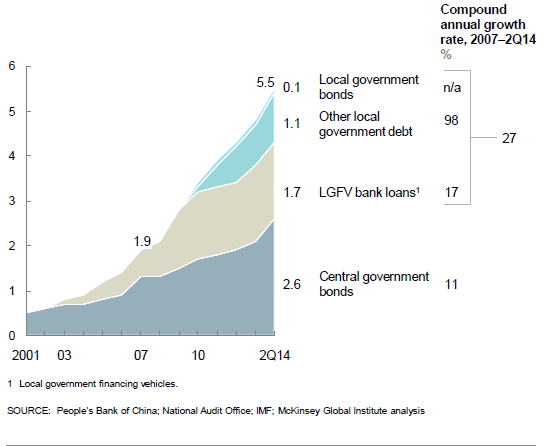 What is especially worrying is that a combination of rising debt levels, deteriorating debt quality, slowing economic growth and falling inflation (producer prices are already in negative territory for quite some time) is making the real debt burdens rise fast. China isn't yet an outlier, as one can see in the figure below: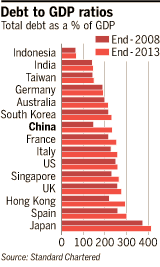 The official bad (non-performing loans at banks) debt figures are not yet alarming (rising from 1.16% at the end of Q3 2014 to 1.6% at the end of Q4), but this is likely to understate problematic credit by quite some margin:
The real situation is probably far scarier, says a new report released May 8 by consultancy Oxford Economics. More likely, China's bad-debt ratio is somewhere between 10 percent and 20 percent, amounting to 6 million to 12 trillion yuan ($1 trillion to $1.9 trillion), says senior economist Adam Slater in "China: How bad could bad loans get?"
So the debt problems are serious enough and rising fast enough for the authorities to embark on action, but this is seriously hampered because any attempts at trying to deleverage are likely to have an adverse effect on economic growth.
Shadowbanks
Traditionally, credit was mainly offered in China by the big four policy banks, and monetary policy had substantial (but rather crude) leverage over these banks by setting loan quotas. A big expansion happened as a result of the financial crisis when these banks were ordered to lend $600 billion to revive demand.
The shadowbank hardly existed before the financial crisis, but it has risen rapidly after 2008, driven by several developments:
Efforts by households to escape the financial repression and seek higher returns for savings.
Efforts by local authorities to keep financing development after government intervention in 2011 to keep the real estate market from overheating.
A relatively unregulated shadowbank sector grew rapidly, consisting of money market funds, trust banks, asset management firms and a host of other financial disintermediators (see here for an overview).
Wealthy savers are offered wealth management products (WMPs) offering much higher returns compared to traditional saving accounts or term deposits, local authorities are offered special financial vehicles (local government financing vehicles, LGFVs), enabling them to keep expanding local projects.
The sector grew rapidly and this is reason for concern because of the (by definition) unregulated nature of the sector, transparency and accountability is often weak and much of the credit is off balance sheets.
On the other hand, the sector isn't nearly as big in relative terms to its US counterpart, of that of many other countries, and the complexity and leverage are much less (little in the way of complex derivatives):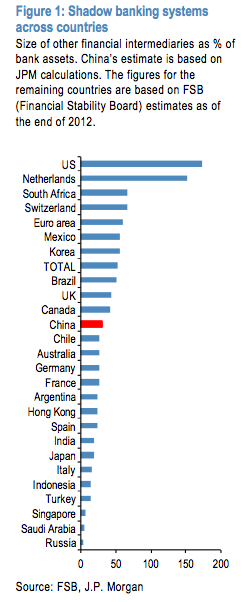 Limiting shadow banks
So China has a credit problem which is growing in quantity and an increasing size is problematic and the shadowbank system has troubling aspects (especially troubling for a country in which the authorities like to keep things under their control).
Earlier this year, the authorities placed limits on the sector mainly through limiting the rampant off balance sheet financing at the local level through the LGFVs.
According to the IMF, if one includes these LGFVs and excludes the land sales (a very unreliable source of income), the consolidated fiscal deficit of the Chinese state is over 10% of GDP, far higher than the official figures and clearly not sustainable.
Monetary policy
Most advanced nations would use a rise in interest rates to curtail credit creation, so in that light, the recent cuts in interest rates might seem a clear indication that China values maintaining growth over dealing with the outstanding credit problem.
However, that interpretation would be a mistake, simply because the fall in interest rates hasn't even kept up with the fall in inflation: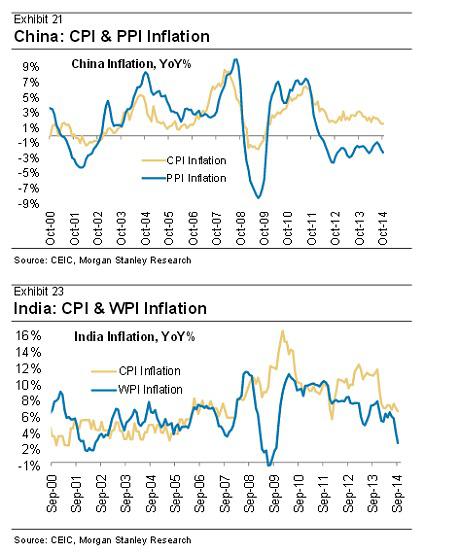 More significant is the recent cut in the reserve ratio for banks though. This is an instrument that is not used very much in other countries, but a mainstay of Chinese monetary policy. There have been several cuts this year:
The reserve-requirement ratio was lowered 1 percentage point Monday, the People's Bank of China said. While that was the second reduction this year, the new level of 18.5 percent is still high by global standards. The cut will allow banks to boost lending by about 1.2 trillion yuan ($194 billion). [Bloomberg]
Moving up the value chain
There is still considerable momentum behind Chinese growth, but it will become clear that many of the main drivers are petering out:
China's export have lost competitiveness
The amount of investment is untenable
The working population is no longer growing
Debt has been piling up, making further credit expansion problematic
Real estate has been in a slump
Against these problematic developments, there are also some positive ones. The main one is that wages have been rising at double-digit rates, meaning that China's domestic market, despite the problematic demographics, is still growing fast.
What China needs to do especially is move up the value-added ladder, as to not fall into the middle income trap. It has already made great strides in providing first class infrastructure, and there is still considerable momentum coming from that (with innovations like new private-public partnerships).
The next thing to realize is that China is producing an unprecedented amount of engineers and technically able people, and is poised to spend more on R&D compared to either the US or the EU by the end of the decade (according to the OECD) and the number of patents applications and grants has already exceeded those of the US by 2011, even if only 5% of the Chinese patents are granted abroad (versus 85% for the US OECD).
Together with FDI, learning from abroad and acquiring foreign expertise and know-how, this produces the basis for sophisticated production, which is already happening on a large scale. In fact, such is the abundance of engineering talent in China that foreign companies are tapping into it on a large scale:
The reality is that Asian engineering centers are now central to the success of many American companies. One measure is head count. Cadence, Infinera, Microchip, Microsemi, Synopsys, Teradata, Texas Instruments, and VM Ware are among the companies to state their second largest R&D teams are located in India or China. [HBR]
In fact, China is doing what earlier countries like Japan and South Korea have successfully done; moving up the value chain and create their own technically sophisticated companies with sufficient marketing and design cloud to conquer world markets.
Basically, China is creating its own Toyota, Sony, Samsung in the form of companies like Huawei, ZTE (OTCPK:ZTCOY) and Xiaomi. While these are not yet household names in the West, we have a feeling it won't take too long. Huawei is already the second biggest telecom network equipment provider in the world.
Internet companies like Tencent (OTCPK:TCEHY), Baidu (NASDAQ:BIDU) and Alibaba (NYSE:BABA) can already match most of their Western counterparts. The next step would be to go global with the crop of high-tech Chinese companies. However,
A few of China's tech business leaders outlined plans to enter markets outside China, but most said the opportunities within China are too great to think much about global expansion yet. [Stanford Business]
To have a big, fast growing, and increasingly sophisticated home market is a substantial advantage for companies to hone their skills and reap learning and scale economies. Alibaba did make the splash abroad, but the results are fairly mixed so far.
How to profit?
With the Chinese economy shifting more to developing the domestic market and moving up the value chain, there are certainly opportunities. Investing on broad themes like a growing domestic market and moving up the value chain is something that requires patience, as its success is measured in years (or even decades) and is no guarantee for success.
The easiest is to buy Chinese ADRs listed on the US markets. We have recently highlighted Ctrip (NASDAQ:CTRP), a company that dominated the online travel industry, which is still in its relative infancy in China. It's typically a stock that could get a lot of mileage from the type of development that the Chinese economy is undergoing.
However, this is of course far from a guarantee, as management and industry dynamics are probably considerably more important in determining the success of the shares (even if we explained in the linked article that so far, Ctrip is doing quite well on these fronts, having emerged as the dominant player).
The shares are pretty expensive though, we would only really get enthusiastic when there is a fairly significant pullback. If you don't like to pick individual stocks, going for ETFs that track indices is one way (and would have been very successful the last year, needless to say).
However, one does need to understand that the Chinese indices are fairly heavily dominated by state-owned companies (SOEs). ETFs is a bit of a minefield, as Chinese shares have different listings, the main listings are:
A-shares (Shanghai and Shenzhen), quoted in renminbi and open to domestic investors only (with few exceptions)
B-shares Shanghai (US dollar) and Shenzhen (Hong Kong dollar), open to domestic and foreign investors
The restrictions for A-shares is being gradually lifted for foreigners, but there is by no means complete access yet. The first ETF that reproduces the A-shares, tracking the 300 biggest companies listed on the domestic parts of the Shanghai and Shenzhen exchanges is the Deutsche X-trackers Harvest CSI 300 China A-Shares ETF (NYSEARCA:ASHR).
While this is a welcome development, it's not without its drawbacks: It's an expensive ETF (with a 1.08% expense ratio), and
the Shanghai Shenzhen CSI 300 index that the ETF is based on has underperformed other investable China indexes such as the S&P China BMI Index. The CSI 300 index returned 67 percent over the past five years, compared to 106 percent for the S&P China BMI Index -- and that underperformance came with more volatility. [Bloomberg]
The reason for that relative underperformance:
A big reason for the outperformance of the S&P China BMI index and others like it is that many Chinese technology companies list shares outside of China, and those shares have been red hot. ASHR provides exposure to predominantly financial stocks, with nine out of the top 10 holdings financial companies.
We have to point out that as early as Wednesday, the A-shares could be given yet another significant boom as they might be included in the influential MSCI emerging market index, which is tracked by a universe of some $1.7 trillion of investment money. This could become funny:
Such a move would be expected to ignite a significant rally in Shanghai blue chips, and a recent Wall Street Journal report cited major funds such as those of Vanguard Group Inc. planning to purchase Chinese equities ahead of the MSCI decision, which is due to be revealed Tuesday at about 5:30 p.m. U.S. Eastern time (Wednesday 5:30 a.m. in Shanghai) on the financial company's website. [Marketwatch]
An alternative would be to invest in SPDR S&P China ETF (NYSEARCA:GXC), which tracks all of the many types of investable China shares except A-shares. Unfortunately A-shares make up some two-thirds of the market capitalization of Chinese stocks, although you won't miss exposure to some of them with dual listings.
There is a really nice comprehensive guide to Chinese ETFs (which you can find here) so we'll leave it at that.
Disclosure: The author is long CTRP.
The author wrote this article themselves, and it expresses their own opinions. The author is not receiving compensation for it (other than from Seeking Alpha). The author has no business relationship with any company whose stock is mentioned in this article.