As the market races to its best start in more than a decade, one common refrain has been that the market is being driven by "low-quality" stocks. While there are certainly some suspicious stocks among the leaders in the S&P 500, I believe it would be dangerous to just assume that the early leadership is not able to sustain its impressive gains. With that in mind, I decided it to take a closer look at the leading stocks.
With two trading sessions left in January and the S&P 500 up almost 5%, there are 30 stocks in the index (6%) that have rallied 20% or more. Here they are, sorted by return: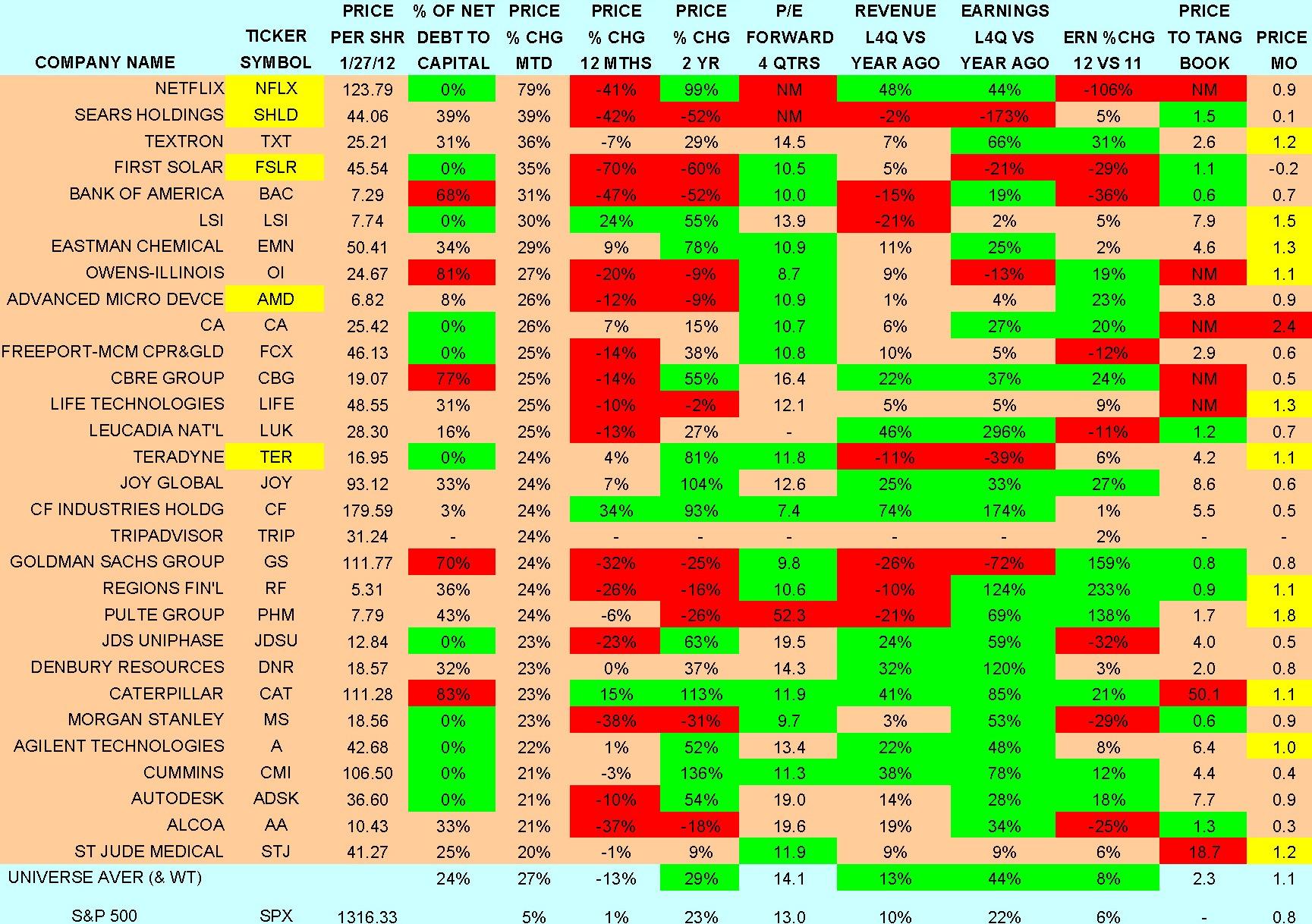 Before I address the quality issue, let me explain the color-coding. All of this data is from Baseline. If the symbol is yellow, it means that more than 10% of the float is shorted. The most heavily shorted names are Netflix (NASDAQ:NFLX), Sears Holdings (NASDAQ:SHLD) and First Solar (NASDAQ:FSLR), all of which have short-interest ratios in excess of 30%.
I have highlighted in green all of the stocks with no net debt, while I have signaled high net debt to capital (> 50%) in red. I have included 1-year and 2-year price returns, highlighting in green the stocks that have beaten the market by 10% over the past year or 20% over the past two years. Conversely, the red symbolizes underperformance by the same magnitude.
The P/E ratios below 12X are highlighted in green, while those above 20 are marked in red. Note that most of the stocks have relatively low P/E ratios. In the next three columns, I address growth. Trailing sales growth above 20% is marked in green, while declining sales are marked in red. Trailing earnings growth above 20% is marked in green, while negative growth is marked in red. 2012 expected earnings growth in excess of 10% is marked in green, while negative expected growth is marked in red.
I have included a deep-value oriented metric: Price to Tangible Book, marking in green those stocks below 1.5X and in red those above 10X. While several stocks have negative tangible equity, four stocks trade below the value of their net assets.
The last column is a price momentum gauge developed by StockVal and based upon deviations of moving averages from trends. A measure of 2 or greater is extremely overbought - I marked the sole stock that meets this threshold. Many of the stocks are between 1 and 2 units, and I highlighted them in yellow. The average is just 1.1, not too far from the measure of the overall market.
At this point, I should probably define "trash". Low quality stocks can be viewed as such by looking at several different factors. A heavily shorted company might be somewhat suspect. A company whose earnings or sales are in decline might qualify. A company with a lot of debt and/or no tangible equity might fit the bill as well. By these measures, several of the stocks, but certainly not a majority, might be described as low quality.
Before I share what are clearly my somewhat subjective interpretations of the data, I want to discuss a third-party assessment. Standard & Poor's assigns a quality rating to stocks, using letters (A+, A, A- and B+ are considered above average). I didn't include that data, but here is how the distribution looks:
Not rated: 5
A+: 1
B+: 4
B: 9
B-: 8
C: 3
Using S&P's methodology, one would have to conclude that the leading stocks have a slightly negative bias towards quality, with 11 below average and 5 above average.
When I parse the data, a few names do jump out as suspicious. First, as noted, several heavily shorted names are worth considering as trash. None of these intersects with the high net debt to capital names, though SHLD certainly has relatively high debt (but below the 50% I highlighted). Ironically, one of those high debt companies, Caterpillar (NYSE:CAT), is the A+ stock from S&P. A final observation before I look at each of the names: The average "beta" is 1.6X, suggesting that these stocks are significantly more volatile than the market.
So, which of these stocks appears to be "trash"? NFLX, which is in the middle of a potentially dangerous business model transition certainly may be considered highly speculative, given its short-interest, projected earnings loss, the lack of tangible book value and its high liabilities not reflected as debt (content purchases). Still, the stock has trounced the S&P 500 over the past two years, even excluding the move this month.
SHLD too is certainly a candidate, but this might be a response to deep value - it bottomed near tangible book value (though surely write-downs are ahead as they downsize).
Textron (NYSE:TXT) can't be viewed as low-quality in my view. FSLR too is in the middle of a business model transition as subsidies disappear and as it has to compete with rapidly declining prices from competitors using alternative technologies. I am not sure I would consider this "trash", but it may qualify.
Bank of America (NYSE:BAC) is severely depressed and faces several very big problems, but does Warren Buffett invest in "trash"? LSI (NASDAQ:LSI-OLD) isn't low quality by any of these measures. Eastman Chemical (NYSE:EMN) was just acquired. Look for M&A to be a big trend in 2012.
OI has a lot of debt and no tangible book value and is riding the potentially imaginary home-building recovery. Still, given a low valuation to projected earnings and with projected growth, this doesn't appear to be garbage.
Advanced Micro Device (NASDAQ:AMD) is one that some might consider low quality. Were it not for anti-trust rules, it might not even be around! Still, except for a high short-interest, the parameters I have used don't really point to it being "trash".
CA (NASDAQ:CA) isn't trash, and neither is Freeport-McMoran C&G (NYSE:FCX). CBRE Group (CBG) has a lot of debt and no tangible book value - the company nearly was extinct in the downturn. At this point, though, the company is in much better shape.
Life Technologies (NASDAQ:LIFE) generates significant free cash flow and isn't particularly low quality in my view. It has rallied in sympathy with a hostile bid for a competitor. Leucadia (NYSE:LUK) is extremely high quality in my view (with very smart management).
Teradyne (NYSE:TER) is in a cyclical decline but is a leading player in the semiconductor testing area. Joy Global (NYSE:JOY) is a high quality company in my view too. CF Industries (NYSE:CF) is up over the past year even without the recent jump - nothing low quality there.
TripAdvisor (NASDAQ:TRIP) was just spun out of Expedia (NASDAQ:EXPE). Goldman Sachs (NYSE:GS) may be somewhat risky, but low quality? More like high beta. Regions Financial (NYSE:RF)is the lowest priced stock - perhaps that's another indicator of quality that I should have contemplated. Soaring earnings, a low PE and trading below TBV - low quality?
I will acknowledge that Pulte Group (NYSE:PHM) may qualify as "trash". With debt and low earnings, this one is somewhat speculative (like many of its peers). JDS Uniphase (JDSU) has none of the indicators of low quality and has trounced the market over the past two years.
Denbury (NYSE:DNR) is the only Energy name to make the cut. I don't view this one as being particularly low quality. CAT is a great franchise. Despite the high debt and the lack of tangible book value support, I don't think that investors consider it low quality at all.
Morgan Stanley (NYSE:MS), like GS, is high beta and not low quality. Agilent (NYSE:A) is extremely high quality. Cummins (NYSE:CMI) too. Same with Autodesk (NASDAQ:ADSK). Alcoa (NYSE:AA) is a perennial disappointment and may be at a cost disadvantage to its competition, but it isn't particularly low quality in my view. Finally, St. Jude (NYSE:STJ), which is in my Top 20 Model Portfolio, is extremely high quality in my view. I shared my very favorable opinion about its CEO recently.
So, I have shared my own view, though perhaps yours differs. Just a few of the names, especially at the top of the list, may be short-squeezes and possibly not sustainable, but the real proof, at least to me, is that more than half of these names have been beating the market over the past two years, a time when investors have been focused on quality and dividends. Only CA is extremely overbought at this point, and many of the names are less overbought than the S&P 500 using the metric I shared. The overall low P/E valuations and the fact that many of these stocks trade in proximity of their tangible book values suggest that the market may just be realizing it let too many of these get too cheap.
As I shared in October, I think the market can move to all-time highs this year. If I am correct, many more stocks will be showing gains in excess of 20% as the year progresses. While there has certainly been some mean-reversion, with poorly performing stocks in 2011 showing leadership in 2012, I think it would be a mistake to characterize these leading companies as low quality.
Disclosure: I have no positions in any stocks mentioned, and no plans to initiate any positions within the next 72 hours.
Additional disclosure: STJ is a member of the Top 20 Model Portfolio at Invest By Model.