International trade is contributing to a large decline in growth in China, putting investor sentiment into jeopardy . Chinese equities are represented by iShares China Large-Cap (NYSEARCA:FXI).
In May, the import figure came in at an annual pace of -7.19% contraction, down from the previous month's reading of -5.61%. Since peaking at over 41% in late 2010, imports in the country drastically declined, seen below. Imports in China are declining as domestic demand for products remain weak.
Additionally, China imports a lot of resources from surrounding emerging markets, so as the import measure falls, economic growth in those countries is adversely affected.

Data provided by the OECD
Moreover, slowing exports signal weakening global demand. In May, the export figure came in at an annual pace of 7.28%, below the previous month's reading of 8.18%. While exports are not contracting like imports, the measure is still well below 2011 highs of over 30%, seen below. With weakening trade data, analysts claim China's economy has not bottomed out just yet.
"The data show the Chinese economy is still in the process of seeking a bottom. We expect trade conditions to continue to be sluggish in the following 4-5 months, with more government policy rolling out to stabilize [the economy],"according to Reuters.

Data provided by the OECD
As Chinese officials contend with slowing economic activity, they are now also faced with disinflation as well. In May, the producer price figure came in at an annual pace of -4.6% contraction, unchanged from the previous month, but below estimates for -4.5%. Since peaking in 2010 at over 6%, producer prices have significantly declined, seen below. As deflation sets in in the industrial sector, policymakers may be forced to ease rates further in coming months.
China's economy continues to slow on many fronts. Falling imports signal weakening domestic demand, while also hurting surrounding emerging economies. Moreover, slowing exports are weighing on economic activity within the country. With China's economy yet to bottom out from its decline, investor sentiment could soon diminish, leading to a sell off in Chinese equities.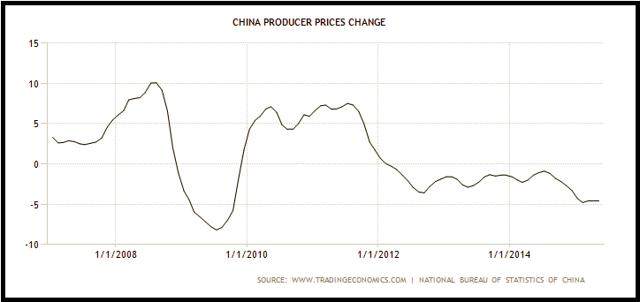 Disclosure: The author has no positions in any stocks mentioned, and no plans to initiate any positions within the next 72 hours. The author wrote this article themselves, and it expresses their own opinions. The author is not receiving compensation for it (other than from Seeking Alpha). The author has no business relationship with any company whose stock is mentioned in this article.