Well, it's that time of the month again... time to attempt to succinctly summarize the state of the market across the three primary time frames traders/investors focus on: short-, intermediate-, and long-term. So, today I will attempt (key word) to use as few words as possible to review the near-term action.
The title of this morning's missive, "So many worries, so little time" would appear to sum up the current market situation. Everywhere you turn, there are reasons to worry and apparently reasons so sell stocks. The list of current market concerns has become quite lengthy and on any given day, traders are focused on the backup in rates in places like the U.S. and Europe, the state of the U.S., Chinese, and European economies (recent data has been punk to say the least), the dollar rally, inflation expectations, Greece, and when the Fed is going to begin "normalizing" interest rates.
On a chart basis, it is clear that the recent trend of selling into any/all new highs continues unabated. After the S&P 500 hit a fresh all-time high on May 21, traders wasted little time before starting to sell as the S&P has fallen -2.42% since. The venerable index now finds itself in a downtrend and is currently testing fairly important zones of support in the 2170-2180 range.
S&P 500 Index - Daily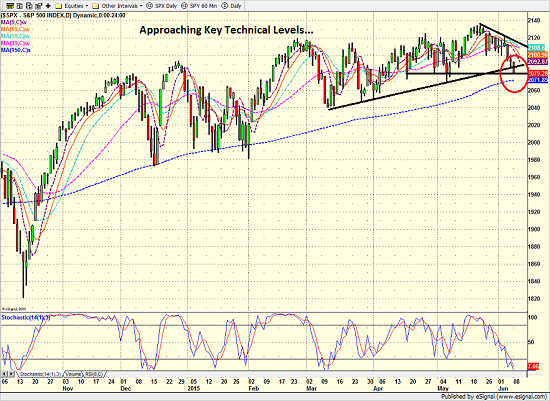 The question of the day, of course, is if the current short-term downtrend represents just another trip through an ever-expanding trading range (we note that the S&P 500 has been in a "mean reverting" mode since early December 2014) or the start of the meaningful correction that just about everyone on the planet has been calling for (remember, it has been more than 925 days since the last -10% correction)? So stick around, this might get very interesting, very quickly.
This Morning's Pre-Game Indicators
Here are the Pre-Market indicators we review each morning before the opening bell...
Major Foreign Markets:
Japan: -1.77%
Hong Kong: -1.19%
Shanghai: -0.35%
London: -0.27%
Germany: -1.32%
France: -0.65%
Italy: -0.42%
Spain: -0.62%
Crude Oil Futures: +$1.21 to $59.35
Gold: +$7.70 at $1181.30
Dollar: higher against the yen, euro and pound
10-Year Bond Yield: Currently trading at 2.371%
Stock Indices in U.S. (relative to fair value):
S&P 500: -1.58
Dow Jones Industrial Average: -3
NASDAQ Composite: -8.00
Thought For The Day:
"Honesty is the best policy. If I lose mine honor, I lose myself." -Shakespeare
Current Market Drivers
We strive to identify the driving forces behind the market action on a daily basis. The thinking is that if we can both identify and understand why stocks are doing what they are doing on a short-term basis; we are not likely to be surprised/blind-sided by a big move. Listed below are what we believe to be the driving forces of the current market (Listed in order of importance).
1. The State of Interest Rates
2. The State of Fed/ECB/PBoC Policy
3. The State of the U.S. Economy
4. The State of the U.S. Dollar
The State of the Trend
We believe it is important to analyze the market using multiple time-frames. We define short-term as 3 days to 3 weeks, intermediate-term as 3 weeks to 3 months, and long-term as 3 months or more. Below are our current ratings of the three primary trends:
Short-Term Trend: Negative
(Chart below is S&P 500 daily over past 1 month)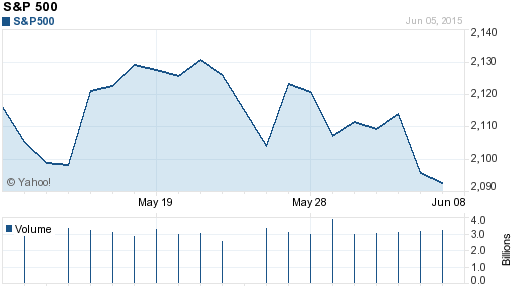 Intermediate-Term Trend: Moderately Positive
(Chart below is S&P 500 daily over past 6 months)
Long-Term Trend: Positive
(Chart below is S&P 500 daily over past 2 years)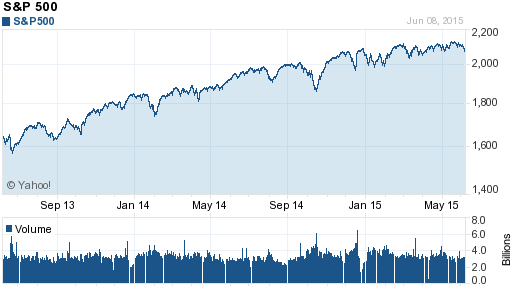 Key Technical Areas:
Traders as well as computerized algorithms are generally keenly aware of the important technical levels on the charts from a short-term basis. Below are the levels we deem important to watch today:
Key Near-Term Support Zone(s) for S&P 500: 2080
Key Near-Term Resistance Zone(s): 2120-2135
The State of the Tape
Momentum indicators are designed to tell us about the technical health of a trend - i.e. if there is any "oomph" behind the move. Below are a handful of our favorite indicators relating to the market's "mo"...
Trend and Breadth Confirmation Indicator (Short-Term): Negative
Price Thrust Indicator: Negative
Volume Thrust Indicator: Negative
Breadth Thrust Indicator: Neutral
Intermediate-Term Bull/Bear Volume Relationship: Moderately Positive
Technical Health of 100+ Industry Groups: Moderately Positive
The Early Warning Indicators
Markets travel in cycles. Thus we must constantly be on the lookout for changes in the direction of the trend. Looking at market sentiment and the overbought/sold conditions can provide "early warning signs" that a trend change may be near.
S&P 500 Overbought/Oversold Conditions:

- Short-Term: Oversold

- Intermediate-Term: Moderately Oversold

Market Sentiment: Our primary sentiment model is Neutral .
The State of the Market Environment
One of the keys to long-term success in the stock market is stay in tune with the market's "big picture" environment in terms of risk versus reward.
Weekly Market Environment Model Reading: Neutral