Monthly Pay Dividend Features
Dividend stockholders of quarterly, semi-annual and annual pay modalities anxiously await announcements from a firm, fund, or analyst to learn if their next dividend will be higher, lower, or paid at all.
Monthly pay stocks, funds, trusts, and partnerships inform the holder every four and one third weeks by check and/or statement. If the entity reduces or suspends a payment, the holder can cancel investment immediately to cut future losses.
That investor advantage has been countered by company managers making sudden cuts or cancellation of monthly dividends to save cash.
Thus, the segment is volatile. (By example, monthly pay price and dividend changes from January to April were numerous.)
Readers said:
"[A] problem with this analysis is you are comparing companies of VERY different varieties. REITs pay no taxes and their distributions are classified as ordinary income and thus not subject to the 15% or 20% tax rate. MLPs also pay little no taxes at the corporate level, but instead have "distributions"... Comparing REITs, MLPs and regular corporations thus requires a financial analysis...not include[d]." --arbtrdr

"[Y]ou list a few issues here whose distributions are rife with RETURN OF CAPTAL [ROC] at its most destructive form, funds that pay you back your own money each and every month in their distributions with no regard to what they truly earn...- these should not be included in any list containing the word "dividend". --NYer1

"Mopay dividends reinvested will return almost 1% more yearly than quarterly payors as it compounds faster." --drking

"I can enter or exit a position and still reap dividends for at least 2/3s of the quarter. They also smooth the income stream so I have cash at any given time to make a purchase at dips." --Ed Invests

"Dividend dog investing really works well for income in my experience. I have been seriously invested in dogs the more unloved the better." --Urbannek

"...Nice to see another contrarian strategy. This one seems to take a lot of attention in comparison [to Dow dogs], but I like the monthly rebalance." --colodude

"...love those monthly payers." --Hardog

"Some of us are comfortable investing in Dog stocks because we feel the reward is worth the risk. As long as [my sin stock] continues to pay and raise the dividend like it has for 16 years now, it will have a spot in my portfolio." --Miz Magic DiviDogs

"One thing to point out: These stocks are not buy & hold. If you buy any of these stocks, set a price where you will sell... trailing stops work real good & with mopays you can get out & get back in without losing a whole quarter of dividends..." --drking

"I don't know how many times I've kicked myself for not investing in a beaten down group only to find it spring back up months later." --User 13258352
Monthly Pay Dividend Funds, Trusts & Preferreds by Yield
60 top monthly dividend paying (MoPay) funds, trusts and preferred (FTP) issues listed below were culled from nearly 750 candidates by yields calculated as of June 5 to determine the Top 10.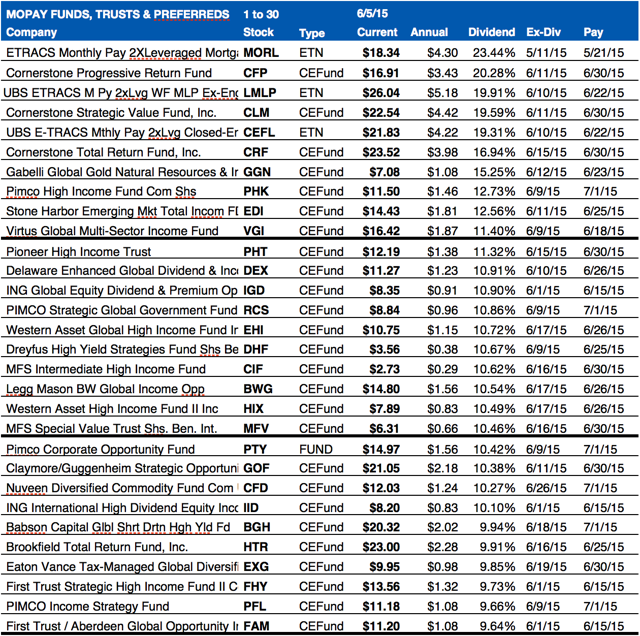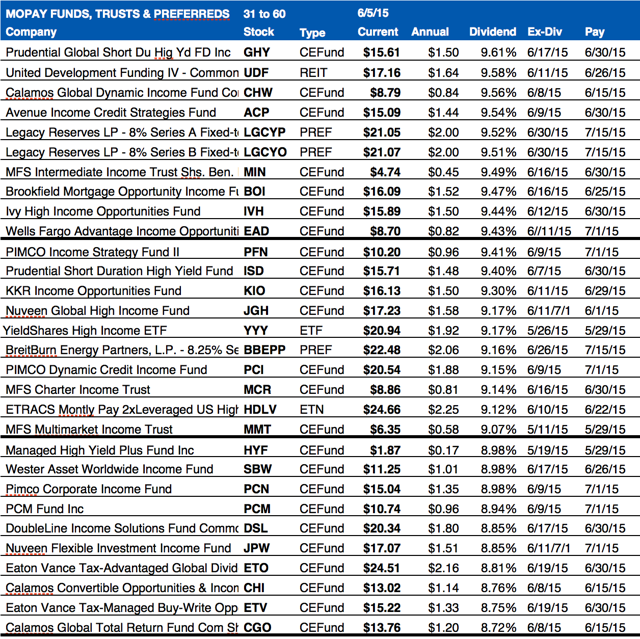 10 monthly dividend funds, trusts and preferreds showing the biggest yields for June as revealed by readers, dividend.com (and verified using Yahoo Finance data) featured seven closed-end funds (CEFs), and three exchange traded notes (ETNs).
Top dog was the best of the three ETNs, ETRACS Monthly Pay 2X Leveraged Mortgage REIT (NYSEARCA:MORL) [1]. The remaining two ETNs hit slots three and five: UBS ETRACS M Py 2xLvg WF MLP Ex-Engy ETN (NYSEARCA:LMLP) [3], and UBS ETRACS 2X Closed End ETN (NYSEARCA:CEFL) [5].
Closed-end funds rounded out this June top 10 FTP list by yield: Cornerstone Progressive Return Fund (NYSEMKT:CFP) [2], Cornerstone Strategic Value Fund, Inc. (NYSEMKT:CLM) [4], Cornerstone Total Return Fund, Inc. (NYSEMKT:CRF) [6], Gabelli Global Gold Natural Resources & Income Trust (NYSEMKT:GGN) [7], Pimco High Income Fund (NYSE:PHK) [8], Stone Harbor Emerging Mkt Total Income FD (NYSE:EDI) [9], and Virtus Global Multi-Sector Income Fund (NYSE:VGI) [9].
Background and Actionable Conclusions
Monthly pay dividend dog stock lists reviewed since June 2012 prompted reader suggestions to include funds, trusts, and partnerships. A list of MoPay equities to buy and hold in September 2012 resulted from those reader suggestions supplemented with a high yield collection from here. Thereafter, a docile, sleeping dogs list was supplemented by an upside potential article in October and an upside vs. buy & hold in November. One list was modified by December 2012 reader comments.
January, February, March, April, May, June, July, August, September, October, November, and December 2013 readers contributed mightily.
Reader suggestions continued in 2014: January, February, March, April, May, June, July, August, September, October/November and December.
A new year brought drama in the energy field for January, and February. Come March, April, and May 2015, the drama moved to the Financial sector. June brought the energy dogs back into the fight.
Each of these articles compared and contrasted MoPay stock upside potential against high yield (and higher risk) buy and hold fund, trust and preferred share constituents.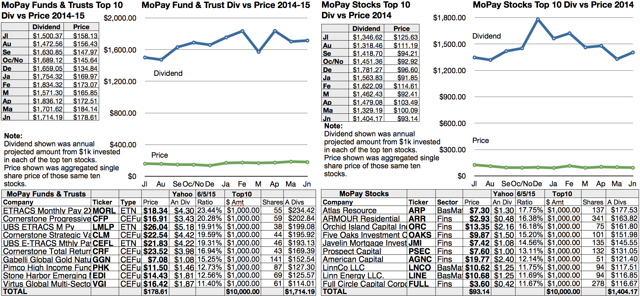 Actionable Conclusion (1): MoPay Top 10 FTPs Got Bearish Like Stocks in June
Charts above show MoPay funds, trusts & preferreds rose in dividend as price declined to declare a bearish signal into June. Projected dividend from $10k invested as $1k in each of the top 10 funds and trusts increased over 0.7% after May while aggregate single share price of the top 10 over the same period dropped 3%.
The gap between aggregate single share price of top 10 MoPay funds and trusts and their projected dividend from $1k invested in those 10 equities has varied considerably over the past year. The gap was 849% after July, dropped to 841% for August, widened to 1,002% in September, expanded to 1060% for October/November, increased to 1131% for December, opened the new year at 932%, and grew to 960% in February. Come March, analysts predictions put the gap at 847%. In April, the gap went to 964%. May saw a year's lowest gap of 824%. In June, it widened again to nearly 860%.
For stocks, the gap between aggregate single share price and dividend from $1k invested in each was 883% in May, shrunk again to 825% for June, widened to 972% in July, dropped to 841% for August, widened to 1406% in September, expanded to 1462% for October/November, rocketed to 1744% for December, retreated to 1600% in January, and then went to 1315% for February. Come March, analysts' predictions put the gap for MoPay stock price versus dividend at 1483%. April saw the gap at 1329% and in May it fell to 1228%. June saw the gap widen back to 1408%.
As of June 6, the top MoPay fund, trust and preferred dogs showed $310 or 22% more dividend at an $85 or 92% higher aggregate single share price than the MoPay stock top ten.
Actionable Conclusion (2): Buy and Hold Monthly Dividend Paying Stocks, Funds, Trusts, & Preferreds If You Dare
Stock analysts don't hazard guesses as to when or how much fund and trust prices will rise or fall. They are paid to gauge individual stocks, and a few funds and partnerships. Hence, this monthly pay FT&P dog diligence only revealed a list of funds and trusts to buy and hold if you dare.
The stocks listed above were suggested only as decent starting points for your MoPay dividend stock purchase or sale research process. These were not recommendations.
Disclaimer: This article is for informational and educational purposes only and should not be construed to constitute investment advice. Nothing contained herein shall constitute a solicitation, recommendation or endorsement to buy or sell any security. Prices and returns on equities in this article except as noted are listed without consideration of fees, commissions, taxes, penalties, or interest payable due to purchasing, holding, or selling the same.
Graphs and charts were compiled by Rydlun & Co., LLC from data derived from www.indexarb.com, www.dividend.com, finance.yahoo.com, and analyst mean target price by Thomson/First Call in Yahoo Finance.
Disclosure: The author is long ARR. The author wrote this article themselves, and it expresses their own opinions. The author is not receiving compensation for it (other than from Seeking Alpha). The author has no business relationship with any company whose stock is mentioned in this article.