Monthly Pay Dividend Features
Dividend stockholders of quarterly, semi-annual and annual pay modalities anxiously await announcements from a firm, fund, or analyst to learn if their next dividend will be higher, lower, or paid at all.
Monthly pay stocks, funds, trusts, and partnerships inform the holder every four and one third weeks by check and/or statement. If the entity reduces or suspends a payment, the holder can cancel investment immediately to cut future losses.
That investor advantage has been countered by company managers making sudden cuts or cancellation of monthly dividends to save cash.
Thus the segment is volatile. (For example, MoTen monthly pay dividend Pay price and dividend changes from January to April were numerous.)
Readers said:
"[A] problem with this analysis is you are comparing companies of VERY different varieties. REITs pay no taxes and their distributions are classified as ordinary income and thus not subject to the 15% or 20% tax rate. MLPs also pay little no taxes at the corporate level, but instead have "distributions"... Comparing REITs, MLPs and regular corporations thus requires a financial analysis...not include[d]." --arbtrdr
"[Y]ou list a few issues here whose distributions are rife with RETURN OF CAPTAL [ROC] at its most destructive form, funds that pay you back your own money each and every month in their distributions with no regard to what they truly earn...- these should not be included in any list containing the word "dividend". --NYer1
"Mopay dividends reinvested will return almost 1% more yearly than quarterly payors as it compounds faster." --drking
"I can enter or exit a position and still reap dividends for at least 2/3s of the quarter. They also smooth the income stream so I have cash at any given time to make a purchase at dips." --Ed Invests
"Dividend dog investing really works well for income in my experience. I have been seriously invested in dogs the more unloved the better." --Urbannek
"...Nice to see another contrarian strategy. This one seems to take a lot of attention in comparison [to Dow dogs], but I like the monthly rebalance." --colodude
"...love those monthly payers." --Hardog
"Some of us are comfortable investing in Dog stocks because we feel the reward is worth the risk. As long as [my sin stock] continues to pay and raise the dividend like it has for 16 years now, it will have a spot in my portfolio." --Miz Magic DiviDogs
"One thing to point out: These stocks are not buy & hold. If you buy any of these stocks, set a price where you will sell... trailing stops work real good & with mopays you can get out & get back in without losing a whole quarter of dividends..." --drking
"I don't know how many times I've kicked myself for not investing in a beaten down group only to find it spring back up months later." --User 13258352
Actionable Conclusion (1): June Top upsiders represented two of nine business sectors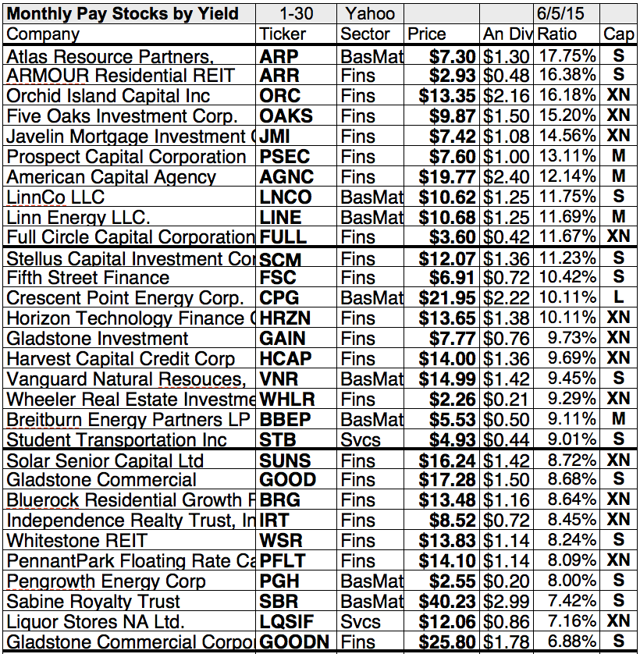 Ten monthly pay dividend equities showing the best yields into June represented just two of the nine Yahoo market sectors: financials (Fins), and basic materials (BasMat). The best performing stock from a third sector, services (Svcs), placed 20th by yield.
Top dog by yield confirmed by Yahoo Finance data was the best of three basic materials concerns, Atlas Resource Partners (NYSE:ARP) [1]. The other two basic firms placed eighth and ninth by yield, LinnCo LLC (LNCO) [8], and Linn Energy LLC. (LINE) [9].
ARMOUR Residential REIT Inc. (NYSE:ARR) [2], in second was tops of seven financial MoPay dogs comprising the vast majority of the June top ten. Third was Orchid Island Capital Inc. (NYSE:ORC) [3].
Financials went on to complete the May MoPay top ten dog kennel by yield: Five Oaks Investment Corp. (OAKS) [4]; Javelin Mortgage Investment Corp (NYSE:JMI) [5]; Prospect Capital Corporation (NASDAQ:PSEC) [6]; Full Circle Capital Corporation (FULL) [7]; ; American Capital Agency (NASDAQ:AGNC) [8]; Harvest Capital Credit Corp. (NASDAQ:HCAP) [9]; Stellus Capital Investment Corporation (NYSE:SCM) [10].
Results from Yahoo Finance for monthly paying (MoPay) dividend stocks as of market closing prices June 5 were compared with analyst mean targets one year later. Ten stocks showed 19% to 67% price upsides for the coming year. None showed an upside above 100% for May. Unlike January with four, February and March saw no projected upsides over 100%, while April showed one. The number of analysts providing price estimates was noted after the name for each stock. Three to nine analysts have historically provided the most accurate mean target price estimates.
Actionable Conclusion (2) Top upsides ranged from 19% to 67%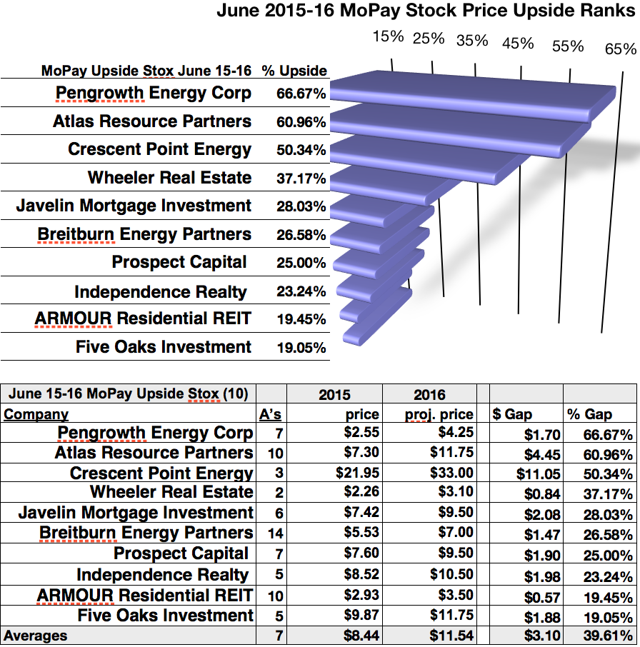 Five top ten stocks by yield placed in the top ten by price upside. The five upside stocks not from the top ten list by yield were: Crescent Point Energy Corp. (NYSE:CPG); Wheeler Real Estate Investment Trust Inc (NASDAQ:WHLR); Breitburn Energy Partners LP. (BBEP); Independence Realty Trust, Inc. (NYSEMKT:IRT); Pengrowth Energy Corp (PGH).
Actionable Conclusion (3): Top three June upsiders were basic materials stocks. Seven were financials.
Note that in January all ten top upsiders were from the basic materials sector. In February and March only three basic material firms cracked the top ten by upside, April had just two, and May was down to one. Price upside, of course, was defined as the positive difference from the current price to the analyst one year mean target price for each stock.
Net gain and loss estimates above did not factor-in any foreign or domestic tax problems resulting from distributions. Consult your tax advisor regarding the source and consequences of "dividends" from any investment.
The stocks listed above were suggested only as decent starting points for your MoPay dividend stock purchase or sale research process. These were not recommendations.
Disclaimer: This article is for informational and educational purposes only and should not be construed to constitute investment advice. Nothing contained herein shall constitute a solicitation, recommendation or endorsement to buy or sell any security. Prices and returns on equities in this article except as noted are listed without consideration of fees, commissions, taxes, penalties, or interest payable due to purchasing, holding, or selling same.
Graphs and charts were compiled by Rydlun & Co., LLC from data derived from www.indexarb.com; www.dividend.com; finance.yahoo.com; analyst mean target price by Thomson/First Call in Yahoo Finance.
Disclosure: The author is long ARR.
The author wrote this article themselves, and it expresses their own opinions. The author is not receiving compensation for it (other than from Seeking Alpha). The author has no business relationship with any company whose stock is mentioned in this article.