Short selling is one of the most controversial practices in the financial business. When a stock is believed to be over-priced, short-sellers come into action. They borrow these shares from a third party, and sell them at the current prices. Their mission is to buy these shares for lower prices, below the stocks' current valuation.
This type of transaction is extremely risky, because -at least theoretically- a stock's upside potential is unlimited. Therefore, if the market forces push these stocks to higher levels, the short-sellers, most of whom operate on a margin, will be forced to buy these stocks at higher levels. In the event of a short squeeze, short-sellers will buy the underlying equity at whatever price is available, occurring significant losses during the process.
It usually involves a great deal of risk to invest in highly-shorted stocks. These companies tend to trade with pretty high-valuations, or their business profiles are diminishing, or their balance sheet includes high amount of debt to be paid in soon future. Thus, while going long in these stocks can be profitable, it is also highly risky. Here, is a brief analysis of 6 highly-shorted stocks in the overbought territory. All of these stocks have short float of above 20%. I think these stocks are poised to make big moves over the next week:
Groupon (NASDAQ:GRPN)
Established in 2008, Groupon is one of the newest members of the publicly traded stocks. Groupon's CEO, Andrew Mason, started the company with the deal-of-the-day idea, where customers can get good deals on specifically targeted products. I do remember several similar companies that existed since the early days of internet, but somehow, Groupon was able to beat the competition, partially due to strong financial backup from private equity companies.
Groupon's initial public offering price was a huge success for the company. Groupon launched its IPO at an updated offering price of $20 per share, which was $3 higher than the initial price. Even at the elevated price level, the market was crazy for Groupon, driving the stock almost 50% higher soon after IPO. The stock closed its first day in the market 30% higher, at $26. Since then, things had gone wild for Groupon shareholders; the stock collapsed to $14 before bouncing back to $24.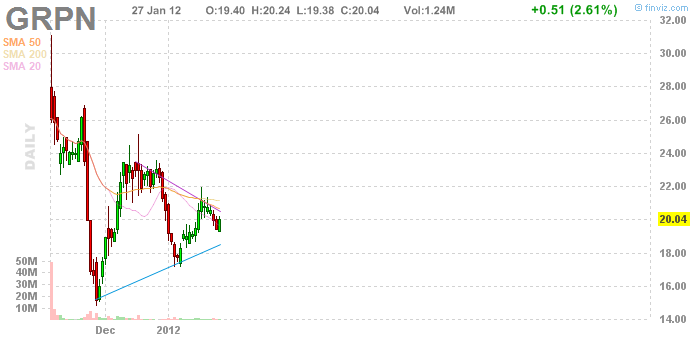 As of last close, Groupon was trading close to its initial offering price of $20. 3 months ago, at this price, Mr. Market was crazy for the stock. Apparently, the stock lost its mojo and short-sellers got into action. With a short float of near 50%, Groupon is among the most highly shorted stocks. Groupon does not have a complicated balance sheet. It is a loss maker, which needs to employ thousands of employees to cooperate with the suppliers. I highly doubt that the company will ever be able to turn into profits. The stock reminds me of the tech-bubble of late 90s. Out of 640 million shares, only 35 million is in float. Once insiders start dumping their shares, the stock will probably collapse. It is surely not a good one to go long.
Green Mountain Coffee Roasters (NASDAQ:GMCR)
I was pretty bearish on GMCR when the stock was trading near $100. It was among my 6 fliers to avoid list. Within a few weeks after publishing this article, the stock literally collapsed. It tested its $110 resistance twice and fell off the cliff after David Einhorn's bearish comments at the value investment conference. At a price of $60, it fell below my fair value estimate.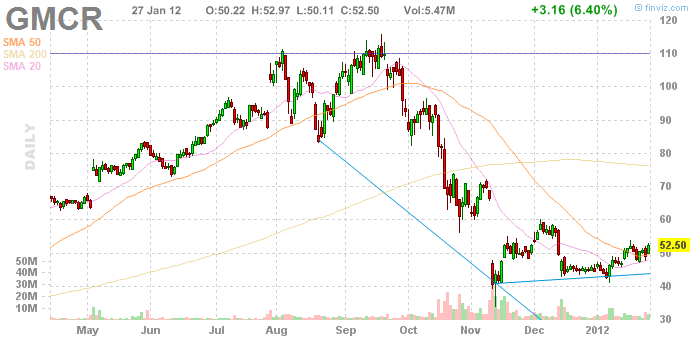 At a price of $52, Green Mountain is still trading below its fair value estimate. The company has shown an incredible performance over the last 5 years. Its EPS was gone up at an annual rate of 75%. The company has been a Wall Street darling since 2007. The stock has a 5-year average P/E ratio of 60. Its trailing P/E ratio of 40 looks pretty high, but it is actually below the average. Analysts estimate 35% EPS growth over the next 5 years. Based on this estimate, the stock has an O-Metrix score of 6.5, which is above market average. If analysts' estimates hold, the short-sellers might experience significant losses in long-term.
Tesla Motors (NASDAQ:TSLA)
Last week Tesla lost two its key executive engineers, and the stock literally plunged by a record of 19% following this announcement. However, the stock more than fully recovered this week, erasing last week's losses. Palo Alto, California- headquartered Tesla is a prominent automaker that develops, manufactures, and retails all-electric vehicles. Its flagship brand, Tesla Roadster, is a game changer with its supercharged engine that runs purely on electric.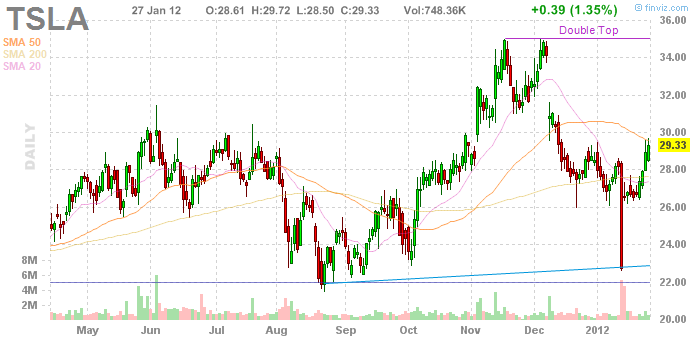 The expectations are pretty high. Investors expect Tesla to turn into a profit-maker. Tesla, a loss maker, reported a net loss of $2.28 per share. While this loss is expected to be reduced to $1.88 in 2012, I would not really invest in a loss-maker. Besides, company's debt-to-equity ratio of 0.77 does not offer much safety. With a short float of above 40%, it looks like a dangerous stock to invest in.
Dendreon (NASDAQ:DNDN)
Dendreon is relatively tiny biotechnology company that involves in the discovery, development, and commercialization of cancer treatment drugs. The company was able to boost its sales number at an annualized rate of 200%, but it is still a loss-maker. For the trailing twelve months, Dendreon reported a net loss of $3.22. While the losses are expected to be slashed by 50% in 2012, it is still in the negative territory.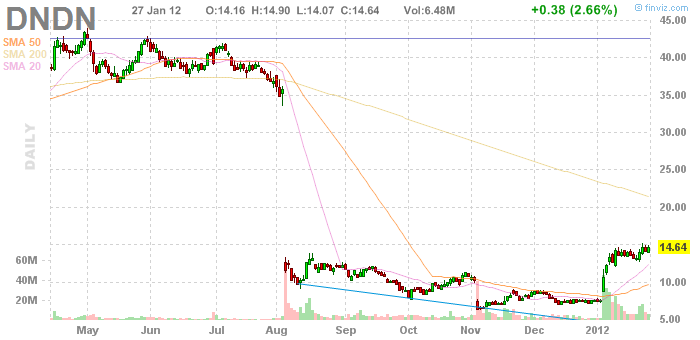 Dendreon is among the top performers of this year. It already bounced back by more than 120% from its 52-week lows. With an extremely high beta of 3.94, Dendreon is not for the faint-hearted. It could be a good addition to the speculative portion of my portfolio, but I would not add a stock after it returned almost 100% in a 4 week period. Waiting for the market direction seems like the best to do for now.
Universal Display (NASDAQ:PANL)
Universal Display is a high-tech company, which is primarily involved in the research, development and commercialization of organic light emitting diode ((NASDAQ:OLED)) technologies worldwide. The company's strategic partnership with major manufacturers such as Samsung and LG has boosted the stock's market performance. Its Friday close price of $43 is almost 90% above the stock's 52-week lows. PANL made a huge bull run over the last two years. Investors, who purchased Universal Display shares at its dip of $8 in February 2009 gained more than 400% during this period.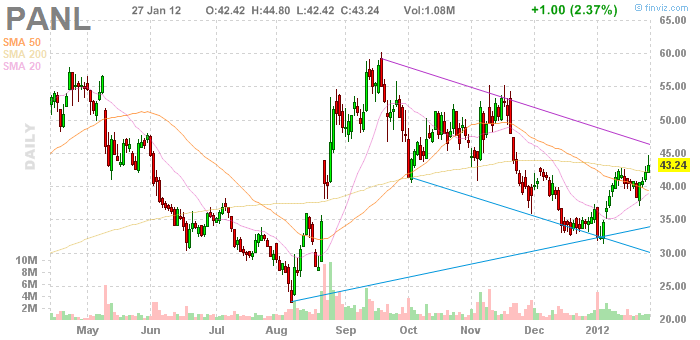 While the industry is a battleground, where all companies are trying to achieve the dominant status, PANL already has significant presence in its field. Insiders are also pretty bullish about the stock, increasing their holdings significantly over the last 3 months. Discovery Capital Management has initiated a purchase of 840000 shares. I think that is a good sign for other shareholders, since Discovery is among the largest institutional shareholders of Universal Display.
Disclosure: I have no positions in any stocks mentioned, and no plans to initiate any positions within the next 72 hours.