Oil & gas reserves are the material guts that make up the fame and fortune of a company operating in the industry. A reserve report is like an income statement on a well level, or rather, a collection of well level income statements. The components that make up reserves economics are below.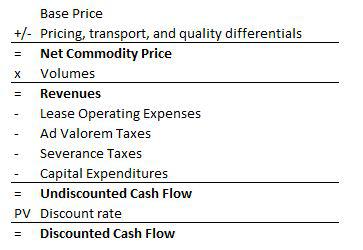 These estimations require both the expertise of reservoir engineers and prudent internal and external financial reporting practices. For this reason, strong corporate governance is a must for shareholder transparency. I will highlight three areas investors can look towards to evaluate the level of independent oversight.
· Board of Directors - Internal Oversight
· Independent Financial Auditors - External Oversight
· Independent Reserve Engineers - External Oversight
I will use Whiting Petroleum (NYSE:WLL) as an example throughout this article.
Board of Directors
A company's board of directors should be experienced in the industry, but also be professionally diverse enough to offer a range of experiences to critically evaluate the company's financial & operational results and business decisions. Information about Whiting's board of directors can be found on their corporate governance page. Most companies' Board member information can be found under the "Corporate Governance", "Investor Relations", or "Corporate Responsibility" headlines on their corporate webpages. Listed companies on the NYSE must have a majority of their directors fall under the independence rules as prescribed by the NYSE.
Whiting's Board of Directors consists of:
Internal Management
James Volker - CEO of Whiting
External
Thomas Aller - Former VP Ops for Alliant Energy, a mid-western utility
Sherwin Artus - Former CEO of Whiting. He is an engineer.
Phillip Doty - Formerly a partner in various public accounting companies. He is a Certified Public Accountant [CPA].
William Hahne - Former COO of KCS Energy and went to Petrohawk when they merged. He is an engineer.
Allan Larson - He owns and operates a geological consulting company. He is a geologist.
Michael Walen - Former COO of Cabot Oil & Gas. He has spent his career in operations.
Lynn Peterson - Former CEO and co-founder of Kodiak Oil & Gas. Came to Whiting in the Kodiak merger last year.
James Catlin - Former VP Business Development and co-founder of Kodiak Oil & Gas. Came to Whiting in the Kodiak merger last year.
Overall, one director of the nine is part of the executive management team, which is quite favorable from a governance perspective. 3 of the "external" directors as I have labeled them have former ties with the company, but have no role in the day to day operations. There is a good bit of diversity on the Board and a good deal of engineers present, whose responsibility is to challenge and ask tough questions when reserves figures are presented to them for review. Some companies such as Halcon Resources (NYSE:HK) go so far as to have a separate chartered Reserves Committee to oversee the selection of their independent reserves engineers and the approval of the company's reserve report. This function normally falls within the overall responsibilities of the Board of Directors, but some companies carve out a separate committee for this function. Whiting appears to have a diverse, experienced and independently weighted Board to provide oversight to the reserves function. This is expected at most large public oil & gas companies, but could be more of an issue when evaluating small and micro-cap players in the space.
Independent Financial Auditors
Whiting engages Deloitte & Touche LLP as their independent financial statement auditor. Deloitte is one of the "Big 4" accounting firms, which includes KPMG, PwC, and EY. They issue audit reports annually in within the company's 10-K filing and perform review procedures on the company's quarterly 10-Q filings. The important distinction being that quarterly results are not audited and are marked as "unaudited" accordingly. Despite the general perception that financial statement auditors only look at the traditional Income Statement, Balance Sheet, Statement of Cash Flow, footnotes etc, the importance of oil & gas reserves to financial reporting (impairment & DD&A), lending, and valuation requires that procedures are performed to evaluate the reasonableness of the reserves disclosure despite the disclosure itself being marked as "unaudited" in the 10K.
Auditors at public companies are typically CPA's, not engineers, and therefore tend to stay away from the actual volumetric estimations associated with the reserves disclosure. Those assumptions are under the watch of the Independent Reserves Engineers as covered below. Apart from estimated volumes and the base price, every other economic and financial data point will come from Whiting's financial records. These assumptions drive the economics and cash flows of the properties and ultimately the PV10 of the company's reserves. This includes assumptions such as
Regional price, quality and transportation price differentials
Severance and ad valorem tax rates
Lease operating expenses [LOE]
Capital expenditure estimations [CapEx]
Ownership percentages in each well or PUD location
The independent reserves engineers will generally state that they have accepted the company's financial information as accurate, leaving the economic and financial inputs up to the external auditors. In practice and sometimes stated in the reports, independent reserves engineers have amassed a great quantity of data with which to compare to what the company has provided them for reasonableness.
Independent Reserves Engineers
A company has the choice to have their independent reserves engineers fully engineer their reserve reports or audit the company's internally generated estimations. If fully engineered, the reserve report represents the independent engineer's estimation of proved reserves. Some companies only have a portion of their reserves subject to audit and some have 100%. An example would be EOG who had 76.4% of their reserves audited by DeGolyer & MacNaughton at YE 2014.
Whiting has chosen to have 100% of their reserves fully engineered by Cawley, Gillespe & Associates. I will reference their report throughout the remainder of this article. Most of these reports will step through each input and will read similarly from company to company.
Hydrocarbon Pricing
The report begins with the base price, or index price, used as a starting point for pricing. In the SEC case, this is a specific and prescribed formula which I have covered in a previous article. Next, quality and transportation differentials are added or subtracted from the base price to estimate realized prices under the base price scenario.
"Further adjustments were applied on a lease level basis for oil price differentials, gas price differentials and heating values as furnished by your office."
As you can see, the language in the report is non-committal on responsibility for the accuracy of the basis differentials provided to them for use in the report. The language constitutes more of a legal stance than a practical one, as CG&A will require supporting documentation and will verify at least for reasonableness that their differentials aren't insane compared to surrounding operator's data. They do include this disclosure in the Miscellaneous section.
"We believe that the assumptions, data, methods and procedures were appropriate for the purpose served by this report. Production data, gas prices, gas price differentials, expense data, tax values and ownership interests were also supplied by you and were accepted as furnished. To some extent information from public records has been used to check and/or supplement these data. The basic engineering and geological data were subject to third party reservations and qualifications. Nothing has come to our attention, however, that would cause us to believe that we are not justified in relying on such data."
Compare the language in CG&A's report to the language in Chesapeake's (NYSE:CHK) reserve report engineered by Ryder Scott
"The differentials furnished to us were accepted as factual data and reviewed by us for their reasonableness; however, we have not conducted an independent verification of the data used by Chesapeake to determine these differentials"
Capital, Expenses, and Taxes
CapEx, Ad Valorem taxes and LOE all fall under a similar disclosure as the differentials above.
"Capital expenditures, lease operating expenses and Ad Valorem tax values were forecast as provided by your office."
You can see the importance of the external auditors in these cases. In the same way that CPA's are not engineers, engineers are not CPA's. Seems simple, but when financial and engineering data are so intertwined, multple perspectives are required. Again, compare this to the language in CG&A's report for Magnum Hunter (MHR), showing how the language can change from report to report.
"Oil and gas price differentials, gas shrinkage, ad valorem taxes, severance taxes, lease operating expenses and investments were calculated and prepared by MHR and were reviewed by us for accuracy and completeness where available."
Severance taxes are in accordance with state laws and therefore CG&A takes more responsibility for those estimations.
"Severance tax rates were applied at normal state percentages of oil and gas revenue."
Ownership
In almost all cases, the reserves engineers will make standard disclosures about not physically inspecting properties and not reviewing ownership interests in each well or PUD location. This is one of the only areas where the independent engineers will specifically disclaim liability. The relevant language in the WLL report is below.
"An on-site field inspection of the properties has not been performed. The mechanical operation or conditions of the wells and their related facilities have not been examined nor have the wells been tested by Cawley, Gillespie & Associates, Inc."
Here's a similar disclosure from a NSAI report for Contango (NYSEMKT:MCF)
The data used in our estimates were obtained from Contango, public data sources, and the nonconfidential files of Netherland, Sewell & Associates, Inc. (NSAI) and were accepted as accurate. Supporting work data are on file in our office. We have not examined the titles to the properties or independently confirmed the actual degree or type of interest owned.
Conclusion
The levels of oversight discussed in this article are critical to proper accounting and reporting practices and should be considered when evaluating reserves and financial information. Knowing that a company has a reputable financial statement auditor, external reserves engineers and an independent and experienced Board of Directors can allow an investor to feel more confident in the figures used in their analyses.
Disclosure: The author is long EOG, MCF, HK, WLL.
The author wrote this article themselves, and it expresses their own opinions. The author is not receiving compensation for it (other than from Seeking Alpha). The author has no business relationship with any company whose stock is mentioned in this article.