The first quarter 2014 GDP data had resulted in some jitters for asset markets with US real GDP growth coming at a negative 0.7%. Policymakers had maintained the view that the decline in growth is temporary and I also shared the same opinion. With the markets in the last month of the second quarter, there are several indicators that point to continued economic resilience and relatively strong GDP growth in the second quarter of 2015.
Coming to the first economic indicator, the chart below gives the Aruoba-Diebold-Scotti Business Conditions Index. The index is designed to track real business conditions at high frequency and provides a good indication of real economic activity.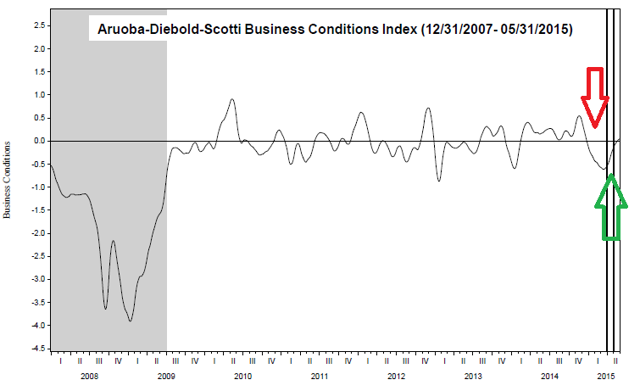 It is clear from the ADS business conditions index that the economy has witnessed strong revival after a muted first quarter of 2015.
The second indicator that confirms the positive trend coming from the first indicator is the Federal Reserve Bank of Atlanta GDPNow model.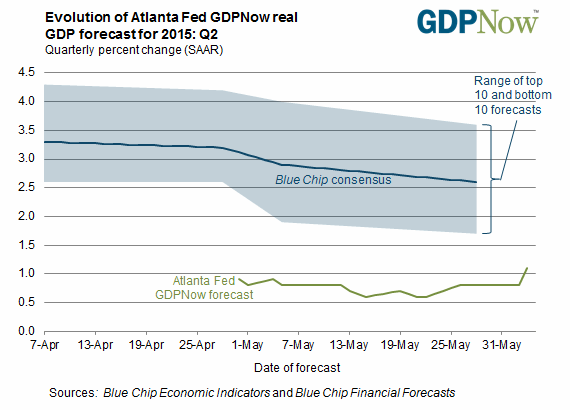 As of June 3, 2015, the second quarter GDP growth as predicted by the model was 1.1%, up from 0.8% on June 1, 2015. The improvement in the GDP growth forecast comes from US international business with international trade deficit in goods and services declining to $40.9 billion in April 2015 from $50.9 billion in March 2015.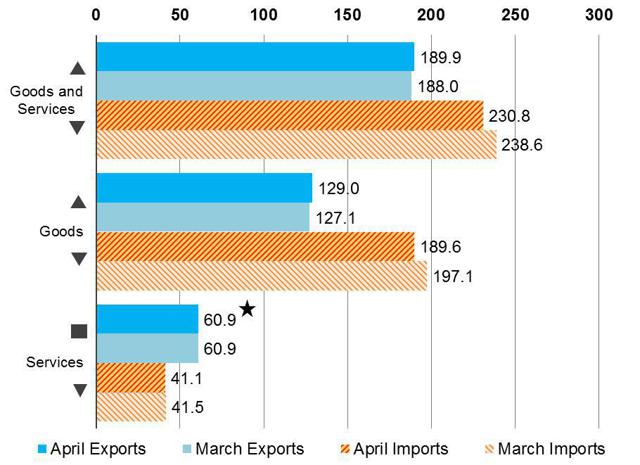 This is likely to have a positive impact on the net exports contribution to GDP growth. However, I remain wary as the dollar strength is sustained, making it a difficult operating environment for US export-driven companies.
The third indicator of resilience in economic activity is a strong employment report for the month of May 2015. Total non-farm payroll employment increased by 280,000 in May 2015 with an average monthly gain of 251,000 over the prior 12 months. Therefore, the jobs gain data is clearly robust and an increase in job gains in sectors such as retail, leisure and hospitality is an indication of relatively strong underlying economic activity.
From a consumer perspective, I had recently discussed that consumption is unlikely to be a big economic growth driver. However, consumer spending will continue to grow at a moderate pace and support economic activity. With consumer credit surging by 20.5 billion in April 2015 following a 21.3 billion consumer credit growth in March 2015, economic activity is likely to be strong on leveraged-backed growth.
I must also add here that growth in real personal disposable income has been robust in the recent past. While the personal savings rate also has surged indicating that consumers are saving rather than spending from higher disposable income, an increase in consumer credit indicates leveraged spending.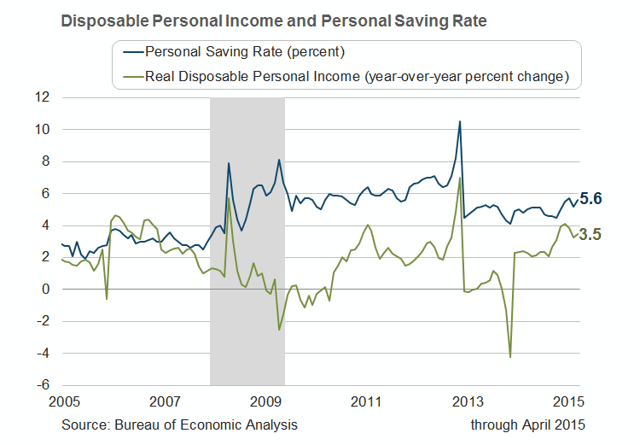 Considering these key economic indicators, I'm of the opinion the US economy is likely to grow at a decent pace in the second quarter of 2015. While I would still wait for retail data, which has been disappointing in April 2015, the overall economic momentum seems strong compared to the first quarter.
The important point to note is that real economic activity remains decent without QE and with strong dollar impacting exports. If the dollar weakens in the coming quarters, export growth can contribute further to GDP growth. In addition an improvement in eurozone economic activity also should help sustain strong GDP growth.
If the economic data is viewed from an investment perspective, there's a strong case for remaining invested in US equities (NYSEARCA:SPY) even when the markets are trading near record high levels. At the same time, investors need to increase their exposure to relatively low beta stocks. According to the Duke's Fuqua School of Business / CFO Magazine Business Outlook, the earnings growth expectation (12 months forward) has declined to 8.2% as of March 2015 from 11.7% in September 2014. Therefore, corporate earnings growth might be relatively muted in the coming quarters.
Among individual stocks, I like Lockheed Martin (NYSE:LMT) with a company having a beta of 0.56, a dividend payout of $6 per share and a bright outlook considering the order backlog and increasing global geo-political tensions. I also like 3M Company (NYSE:MMM) with the stock having a robust dividend payout of $4.1 per share and a strong organic and inorganic growth outlook. To put things into perspective, 3M is targeting 9% to 11% EPS growth during the period 2013-17 along with an acquisition potential of $1 billion. It is important to note here that 3M increased 2015 dividends by 20% after a 35% increase in dividends in 2014. Therefore, the company's shareholders reward strategy is robust.
In conclusion, the US economy remains strong even if the growth momentum is not as strong as 2014. In the coming months, the dollar trend will determine the economic outlook and if the dollar weakens, second half 2015 GDP growth is likely to be much stronger than 1H2015.
Disclosure: The author has no positions in any stocks mentioned, and no plans to initiate any positions within the next 72 hours. The author wrote this article themselves, and it expresses their own opinions. The author is not receiving compensation for it (other than from Seeking Alpha). The author has no business relationship with any company whose stock is mentioned in this article.