One year ago I published a hypothetical million-dollar 4%-yield retirement portfolio. Although I am not currently invested in this portfolio as is, if I had a million dollars, I would be. Or at least, I think I would be. This portfolio is an exercise on retirement with a dividend growth strategy. Before I accumulate enough money to retire, I want to have a good amount of experience with the exact strategy I intend to employ during retirement, and I want to have evidence that the strategy has a high chance of success. For that reason I intend to track and update this portfolio over the long haul.
1-year performance
The portfolio has had a rough year, with a total 1-year return of only 2.65% versus the 9.55% total return of the broader market (as measured by the SPDR S&P 500 ETF Trust (NYSEARCA:SPY)). About 1% of the portfolio's underperformance can be attributed to my blunder with Seadrill (NYSE:SDRL). I will mention that Seadrill was sold for $16.94 per share once it announced it was eliminating its dividend, and it is currently trading for $12.31 per share, so selling was clearly the right move. The blunder was in choosing to own it at all as a source of dividend income.
Despite this blunder, the portfolio was ahead of the market during the October 2014 decline and also throughout much of January 2015, but then the portfolio missed out on the broader market's rally starting in February and has underperformed since. I could have penned an article in January about how the portfolio was beating the market, but I feel that such an article would miss the point of the portfolio, which is to provide income through dividends alone.
There is a silver lining to the portfolio's underperformance. The portfolio originally yielded 4%. Since its 1-year return was only 2.65%, for anyone looking to buy right now, that means the portfolio is cheaper to buy now than it was when it was established a year ago. Indeed, many names in the portfolio now look like good deals to me, whereas when the portfolio was established I was pretty unhappy with the price I had to pay for just about everything in it. In fact, one of the things I hope to establish with this experiment is that retiring on a dividend growth strategy is feasible in spite of overvaluation at the time of purchase, even if that overvaluation leads to early underperformance when compared to the broader market. This brings me to my next point.
Why the portfolio's underperformance doesn't matter
During the accumulation phase, performance matters. I would go so far as to say that during the accumulation phase, provided you know what you're doing going into retirement, all that matters is after-tax total return. After all, someone with X+1 dollars can buy your X-dollar retirement portfolio and have money left over to spare. It doesn't matter how they made that money.
In retirement everything changes. You no longer have money coming in, and you have to live off of your portfolio, using some combination of dividends and cash from selling shares. The intent with this portfolio is to consume only dividend income, never having to rely on favorable market prices to fund retirement needs. And so far, it's working. The portfolio was able to make its first withdrawal of $40,000 on June 1 with every position (save the ill-fated Seadrill position) intact. Next year it will withdraw 3% more ($41,200). If for some unforeseen reason inflation picks up between now and then, this withdrawal amount will be adjusted upward.
The idea is that if you're able to retire with a dividend growth portfolio, you've already won. You don't have to outperform. You just have to have enough to meet your needs. Although no strategy can guarantee success, I believe that the strategy employed by this portfolio has a much higher chance of success than any back-tested method that relies on selling shares, where success is defined as providing for a withdrawal of $40,000 after 1 year, then withdrawals increasing with inflation yearly thereafter, ad-infinitum, while also allowing the user to sleep well at night. That said, let's have a look at the portfolio's holdings.
The portfolio
The following table shows the portfolio's holdings, sorted by weight. All prices are as of market close on June 7, 2015.
Name

Ticker

Shares

Held

$ Market

Value

% Unrealized

Gain/Loss

Since Purchase

% Dividend

Yield

Estimated Dividend Growth (%)

Actual Dividend Growth This Year (%)

Dividends In Upcoming Year

Procter & Gamble Co

(NYSE:PG)

625

48,568.75

-3.0

3.41

6

3

1657.25

Altria Group Inc

(NYSE:MO)

968

46,773.76

17.03

4.3

5

8.33

2013.44

Kinder Morgan, Inc.

(NYSE:KMI)

1,155.00

46,431.00

16.12

4.78

5

14.29

2217.6

Philip Morris International Inc

(NYSE:PM)

568

45,525.20

-8.82

4.99

6

6.38

2272

Realty Income Corp

(NYSE:O)

906

41,331.72

3.42

4.98

2

3.85

2060.244

National Retail Properties Inc

(NYSE:NNN)

1,098.00

40,142.88

0.41

4.6

1.5

3.7

1844.64

Coca-Cola Co

(NYSE:KO)

978

39,276.48

-1.79

3.29

6

8.2

1290.96

General Mills Inc

(NYSE:GIS)

722

39,247.92

-1.77

3.24

6

7.32

1270.72

Ventas Inc

(NYSE:VTR)

609

38,945.55

-2.62

4.94

4

8.97

1924.44

Southern Co

(NYSE:SO)

906

38,595.60

-3.45

5.09

3

3.33

1966.02

Verizon Communications Inc

(NYSE:VZ)

811

38,473.84

-3.73

4.64

2

3.77

1784.2

Johnson & Johnson

(NYSE:JNJ)

387

37,910.52

-5.1

3.06

6

7.14

1161

AT&T Inc

(NYSE:T)

1,086.00

37,564.74

-1.45

5.44

2

2.17

2041.68

Kraft Foods Group Inc

(KRFT)

424

35,340.40

41.37

2.64

5

4.76

932.8

HCP Inc

(NYSE:HCP)

917

34,167.42

-12.62

6.07

2

3.67

2072.42

Starbucks Corp

(NASDAQ:SBUX)

658

33,906.74

37.93

1.24

12

23.08

421.12

Chevron Corp

(NYSE:CVX)

323

32,435.66

-18.7

4.26

6

0

1382.44

PepsiCo Inc

(NASDAQ:PEP)

341

31,658.44

5.79

3.03

6

7.25

958.21

Visa Inc Class A

(NYSE:V)

468

31,674.24

27.57

0.71

12

20

224.64

ConocoPhillips

(NYSE:COP)

499

31,651.57

-20.76

4.6

6

5.8

1457.08

Royal Dutch Shell PLC ADR Class B

(NYSE:RDS.B)

485

28,294.90

-29.16

6.44

2

0

1823.6

McDonald's Corp

(NYSE:MCD)

292

27,833.44

-6.96

3.57

6

4.94

992.8

Kimberly-Clark Corp

(NYSE:KMB)

225

23,733.00

-5.06

3.34

6

4.76

792

Clorox Co

(NYSE:CLX)

223

23,490.82

17.79

2.92

5

4.05

686.84

BlackRock Inc

(NYSE:BLK)

64

22,620.80

14.04

2.47

8

12.95

558.08

Piedmont Natural Gas Co

(NYSE:PNY)

552

19,971.36

-0.14

3.65

3

3.13

728.64

Wisconsin Energy Corp

(NYSE:WEC)

436

19,711.56

-1.44

3.74

5

8.33

736.84

EV Tax Adv Global Div Opps

(NYSE:ETO)

779

18,929.70

-5.3

8.89

0

20

1682.64

Aberdeen Asia-Pacific Income

(NYSEMKT:FAX)

2,381.00

12,047.86

-18.65

8.3

0

0

1000.02

Lorillard Inc

(NYSE:LO)

168

11,941.44

19.91

3.71

5

7.32

443.52

Halyard Health Inc

(HYH)

28

1,184.12

0.00

0

0

0

0

Cash

9,647.68

9,647.68

0

989,029.11

4.08

40397.884
I emphasize that this is the result after $40,000 has been withdrawn from the cash position.
The "Estimated Dividend Growth (%)" column provides my expectation for the annual mid- to long-term dividend growth of the positions. I try to be conservative with my estimations, and 23 out of the 31 of the positions in the portfolio met or exceeded these estimations. Notable shortfalls came from Chevron and Royal Dutch Shell, which have both frozen their dividends, paying the same dividend for a fifth quarter in a row. This is not unexpected, given that both companies have had a history freezing their dividends during times of crashing oil prices. However, both companies have gone on to increase their dividends after market conditions stabilized, and I expect them to continue to do so.
The "Dividends In Upcoming Year" column indicates the dividend income that would be received from the position in the coming year if the dividend remains unchanged between now and then.
You will notice that the projected income for next year ($40,397) is lower than the portfolio's requirement of $41,200. There are two mitigating factors. First, the actual dividend income received will likely be higher than projected, as most stocks in the portfolio will increase their dividends between now and next year. Second, the portfolio has a cash position of nearly $10,000 that came from the sale of Seadrill, which is intended to cover shortcomings of the portfolio's dividend income during its early years. Other than that no changes have been made to the portfolio.
Headwinds
The portfolio is tilted towards energy and consumer goods, and as a result has faced two major headwinds this year that have hit it harder than the broader market. First, oil did this.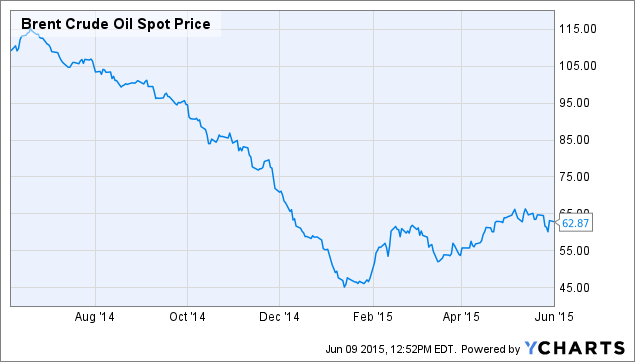 Brent Crude Oil Spot Price data by YCharts
Most of the major paper losses the portfolio has endured have been in its oil investments.
Then the dollar did this.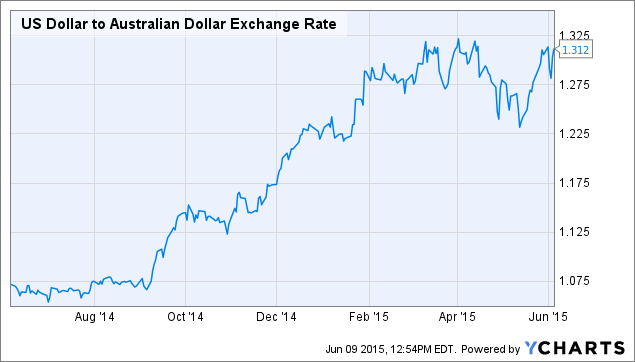 US Dollar to Australian Dollar Exchange Rate data by YCharts
That's the American dollar appreciating versus the Australian dollar (which is also part of the story behind the falling share price of FAX), but virtually any foreign currency chart looks the same. Exchange rates have hit American-based consumer goods companies (which make up over a third of the portfolio!) hard this last year in terms of their reported earnings.
A smaller headwind is present in the HCP position, since its largest client HCR ManorCare revealed it was being investigated by state and federal agencies for overpayments it may have received under government programs. (See, e.g., here.) HCP receives about 30% of its revenue from HCR. I am not particularly worried about this issue right now, and will continue to hold the position even if the dividend is cut, as long as the cut is no larger than 30%. Any larger cut would be completely unforeseen and a reason for immediate investigation and reevaluation of the position.
Overall I am heartened that the portfolio has managed to meet its goals despite these headwinds.
Looking forward
Look at how far the oil positions in the portfolio have fallen! I expect a reversal in these positions in the year to come, and believe that the oil majors are attractively priced right now for anyone looking to buy. I have been buying Chevron and Exxon-Mobil (NYSE:XOM) in my personal portfolio lately. I also view some consumer goods companies (such as Procter & Gamble, Coca-Cola, and Philip Morris) as representing good value right now. The REITs in the portfolio are approaching reasonable valuation as well, although I expect an interest rate hike (or, more likely, an interest rate scare) in the next year will make them available for cheaper than they are now.
I am unhappy with the bond funds. I have been saying this since day 1. The market was so lofty at the time the portfolio was established that I felt I had to purchase them to get the portfolio's yield up to the initial 4% requirement. I plan to ditch them and replace them with dividend growth holdings as soon as the income from the rest of the portfolio is sufficient to cover withdrawals. It'll be a few years before that happens, at least.
I don't intend to make any changes to the portfolio in the next year, but I will be watching things closely and will take action if necessary.
Disclosure: The author is long BLK, COP, CVX, GIS, HCP, JNJ, KMI, KO, KRFT, MCD, MO, O, PEP, PG, PM, SBUX, SPY, V, VTR, WEC. The author wrote this article themselves, and it expresses their own opinions. The author is not receiving compensation for it (other than from Seeking Alpha). The author has no business relationship with any company whose stock is mentioned in this article.