Oil prices gained almost 41% since falling to almost six-year lows in March. U.S. rig counts declined for the consecutive 26 weeks based on recent report from Baker Hughes (BHI). In addition, the U.S. Energy Information Administration reported a decline of 1.9 million barrels of crude stockpiles for the latest week. On the negative side, OPEC members are not interested in cutting output despite oil glut. On these positive and negative news, oil prices remained little volatile in the past thirty days after gaining momentum in the month of March and April.
On improvement in oil price, many oil producers are planning to bring back rigs into service. Whiting Petroleum (NYSE:WLL) is among those E&P companies, who have potential to ramp up its production on healing oil prices. Its CEO Jim Volker said that they are planning to keep 11 drilling rigs operating through 2016, but the company could add more rigs if oil prices rose to $70 per barrel. Recently, Morgan Stanley upgraded its price target to $48/share for Whitening Petroleum. In addition, Deutsche Bank also upgraded Whiting Petroleum to buy from hold on stabilizing environment.
In the most recent quarter, the company posted record oil production of 166,930 BOE/d, which exceeded its high end of guidance. Crude and Natural Gas Liquid accounted for 88% of overall production. Strong growth in production was driven by solid results in the Bakken/Three Forks and Niobrara. In addition, on earnings call, its CEO said that they can thrive even at $50/bbl on the back of cost cutting initiatives. Moving on, the company is likely to increase its production depending on oil prices. On the cash side, Whiting Petroleum is standing on the low end of ladder with its recent asset sales. Moreover, the company can sell up to $1B of assets this year. Its borrowing base was at $4.5 Billion, with zero drawn at the end of first quarter.
After experiencing a significant decline, its share price remained silent despite gaining oil prices and positive financial in the first quarter. With strong cash and ability to enhance production despite low prices, its stock has strong upside potential in the coming days.
On the other hand, Anadarko Petroleum (NYSE:APC) posted record production sales volumes of natural gas, crude oil and natural gas liquids in the latest quarter. Its sales volumes of crude oil, natural gas, and natural gas liquids reached a record 83 million BOE, or of 920,000 BOE per day, on an adjusted basis. In the Wattenberg field, the company generated sales-volume growth of around 85,000 BOE per day over the past year quarter. In the Eagleford Shale, it posted record production of 275,000 BOE per day.
In addition to record production volumes, it lowered operating expense per BOE by 17% relative to the past year quarter. On the negative side, its cash generating potential is declining with the decline in earnings. In Q1, it generated discretionary cash flow of $1.4B, relative to $2.5B in the past year quarter. Its operating cash flows are not providing a complete cover to capital requirements, which resulted in a negative free cash flow of $327 million. This means that the company is funding dividend payments and other requirements from external sources.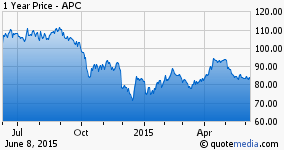 Its stock gained some momentum in the beginning of April on healing oil prices. Moving on, the company's earnings could improve on improvement in oil prices and cost cuttings. I addition, it is likely to sustain its production level in the coming days.
In Conclusion
I believe that oil prices may grow slowly on consistent fall in inventories and U.S. rig counts. These two companies have strong asset portfolio with potential to enhance their production level. Their cash generating potential is also sustainable. Whiting Petroleum looks like a good buy after recent upgrades and ability to thrive despite low oil prices. Anadarko Petroleum has an upside potential with its outstanding assets in U.S. Shales, the Gulf of Mexico and in Africa along with a large presence in gas discoveries.
Disclosure: The author has no positions in any stocks mentioned, and no plans to initiate any positions within the next 72 hours. The author wrote this article themselves, and it expresses their own opinions. The author is not receiving compensation for it (other than from Seeking Alpha). The author has no business relationship with any company whose stock is mentioned in this article.