The residential solar revolution is fully underway, with SEIA reporting that residential solar had a record quarter in the United States. U.S. residential solar grew by a whopping 76% on a YOY basis during Q1, eclipsing the growth of the general solar industry. Even more shocking, residential solar outpaced natural gas power plants in terms of added energy capacity, which truly signifies a shift in the energy landscape. With natural gas being hailed as the United States' energy savior, residential solar beating out natural gas stands out all the more.
According to the new SEIA report, 437 MW of solar modules were installed in the residential solar arena during Q1. In other words, nearly half a GW of residential solar was installed in one quarter alone, which is truly unprecedented. What is even more surprising is that residential solar's growth momentum remains stronger than ever. By all indications, residential solar will continue to grow at its current pace, and is slated to become the largest form of solar energy in the U.S. post 2016. Residential solar's growth is just beginning, which is great news for major residential solar players such as SolarCity (SCTY), Vivint Solar (NYSE:VSLR), NRG Energy (NYSE:NRG), etc.
Distributed Generation is Clearly the Way Forward
While critics of distributed generation (DG) have been consistently rising over the past few quarters, the growing popularity of DG is crystal clear. Not only is DG on the rise, but it is also crushing larger-scale solar projects in terms of growth rates. Whereas residential solar accounted for approximately one-third of utility-scale solar installations in 2014, residential solar's Q1 installations of 437 MW is more than two-thirds that of utility-scale solar's 644 MW. If anything, the reversal of residential solar and utility-scale solar (in terms of dominance) is happening much faster than anticipated.
Companies that are heavily involved in the residential solar segment, like the aforementioned, will clearly benefit from the overall growth of the residential solar market. The largest residential solar companies should gain disproportionately from this, as the trend of market share consolidation is relentlessly pushing forward. Although competition is undoubtedly becoming tougher in this arena, with solar powerhouses such as SunEdison (SUNE) and SunPower (NASDAQ:SPWR) increasing their presence in the industry, there is more than enough growth to go around. Residential solar, or more broadly spreading DG, is finally starting to make a truly noticeable impact on the energy landscape.
With the undeniable inherent benefits of DG, e.g. increased grid load control, increased grid safety, and grid independence if necessary, the rise of DG has long been theorized as the optimal form of energy generation. With solar PV, DG is finally starting to reveal its full potential. Whereas both utility-scale and commercial solar actually experienced a decline in growth during Q1, residential solar continued to plow on. While commercial solar could technically be considered as a form of DG, it is still lagging behind residential solar. This should soon change though, as more rooftop solar companies are beginning to focus on the commercial solar segment.
From the looks of it, residential solar may overtake utility-scale solar in the U.S. even before the solar ITC step down occurs.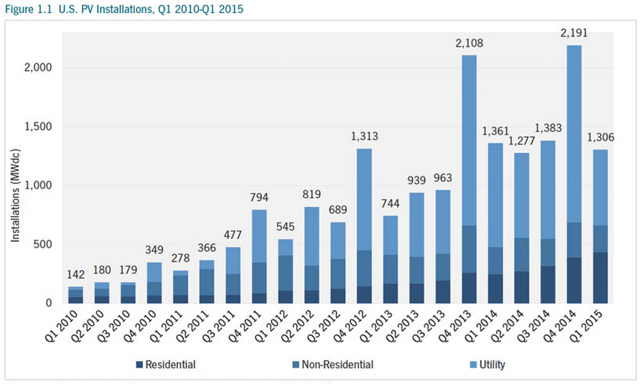 Source: GTM Research, SEIA
Significant Soft Cost Reductions Still to Come
Many have stated that residential solar's growth will eventually be handicapped by its mounting soft costs, which now accounts for approximately two-thirds of total residential solar costs. While there may be some truth to this, there is enough room for major soft cost reductions that it should remain a nonissue for the foreseeable future. A great point of comparison for the U.S. residential solar industry is Germany's residential solar industry, which experiences soft-costs that are far lower than that of the U.S. residential solar industry.
What this shows is that with increasing scale and more efficient regulation, soft costs could undergo an enormous reduction with little to no BOS innovations. Already, significant advances have been made in the soft cost arena by major installers like SolarCity and Vivint Solar, and more will likely follow in the coming quarters. The trend of declining costs should continue over the next few years, although Q1 was an exception in this regard to due to inclement weather conditions. This increase in total costs makes residential solar's impressive Q1 growth all the more impressive.
This suggests that there are much larger forces at play pushing residential solar than just costs, namely increased consumer awareness. Given that soft cost reductions still having a long way to go before plateauing and that mainstream awareness is improving, residential solar should continue to experience explosive growth moving forward. While solar manufacturers will also experience growth due to residential solar's rise, the primary winners of this growth trend will be the large rooftop solar companies. With soft costs as a nonissue, there is little stopping residential solar's continued rise.
The Looming Solar ITC Reduction
While the solar ITC reduction will almost certainly have a negative impact on residential solar's growth, much of the worry surrounding this issue is overblown. If Q1 proved anything, it's that consumer awareness is a much bigger factor than most expected. Despite the fact that total costs rose for the major rooftop solar companies, as was previous stated, growth during Q1 still broke records. As the solar ITC reduction will only reverse some cost gains in residential solar, it cannot undo the gains made in consumer awareness.
If costs were the overwhelming determinant of residential solar's popularity, then residential solar's penetration should be somewhere in the low double digits by now given its economic feasibility (whereas the reality is that penetration has not yet even hit 1%). This is not to say that costs do not play a huge role in residential solar, but rather that customer awareness is another major factor. Therefore, while the solar ITC step down will undoubtedly slow down growth in the short-term, its impact should be minimal in the long-run.
Conclusion
Residential solar's historic quarter speaks volumes about the industry's potential, making investments into companies like SolarCity, Vivint Solar, and NRG Energy all the more tantalizing. Many have compared residential solar's disruption potential to that of cell phone technology. With such massive installations during the first quarter, the comparison seems more apt than ever. If Q1 is any indication, residential solar will be dominating the solar industry very soon. Although residential solar has a headstart in the U.S., this trend should spread across the globe.
Disclosure: The author is long SCTY. The author wrote this article themselves, and it expresses their own opinions. The author is not receiving compensation for it (other than from Seeking Alpha). The author has no business relationship with any company whose stock is mentioned in this article.