Pre-note:
Part I is mainly focusing on the basic knowledge we, as investors, need to acquire to further unfold this mysterious market that is full of investment opportunities.
In Part II, we will analyze the RTS index (RTSI) and compare it to other developing countries (namely the BRICS), to see what current and long-term potential lies there.
After we have completed all this basic research, we can then move on analyzing some of the countries' most interesting stocks - focusing on major corporations and looking for hidden value. We will take a look at Sberbank (OTCPK:SBRCY) (Russia's biggest bank), Gazprom (OTCPK:OGZPY) (the gas giant) and Rosneft (OTCPK:RNFTF) (major oil and gas corporation). All these stocks are state owned, and that is the reason we have to understand the country's economy first.
Brief introduction
Recent growth results have been disappointing as far as Russia is concerned. Coupled with major deposit and investment outflows (due to the West-Russian crisis), the once promising economy of strong investment interest, has stumbled upon an obstacle.
While the current situation could be considered a misfortune for the country, like most crises, it is in fact an opportunity to evolve and realize existing mistakes and barriers.
Russia's weaknesses
In the case of Russia, in order to discover the country's hidden potential and therefore possibly invest in it, we must first understand the reasons it suddenly "broke". After that, we can judge whether the time has come to position ourselves - that is when Russia's "managerial team" has identified the obstacles and has started fixing them.
We will therefore briefly analyze what caused the recent crisis and examine the country's weak spots:
a) Imports: A country's exchange rate can have a serious effect on its economy. If a country is dependent on exports (like Germany, which I analyzed in my previous article), a devalued currency translates into an increase in sales abroad - and vice versa.
On the other hand, if a country is dependent on imports, much like Russia is, than a devalued currency means expensive goods from abroad - again vice versa.
Russia quiet recently (and still ongoingly) witnessed a major devaluation of its currency, the ruble, by as much as 100% within one single year.
The country's import value stands approx. at 22.6% (calculated as a component that reduces the GDP), according to the CIA factbook (2014 estimate). This value wouldn't necessarily mean much if Russia's imports weren't mostly oriented towards food and related products.
Agriculture stands merely at a 4% (GDP composition), and as the graph below indicates, the country is one of the world's leading food importers: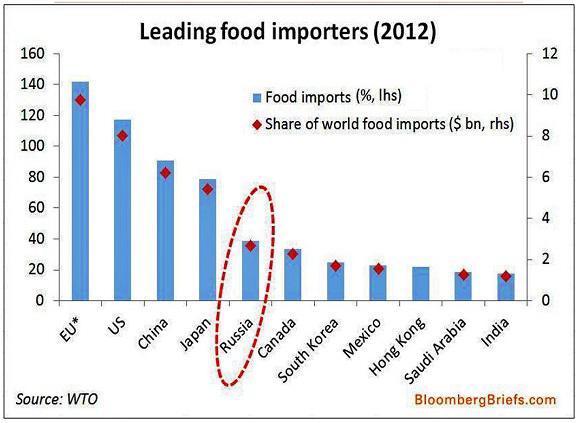 Source: Bloomberg Briefs, WTO. Data: 2012.
The above graph partly verifies Russia's dependence on import prices and therefore the value of its currency. Hence, a ruble devaluation will increase prices for basic goods, which will create problems to the currently still overall poor population* [$7,000 per capita for Russia vs. $45,863 per capita for the US].
This is the reason that when the ruble started devaluing by 100%, Russia's central bank raised interest rates to an astonishing 17% - fearing a possible uprising of its citizens.
*When a population is poor, it means that the greatest percentage of income is used up for primary goods. Comparing the GDP per capita of Russia with the US, we can easily conclude that the average Russian spends almost his/her entire income on primary goods (food, clothes etc.). So even though the graph depicts the EU being the primary food importer, its average per capita GDP is much higher than that of Russia and hence a devalued Euro (as it currently is) does not have a major impact on the Union's overall population. On the Russian population though, the impact is much greater.
b) External Debt: Another reason ruble exchange rates can prove one of Russia's weak spots is because of the effect its value can have on the country's external debt.
Russia's greatest percentage of external debt is and was (pre-crisis) private in nature. I will have to remind you at this point that external debt consists of both public and private external debt.
Total external debt at the start of the West-Russian crisis (2nd Quarter of 2014) was $733 billion. At that time, total public debt was $281 billion (or 13.41% of GDP - before the revision).
So, if public debt was in total $281 billion in 2014, of which not all is necessarily external (i.e. denominated in a foreign currency, namely dollars), then we verify that at least $452 billion of total external debt was private (total ext. debt - total public debt or $733 - $281).
Under a devalued ruble, external debt increases in value (in ruble terms). The ruble devalued by 100% from June 2014 (approx. beg. of crisis), so its external debt doubled (!) - from $733 billion (2nd Q, 2014), to nearly $1,500 billion (in ruble terms and assuming that there were no payments made at all until the ruble reached its peak devaluation). $1,500 billion is about 70% of GDP.
Russia, ruble - the devaluation of the ruble during the last 12 months (USD/RUB exchange rate).
Source: Investing.com (Chart analysis).
Now, a doubling debt equals to higher "expenses", due to an increase of its total value (in ruble terms). That means that Russia could not pay in Rubles if it wanted to avoid incurring heavy "losses", so it chose to use up its foreign currency reserves - i.e. paying off its debt obligations in dollars, so it temporary avoided the problem (graph).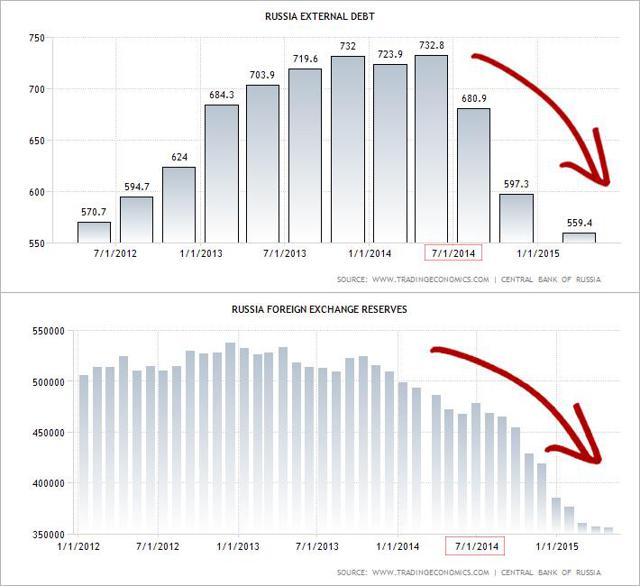 Russia, external debt - the graphical illustration of the means the country used in order to fulfill its external debt obligations (or/and reduce its external debt) while avoiding at the same time to incur "heavy losses" due to the devaluation of its currency (ruble).
Source: tradingeconomics.com.
Its foreign currency reserves are vital in order to be able to import products, so the country will need to replenish the reduction or at least maintain current levels. It will therefore not be able to use up its reserves in order to further support its currency (buy rubles, sell dollars - i.e. strengthening demand for the ruble, hence increasing its value).
This process could become tricky since at the same time the country's central bank needs to further reduce interest rates (it has been doing so lately), which would reduce support for the ruble. The country will also want to reduce its external debt even more to avoid any further missteps.
So there is still plenty of room for a major failure to take place. The price of oil might be a game changer:
Weak Spot B: "Energy Prices"
Exports comprise 29.7% of Russia's GDP (2014 estimate) compared to 13.4% in the US. So, we can safely assume that exports are a major component of the country's GDP - one that can bring growth or depression with it.
We now need to figure out what percentage of exports consists of energy products: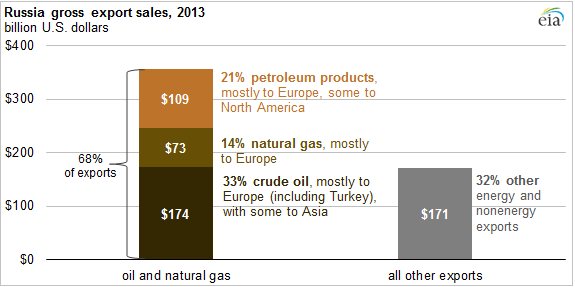 Source: eia.org
According to the above graph, 68% of Russia's exports consist of petroleum products, natural gas and crude oil. The other 32% also includes some energy products. In short, almost the entire value of Russian exports is energy based.
This 68% of oil and natural gas products (~$350 billion, 2013), is equal to 17.4% of GDP (in 2013). So we have gathered enough "evidence" in order to conclude that the recent (4-month) negative growth rate was mainly due to the decline in energy prices.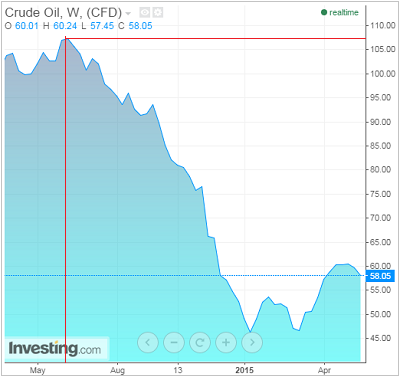 Oil - the development in the price of crude oil during the last 12 months.
Source: Investing.com
Weak Spot C: "Fears of a prolonged crisis & consumption"
Consumption in Russia did not witness a major decline. Nevertheless, fears for a prolonged crisis might change that. The recent drop in the value of the ruble, most probably pushed Russians to buy real assets in order to protect themselves from the devaluation - after all, the 1998 bankruptcy of the county is still fresh in their minds.
One major effect fear can have is funds (deposits, investments) leaving national banks. This is one reason, for example, Sberbank (Russia's biggest bank) continued to decline, even after the MICEX index (most liquid Russian companies index) realized a rebound (graph).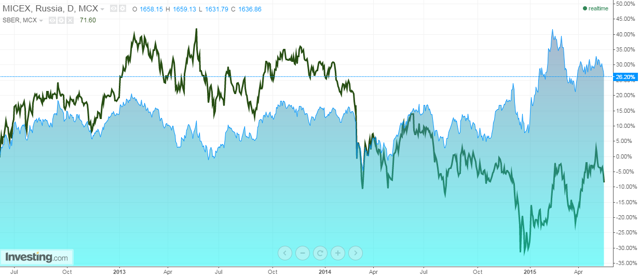 Russia, stock market - the development of the MICEX index (10 most liquid major companies), compared to the course of Sberbank (Russia's biggest bank)
Source: Investing.com
Russia, a Potemkin Economy
An economy is characterized a "Potemkin Economy", when its health is based on cyclical profits and does not have the needed "depth" to ensure a country timeless success.
This terminology is based on a historical myth of some newly appended villages, with the then Secretary of the Russian Empire and Prince G. Potemkin, ordering the erection of facades of houses depicting beautiful villages in the Crimea on the river Dnieper.
Using this trick, the Prince wanted to impress Empress Catherine, who in 1787 visited the area. She remained pleased with these new additions to the Empire and did not realize during her passing with the train that the scene was based on facades and that the villagers that were happily greeting her were in fact dressed up soldiers.
Russia is seen as an "Potemkin Economy", because it is mainly based on oil and gas exports. Without energy exports, it would not have trade surpluses, nor current levels of foreign reserves (about $500 billion/avg. in the last few years). And even though the country's growth rate during the last decade was close to that of China (7%), in 2013, it dropped to 1.3%, and in 2014/15, it ended up becoming negative.
This weakness is exacerbated by foreign exchange outflows, stemming from rich Russians - calculated at around $60 billion annually (starting 2012). Outflows rose even further, right after international investors followed the example, thus adding large pressures on the country's currency - especially after the annexation of the Crimea.
The Russian Economic Prospects (Summary)
1. 10-yr Bond: Bond yields seem to have somewhat stabilized at 10-11% (10yr maturity) - quiet higher compared to a year earlier.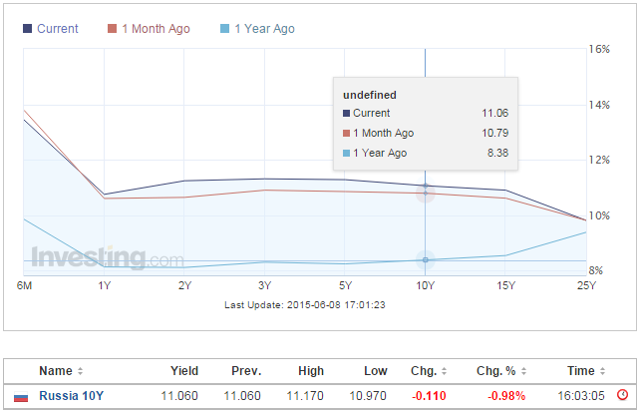 Russia, bonds - the current yields of all types of bonds (maturity types) compared to 1 month and 1 year ago.
Source: Investing.com, Bond analysis.
What draws my attention is the yield development of bonds that have a maturity of 10 years plus. To be more specific, the bottom blue line in the graph depicts yields 1 year ago. We can see that bonds with relatively short maturities have lower yields compared with those of 10 years and more. This possibly shows us that markets at that time (1 year ago) believed that the Russian economy could not maintain its growth prospects in the long run, due to the high dependence on almost one product type (energy).
Today, this has changed. Most probably the markets assume now that the crisis has served Russia well in that it might realize that it must also move into other industrial and non-industrial segments to survive. That is why bonds with maturities beyond 10 years have currently declining yields, compared to a year ago.
2. GDP and Energy Prices: We have already analyzed the direct relationship between energy prices and Russia's growth prospects.
According to an article on Bloomberg, that was published before the Vienna meeting, quoting OPEC reports:
"A draft report of OPEC's long-term strategy, seen by Reuters ahead of the cartel's policy meeting in Vienna next week, forecast crude supply from rival non-OPEC producers would grow at least until 2017.

Sluggish global demand for oil means the call on OPEC's crude will fall from 30 million barrels per day (bpd) in 2014 to 28.2 million in 2017, effectively leaving the group with two options - cut output from current levels of 31 million bpd or be prepared to tolerate depressed oil prices for much longer".

"Generally speaking, for non-OPEC fields already in production, even a severe low price environment will not result in production cuts, since high-cost producers will always seek to cover a part of their operating costs".
Now that the meeting has taken place and OPEC decided not to cut on production, we must assume that Russia's economy will continue to take a beating.
On the other hand, the World Bank believes Russia will return to growth in 2016, after a yearly drop to -2.9% in 2015 (graph).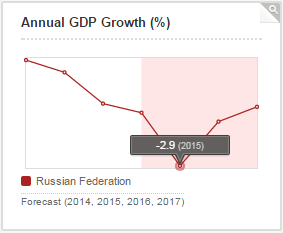 Russia, GDP - the development of the country's GDP growth rate, according to World Bank forecasts. The organization sees minimal growth in 2016 and a rebound in 2017.
3. Current Interest Rates: Interest rates dropped to 12.50% (down from 17% at the end of 2014 - highest) - a gradual drop (graph).

Source: tradingeconomics.com. Be advised that Russia may shift release dates (it has done so a couple of times).
Nevertheless, rates used to be below 6%, pre-crisis. This period of high interest rates (about 200% higher) must have damaged corporations.
The gradual reduction though seems not to have negatively affected the USD/RUB exchange rate (the reason the rate hike was imposed to begin with). Nevertheless, the ruble is currently under pressure once more, a situation that might curb further interest rate cuts.
4. Private Debt: Major corporations (Sberbank, Gazprom etc.) are government owned (by at least 50% + 1 vote). Hence, if public debt is at reasonable levels (for a developing economy, it ought to be below 40-50% of GDP) and external debt is viable, the private business segment will continue to grow in a country that still has to invest heavily in infrastructure.
5. Banking Sector Health: Bank valuation, and hence index support, depends a lot on bond pricing. Banks are the primary buyers of government bonds. When a government bond yield increases, its value decreases (due to risk). As a result, the current increase (again) in 10-yr bond yields (if it continues) will decrease the value of banks (a decrease in their asset value) and will draw down the RTSI index - among the RTSI index components are 4 Banks with another 2 "seats" taken by Sberbank (Preferred stock & depository receipt).
A deeper analysis would require us to perform a lending rate & private/household indebtedness check, as well as a balance sheet comparison with major western banks. We will do so when we analyze Sberbank in one of my next articles.
6. Industrial Production: According to the CIA Factbook, industrial production is 36.3% of Russia's GDP composition (higher than Germany's 30.8% and US's 20.7%).
Looking at the country's industrial production growth development, we witness a -4.5% drop in April 2015, much steeper than the -0.6% drop of the previous month.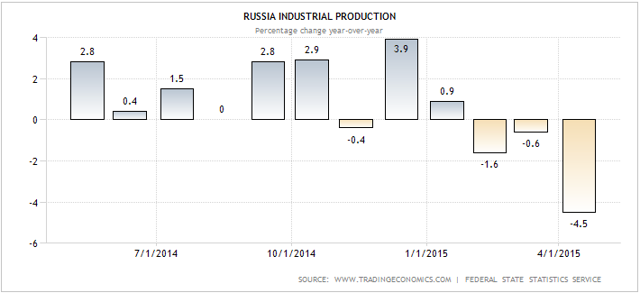 Normally, this would mean that Russia is indeed facing difficult odds at the moment, but we do not have the necessary data to conclude that.
We would need the 2015 inventory levels to see if the drop in April was so steep because no inventories were piled up, in comparison to previous months.
7. Unemployment & Consumption: Unemployment dropped to 5,8% in April. Consumer spending increased, but retail sales realized a dramatic drop (graph). This must hold, because consumers spend less in food, clothes and smaller value needs and increased spending on high value assets in order to protect themselves from a devaluing ruble and increasing inflation - retail sales measurements usually do not include high value assets like cars.
Intermediate Conclusion
Strictly from an economic viewpoint, Russia has quiet some potential. If the country manages to overcome the problem of self-sustainment (the "Potemkin economy" we previously explained), at least to some degree and if oil prices increase again (output cuts), the country would offer significant investment opportunities - after all, there are many companies that operate below book value. Some of them are government owned.
Unfortunately, politics and geopolitics have once again overtaken fundamental facts and basic economic rules. If, for example, the G7 decided to increase sanctions, the Russian economy could collapse.
That is why a fundamental analysis is required, but apparently we investors must now also become political analysts as well.
Coming next - Part II: "The RTS index (RTSI) - the prospects of Russia's 50 largest and most liquid corporations".
Disclosure: The author has no positions in any stocks mentioned, and no plans to initiate any positions within the next 72 hours. The author wrote this article themselves, and it expresses their own opinions. The author is not receiving compensation for it (other than from Seeking Alpha). The author has no business relationship with any company whose stock is mentioned in this article.