Investors have mixed feelings about the Australian dollar as business sentiment rises amid more pessimistic consumers. The Australian currency is represented by CurrencyShares Australian Dollar Trust (NYSEARCA:FXA).
In May, the business confidence measure came in at 7, well above the previous month's reading of 3, while also exceeding estimates for 2. A reading above zero signals optimism. After falling to zero in recent months, businesses have become more optimistic, seen below. The largest increases in sentiment have come from non-mining sectors, which benefited from recent lending rate cuts.
"But despite some signs that record low interest rates are starting to have a positive impact, the Australian policy makers are still struggling to rebalance economic growth toward non-mining sectors after a slump in mining investment and commodity prices after a decade-long mining boom.

[NAB chief economist Alan Oster] noted that confidence dropped heavily in mining, and also fell in recreation, personal services and transport.

All other industries posted an improvement - the largest occurring in finance, property and property and business services," according to The Australian.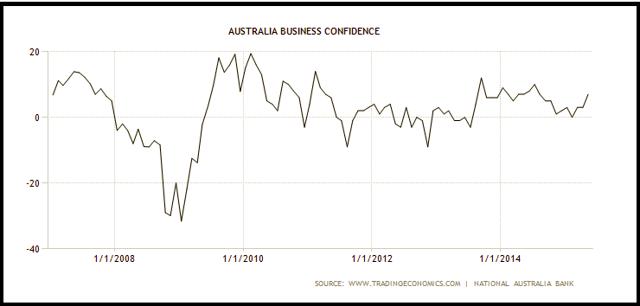 Meanwhile, consumers are becoming increasingly pessimistic about their economic prospects. In June, the consumer sentiment measure came in at 95.3, down from the previous month's reading of 102.4. A reading below 100 signals pessimism. Since peaking at over 120 in 2010, sentiment has steadily fallen, seen below. Analysts believe that the boost in confidence consumers got from the recent rate hike has diminished as the outlook for Australia's economy remains weak.
"With these factors now behind us, sentiment has reverted back to a level more reflective of broader concerns about the outlook for the Australian economy. At 95.3, the index is 1 percent below its pre-budget level and the weakest read since the start of the year," Westpac senior economist Matthew Hassan told ABC News.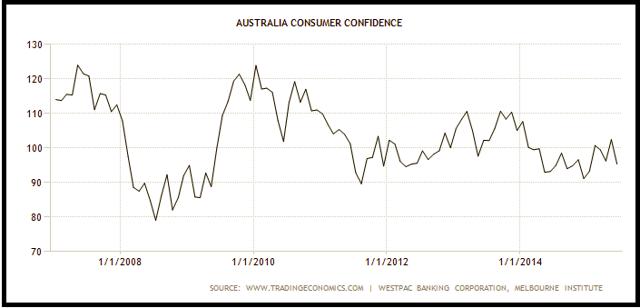 Finally, it looks as if lending rate cuts have failed to spur considerable economic growth. In 2015, the lending rate in Australia has been cut 50 basis points, from 2.5%, to the current 2.0% level. Fears over inflation and growth pushed policymakers to move quickly and cut the lending rate. With Australia's economy closely tied to China, a major trading partner, however, there is little domestic policy can do for growth in Australia.
Sentiment remains mixed in Australia. Non-mining sectors are benefiting from lower interest rates, while consumers are still sour on the economy's future prospects. With lending rates remaining weak, and policymakers continuing their attempts to spur growth, the Australian dollar could weaken further in coming months.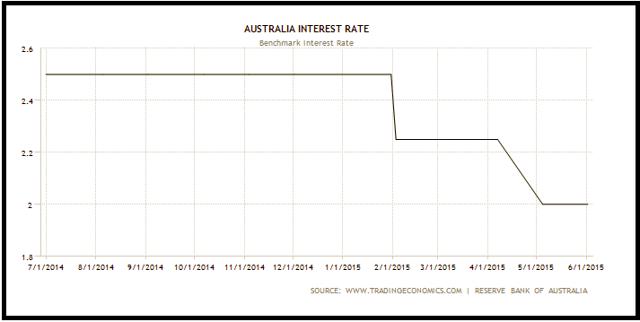 Disclosure: The author has no positions in any stocks mentioned, and no plans to initiate any positions within the next 72 hours. The author wrote this article themselves, and it expresses their own opinions. The author is not receiving compensation for it (other than from Seeking Alpha). The author has no business relationship with any company whose stock is mentioned in this article.