By Roger Thomas
With the recent rise in volatility, as measured by the CBOE VIX Index on the S&P 500, a good portion of analysts are anticipating increasing volatility in the equity markets for the remainder of 2015 (and the economy as a whole).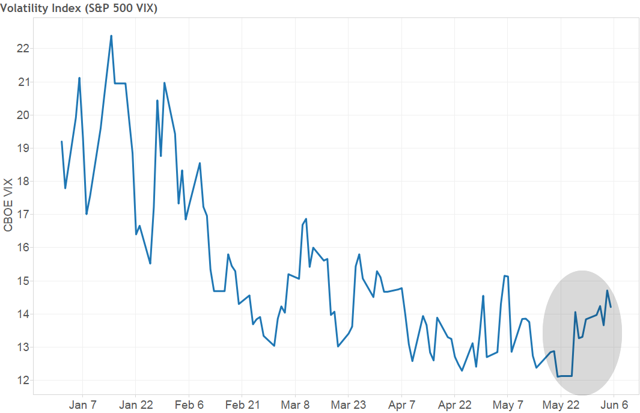 How does 2015 look in perspective of past years? Here's a look.
A Look at Volatility by Year Since 1991
The following graphic depicts the percentage gain or decrease in the value of the VIX (vertical axis) by year (each colored line) according to the number of days into the year (horizontal axis). We are about 158 days into 2015.
Can you guess which line is 2015? A decrease in volatility, an increase in volatility, about average?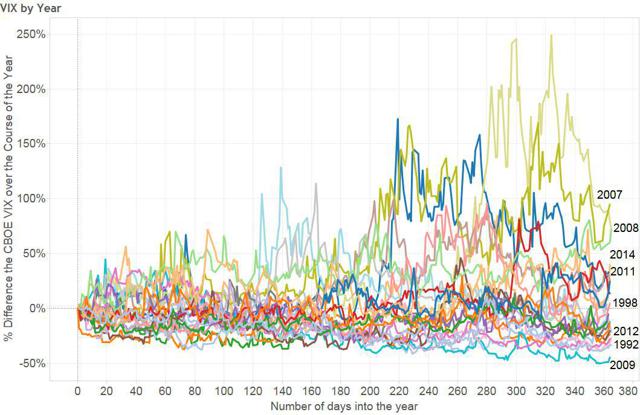 Here's a decipherable look at 2015 compared to prior years. Highlighted in green is 2015. All other years are in gray.
Interestingly, 2015 is close to the all-time low in lessened volatility. The only other years lower than 2015 (at the time of writing) - 1992 and 2001.
The historically low volume is in stark contrast to some who think we're in the age of volatility. Quite the opposite.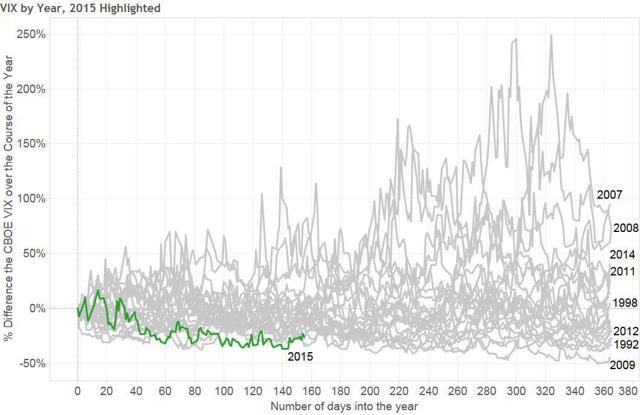 The S&P 500 Performance by Volatility through the Year
With the volatility picture as the background, what does it mean for equity markets?
Here's that connection.
In green is the 2015 picture. About average overall. In blue is 1992. Overall, right about this time in 1992, things went south in a marginal manner. The S&P 500 traded in a fairly narrow range, and then experienced strength in November/December to end the year +5%. In orange is the 2001 experience. Interestingly, as with the 1992 experience, right about now the market went south. The S&P 500 dropped about 25% over the next four months before gaining some of the lost value back later in the year.
The question, of course, is - Will 2015 be like 2001, 1992 or something else?
If history is the guide, there's probably increased downside risk over the next two months. After that, it's up to Putin, Greece, Ms. Yellen, Mr. Draghi, Mr. Xi and the Chinese economy, and, of course, all the other black swans out there.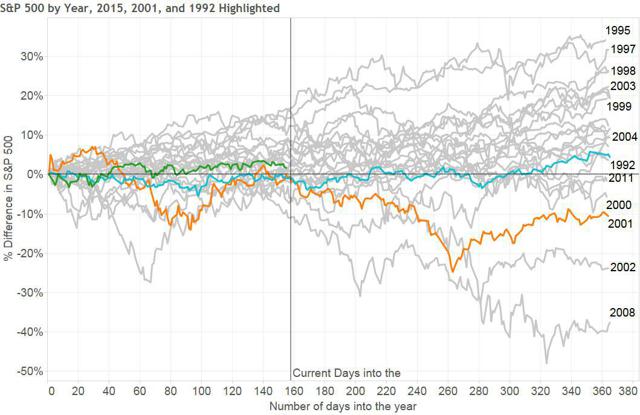 Conclusion
Overall, 2015 has been spectacularly void of much volatility.
In comparing the volatility experience in 2015 so far to past years since 1991, the 2015 experience has only been bested by two other years (in terms of reduced volatility).
The two years - 1992 and 2001.
How did the market perform in those years?
In 1992, the market lost a little ground right about now, only to gain it back and end the year in the positive at +5%. In 2001, the market, interestingly, also went south right about now, losing about 25% of its value over the course of the summer/fall months. The market gained some of its downside performance back, although still ending the year in the red at about -10%.
Disclosure: None.