Overview
In this series of articles, I will be taking a look at various industry sectors and selecting what I believe will be outperforming stocks for 2015. In Part 1, I reviewed 47 stocks within the Aerospace and Defense industry sector. For part 46, in determining my favorite stocks in this sector for 2015, I will review the following Road & Rail stocks:
Amerco (NASDAQ:UHAL)
ArcBest (NASDAQ:ARCB)
Avis Budget Group (NASDAQ:CAR)
Canadian National Railway (NYSE:CNI)
Canadian Pacific Railway (NYSE:CP)
Celadon Group (NYSE:CGI)
Con-Way (NYSE:CNW)
Covenant Transportation Group (NASDAQ:CVTI)
CSX (NYSE:CSX)
Genesee & Wyoming (NYSE:GWR)
Heartland Express (NASDAQ:HTLD)
Hertz Global Holdings (NYSE:HTZ)
JB Hunt Transport Services (NASDAQ:JBHT)
Kansas City Southern (NYSE:KSU)
Knight Transportation (NYSE:KNX)
Landstar System (NASDAQ:LSTR)
Marten Transport (NASDAQ:MRTN)
Norfolk Southern (NYSE:NSC)
Old Dominion Freight Line (NASDAQ:ODFL)
PAM Transportation Services (NASDAQ:PTSI)
Quality Distribution (NASDAQ:QLTY)
Roadrunner Transportation Services Holdings (NYSE:RRTS)
Ryder System (NYSE:R)
Saia (NASDAQ:SAIA)
Student Transportation (NASDAQ:STB)
Swift Transportation (SWFT)
Union Pacific (NYSE:UNP)
Universal Truckload Services (NASDAQ:UACL)
Werner Enterprises (NASDAQ:WERN)
YRC Worldwide (NASDAQ:YRCW)
Step 1
The first step I took to narrow down the list of possible options was to look at the earnings over the past five years of these stocks within the industry sector. I removed the following stocks from further review because of their negative earnings growth over the past five years:
Student Transportation
YRC Worldwide
Step 2
I then took the list of remaining stocks and checked the revenue growth of each over the past two years. I am removing any stocks that had flat (less than 3%) growth or saw a decline in revenue over the past two years. These stocks include:
Step 3
My next move was to examine the trailing PEG ratio of each of the remaining stocks. I removed any stock that had a PEG ratio over 2 to focus more specifically on fairly valued/undervalued stocks. These stocks included:
Genesee & Wyoming
Norfolk Southern
Roadrunner Transportation
Swift Transportation
Step 4
The next set of data I reviewed was the Fundamental and Value Scores for each of the ten remaining stocks. These scores are calculated by YCharts and I have found them to be very useful when researching investment options. More details on each of the scores can be found here and here.
| | Fundamental Score | Value Score |
| --- | --- | --- |
| Amerco | 10 | 8 |
| ArcBest | 6 | 10 |
| Avis Budget Group | 5 | 8 |
| Canadian National Railway | 9 | 3 |
| Celadon Group | 9 | 10 |
| Con-way | 8 | 8 |
| Covenant Transportation | 3 | 7 |
| CSX | 10 | 3 |
| Heartland Express | 10 | 2 |
| Hertz Global Holdings | 6 | NA |
| JB Hunt Transport | 10 | 5 |
| Kansas City Southern | 9 | 4 |
| Knight Transportation | 10 | 2 |
| Landstar System | 9 | 3 |
| Marten Transport | 9 | 2 |
| Old Dominion Freight | 10 | 3 |
| P.A.M. Transportation | 5 | NA |
| Quality Distribution | 5 | 10 |
| Ryder System | 8 | 5 |
| Saia | 9 | 5 |
| Union Pacific | 10 | 3 |
| Universal Truckload | 8 | 4 |
| Werner Enterprises | 9 | 2 |
To determine the best stocks for 2015, I'm only taking into consideration stocks that have values of 7 or higher for both fundamental and value scores. Doing this left me with the following remaining stocks:
Amerco
Celadon Group
Con-way
Step 5
My next step was to look at the book value of each company and to remove any stock that has seen a decrease in its book value over the past five years. However, none of the remaining stocks saw a decline in book value during this time.
Step 6
My next step was to look closer at each stock remaining that passed all previous criteria and determine whether or not there were any reasons to eliminate them as great stock candidates for 2015. In doing so, I reviewed the financials of each company, the most recent quarterly report transcripts, and searched for any news items that warranted concern.
Amerco
For its last quarter, the company posted a 6.8% increase in revenue and adjusted earnings per share of $2.43 compared to $2.00 for the same period last year. The company saw increases in both its self-moving equipment rental segment and its self-storage segments with revenue growth of 7.9% and 15.6% respectively.
The company continues expanding these segments as it has added 2.12 million square feet of rentable storage space and has acquired and developed new rental locations with an expanded fleet of vehicles.
Amerco also saw significant revenue increases in both of its life insurance and property/casualty insurance segments as well. Although the stock does not offer a regular dividend, it has issued two $1 special dividends this year and continues to reward shareholders with significant price appreciation.
Celadon Group
For its last quarter, the company posted a 20% increase in revenue and a 140% increase in earnings per share compared to the same period last year. The company continues to expand on the following fronts:
Increased number of driving school locations
New acquisitions
Expansion of independent contractor fleet
The company displayed significant increases across a number of important metrics and continues to show strong potential for future growth:
Average revenue per loaded mile increased from $1.597 to $1.798
Average revenue per total mile increased from $1.402 to $1.615
Average seated line-haul tractors increased from 3,440 to 4,171
Con-way
For its last quarter, the company posted flat revenue and an increase in adjusted earnings per share from $0.20 to $0.39 compared to the same period last year.
The company's logistics segment displayed solid decent revenue growth of $2.6%, but its truckload segment saw a decline in revenue of $11%, mainly due to lower fuel surcharge revenue.
Con-way's bottom line was still solid thanks to higher pricing and lower operating expenses and the company continues to be committed to returning shareholder value with significant share repurchases.
However, with flat revenue and a struggling overall market, I don't believe the stock is well positioned to see any strong price appreciation throughout the remainder of this year. Near the end of last month, the stock was downgraded to underperform by Bank of America Merrill Lynch.
Conclusion
Out of this group of stocks, my favorite stock for the remainder of this year is Amerco with Celadon Group as the runner up. Looking at the charts below, you can see that Amerco has outperformed the other two stocks significantly over the past five years, while Con-Way has lagged behind, showing a significant price drop so far this year.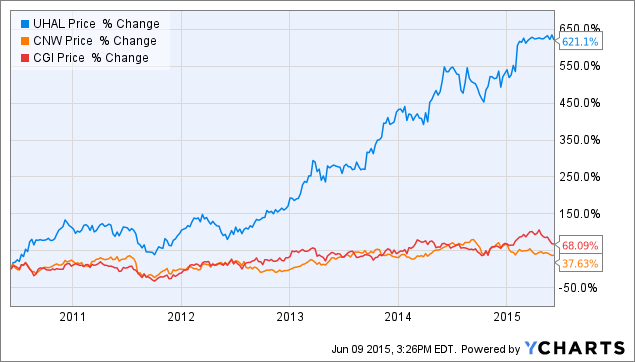 UHAL data by YCharts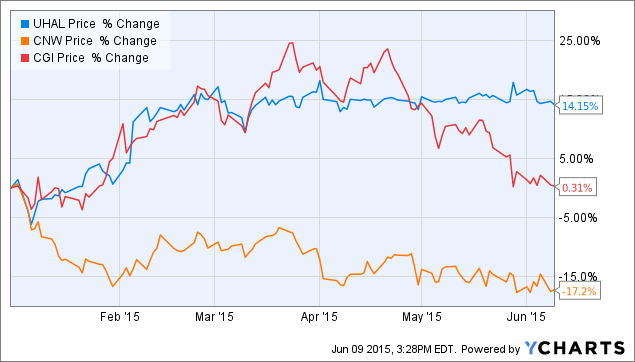 UHAL data by YCharts
While, Amerco has been the best performing stock over the past five years, it has actually been Celadon Group that has seen the best revenue growth, with Con-way once again lagging far behind the other two stocks.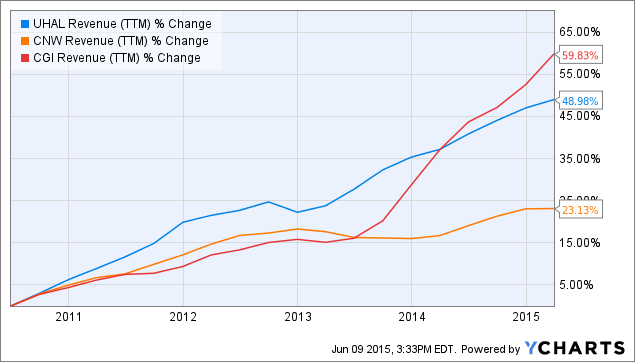 UHAL Revenue (TTM) data by YCharts
I believe that Amerco is the better bet currently as I like the company's overall stability, but I do believe at its current valuation Celadon Group also offers the potential for nice returns. Out of this industry, these are the two stocks I like the best for positive returns throughout the remainder of this year.
For part forty seven of this series, I will be reviewing the Semiconductors industry sector. As always, I suggest individual investors perform their own research before making any investment decisions.
Disclosure: The author has no positions in any stocks mentioned, and no plans to initiate any positions within the next 72 hours.
The author wrote this article themselves, and it expresses their own opinions. The author is not receiving compensation for it (other than from Seeking Alpha). The author has no business relationship with any company whose stock is mentioned in this article.