I read an article on Reuters yesterday that pointed out that Asian and European shares are trending lower on fears that an interest rate hike is coming soon in the United States. Even US equities (NYSEARCA:SPY) declined yesterday, as investors booked profits even though recent economic data has been encouraging.
Depressed stock markets would leave an investor wondering about the potential impact of a rate hike on equities and other asset classes. As the trend appears to be at present, market participants are getting increasingly worried about an interest rate hike and its negative impact on equities.
However, in my view, the concern related to the rate hike is certainly overdone, and I believe that even if the rate hike were to happen immediately, it would not impact asset markets and the real economy. This article discusses the reasons for this view. In line with this view, I believe that any correction in equities is a good time to accumulate.
Broadly, market participants would be concerned about two factors when it comes to a rate hike decision - first, the impact on growth, and second, the impact on global liquidity. I will discuss both these factors individually to underscore the point that the rate hike will not negatively impact both factors.
I am sure that readers would agree that the private sector is the dynamic sector of the economy. If the private sector remains healthy, GDP growth is also likely to remain robust. The Duke's Fuqua School of Business/CFO Magazine Business Outlook provide some key insights from the corporate sector with the survey covering 547 US firms. According to the survey results, "higher interest rates should have only modest impact on business spending and hiring plans."
Therefore, the corporate sector is not really worried about a 25 basis points rate hike that is likely to come in September 2015 or December 2015. My point is further backed by the survey results that list the top ten concerns for US businesses. An interest rate hike is not among the top ten concerns, with government policy being the key concern. Currency risk is also among the top ten concerns, and I am mentioning this because policymakers need to be clear with their language and intent when it comes to the timing of the rate hike. When there is more clarity, currency market volatility will be lower.
However, the bottom line is that corporate sector growth will not be impacted by an interest rate hike. Investors need to recall that credit growth in the US picked up during 2004-07. During this period, interest rates were also trending higher and this indicates that a rate hike does not impact corporate growth if the underlying economic activity is strong.
The second concern for market participants is liquidity, and I believe that a 25 or 50 basis points interest rate hike is unlikely to have a negative impact on liquidity in the financial system. There are several reasons for this opinion, with the first factor being the contribution of other central banks in maintaining a high liquidity glut.
Even if the US were to start with policy tightening measures, the eurozone continues to pursue expansionary monetary policies along with China and Japan. Therefore, on a global basis, there will remain providers of easy money to support various asset classes. I had earlier discussed why the eurozone is likely to have a prolonged period of expansionary monetary policies. While Japan has been on an eternal QE, China's growth is likely to remain sluggish in the coming years, necessitating expansionary monetary policies.
The second point that I want to mention here is that even a 25 or 50 basis points rate hike over the next 12-18 months would not imply policy tightening. Policies will remain expansionary as long as real interest rates are negative and I don't see real interest rates turning positive even after the rate hike.
The chart clearly shows that real fed funds rate is negative and I don't see that changing in the coming quarters or years.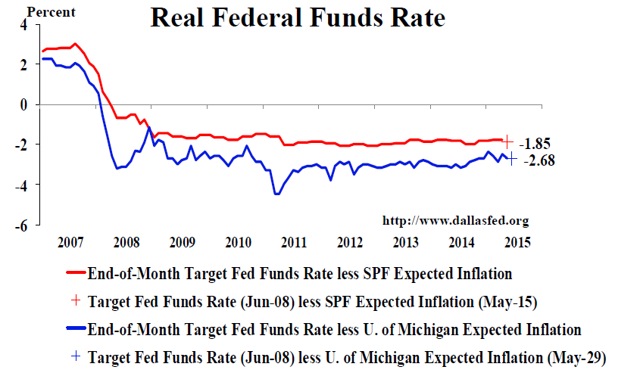 Therefore, the market reaction is clearly overdone, and if markets were to correct further on a rate hike fear, I would use the opportunity to accumulate more equities. Besides exposure to equities, I would also advise diversification to different asset classes. I am bullish on gold (NYSEARCA:GLD) for the long term besides seeing value in the energy sector. Investors can consider the Vanguard Energy ETF (NYSEARCA:VDE) for broad exposure to the energy sector.
In conclusion, market participants will gradually digest the rate hike factor and the markets will also realize that a rate hike will not impact GDP growth or global liquidity. For now, investors can make best use of jittery market conditions.
Disclosure: The author has no positions in any stocks mentioned, and no plans to initiate any positions within the next 72 hours. The author wrote this article themselves, and it expresses their own opinions. The author is not receiving compensation for it (other than from Seeking Alpha). The author has no business relationship with any company whose stock is mentioned in this article.