An Interesting Background Noise Amid Increasing Bubble Talk
As we have previously pointed out, a sharp increase in "bubble talk" is often a danger sign (see "Circular Bubble Logic" for details). There is some anecdotal, as well as some quantifiable evidence for this (such as Google search statistics). There has certainly been quite a bit of talk about certain bonds having reached unsustainable levels, but generally our impression was that there was actually a lot of complacencies as well. This is especially true with regard to low or even negative yielding European government bonds, which reflected one of the most egregious central bank-directed market distortions yet (more on this further below).
However, amidst the complacency, one topic keeps intruding, namely growing concerns about the liquidity of assorted corporate bonds, especially of the junk variety. Bloomberg recently showed a comparison chart, illustrating the lack of proprietary bond trading by banks in the wake of new regulations.
These regulations are on the one hand an attempt to close the barn door long after the horse has escaped; on the other hand, they form part of "financial repression" schemes enacted by governments, as they are forcing banks and insurers to hold large amounts of capital in the form of allegedly "risk free" government bonds.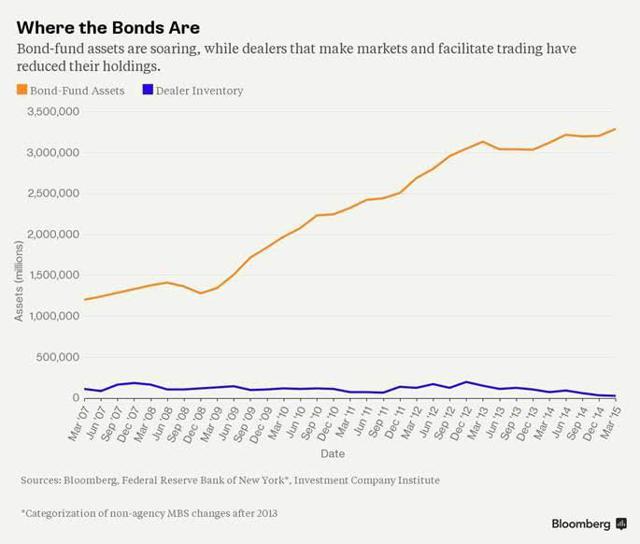 Banks no longer hold a great many corporate and other non-government bonds, as they have increasingly removed themselves from trading such assets to comply with new regulations.
One thing is clear: not only have banks been deprived of a source of income, but the rest of the market has been deprived of market makers. As Bloomberg reports:
More Wall Street executives are sounding alarms about the bond market. The latest to warn were Gary Cohn, president of Goldman Sachs Group Inc., and Anshu Jain, co-chief executive officer of Deutsche Bank AG. The concern is bond investors looking to buy, or especially to sell, will face wide prices swings and higher costs to get a transaction done.

The problem is on the days when you need liquidity, it probably won't be there," said Cohn at a Deutsche Bank investor conference on Tuesday.

Large Wall Street banks, or dealers, are carrying a smaller share of bonds on their books, as regulations restrict the capital they can hold on their balance sheets. Money managers, meanwhile, are holding a lot more of them. Dealer inventories dropped by 27 percent between 2007 and early 2015 while assets held by bond mutual funds and exchange-traded funds almost doubled.

Federal Reserve officials have also taken notice. They discussed changes in the structure of bond markets at recent meetings, and said those changes may be a risk to financial stability.

Deutsche Bank's Jain said at the Tuesday conference that he didn't have a "dire warning" about the growing gap between the dealers' holdings and bond funds' assets. "But I would certainly say as one of the larger market makers in the system, we very much have an eye on this growing imbalance," Jain said."

(emphasis added)
Well, we are glad that everybody is "keeping an eye on this growing imbalance." In fact, assorted bureaucrats have talked about doing that for at least two years, if not longer. Why would this even be a concern though? The reason, simply put, is that central bank interventions have led to rabid yield chasing by investors, who have gobbled up junk bonds and leveraged loans in truly gargantuan amounts. Alhambra Partners recently published the following chart (which comes from an article of theirs published at Zerohedge that is well worth the read):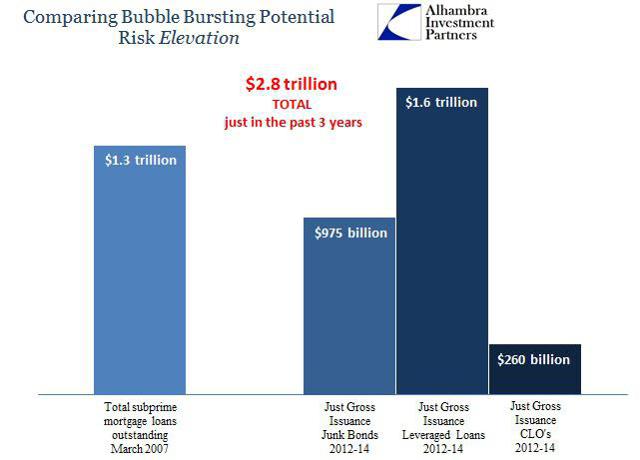 This only speaks to the sheer size of the risks that have been taken, it cannot tell us when they will materialize. It is a very good bet that they will though, and that it will be a fast and furious event when it happens.
ETFs and other fund-type structures holding not overly liquid bonds have grown enormously, and concerns over the risks they could pose to bond markets in the event of a big wave of redemptions are nothing new. Partly they have even been addressed, such as by some ETFs taking out credit lines with banks which are supposed to be made available in an emergency.
These liquidity backstops are naturally not free of charge (even when they are not used), and their size is fairly limited. In some cases, they might suffice as a buffer for a small-sized shock, but probably not a really big one. If, or rather when, the next crisis develops, even these "safety valve"-equipped ETFs will eventually become sellers into a bid-less vacuum.
As noted above, nothing about this is really big news - we have ourselves discussed the problem in these pages on several previous occasions. What is noteworthy is that the topic is slowly but surely invading the "market mind" if you will, and is talked about more frequently even in the mainstream press. This is a process that seems very much akin to the "bubble talk" phenomenon.
Reverse Transformation: Making Toxic Trash out of "Risk-Free" Assets
Recently European government bond markets have delivered quite a wake-up jolt to leveraged bond speculators. Exhibit A in this context is a chart of the 10-year German government bond yield.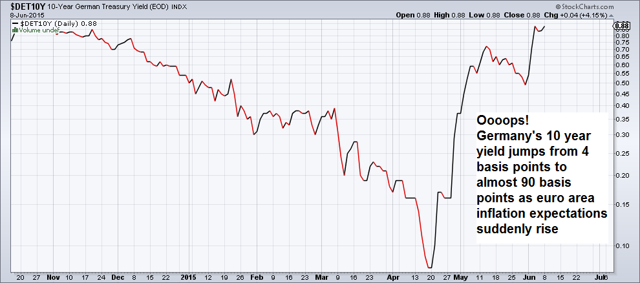 10-year German government bond yield - an oops! moment
As far as we can tell, the main reason for this sudden surge in yields even in the face of "front-loaded" ECB QE is the combination of suddenly rising euro area inflation expectations and too many leveraged-to-the-hilt speculators (sorry, "investors") in these markets, all of whom probably hoped they would be able to fob off the above depicted bond (as well as other euro area government bonds) to Mario Draghi's open market desk minions at a yield-to-maturity of precisely minus 20 basis points. Isn't that what everybody said?

Negative interest rate searches on Google. This totally absurd topic wasn't looked up even once before 2008. In the past two to three years, it has become a staple of the "investment" and economic landscape
The FT has recently published an interesting contribution to this topic by Avinash Persaud. He essentially argues that we are witnessing a kind of "reverse transformation." While prior to the crisis of 2008, toxic trash had been magically transformed into AAA-rated assets by means of financial alchemy and paid-to-play-along rating agencies, central banks and regulators are now achieving the exact opposite feat.
Exotic assets, and the crippling losses that big and indispensable financial institutions suffered after buying too many of them, bore much of the blame for the last financial crisis. The next one might have a more paradoxical cause. Instead of being overexposed to assets of dubious provenance, many of the same institutions may be buying too many of the assets that the authorities deem safe.

They have no choice. Determined to prevent a repetition of the crisis, regulators are forcing the holders of $100tn worth of assets the world over to buy debt from the most creditworthy issuers: companies and sovereigns with pristine credit histories, which comfortably generate enough cash to cover their obligations. After so many banks were sucked down by doubtful debt lurking deep within their portfolios, the impulse to usher them on to firm ground is easy to understand. But corralling a huge amount of capital into a narrow band of the market drives prices to perilous highs. Even if these assets were safe to start with, the enforced concentration is enough to make them risky."

(emphasis added)
QED, as the above chart of the German government bond yield clearly shows - whereby this may only be the initial move off the lows and could yet become a far more pronounced trend. After all, the ECB is printing money at warp speed, so we must expect that inflation expectations will continue to climb for the time being.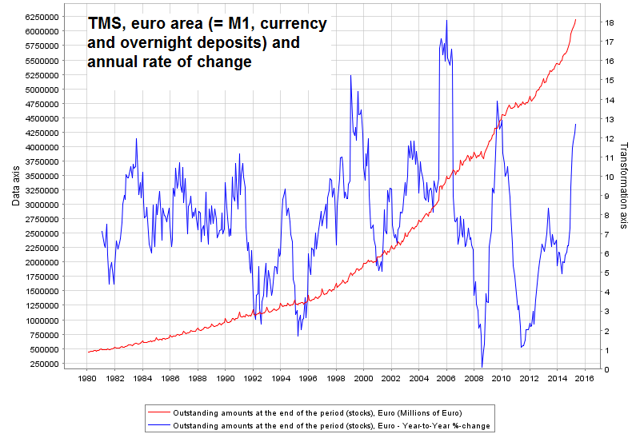 Money TMS (=M1), euro area. Recently, the money supply has been growing at almost 13% year-on-year, and no end to the acceleration is in sight as long as the ECB pursues its triple-thronged debt monetization/money printing agenda. Note that euro deposits held by non-euro area residents are not included in the above money supply measure, but should probably be included for a more precise money TMS measure (we will keep our readers posted on this)
If one looks at the above chart and ponders the euro area's money stock (the red line), one surely finds it difficult to argue that there is "not enough money" in the euro area, even if one believes (which we certainly don't) that the money supply should be growing. We have no idea what this is supposed to achieve, and evidently, neither has Mario Draghi. As Mish recently noted:
Here's a new one. ECB president Mario Draghi cautions that ECB policies may "lead to financial instability and worsen income inequality." Place that warning in the "duh" category.
Indeed, that is precisely the category in which it should be placed. One really has to wonder about this. Why on earth would the ECB pursue a policy that seems guaranteed to "lead to financial instability and worsen income inequality"? And yet, here we are.
As Mr. Persaud not unreasonably concludes:
You can define particular assets as "safe", but you cannot wish away the list of economic and political contingencies that might some day cause large numbers of investors to dump them. […]

These assets are now so overvalued that they have little chance of rising further. What they do have is a lot of downside, and a lot of jittery holders. Speculators feed off such asymmetries. That may be why, in just 17 trading days between 20 April and 13 May, low-yielding bonds lost $0.5tn of their value. There was a similarly sharp sell-off last December; then the focus was US government bonds. These are tremors before the quake. Yet systemically important institutions are being forced to linger on the fault-line.

In the popular narrative, the financial crisis was caused by the wilful wrongdoing of the banks. Regulators should know better. In financial markets, risky behavior is less often born of recklessness than of a false sense of safety.

(emphasis added)
How true. We have made an analogous observation in the past with respect to the Dodd-Frank regulatory monstrosity. It imparts a false sense of security, and only creates even bigger risks as a result. What no one seems to be considering is that the next crisis will be different from the last. A different set of problems will suddenly surface. In our opinion, a likely fault line are indeed bond markets, both of the "safe" and the "junk" variety. The former are where the risks for insurers and banks are now concentrated, the latter pose a grave risk to investors and over-indebted companies with low credit ratings.
Conclusion
When the time to sell all those bonds has unequivocally arrived, liquidity is likely to be conspicuous by its absence. Huge amounts of interest rate and credit derivatives and assorted exotic financial instruments (such as CLOs) are tied to these markets. It could well be argued that this is a potentially even more explosive situation than the mortgage credit bubble was.
A bonus chart: Stock market bubble searches

A divergence has developed between Google searches for the term "stock market bubble" and stock prices. We are not sure if this is meaningful, but thought it was interesting