The first half of January 2015 saw crude oil at $45 per barrel. Six months later (June 2015), the price per barrel has rebounded to $63. Most analysts point out that since OPEC will continue its present rate of production and because onshore rig count indicates oil and gas companies are gearing up to make a soft advance back into business as usual, that things are looking up for oil.
Another indicator that the climate is moving in the right direction is the global petrochemicals market. Prices in the market increased by 4% in May; prices have now gone up for four consecutive months.
According to Hunter Carren, of ModuTank Inc., "Global petrochemical prices are on the rise, but still remain lower than prices a year ago. Polypropylene prices have increased 6% over the last month to $1444/mt, while polyethylene is $1529/mt, a 7% increase." These increases reflect the 8% rise in crude oil prices in May over April.
The near-term data of the global petrochemical market points to a trend for oil. Petrochemicals are utilized heavily in almost all commercial enterprises. They are used by large manufacturers, in construction materials, in the aviation and electronics industries and, most importantly, by pharmaceutical companies.
The price of olefins, which are hydrocarbon compounds used to produce consumer goods, rose 2% to %5 in May over April prices. This rise is attributed to a 6% increase in naphtha prices; every industrialized country in the world utilizes naphtha as cracker feedstock. And as previously mentioned, both polyethylene and polypropylene prices rose, 7% and 6% respectively.
The price of aromatics was up, except for benzene, which experienced a price drop of 5%. Industry experts like Mr. Carren explained that this was due to a drop in demand. Europe's demand for styrene fell off 10% because of plants going off-line for scheduled and unscheduled maintenance. However, two other aromatics - toluene and paraxylene - experienced increases in prices. Toluene rose 7% and paraxylene rose 3%.
The rise and fall of petrochemical prices is an important indicator for determining the cost-effectiveness of the price of a barrel of crude oil. Generally speaking, if the price of petrochemicals is going up, the price of a barrel of oil mirrors this trend and vice versa.
Overall, the prices of the global petrochemical market are rising and continuing to climb. But as Mr. Carren stated, the prices remain lower than those of last year.
Conclusion: global petrochemical prices seem to indicate that oil prices will continue to recover, and that the long-term investment strategy is positive.
May
2015
Monthly % Change
Annual % change
May
2014
April
2015
Mar
2015
Feb
2015
Jan
2015
$1,093
4%
-20%
$1,361
$1,052
$954
$873
$850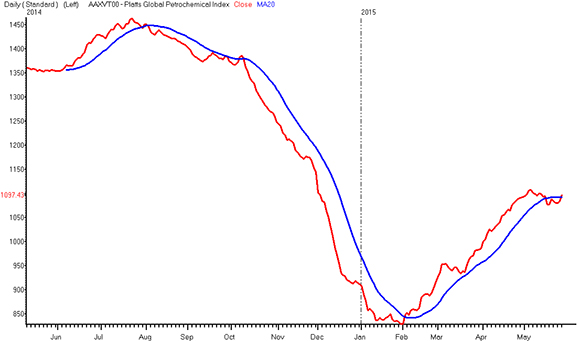 Disclosure: The author has no positions in any stocks mentioned, and no plans to initiate any positions within the next 72 hours. The author wrote this article themselves, and it expresses their own opinions. The author is not receiving compensation for it (other than from Seeking Alpha). The author has no business relationship with any company whose stock is mentioned in this article.