J.C. Penney (JCP) shares rose 18.8 percent on January 26, as a result of a presentation in Manhattan. The company, now run by Ron Johnson, announced three major changes. First, J.C. Penney will adopt a more consistent, predictable pricing strategy. Second, stores will roll out a department strategy where each store will contain around 100 departments and each department will sell one brand name. Third, the company overhauled its marketing strategy by changing its logo and signing Ellen Degeneres to promote them. Personally, I find it baffling how a stock can skyrocket by so much by just announcing plans with no earnings to back up results. However, investors have a lot of reason to be excited about J.C. Penney's face lift.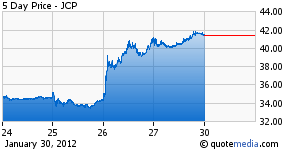 Ron Johnson is definitely the right person to lead the way. He is most famous for his role of Senior Vice President of Retail at Apple (AAPL). After joining Apple in 2000, he took a company that had a very small direct retail presence and made Apple stores one of the most popular and profitable retail chains in the world. Before Apple, he was responsible for introducing designer names into Target's (NYSE:TGT) product line. J.C. Penney's announced plans are hopefully a continuation of Ron Johnson's innovation in retail. Last June, when it was announced that Ron Johnson would be the next CEO of J.C. Penny, shares rose by 17.5 percent. Good things tend to happen when Ron Johnson is giving news as investors are willing to get behind his past success and his future plans.
J.C. Penney is in serious need of a face lift. Including expectations for FY 2013, J.C. Penney is expected to have four straight years with under $18 billion in revenue, while the company posted revenue as high as $19.86 billion in FY 2008. J.C. Penney, although still profitable, is in danger of becoming a consistent loser similar to what Sears (SHLD) has become. These announced changes provide investors with confidence.
It will take some time to see if J.C. Penney's announced changes will significantly improve its bottom line. The company still has a 1-year target of $38, which is less than its price of $41.42 at the close of last Friday's trading. These new changes may be a response to a disappointing holiday season for J.C. Penney that investors don't know about yet. I suggest laying off of JCP until the February 24, earnings announcement, but over the long term, I believe that J.C. Penney will reclaim a spot at the top of the department store space and Ron Johnson's leadership will create the spark that J.C. Penney needs.
Disclosure: I have no positions in any stocks mentioned, and no plans to initiate any positions within the next 72 hours.