The fastest growing segment of the retail industry is the online business. To play this theme, investors have bid up shares of the world's largest online retailer Amazon (NASDAQ:AMZN) to unsustainable heights. AMZN is currently trading at a PE ratio of 100. While AMZN certainly has massive growth ahead, buying shares at current prices does not make sense. As an alternative to AMZN, investors who want to play online retail should consider eBay (EBAY)
Valuation
EBAY trades at just 12.9 times past earnings and 12 times forward earnings. AMZN trades at 100 times past earnings and 99 times forward earnings. While AMZN certainly has greater potential to grow earnings than EBAY, the earnings growth differential will not be enough to make up for the price differential.
Competition
AMZN's core online retail business is starting to face stronger competition from traditional retail companies. For example, Best Buy (NYSE:BBY) and Wal-Mart (NYSE:WMT) have both built quality online sites that compete with AMZN. While AMZN will most likely continue to dominate the online retail business, profit margins may shrink considerably. EBAY's core business is somewhat more unique as it serves mainly as a market place for consumers to sell to each other. EBAY is not competing directly with traditional retail companies like AMZN.
PayPal
PayPal is the fastest growing business for EBAY. There are now 106 million PayPal users. PayPal's mobile division continues to grow rapidly, EBAY predicts mobile payment volume to rise in 2012 to $7 billion from $4 billion in 2011. EBAY CEO John Donahoe on PayPal, "What we're doing with PayPal point-of-sale, it's very analogous to what we did with the merchant-services business five years ago. Year one was planning and building the product. Year two, which is this year for point-of-sale, is trial and learn. Year three is scale it." As it continues to grow, PayPal will face significant competition from the likes of Visa (NYSE:V), American Express (NYSE:AXP) and Mastercard (NYSE:MA). However, EBAY's low multiple means that investors are not betting that PayPal will overtake V, AXP, and MA anytime soon. Continued growth with PayPal, especially the mobile division, could result in a major upside catalyst for EBAY.
Chart
AMZN 1 year chart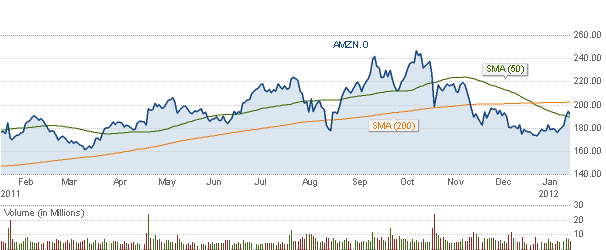 (cnbc)
AMZN's chart is not bullish. The 50 day moving average (green) is trading below the 200 day moving average (orange) and the stock is trading just above the 50 day moving average. This setup indicates that AMZN seems to be losing momentum.
EBAY 1 year chart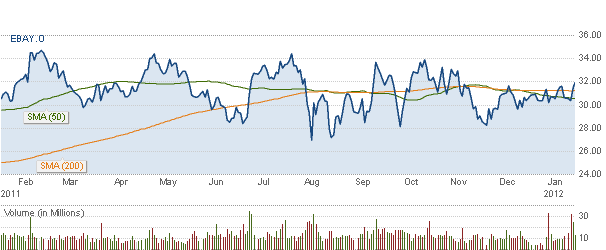 (CNBC)
EBAY's chart is bullish. The stock is trading above both the 50-day moving average (green) and the 200-day moving average (orange). This indicates that EBAY is gaining momentum and is ready to make an upside move.
BGC Capital's Colin Gillis on EBAY
"EBay right now has very consistent results. EBay is touting itself as a buy-it-now retailer akin to Amazon, whose stock has more than doubled since March 2008, dwarfing EBay's growth since Donahoe became CEO. Still, the market could benefit from two e-commerce giants. If you want something that's last season or something that has been refurbished or used, EBay gives you that range of pricing options. It's the difference between the mall and the outlet mall. Is there room for both? Of course."
Conclusion
Online retail will continue to be a good place to invest, but EBAY is a better play than AMZN.
Disclosure: I have no positions in any stocks mentioned, and no plans to initiate any positions within the next 72 hours.