By Nick Kirrage
When valuing a mining business, there are plenty of important elements, such as costs and margins, to factor into your calculations but clearly, the most important consideration by far is the value of whatever it is the company is taking out of the ground. That being so, it was fascinating to see a large and well-regarded broker in the mining space recently take a knife to its commodity price forecasts.
Bearing in mind how much commodity prices have collapsed over the last couple of years, the broker could hardly be said to be ahead of the curve here. Nevertheless, as you can see from the table below, the extent to which its price assumptions up to 2020 have been cut to pieces - particularly in the case of iron ore - is striking.
Commodity Forecasts
2015
2016
2017
2018
2019
2020
Platinum
OLD
1,344
1,540
1,763
1,880
1,920
1,985
$/Oz
NEW
1,214
1,301
1,450
1,600
1,850
1,898
% Change
(10%)
(16%)
(18%)
(15%)
(4%)
(4%)
Coking Coal
OLD
113
127
150
145
145
154
$/Tonne
NEW
101
115
125
120
130
145
% Change
(11%)
(9%)
(17%)
(17%)
(10%)
(6%)
Thermal Coal
OLD
55
64
85
100
100
102
$/Tonne
NEW
57
60
68
75
79
85
% Change
4%
(6%)
(20%)
(25%)
(21%)
(17%)
Iron Ore
OLD
58
62
73
80
82
85
$/Tonne
NEW
45
40
39
40
46
57
% Change
(22%)
(35%)
(47%)
(50%)
(44%)
(33%)
Source: Schroders, May 2015
But while the downgrades themselves are notable, arguably even more so is the broker's reluctance to touch its current long-term forecasts. Yet we are talking about businesses that are supposed to operate for 50 years or more. The outlook for the next five years may be important but it is the commodity price you choose to assume will prevail for the 45 that follow that is the greater consideration.
But of course, the way it works with forecasts is that the long-term price will usually be the last thing that moves. Analysts would happily tinker all day with their shorter-term price assumptions but they will only change their longer-term views once they are absolutely certain something structural has happened within a sector.
So The Value Perspective got in touch with the broker and asked if it would send over a breakdown of how its long-term price assumptions for commodities have changed since 2005. Clearly, it has increased them - every broker covering the mining sector has - but by how much had it done so and then by how much had it reduced them in the last couple of years as prices started to head south?
Well, as you can see from the table below, almost every revision over the last decade has been upward. Despite all the sector's short-term ups and downs, the commodity prices the analysts have expected to prevail over the coming decades - and thus the ones we might use in our discounted cash flow analysis to arrive at our individual company valuations - have risen hugely and then generally held firm.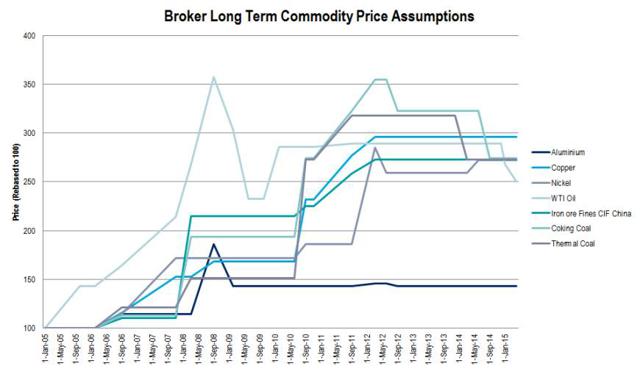 Source: Schroders, May 2015
Here on The Value Perspective, we find this lack of downward movement in long-term price assumptions quite revealing. As contrarians, we are always on the lookout for signs of capitulation in the market and, while there is clearly a lot of contrition in the short-run numbers, the long-term ones hardly suggest investors are ready to throw in the towel just yet.
To this attempt to offer a multi-decade perspective on an area of the market that can be unreasonably focused on the next year or two, we will add one final element - Schroders' own long-term assumptions for commodity prices. As you can see from the table below, there is not actually a great deal of difference between them and those from the broker.
Broker LT Commodity Price Assumption
Schroder LT Commodity Price Assumption
Peak
Today
Difference
Today
Difference Vs. Broker
Aluminium c/lb
130
100
(23%)
105
5%
Aluminium c/lb
130
100
(23%)
105
5%
Copper c/lb
281
281
-
249
(12%)
Nickel $/lb
9.98
9.53
(5%)
8
(17%)
WTI Oil $/bbl
100
70
(30%)
65
(7%)
Iron Ore $/t
81
81
-
67
(18%)
Coking Coal $/t
220
170
(23%)
137
(19%)
Thermal Coal $/t
105
90
(14%)
75
(17%)
Source: Schroders, May 2015
In most instances, Schroders' long-term prices are a bit lower - but only by a factor of 10% or 20%. So clearly, we also believe there are sound reasons why commodity prices should have risen over the last 15 years (basic inflation being the most obvious) - just not by as much as they did. Furthermore, when investors finally do throw in the towel on the sector, we would expect prices to go straight through the numbers we assume and carry on downwards.
To be clear, we are talking here about commodity prices rather than those of the equities of the miners themselves. Nevertheless, if the equities follow commodity prices - and consequently earnings - down as they have tended to do in the past, then the chances are the market will overreact. If the prices do overshoot our numbers, then we would expect that to prove to be a huge buying opportunity.