Originally published on June 10, 2015
Last year, in August, I decided to become a Dividend Growth Investor and become financially independent. Almost every month, on the 8th and the 24th, I have invested €1000 in new stocks.
If I keep this up, 15 years from now my stock portfolio will grow large enough for me to be able to pay off all my monthly expenses with dividend income alone. On that day, my wife and I can retire.
Today is June 10 (yeah, I'm a bit late with this update). So how am I doing? Are we retired yet?
Well, not yet. But my dividend income is doing great. In April, I had a great payout from 3 companies. Let's take a look.
Looking back at March
In my last dividend income update, I reported my biggest income ever, from BLT, IBM, NOV, RDS.A and UN, all in the same month!
This added up to an amazing €104.35 - my best month ever!
So March was an all-time high for me, and according to my projections, it was the third-best month of the year. I predict that only May and September will do better than this.
An investment hiatus
I like to say that I have invested €1000 in new stocks twice a month, every month, since August last year. But unfortunately, I had to temporarily stop investing in March to build up a cash reserve.
I have some major life changes coming up in June and July, and so I'm building a pile of cash to hedge against any potential risks. Once everything has settled down again, I will resume investing, which will hopefully be in September.
My portfolio is unchanged since March, except for the addition of South32 (OTCPK:SOUHY), which has split off from Billiton (NYSE:BHP) in May. But more on that in another article.
My dividend income in April
With the current selection of companies in my stock portfolio, my dividend income is clustered mainly around the months of March, April, May, September and December.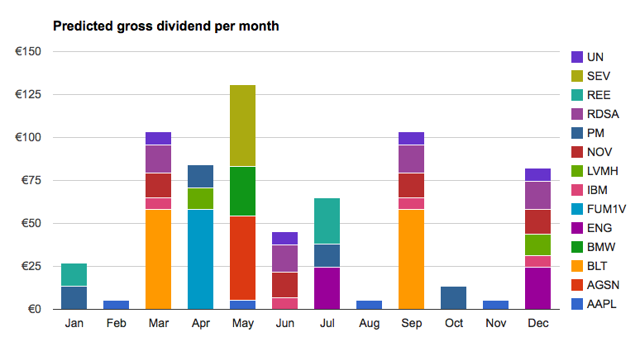 In April, I received the following net dividend payments:
€40.81 from Fortum Oyj (OTCPK:FOJCF, HEL: FUM1V)
€10.92 from [[LVMH]]
€12.14 from Phillip Morris (NYSE:PM)
I also received the following special dividend:
€7.42 from Fortum Oyj for its sale of the Swedish power grid
€0.24 from Phillip Morris
In total, I received €71.51 in dividend income.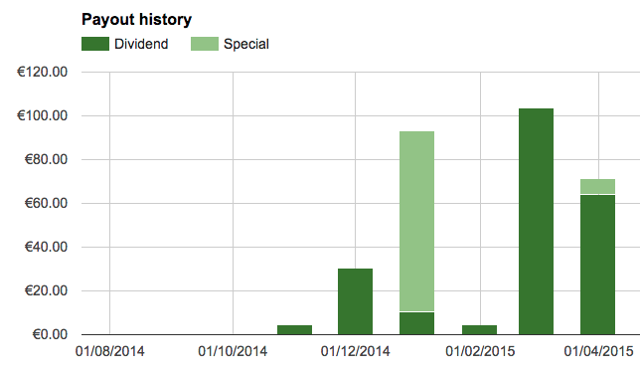 Not bad. Less than March, but still a very respectable €71. And I timed my purchase of FUM1V very well, which allowed me to pocket an extra €7.42 in special dividend.
My projected total gross dividend for the entire year still stands at €671.43.
Looking forward
May is looking very good. I expect to receive dividends from AAPL, AGSN, BMW and SEV. This will be my best month of the year!
I already mentioned the new mining company, South32, that split off from Billiton. I received 108 shares in this new company. Billiton has announced that it will not rebase its dividend after the split. So when South32 announces its own dividend, my total dividend income will rise.
I expect to be able to start investing again in September or October. It's a shame I had to take a short hiatus, but I've spent the time developing a new passive income stream. If this works out, I will have plenty of new cash to invest in the future.
In the long term, I can expect another special dividend from Fortum Oyj next year, due to the company returning the proceeds of the sale of the Finnish power grid back to the shareholders. The company received $6.9B from the sale, which was very close to the $7B expected by analysts. It's going to be very interesting to see how that translates into new special dividend.
Editor's Note: This article discusses one or more securities that do not trade on a major U.S. exchange. Please be aware of the risks associated with these stocks.