Central banks around the world continue to lower interest rates, with many continuing to move into historic territory. Overnight both South Korea and New Zealand lowered rates and chatter continues to pick up about China and the PBOC doing something in the near-term. In Europe a deal continues to elude negotiators, even though it does appear that the Germans and the Greeks are drawing closer to reaching a compromise. As far as Europe goes, no news over the next day or so might just be good news as markets await another deal for Greece.
The Federal Reserve continues to have international financial bodies comment on its rate policies, with the consensus being that the Fed should sit tight through the end of the year and not boost rates until 2016. At this point those arguments are probably falling on deaf ears because it certainly seems that the Fed's decision has already been made and the economic data has not dramatically worsened.
Chart of the Day:
Since February the Russian Ruble has been strong and erased much of the damage which was done with the Crimea military action. Some pressure is now off of Mr. Putin, but he still must deal with low oil prices.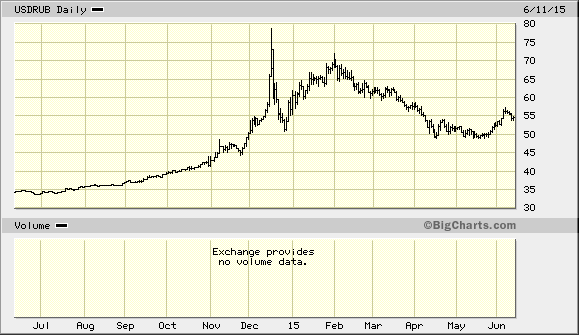 Source: Big Charts
We have economic news today, and it is as follows:
Initial Claims (8:30 a.m. EST): Est: 278k
Continuing Claims (8:30 a.m. EST): Est: 2200k
Retail Sales (8:30 a.m. EST): Est: 1.1%
Retail Sales - Ex Auto (8:30 a.m. EST): Est: 0.7%
Export Prices - Ex Ag (8:30 a.m. EST): Est: N/A
Import Prices - Ex Oil (8:30 a.m. EST): Est: N/A
Business Inventories (10:00 a.m. EST): Est: 0.2%
The Asian markets are lower today:
All Ordinaries - up 0.13%
Shanghai Composite - down 0.15%
Nikkei 225 - down 0.25%
NZSE 50 - down 0.99%
Seoul Composite - down 0.62%
In Europe, markets are higher today:
CAC 40 - up 0.69%
DAX - up 1.02%
FTSE 100 - up 0.32%
OSE - up 0.91%
Nike Wins Apparel Deal
Shares in sportswear apparel maker Nike (NYSE:NKE) rose in after hours trading after the company announced that it had signed an 8-year deal with the National Basketball Association, or NBA, to design, market and put its logo on uniforms, warm-up gear, shooting shirts and other on-court apparel for the league's teams. The deal, which begins in 2017 after the NBA's current apparel deal with Adidas runs out, is reported to be worth $1 billion. As part of the agreement, Nike will be able to put its logo on each jersey, a first for a league partner.
The deal will allow Nike to solidify its hold on the basketball apparel market and further link its brand to the world's top talent and teams (the company sponsors many of the top individual US players as well as USA Basketball), which should help the sportswear giant continue to drive growth in key markets such as China.
Nike should also give the NBA a boost in its marketing efforts as it has greater reach than Adidas in this segment and more consumer appeal. Nike now has both the National Football League, or NFL, and NBA apparel contracts which give the company a great platform. Keeping competitors away is key too, and with Adidas and Under Armour (NYSE:UA) on the sidelines and having to focus on individual athletes, Nike has an opportunity to really push its agenda and highlight the individual players it sponsors. Now Nike just has to be sure not to miss out on too many future stars to its competitors, like it did with Steph Curry when he signed with Under Armour.
Box Beats Estimates
Investors rewarded Box, the cloud storage company which has struggled since its IPO, in after hours trading after the company reported quarterly results which topped analysts expectations on all fronts, including forward guidance. Box still reported a loss of $0.28 per share, but that easily beat analysts' estimates of a $0.31 per share loss. Investors had also been hoping to see the company ramp up its revenues and this quarter the company delivered as it reported revenues of $65.5 million, which topped the analyst consensus by $1.6 million.
Readers should note that the number of people paying for Box's services rose 70% but out of all of its users only 10% of customers actually pay. If the company is going to reach profitability it will need to continue to have paying customers grow at a faster clip than overall growth numbers.
Content Wars
With everyone focused on a Netflix (NASDAQ:NFLX) stock split, we thought it might be beneficial to highlight a topic we saw pop up on Seeking Alpha yesterday (located here) concerning rival Hulu, which is owned by Comcast (NASDAQ:CMCSA) (CMCSK), Disney (NYSE:DIS) and Twenty-First Century Fox (NASDAQ:FOX) (NASDAQ:FOXA). While Netflix continues to build out its platform individually, Hulu has been striking deals with smaller cable companies, with the largest being Cablevision (NYSE:CVC) at this point, to help boost its subscriber numbers from its current 9 million.
Under the deals, which begin this summer, cable companies essentially make Hulu another channel available through customers' cable boxes and get to share in the revenue. The arrangement is structured much like HBO's traditional business is, although this could signal a move to hybrid offerings as more content companies begin to offer standalone apps which do not require a cable or satellite subscription.
While we doubt that the current deals in place are going to help Hulu close the gap on Netflix and its 60 million subscribers, our opinion could quickly change if larger cable companies such as Cox, Time Warner Cable (TWC), Comcast or Charter Communications (NASDAQ:CHTR) were to sign on as partners.
Disclosure: The author has no positions in any stocks mentioned, and no plans to initiate any positions within the next 72 hours. The author wrote this article themselves, and it expresses their own opinions. The author is not receiving compensation for it (other than from Seeking Alpha). The author has no business relationship with any company whose stock is mentioned in this article.
Additional disclosure: DIS has previously been recommended.