The Reserve Bank of India published its latest survey of macro-economic indicators conducted among professional forecasters. The survey was conducted in May 2015, among 27 forecasters. The median numbers of the survey reflects roughly the market consensus.
The survey saw the median GDP growth forecasts remaining almost unchanged, while inflation forecasts were revised downwards. The key takeaways from the survey are as follows:
GDP growth
Real gross value added (NYSE:GVA) is forecast to grow at 7.8% in FY16 (down 0.1% from earlier consensus), further accelerating to 8.2% in FY17 (India's Financial Year runs from April to March). The economy grew at 7.2% during FY15.
Agriculture, constituting around 16% of GDP, is forecast to grow at just 2.2% in FY16. This is 1.2% lower than the previous survey consensus, due to expected drought resulting from El-Nino effect. However, the sector is expected pick-up 3% in FY17. In FY15, agriculture recorded a tepid growth of 0.2%.
Industrial growth - constituting ~31% of GDP - is expected to grow at 6.2% and 7% in FY16 & FY17 respectively. The sector grew at 6.1% in FY15.
Services sector - India's GDP growth engine, constituting ~53% of GDP - could grow 10% in FY16 and 10.1% in FY17. This is similar to 10.2% seen in FY15.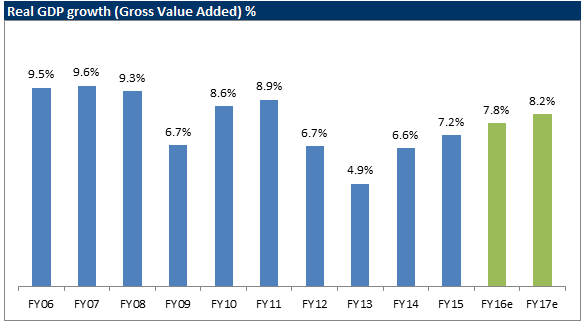 Source: Reserve Bank of India, MOSPI
Inflation
The forecasters see inflation remaining below RBI's target of 6% for the next one year (5.5% YoY by June 2016). The latest print saw inflation inching below 5% in April 2015. While price changes remain benign, RBI in its June 2nd policy statement had pointed to upside risks to inflation - mainly from food inflation due to possible drought. Oil prices - India's biggest import bill - remain volatile, and could further put pressure on inflation. CPI is a very closely watched data release, as the central bank is inflation-focused.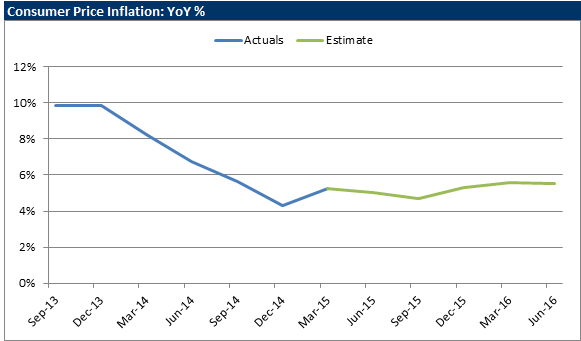 Source: MOSPI, Reserve Bank of India
Central bank policy rates
The consensus view on policy rates is that the central bank will likely cut rates further only in March 2016, by 25bps to 7%. RBI had cut rates by 25bps in its June 2nd policy meeting, and mentioned that it is "front-loading" rate cuts, and waiting for further data on inflation and economic growth. It also sounded cautious on future rate cuts. Our view is in line with consensus that, there will not be further rate cuts in 2015. Assuming 1.5%-2% real rates, there is no more room for further rate cuts in 2015, considering RBI's inflation forecast of 6% by March 2016.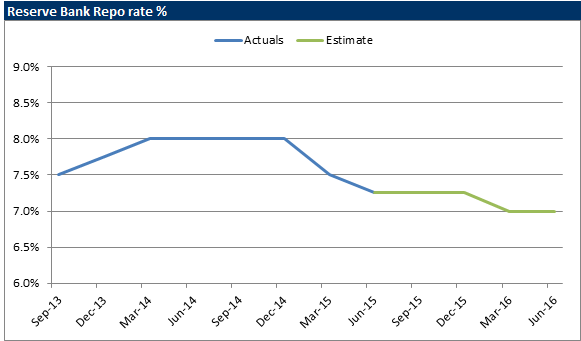 Source: Reserve Bank of India
Exchange rate: INR Vs. USD
The Indian Rupee (NYSEARCA:INR) is expected to depreciate to 65.5 per USD by the end of 2015, from the current levels of ~64. This is slightly lower than our estimate of 65 by 2015-end. Our view is based on the fact that the INR is over-valued on a real exchange rate basis, when compared to a basket of 36 currencies by roughly 12% in April 2015. The over-valuation has corrected slightly from 13% in March 2015 due to the recent depreciation to 64 levels.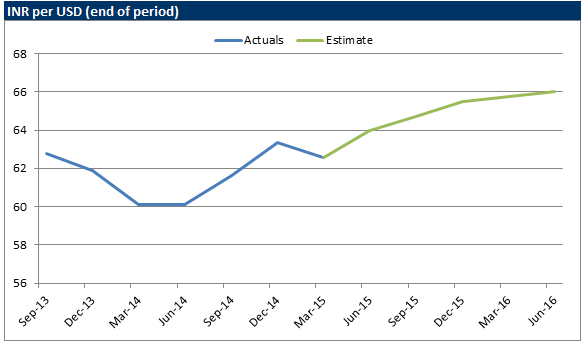 Source: Reserve Bank of India
External balance
Export growth is expected to remain low, having contracted 1.2% in FY15. Over-valuation of the INR and weak global growth could continue to put pressure on exports.
Imports too, are not expected to pick up in a significant way in FY16 - with consensus view at 1.5% growth. However, the forecasters see pick up in FY17 to 9% growth.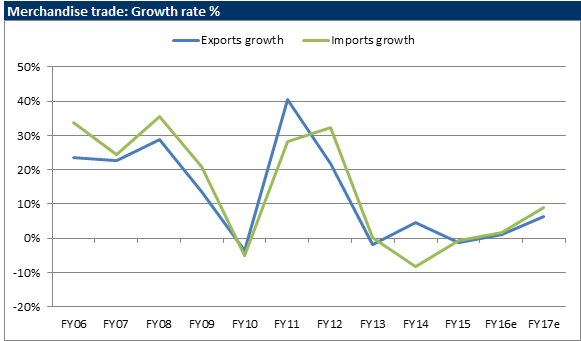 Source: Ministry of Commerce, Reserve Bank of India
Helped by lower oil prices, India has recorded a current account deficit (NYSEARCA:CAD) of 1.4% of GDP, and BoP surplus of 3%. Consensus view is that the CAD will be at 1% level for FY16, slightly deteriorating in FY17 to 1.3% of GDP. BoP is forecast to come down to 2.4% and 1.6% in FY16 and FY17 respectively.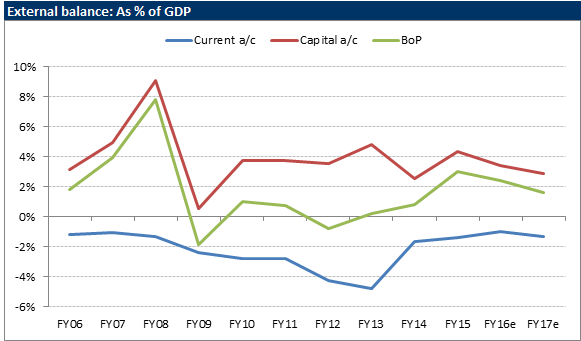 Source: Ministry of Commerce, MOSPI, Reserve Bank of India
Credit growth
Indian banking sector is currently witnessing the slowest credit growth in close to two decades. This is at odds with the robust GDP numbers - with economy growing at 7.2% in FY15 (Gross Value Added), while credit growth dipped below 10% during the same period. Mortgage and other personal loans continue to support overall credit growth, while corporate loans grew at below 6% in FY15. Corporate credit growth saw slight recovery in April 2015, with year-on-year growth at ~7%, but personal loan growth slowed to ~13%, compared to ~15% in March 2015.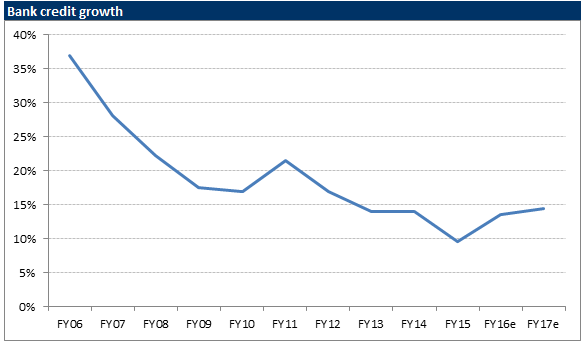 Source: Reserve Bank of India
Fiscal deficit
Fiscal deficit touched 6.3% of GDP in FY15 - central government deficit at 4% and state deficits at 2.3%. This was lower than 6.9% seen in FY14. Consensus view does not expect to see much change, expecting 6.5% in FY16 and 6.2% in FY17.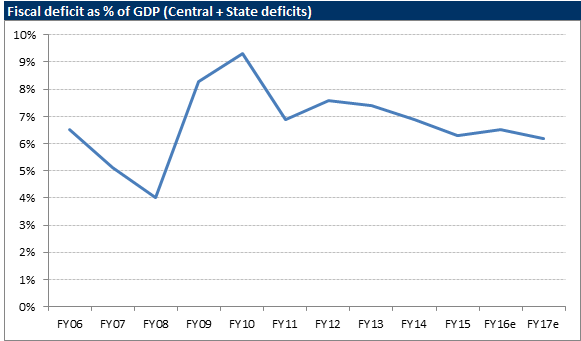 Source: Reserve Bank of India
Conclusion
The survey shows that market participants are positive on Indian economy - with better GDP growth and benign inflation levels. Export growth remains a weak point, while INR is expected to depreciate. The results also showed the market consensus on an extended pause, on the policy rate front.
We look forward to two key data releases this week - CPI (for May 2015) and Industrial growth (for April 2015) numbers on 12th June (Friday). Inflation print might remain in the 5% ballpark, while IP numbers might remain volatile (+2% in March 2015).
Disclosure: The author has no positions in any stocks mentioned, and no plans to initiate any positions within the next 72 hours. The author wrote this article themselves, and it expresses their own opinions. The author is not receiving compensation for it (other than from Seeking Alpha). The author has no business relationship with any company whose stock is mentioned in this article.