That's Gold Jerry! Gold!
Let me start by saying, I am not a gold bug. I have never directly owned the metal and the last time I owned a gold mining stock was in 2002. I watched the price of the metal double, sold my small-cap miner for a nice profit, celebrated my genius and then watched the price go up 6-fold over the next decade. Only recently have I started looking at the industry again. A nearly four year decline in gold prices, the relative attractiveness of miners and my confirmation of the seasonal trade, all point toward a rewarding opportunity.
Just the Facts
The following chart made the rounds last year and does a very nice job of depicting the annual seasonal cycle of gold. Regardless of the time period illustrated, the pattern remains very similar.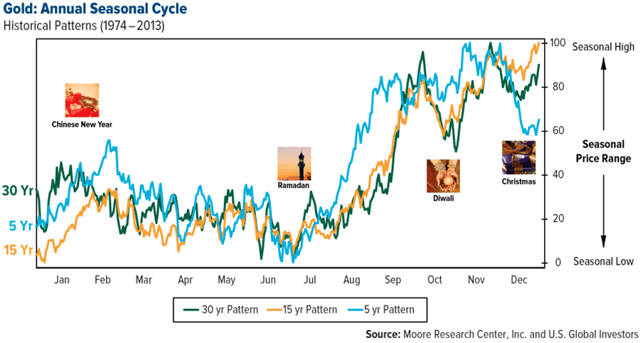 This year I decided to take a deep dive into the numbers to see how returns stacked up on a per month basis for different periods of time. My results confirmed the existence of a seasonal trade in gold and are illustrated in the chart below.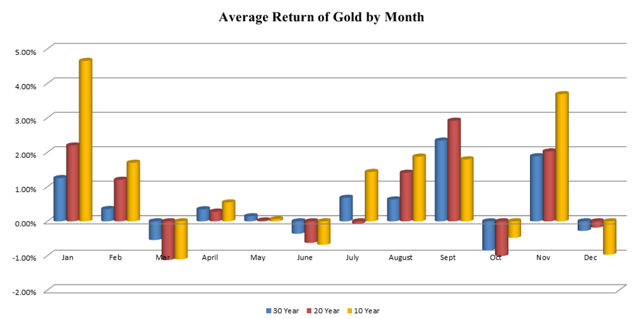 By purchasing gold at the beginning of July and selling at the end of January, you would have recorded an average gain each period of 5.8% over the last 30 years. This equals an annualized return of 10.1%. A positive return occurred in 19 out of 30 years, a success rate of 63%.
The seasonal trade over the last ten years has performed even better, equaling an average return of 12.5% and an annualized return of 22.4%. A positive result was recorded in 8 out of 10 years. The breathtaking rise in gold over the last decade undoubtedly contributed to this jump in returns, but for the most part, historically positive months remain positive and historically negative months continue to be negative.
China Driving the Gold Bus
One of the most widely-accepted theories on the seasonal gold trade is that demand picks up before some of the major holidays around the world, including Ramadan (Eid-ul-Fitr), Diwali, Christmas and the Chinese New Year. The first chart above depicts the approximate timing of each major event and the return of gold.
The theory makes intuitive sense and the data appears to support it. A huge contributor to the pattern's improving performance is the month of January. Gold price performance jumped from an average 1.25% return in the month over 30 years to an average return of 4.66% over the last 10 years. It is not a coincidence that the month of January falls right before the Chinese New Year.
There was a definite inflection point approximately 10-12 years ago in Chinese GDP per capital. Since then, Renminbi (RMB) per capita has nearly tripled.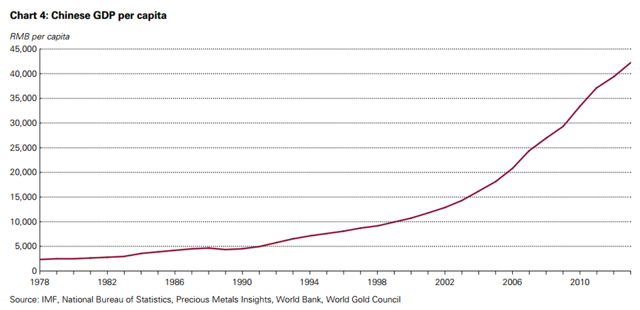 During approximately this same time, the Chinese demand for gold jewelry, bars and coins skyrocketed from 200 metric tons to over 1000.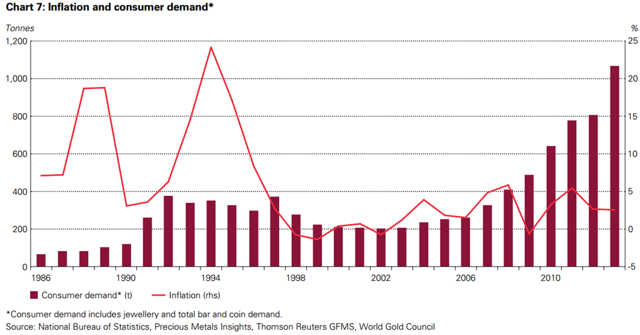 This rise in wealth and subsequent increase in demand for gold is concentrated right before the country's biggest holiday. This information seems to indicate that the growth in Chinese wealth has magnified the seasonal trade for gold and the trade should continue to offer attractive returns as China battles India as the world's biggest consumer of the precious metal.
Gold as a Safe Haven
Over the last 30 years, August and September have been the two worst months for the S&P 500. August has averaged a monthly return of -.60% and September has averaged -.84%. This may or may not contribute to the seasonal gold trade performance, but considering gold's traditional safe haven reputation, it makes for another compelling reason to have some exposure to the metal during this time of year.
No Guarantees
There are obviously no guarantees that the seasonal trade for gold will be a success in 2015. However, it has a very good track record and has worked on average for over 30 years. The fact that gold acts as a safe haven in times of stress adds to its attractiveness given that we are in a market that hasn't meaningfully corrected in four years.
There are skeptics that will focus on the long-term downtrend of gold since its 2011 high. Additionally, there is a very good chance that U.S. interest rates will be higher later in the year. Yes, there are many potentially negative events that could ruin the 2015 seasonal gold trade, but given its long history of success and its ability to hedge your portfolio, it's an opportunity that you may not want to pass up.
How to Play the Seasonal Trade
There are many ways to gain exposure to gold, including bars, coins, jewelry, ETFs and mutual funds. I encourage you to explore all of the available options and find the one that is best suited for your investing style and risk tolerance. I also encourage investors to take a look at the SPDR Gold Shares (NYSEARCA:GLD) for direct exposure. I have been an equity analyst for over twelve years and I have spent much of that time analyzing small-cap companies, so this is where my comfort level is highest.
I utilize screens quite frequently to generate interesting investment ideas. In fact, my Seeking Alpha Premium Service features a screen every month based on criteria that has been academically proven to generate benchmark-beating returns.
In this instance, I performed several screens concentrating on companies under $2 billion in market cap that were either owned by value investors I admire or being purchased by company insiders. The following three companies stood out as intriguing investment possibilities.
Banro Corporation (NYSEMKT:BAA)
You could have nearly tripled your money over the last six months by investing in this high-risk, micro-cap stock. I know…where was I six months ago? But remember, it's not where a stock has been…it's where it's going.
Let me first highlight the extreme riskiness of this investment. BAA is a potential rocket ship and returns could be stellar. However, it could also blow up on the launching pad. Expect extreme high risk with the potential for an extremely high reward.
I didn't pick this tiny firm out of thin air though. I was first alerted to BAA as both Jim Simons of Renaissance Technologies and Arnold Van Den Berg of Century Management are owners. Simons was adding to his position as recently as the first quarter of 2015.
BAA is a highly-leveraged gold mining company that commercially operates a single mine in the Democratic Republic of the Congo. A big reason for the company's recent parabolic performance is the result of a completed financing package that will largely be used to reduce accounts payable and repay debt. Additionally, revenue and earnings are ramping up driven by gold production from its Twangiza mine that was 39% higher last quarter as compared to a year ago.
The company expects to achieve commercial production at its second mine in the latter half of 2015. BAA projections have total production increasing between 60-70% over 2014 levels. On June 8th, the company announced that proven and probable reserves at its Twangiza mine increased 59% which increased the mine life to 14 years, sending the stock up 8.5% on the day.
BAA has been profitable over the last three quarters after years of losses. The stock trades at 0.2 times tangible book value, a level that will prove absurdly low if earnings grow significantly and liquidity does not become an issue.
The company's all-in sustaining costs (costs incurred over the complete mine cycle from exploration to closure) were only $581 an ounce last quarter, by far the lowest among the three companies profiled. BAA has two other potential sites that they are evaluating which could fuel even more future growth.
With approximately $200 million in debt and a market cap of $85 million, this rapidly-growing micro-cap may be a huge winner if it can stay on top of its mountain of debt. Substantial dilution to shareholders has been the norm over the last decade as shares outstanding have increased nearly ten-fold. This could continue if the company needs more cash.
Additional risks include the company operating in a very unstable country and currently only operating one commercially viable mine. If you're looking for a potential home run, this could be it, but again, extreme risk accompanies the potential for extreme reward.
B2Gold Corp (NYSEMKT:BTG)
The company operates four mines spread across three countries. They have one mine in both the Philippines and Namibia and two mines located in Nicaragua. Donald Smith and Mario Gabelli, two highly-respected investment managers both bought shares of BTG in the first quarter of 2015.
Production growth is expected to grow 33% in 2015 driven by the continued ramp-up of gold production at the company's Otjikoto mine in Namibia. Projected all-in sustaining costs are estimated to be $950-$1,025 per ounce.
BTG has a market cap of $1.5 billion and a balance sheet that looks reasonably solid. $370 million in long-term debt is partially offset by $128 million in cash. The company just secured a new $350 million debt facility which gives them approximately $225 million in additional liquidity. Unfortunately, BTG has been hyper-aggressive at diluting shareholders, increasing shares outstanding from 32 million to 986 million over the last seven years.
The company has an attractive portfolio of assets primed for exploration and further development. Locations include Nicaragua, Mali, Burkina Faso and Colombia. BTG has forecast the completion of a new mine in the African country of Mali by 2018. The mine is expected to nearly double the level of the company's 2014 production. At expected 2015 production of 520,000 ounces, the company has a decent runway with probable reserves just below 5 million ounces.
Risks that should be highlighted include the potential for further shareholder dilution, operations that are in countries that may be unstable and an uneven history of profitability. The company's all-in sustaining cost to produce an ounce of gold is approximately $1,000 an ounce, which is not too far from current prices.
Gold Resource Corp (NYSEMKT:GORO)
GORO really stands out compared to the other gold miners I analyzed. The company has no net debt, has been free cash flow positive for the last four years and shares outstanding are up only 10% over the last five years. The company has a variable dividend that is paid monthly and which now yields 4%.
Peter Epstein of Epstein Research conducted a very interesting interview with the company's CEO in March, which can be accessed here. I highly recommend it as a first step if you're doing further research on the name. Highlighted is the company's focus on profitable growth and return on capital without diluting shareholders.
GORO operates a single mine in Mexico located in the state of Oaxaca. 63% of the company's production is gold and silver and the remainder is made up of base metals such as copper, lead and zinc. Production has been relatively flat over the last three years and 2015 is expected to continue this trend. GORO's production growth outlook and expected mine life is lower than the other two miners featured. However, the company recently announced the discovery of additional high grade veins at its current mine site. GORO also has additional exploration opportunities in Nevada and Mexico.
The company trades at an EV/EBITDA multiple of only 4. Return on invested capital was over 23% the last twelve months. GORO has very little debt and net cash per share of approximately $.40.
Jim Simons of Renaissance Technologies owns nearly three percent of the company. Insiders of the company have purchased over $140,000 in stock over the last seven months. Although not a huge sum, it is substantial when compared to competitors in the small-cap mining space.
Risks include commercial operations at only one mine, a growth pipeline that may be less robust than competitors and the elimination of the company's dividend if cash is needed. GORO appears to be a very unique operator in the gold mining group and has definite appeal for value-oriented investors that appreciate a conservative capital structure.
Obviously, this was a very quick overview of three potential investments in the small and micro-cap space. There are a multitude of factors not covered and investments of this size may not be appropriate for everyone. Please use this information only as a starting point for further analysis.
Disclosure: The author has no positions in any stocks mentioned, but may initiate a long position in BAA BTG GORO over the next 72 hours. The author wrote this article themselves, and it expresses their own opinions. The author is not receiving compensation for it (other than from Seeking Alpha). The author has no business relationship with any company whose stock is mentioned in this article.
Additional disclosure: Please perform your own due diligence before investing in any of the ideas mentioned in this article. The companies discussed in this article have a very small market cap and can be illiquid to trade, please use caution. The information presented has been obtained from sources believed to be reliable, but accuracy cannot be guaranteed.
Editor's Note: This article covers one or more microcap stocks. Please be aware of the risks associated with these stocks.