Introduction
Given the release of OPEC's decision to not enforce any production controls, oil prices will look grim as they will face an increase in downward pressure from rising oil production. Additionally, if oil sanctions are lifted and Iran comes to an agreement to share their oil, this will result in an increasing oversupply of crude oil.
Oil is a globally traded commodity which is significantly affected by supply and demand, in turn is represented through its volatile prices. Oil has always been difficult to predict but given the current market conditions, I am confident in stating that oil prices will decline; estimating a range from $40 to $50 in 2016.
Oil trends
It is worth noting the importance of economic trends, specifically when recent inventory levels hit record levels in 80 years, prices fell given the lack of demand. In a perfect world, production would be reduced to match demand, resulting in higher prices and higher margins. In the real world, companies must fight for market share and are willing to do so, at the cost of lower margins. This leads to the superseding importance of geopolitical trends, where OPEC is battling for market share, resulting in production hitting record levels.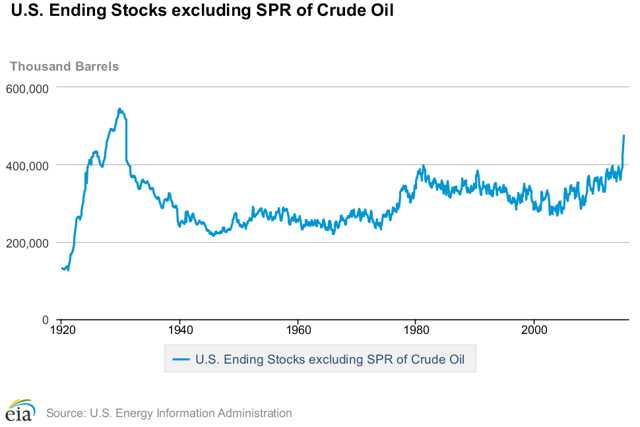 Demand and Supply
The U.S. has taken over as the world's largest oil producer since 2013 (SOURCE: Energy Information Association) and with the global increase of supply, this led to the significant drop in oil prices as global demand was unable to keep up with the oversupply of oil. The two biggest oil consuming countries, United States and China, have shown a positive reaction with increased demand to the low prices, but growth has been slowing down. Economic growth has a strong correlation to oil consumption but even with the low oil prices, the trajectory of global growth is not enough to meet the increasing supply. With the high oil inventories and increasing supply, oil price fell from $100 to $40 in less than a year, displaying the volatility of the oil industry.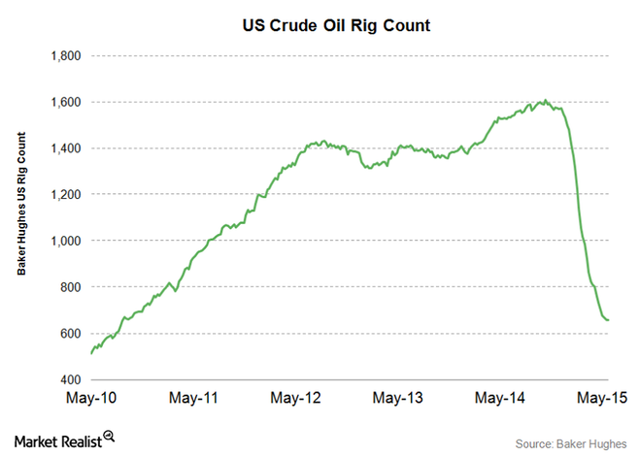 Given the increasing stock of oil, the U.S. reacted by turning about 1000 oil rigs offline since last year. Although the attempt of rebalancing the oil market has shown signs of progress, global production is still around 94 mb/d while global demand is only 92 mb/d. This indicates that the supply/demand balance is not getting tighter which will add onto the global oil glut. The sharp decline in rig counts has been a key driver of the 12 week oil rally (since the low of $43.39 on March 17, 2015) but has stabilized given the consistent production.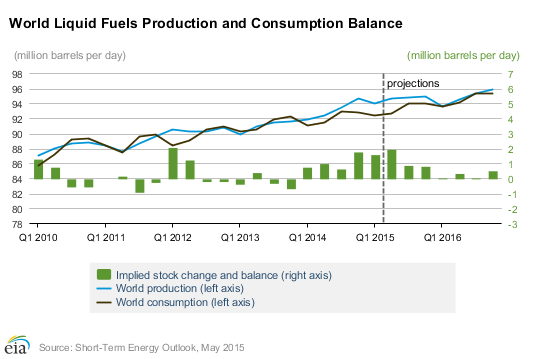 Iran Sanctions
Iranian oil exports have taken a hit due to the international sanctions against the country but they are planning to rejoin the market. Russia is the first country to establish a deal with Iran and plans on importing up to 500,000 bbl/d. This displays Iran's intentions on becoming a bigger producer as they are sitting on top of roughly 10% of the entire world's oil reserves. In addition, Iran, Iraq, and Libya have stated their plan to add millions of barrels to the market at the OPEC meeting. Once the sanctions are lifted and OPEC countries increase production, the global oil supply will only get larger.
Break-even prices
Rigs counts have been decreasing, OPEC is increasing supply, and demand is slowing. All of these factors provide the reasoning to see bearish oil prices. The most important measure when identifying break-even prices for production are cash costs which are the costs drillers incur to keep their projects operating, essentially daily production. Even if prices were to rise given that economies will capitalize on the low prices to boost growth, there are over 1200 global rigs that are offline but can be turned back on given the right price. Exploration costs have already been incurred by companies and the importance of prices should centralize around the costs of extraction.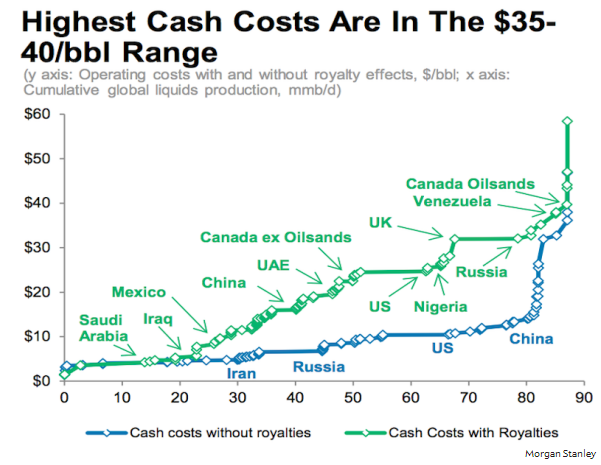 Shale production
Technological advancements and techniques such as hydraulic fracturing and horizontal drilling have aided the shale boom but the increasing supply of oil and low price environment has hit shale producers hard. Despite the reductions in U.S. rig counts, shale has proven to be more resilient than expected. Surviving shale producers have achieved an increase in drilling efficiency and lower extraction costs, allowing them to produce over 5 mb/d. ConocoPhilips believes if oil prices go down to as low as $40, the best parts of the U.S. shale industry can still generate returns of 10%. This demonstrates shale's resilience and indication that OPEC's production will not end shale's existence.
Conclusion
Given that oil prices are headed in a bearish direction, this will make it harder for companies to sustain profitability. Evidently, companies such as Quicksilver Resources has filed for bankruptcy and Saratoga Resources is currently struggling. The lower oil prices will only make it harder for companies to survive which should signal for caution when investing in this industry. There are winners in this situation but the current market condition only magnifies the risk investors will hold.
Looking at the increase of OPEC production, sanctions on Iran, efficiency of shale producers, and the current abundance of oil, this provides reasoning to the bearish outlook on oil prices. The battle has only begun between countries for market share in the oil industry and economies will see lower prices in return. It is good indication for economic growth given the low prices of oil but there is only so much demand that can be created. The oil industry is a never-ending rollercoaster with prices, demand, and supply but you can expect low prices for at least a year.
Disclosure: The author has no positions in any stocks mentioned, and no plans to initiate any positions within the next 72 hours.
The author wrote this article themselves, and it expresses their own opinions. The author is not receiving compensation for it. The author has no business relationship with any company whose stock is mentioned in this article.