On May 20th, Diana Shipping, Inc. (NYSE:DSX) sold 8.5% senior notes in a public offering. The notes have a five-year term, maturing on May 15, 2020. The total principal amount sold was $63,250,000 including the underwriters' over-allotment option, which was fully exercised. A total of 2,530,000 notes were sold at a par value of $25 per note. The notes are traded on the New York Stock Exchange under the symbol DSXN.
Last year, Diana Shipping had raised $65,000,000 in gross proceeds, selling 2,600,000 preferred shares at $25 per share. The 8.875% series B cumulative perpetual shares are also traded on the NYSE under the symbol DSXPRB.
With the exception of the above offerings, Diana Shipping has shunned public markets for several years. Its last equity offering is dating back to May 2009. Since then, the dry-cargo shipping company has relied on cash generated from operations and commercial debt to finance its fleet growth. Even though the dry-cargo market is currently very depressed and with no signs for a speedy recovery, I believe Diana's senior notes and preferred shares can be attractive to long-term yield-seeking investors. They offer a generous yield with a manageable level of default risk. In this article, I will compare the similarities and differences of these securities. I have outlined their major characteristics in the table below.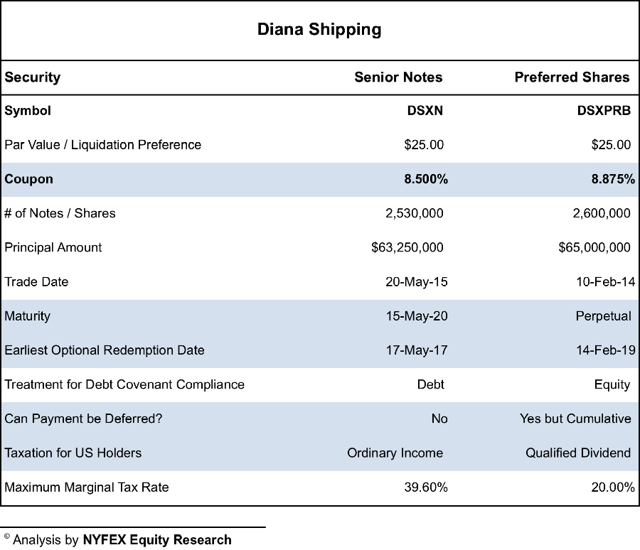 I will begin the analysis from the point of view of Diana Shipping. Assuming same borrowing costs, a company would probably issue preferred shares than senior notes for the following reasons:
First, preferred shares are treated as equity for purposes of compliance with debt covenants. By issuing preferred shares, a company can increase its liquidity and improve its debt-to-capitalization ratio without having to dilute common shareholders.
Second, preferred shares have no maturity date. They are perpetual shares and give the company maximum flexibility when to redeem them.
Third, the payment of the preferred dividend can be deferred, but missed dividends are cumulative and must all be paid prior to the payment of any common dividend. Also, in case of liquidation, the holders of preferred shares have a liquidation preference (i.e., a senior claim over common shareholders) of $25 per share plus any accumulated and unpaid dividends.
Let's now turn our attention to prospective buyers of these securities. Assuming same coupon rates, an investor would probably choose senior notes over preferred shares for the following reasons:
First, senior notes have a higher pecking order than preferred shares in case of liquidation or bankruptcy. Second, senior notes have a set maturity date. Since these securities are thinly traded, the knowledge that senior notes must be redeemed at maturity provides a huge comfort to retail investors. Third, interest payments cannot be deferred without the company defaulting.
Preferred shares, however, also have advantages over senior notes. Whereas senior notes are redeemable by Diana Shipping two years after they were originally issued, preferred shares are redeemable after five years. In addition, interest income from senior notes is considered ordinary income for US federal income tax purposes. Ordinary income is subject to a maximum marginal tax rate of 39.6%. On the other hand, dividend from preferred shares is considered qualified dividend income and is subject to a maximum tax rate of 20%.
Please note that the above tax rates apply only to US holders who purchase these securities in a taxable account. If the securities are purchased in an IRA account, any investment income is tax deferred. Also, for non-US holders, interest and dividend income from these securities are not subject to US withholding taxes. This is true because Diana Shipping is a foreign corporation.
In general, one would expect the coupon rate on a preferred share to be higher than a senior note. The higher rate would compensate for the difference in pecking order in case of liquidation or bankruptcy. This explains why a company might issue senior notes instead of preferred shares, to lower the borrowing cost.
Speaking of the devil, borrowing costs for dry-cargo shipping companies have been rising markedly to reflect poor fundamentals for the industry. A comparison of coupon rates for the last three issuers reveals that Diana Shipping had to pay a higher interest rate than both Star Bulk Carriers (NASDAQ:SBLK) and Scorpio Bulkers (NYSE:SALT) despite having the stronger balance sheet and lower bankruptcy risk.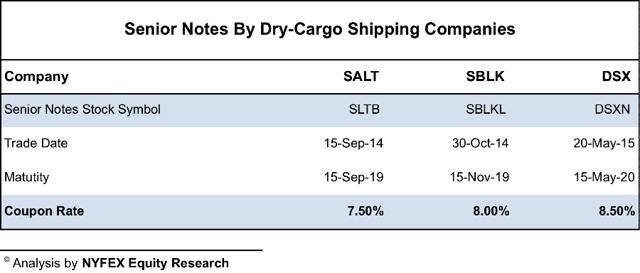 I believe that in the case of Diana Shipping, bankruptcy risk is manageable even in this tough operating environment. The company has a current market capitalization of approximately $550 million. As of March 31st, Diana had $540 million in long-term debt, and $65 million of preferred equity. It also had cash on hand of $231 million and a note receivable from Diana Containerships (NASDAQ:DCIX) for $50 million.
Another very important factor to consider is the insider ownership for these securities. Executive officers had purchased $1.7 million of preferred shares when they were originally issued. This time around executive officers, including company CEO Mr. Simeon Palios, raised the ante by purchasing $12.75 million of senior notes or 20.2% of total notes issued.
In summary, senior notes and preferred shares of Diana Shipping offer an attractive risk-reward profile for yield-seeking investors. Poor fundamentals for the dry cargo shipping industry have raised borrowing costs. But Diana Shipping has been the most conservative company among its peers, by maintaining a very comfortable level of net debt to total capitalization.
Disclosure: The author is long DSX.
The author wrote this article themselves, and it expresses their own opinions. The author is not receiving compensation for it (other than from Seeking Alpha). The author has no business relationship with any company whose stock is mentioned in this article.
Additional disclosure: The author is also long DSXPRB, and may initiate a long position in DSXN over the next 72 hours.