The Turkish dollar remains weak as economic growth slows. The U.S. dollar has risen nearly 6% against the Turkish currency over the past month.
In the first quarter, the economic growth figure came in at an annual pace of 2.3%, down from the previous quarter's reading of 2.6%, while exceeding estimates for 1.6%. Since peaking at over 12% in 2011, economic growth has fallen to current levels, seen below. Consumer spending buoyed the growth measure.
"Household consumption increased 4.5 percent (2.4 percent in the last quarter of 2014) and government spending rose 2.5 percent (1.7 percent in the last quarter of 2014) while gross fixed capital formation was flat (-0.1 percent in the last quarter of 2014).

Exports shrank 0.3 percent (3.4 percent in the last quarter of 2014)," according to Trading Economics.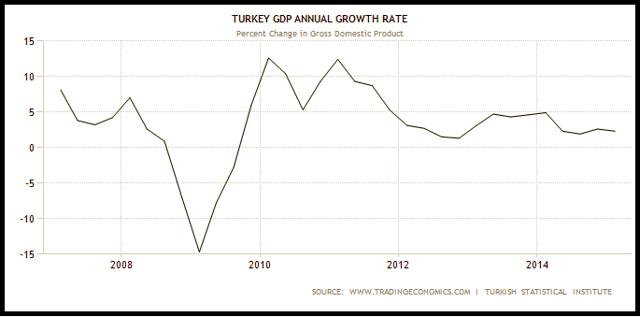 Although retail sales are driving growth, it still has a lot of room to improve. In April, the retail sales figure came in at an annual pace of 3.8%, above the previous month's reading of 3.1%, while also exceeding estimates for 3.7%. Over the last year, retail sales have oscillated between 0% and 5%, seen below. Household spending has been largely in the services sector.
"When we look at the content of the growth we see that the services sector is one of biggest factors. With its 62.7 percent share in growth, the services sector showed an increase of 4.1 percent annually," according to the Anadolu Agency.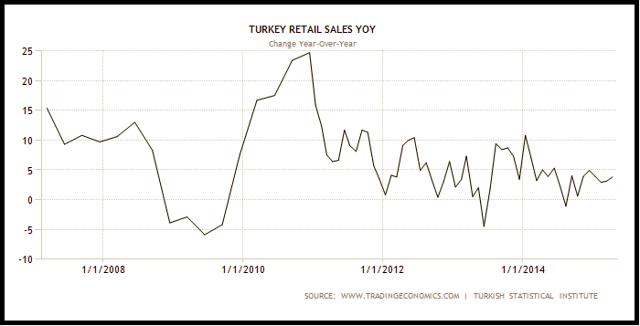 Finally, one of the larger weights on economic growth has been export revenue. In April, the export figure came in at an annual pace of -1.22% contraction, down from the previous month's reading of -0.05%. After peaking in late 2011 at 20%, exports have steadily fallen, seen below. Loss of competiveness has been blamed for the slowdown in exports.
"Turkey has lost its competitiveness. So much so that although there has been a 55% devaluation in dollar parity over the past 24 months, we can't still sell our products.

Other countries applied the declining world crude oil prices to their domestic prices and lowered their energy costs by 50%.

But Turkey, as it finances its budget from indirect taxes on oil and energy, did not apply lower energy prices to its domestic prices.

This meant that the devaluation caused further increases in domestic prices. That is, while other developing countries were increasing their exports, Turkey lost significantly," according to AL Monitor.
Turkey's economy is gradually weakening. Consumer spending continues to grow, while exports are contracting. Additionally, political strife in the country, due to recent elections, could weigh on investor sentiment. Until a turnaround in Turkey's economy takes place, its currency should continue to weaken.

Disclosure: The author has no positions in any stocks mentioned, and no plans to initiate any positions within the next 72 hours. The author wrote this article themselves, and it expresses their own opinions. The author is not receiving compensation for it (other than from Seeking Alpha). The author has no business relationship with any company whose stock is mentioned in this article.