This is an extract from our 2015 Q2 Letter to Investors, with a special focus on China's market.
The full version of the letter is posted on our instablog:
China's Stock Market
Unlike other more developed markets such as the US or HK, the China A-shares market is relatively young and is distinctively different, with unique market structures, characteristics and behaviors. It is an understatement to say that our investment decision process in China is completely different from our investment approaches in the US or the HK market. China's financial system is a close-looped market, and the country's central bank has absolute control over the whole system. Let's not take this fact lightly - China's central bank probably has multiple times more controlling power over China's financial system than the US government, FED, Goldman and JPMorgan combined have over the US financial system. A closed financial market with a mighty central bank is actually not as bad as it might sound. When all the biggest banks, insurance companies, retirement funds and state-owned funds take direct orders from the same boss, reading between the lines and predicting market trends are much easier for investment managers. Just like in the US market, correctly figuring out and front-running the central bank's intentions already win you half the game.
With detailed planning and incremental adjustments, China's government is carefully jiggering everything within its financial and political powers to move the country's economic master plan forward. Deleveraging the debt levels that have currently held the whole financial system hostage, while rebalancing the economic structure to a more sustainable growth model and maintaining social stability are the top priorities for China's government. It will take at least a decade to transform China into a consumer economy, but the direction of economic reform is very clear. Over the past two years, efforts on anti-corruption, political and public-related reforms have slowly gained the support and confidence of Chinese citizens. We are quite optimistic that the current government has the determination and execution power to sail through the many coming storms, leading China into a better future.
Without doubt, all of China's economic indicators are currently pointing toward a downward economy with property oversupply, slow exports and weak consumption. Yet, the country can no longer afford to boost economic growth by increasing infrastructural investments like they used to in the past. They need to find a new way to boost confidence and buy more time for an economic soft landing. As learned from the US since the 2008 financial crisis, inflating the long overdue bearish stock market is the quickest and easiest way to give a much-needed boost to the morale.
As investment professionals, we are paid to generate alpha returns under any market circumstances. We really shouldn't get too involved in the "cause", but spend more time on the "effect". When all big and small policies announced in the past 18 months by China's central bank have lined up perfectly to hint at a government-engineered stock rally, it is just plain wrong not to concur and hop onto the train. With interest rate cuts, massive liquidity, easily available margin credit, and the mainstream media heating up the herds, the country's market have rallied fearlessly. Like most investors around the world, we were also surprised at the speed and magnitude of this rally. But at this moment, we are not too worried about the bursting of the bubble. We are confident that China's government will continue to release more and more easing policies to help soft-land the slowing economy, which will further support and extend this bull cycle.
Like the US market, by now it should be crystal clear that this China stock rally is not due to any economic fundamentals, but due to its central bank's intentions and the amount of liquidity available to push the market even further. It is an undeniable fact that the country's central bank wants the stock rally to create an overall wealth effect, which will help cover up the holes in the real economy. We are certain that China's government wants the stock rally to last as long as possible, or at least until the real economic engine picks up again. The mad bull is now running wild, and they need to tame it before it runs out of room. Restricting the "demand side" or liquidity of the market is very dangerous, because it might accidentally kill the bull. So, the more ideal approach is to control the "supply side" of the market, poking small holes in the giant water bubble. Since the start of the year, China's government had been working on many different ways to create more supplies to absorb the excessive demands in the market. On a side note, China has by far the highest savings rate in the world - per estimates, >30% of disposable incomes are locked up in bank savings accounts and term deposits. So, there are trillions in liquidity parked aside, enough to buy out the entire market many times over. Armies of under-invested investors and those who missed out are all anxiously waiting on the sideline, ready to jump in whenever there is a big pullback in the market.
China's domestic IPO market has become the world biggest IPO market in 2015. China National Nuclear Power Company, the country's second-largest nuclear power operator, was recently oversubscribed 143x times, locking up CNY1887b (USD$303b) in funds for its CNY13.2b (USD$2.12b) IPO. This is just for one offering. China is now regularly approving dozen of IPOs every two to three weeks. Each new group of offerings locks up approximately CNY5 trillion to CNY8 trillions in funds - equivalent to ~USD$1 trillion of liquidity. The government knows that these pending IPOs are barely enough to soak up all the excessive liquidity in the market. So, they are also working on a new registered scheme for IPOs, aiming to release more of them at a much faster pace.
The revision of the foreign investment law will also allow companies with a Variable Interest Entities (VIE) structure to return to the Chinese market. This mean that all those famous internet companies listed outside China, such as Tencent (OTCPK:TCEHY), Baidu (NASDAQ:BIDU), and Alibaba (NYSE:BABA), can be re-listed at home soon. And needless to say, the return of the Alibaba Group is most keenly anticipated by the country's investors in this bull cycle. In fact, if the VIE law restriction is waived off, as planned in the next few months, we would bet that this bull cycle can last until the day we see Alibaba listed on the Chinese market. That's how strongly we felt the government, specifically Premier Li, wanted to see this happen.
Billions of dollars' worth of new stock issues and bonds are being approved weekly, at a much faster pace than in the past. Clearly, the government has many ways at hands to deal with the "supply side", poking small leaks at the giant water bubble both safely and effectively. Finally, before the whole bull cycle come to end, they will try their best to export the bubble. How? FTSE, MSCI, Vanguard and many other global funds are all planning to add A-shares to their emerging markets index. And for the first time, the new exchange connections between China and Hong Kong will allow overseas investors to invest in A-shares directly.
China now has the smartest and brightest financial peoples in the country working endlessly on their financial master plan. All policies announced are carefully planned and calculated on their net effectively. One of the country's ultimate goals is liberalizing the yuan in the next five to ten years. The government is not as naïve as to solely rely on the virtual economy. They are also working hard to push their "One belt, one road" or "New Silk Road" master plan. Everyone knows China's state-owned companies are the world's best at building infrastructure, because they are the fastest and the cheapest. With the newly announced Asia Infrastructure Investment Bank (AIIB) providing the necessary funds, exporting infrastructure development is their best game on the book. It's a dream come true for undeveloped countries too - who doesn't want a new port or a new railroad at home fully funded by foreign investor? It's just like the US subprime mortgage loan for the poor - countries with light pockets will all eventually take the bait. And, of course, we will then see another big infrastructure bubble, but that's a story for another time.
Opportunity for Foreign Investors
By now, everyone knows the ChiNext index is averaging 130x times earnings, the Shenzhen index is averaging 60x times earnings, and the Shanghai index is averaging 24x earnings, whereas Hong Kong's Hang Seng index is averaging 12x times earnings. It's a mad world out there in China, and many lagging peers are asking us how to play catch-up. Let's look at some mind-blowing facts: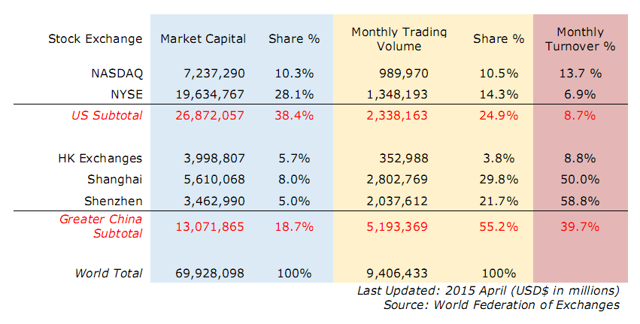 We included HK in our greater China stock market capitalization, because more than half of HK-listed companies are, in fact, based in China or co-listed there. China is currently the world's second-largest stock market in terms of total market capitalization. With IPOs rolling out non-stop every week and US-listed mega companies returning home, the country's market has the highest growth rate of all. Its total market capitalization could easily double in the next five years, surpassing that of the US market.
China is also currently the world's biggest stock market in term of monthly trading volume, more than double monthly trading volume in the US market. The last column indicates the monthly trading volume over market capitalization. Notice that the Shanghai and Shenzhen markets are both trading at a mind-blowing 50%+ turnover each month, meaning half their total markets are flipped each month! Please keep in mind that most state-owned shares are not traded, so the total available floating share tradable is roughly reduced by half. Therefore, in reality, the entire available floating shares are, in fact, being flipped at least once each month. And with the highest retail investor participation rate, China's market is by far the biggest and hottest gambling casino in the world. As an investment professional in a near-zero sum game, what else can you ask for? In your investment career, can you afford to miss such a "once-in-a-lifetime" opportunity?
China is still a relatively immature market with limited supplies (of stocks) and excessive demands (of liquidity). When its central bank fired the starting gun with a rate cut seven months ago, the market jumped ~50% in the last 30 trading days of 2014, and jumped another ~40% in the first five months of 2015. Statistically, the previous four bull cycles in China went up on average by 300%+, and the volume in this bull cycle is roughly 4-5 times more than that in the last one. So, we strongly believe that there is both the fuel and the room for this bull cycle to run. Up until now, with the CSI300 index hovering at the 5000 level, we believe that the first wave of the rally (the easy money) is over. The market will slow down with some healthy 10-15% pullbacks in the third quarter, before making new highs again at the year-end. The key point to remember is that China's government wants to keep the bull market running, albeit at a much slower pace.
Of the three markets that we focus on daily, we believe that China still offers more profitable opportunities and a better risk-reward ratio than the HK or US market. Of course, there are still many individual opportunities in all markets. But our overall market preference for the remaining year are: China > HK > US. The HK H-shares index is a good way to take exposure to the Chinese market because it is currently trading at 12 times earnings - half the valuation of their co-listed A-shares counterpart. But be mindful that HK is a very mature market, the H-shares index will never catch up with the A-shares index.
For the average US investor who wants to take exposure to the Chinese market, the best strategy is to split your position into 4-6 trades, and go long and diversified into any of the popular China ETFs or HK H-share ETFs when there are 5-10% pullbacks in the market. For more sophisticated investors, another good strategy is sector rotation by using China's sector ETFs. As we mentioned in our last newsletter, sector rotation in China is highly cynical and very profitable. The two main profit drivers for our A-shares fund are sector rotation and event-driven strategies. The Chinese market is extremely sensitive to news and policies, and we have often been forced to take profits earlier than we wished. Drawdown management is a key benchmark in our fund performance, and we hope to achieve a much lower drawdown ratio than our benchmarked index before year-end.
This newsletter is getting a lot longer than expected, we will leave our discussion on hi-tech valuations in the Chinese market and the "New Third Board" for our next newsletter. Lastly, if you can only remember one line in our newsletter, please take our most sincere advice when investing in China - Never bet against the Chinese government.
Disclosure: The author has no positions in any stocks mentioned, and no plans to initiate any positions within the next 72 hours. The author wrote this article themselves, and it expresses their own opinions. The author is not receiving compensation for it. The author has no business relationship with any company whose stock is mentioned in this article.